888 UK Limited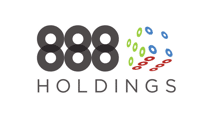 888 UK Limited, also known as the 888 Group, owns and operates over 200 casino brands. The top 888 sites are Wink Bingo, 888 Bingo, 888 Casino, Wicked Jackpots, 888 Ladies, Costa Bingo, 777 Casino, 888 Sport, Health Games and Two Fat Ladies.
888 UK Limited is based at 601-701 Europort, Gibraltar, GX11 1AA.







Top 888 Group Casinos 2022
Wink Bingo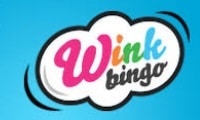 Wink Bingo is one of the biggest bingo-based casino sites on the internet and a bigger deal for the 888 Group than even some of its name-branded casinos. It's very clearly designed to appeal to female players and comes with an attractive comic book look that replicates the style of the type of cartoons that appears in girls' magazines during the 1990s. That's not to say that men aren't also welcome to play at Wink Bingo, though – it's a site that's open to all comers! While bingo undoubtedly rules the roost at Wink Bingo, there's space provided for online slots too, and a blog to keep you up to date with all the latest features and developments at the site. More importantly than any of that, Wink Bingo is a busy site where you'll never find an empty room facing you.
888 Bingo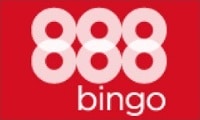 The 888 Group owns well over two hundred active casino sites, but the ones that are most important to the company are stamped with the "888" name and logo. That tells you a lot about how the company feels about 888 Bingo, even though it's one of the plainest sites in the whole range. The 888 brand name does a lot of the heavy lifting in terms of the site's popularity, as in both form and execution, this is a bland website with blocky graphics and little personality. Great content beats great graphics every time, though, and the content at 888 Bingo will stand up to anything you might find at any of the casino network company's range of sites. The latest "special" bingo rooms take pride of place on the 888 Bingo homepage, with a well-chosen array of online slots taking second billing beneath them.
888 Casino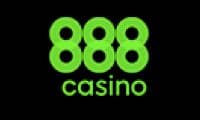 There are plenty of other casinos operating under the network of the 888 Group, but 888 Casino is "the" casino. It's the one they started with when they launched way back in the late 1990s, and it's still the company's flagship brand today. As such, it's a place where the company tries to do everything at want. If you want brand new online slots, you're going to find them. If games with live dealers are more to your tastes, you'll find those here too. There's even a range of "888 Exclusive" games designed by some of the world's best providers. Their presence helps to lend an air of prestige to the casino, which is consistently one of the top performers in the UK. Regular players at 888 Casino might gain entry to the site's VIP club, which comes with five-star perks and bonuses. There's no bingo, poker, or sport betting at 888 Casino, but the casino company caters to that market elsewhere.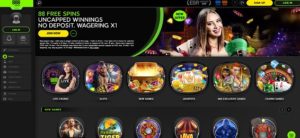 Wicked Jackpots
Wicked Jackpots is where the 888 Group shows its darker side. Everything at this website, which leans heavily into online slots ahead of anything else, is a little moody, a little naughty and yes, a little wicked. There's a beautiful woman on the landing page holding an enormous jewel to tempt you into playing and the promise of a spin of the site-specific "Wicked Wheel" as a reward for joining the site. The number of games at Wicked Jackpots is listed as five hundred, which is comparatively low for an 888 Group casino, but that's because slots and games that offer potentially massive payouts have been given priority. Average casino games simply don't make the cut. With that in mind, it's probably fair to say that the people most likely to enjoy their time at Wicked Jackpots are jackpot chasers and high-rollers.
888 Ladies
There's absolutely no ambiguity about who the 888 Group is targetting with 888 Ladies. It's ladies' night every day at this glittery, immensely-popular casino. This is one of the oldest bingo and casino sites on the 888 network but has undergone facelift after facelift to ensure that it always looks fresh and modern. At the moment, it's settled on a pink, white and green theme, but who's to say whether that will last more than a few months. Everything is changeable at 888 Ladies save for the website's mission, which is to provide a female-friendly space for people to meet, chat, play bingo games and perhaps chance their luck on a few online slots while they're there. Instant win games are given a more prominent placement than usual at 888 Ladies, which suggests that they might be a niche interest for the demographic of people who play regularly at the site.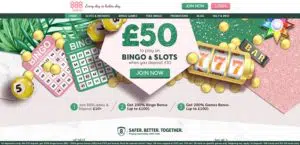 Costa Bingo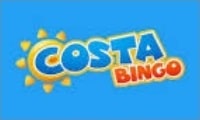 There are two "Costa" websites in the 888 Group family of casino sites; Costa Bingo and Costa Games. Costa Bingo is the more popular of the two and offers all the sights and sounds of a seaside holiday for players to enjoy as they work their way through the site's suitably-themed bingo rooms. Players can imagine that they're on the seafront in Blackpool or, perhaps more desirably, Mallorca. Given that the site has a beach theme, it's a little odd that the first highlighted collection of online slots at Costa Bingo is "Touch of Ireland," but Irish-themed slots are popular everywhere in the world. Costa Bingo is nowhere near as pretty to look at as, say, Wink Bingo or 888 Ladies, but it's a triumph of substance over style and another one to consider if you can't get enough bingo.
777 Casino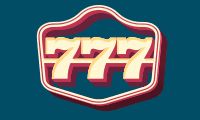 The name of 777 Casino is an obvious play on 888 Casino but gives the impression that this is a lesser casino site than its big-name sister site. That might be a mistake because there are several aspects of 777 Casino that might make it a better bet than 888 Casino for some players. The design is one of those factors. This is a gorgeous website with an "American road trip" theme. It's an original choice of theme for a casino site and helps 777 Casino to stand out from the massive crowd it's part of on the 888 Group casino network. The range of slots, table games, live dealer options and other attractions at 777 Casino can compete with anything else in the range, and there's even a VIP reward system for loyal players. There's a lack of sports betting, bingo and poker at 777 Casino, but as we've said before, the casino company caters adequately for that elsewhere.
888 Sport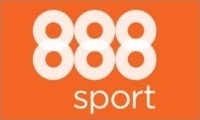 There's even more competition between UK casino sites for sports betting than there is for bingo, and that's really saying something. There are several hundred sports betting websites available to players in this country, but 888 Sport is one of the best-known and most popular of all of them. The credit for that can be given, at least in part, to 888 Sport's omnipresence as a televised brand, appearing in late-night commercials and as a sponsor for countless sporting occasions. The orange-and-black 888 brand has a colossal sportsbook encompassing almost every legitimate sport in the world, and even a few tongue-in-cheek extras like novelty bets and political betting, which a cynic would say are one and the same thing. You might find sports betting sites elsewhere that are as good as 888 Sport elsewhere, but it would be a stretch to say you're likely to find one that's better.
Health Games
Health Games is a casino site that's loosely affiliated with the Health Lottery. The Health Lottery is, in turn, a smaller-scale rival to the UK National Lottery. The interesting thing with this site is that the 888 Group doesn't run the Health Lottery but does run Health Games. That's a vote of confidence in the quality and security of the 888 Group; else, they would never have been trusted with such a high-profile brand. Comparisons aside, Health Games is a site that was designed to do everything that the Health Lottery doesn't. It offers online slots, instant win scratchcards, and a smattering of bingo rooms, along with some modest promotions to go with them. Unlike any other site on the 888 Group casino network, Health Games makes charitable donations. A portion of each player's first deposit goes to charities supported by Health Games, so it's a site you can feel good about playing at.
Two Fat Ladies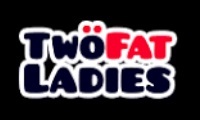 We can all argue until we're blue in the face about whether it's acceptable to call an online casino "Two Fat Ladies" in this age of political correctness, but that argument won't affect the enduring popularity of this casino site. We call it a casino site because, despite the fact that "Two Fat Ladies" is a call associated with bingo, the site is all about online slots. There aren't even any bingo games featured on the casino's homepage, although there are plenty waiting for you to find once you've registered an account with the site. Two Fat Ladies is a site with a theme that's most charitably described as "cheeky" and certainly won't be to everybody's tastes, but it's a fast loader and an easy one to pick up and play. So long as that remains the case, Two Fat Ladies will stay busy.
About the 888 Group
888 Group Limited is one of the most famous casino network companies in the world with over 200 active online casinos to its name and over fifty international gaming awards in its trophy cabinet. The company was first established and launched in May 1997 by entrepreneurs Avi Shaked, Aaron Shaked, Shay Ben-Yitzhak and Ron Ben-Yitzhak as Virtual Holdings Limited but was later changed to 888 Holdings Plc in 2006. Currently, the board of directors at the company consists of Lord Jon Mendelsohn (Chairman), Anne de Kerchkhove (Senior Independent Director), and Itai Pazner (Chief Executive Officer) among others. The 888 Group casinos network has access to a wide range of high-quality and top-notch games, which includes traditional casino games, poker, bingo, and sports. Some of these services are exclusive to only a few 888 Group sites whilst others might have any combination of these genres featured on their website.
Both the official website of the 888 Group and the casinos owned by them are fully regulated and licensed by the United Kingdom Gambling Commission. The main 888 website which is 888 Holdings Plc was registered back on the 11th of March 2015 and the 888 brand, under which all the casinos and websites are operated, received its most recent licence for bingo, casino, and general betting standard (real event) operations in 2014. This company also got its registration for the general betting standard (virtual event) on 16 April 2020. The total number of 888 Group casinos licensed under the UKGC is 377 with a few over 80 being active and the rest are either inactive or white labelled. Some of the big active sites owned by this company include 888.co.uk, bingohearts.com, costagames.com, and daisybingo.com. The main head office for this company is registered in Gibraltar with the exact address being 601-701 Europort, GX11 1AA, Gibraltar. This explains why both the company and its websites have a second licence via the Gibraltar Gaming Commissioner.
A lot has changed since 1997, but the 888 Group has adapted well to those changes and now finds itself at the forefront as an industry-leading company in the online gaming market. This company has been built upon a foundation of trust, reliability, and credibility – all of which are values you'll see listed repeatedly on the 888 Group's corporate website. 888 UK Limited never gave up on its foundation as a provider of high-quality, trustworthy, safe, and secure services and has become known among many players for the very same. In addition to all that, the 888 Group is always evolving and improving the services and games it has to provide, which creates a unique and exciting environment throughout all the casinos this company has to offer. The outstanding number of awards won by this company is also proof of their continuous strive for excellence and ongoing hard work.
In more recent years there has been no holding back in expanding the 888 Group casino network further and further. 888 and its partners collaborate with local licensing partners across the whole of Europe, as well as the emerging sports betting market in the USA. While they've been expanding they've still been picking up awards. This company has been a winner of the ERG Award for "Best Casino Operatore" on multiple occasions, has over 50 different international awards from various industry bodies to its name, and most recently picked up a respectable Gaming Intelligence Award. Additionally, seventeen of the 888 Group's casinos have won individual awards, including 888 Poker, 888 Ladies, 888 Casino, and 888 Sport. The 888 Group's strategy for continuing growth apparently includes putting safe gambling at the heart of everything it does, making investments driven by data, expanding into new regulated markets, and developing market-leading products.
Recent 888 Group Activity
The 888 Group is an active, busy company. You can expect major changes and announcements from this network at least once every couple of months, all of which will be reported on the official corporate website. You might also see news on the site's various social media outlets. As well as having a general 888 Group Twitter account, staff within the group maintain individual social media accounts for almost all of the network's biggest casino and bingo sites. The individual sites tend to be more popular with followers than the general site – for example; the 888 Poker site has five times as many followers on Twitter as the general 888 account. These social media accounts are a good place for the network to show off its personality – several of the posts are genuinely funny – but you'll also find plenty of business and industry information there, too.
The biggest and most important recent news in the world of 888 is its acquisition of the William Hill Group, which gives the company full ownership of one of the UK's biggest and most trusted high street gambling firms. The deal was declared to be complete in September 2021 and was assessed as being worth £2.2bn. There was concern among some William Hill players about the larger group's intentions towards its new property because, unlike 888, William Hill is still largely a high street brand, but the group has signalled its intention to keep the existing William Hill shops open. It hasn't ruled out the possibility that some of these shops might be given 888 branding as the company considers taking its first tentative steps into the physical world. The deal represented a cutting up and selling off of William Hill. The US arm of the company had already been sold to the famous Las Vegas casino network company Caesar's the year before.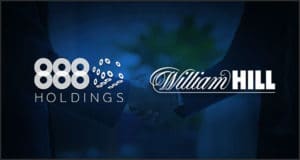 The deal gives the 888 Group ownership of around 1400 physical William Hill stores – a number that's down from 2,333 just four years ago. The 2020 pandemic is responsible for the loss of a lot of those old stores, but the government's enforcement of reduced stakes on fixed-odds betting terminals killed off a lot of the more marginal shops too. The stores are a nice asset to have, but the deal also significantly expands the 888 Group's sports betting presence. 888 Sport has long been a massive player in the UK market but was never as big as William Hill. If everything goes to plan, the group is expected to increase its sales revenue from around £800m per year to £2.5bn per year. That would triple the group's UK income and turn a company that's already a giant into an outright behemoth.
In smaller-scale sponsorship news, the 888 Group agreed in March 2021 to enter into a new partnership with the Moto GP racing organisation. This is the second recent foray into motor racing for the casino company, which already sponsors the Portuguese Grand Prix in Formula 1. Not all of the 888 Group's money is funnelled into sponsorships and acquisitions, though. Another March 2021 announcement saw 888 confirm that they were involved in the new "Reality Safer Gambling" project, which is designed to provide material upgrades in the quality of customer care at online casinos. 888's involvement means that the company is in direct partnership with GambleAware, which launched the project and uses it to provide financing for education, treatment, and research into the causes of and solutions to problem gambling.
Regulatory Action Against 888 Group in 2022
2022 didn't get off to the best start for the 888 Group. The casino network – one of the largest of its kind in not only the UK but the entire world – found itself on the receiving end of a substantial fine from the UK Gambling Commission after being deemed guilty of several serious breaches of its licencing conditions. The fine totalled £9.4m. This is the second time that 888 UK Limited has found itself on the wrong end of regulatory action from the UKGC, which also fined the group £7.8m in 2017 after it failed to protect vulnerable customers.
The £9.4m fine is the third-largest that the UKGC has ever handed down to a network company, which is a fair indicator of the severity of the breaches. All of the identified failings were related to social responsibility obligations or anti-money laundering regulations. Specific examples include 888 UK Ltd not carrying out financial checks on anybody who has deposited less than £40,000 with their casinos, not interacting with a customer who lost £37,000 in six weeks, and giving a deposit cap of £1,300 to a customer who had a declared monthly income of £1,400. In relation to money laundering, 888 UK Ltd had been accepting verbal confirmation of income from customers and, in one case, allowed a customer to spend more than £65,000 in three months without verifying the source of funds.
The group has been warned that if there are further failures, the UK Gambling Commission may have to consider its suitability to hold a licence. Given the 888 Group's announcement that it was participating in the "Reality Safer Gambling" project in 2021, the timing of the fine and subsequent bad publicity could scarcely have been worse.
What are players saying about 888 Group Casinos?
We've taken a selection of recent reviews written by players about the 888 Group's top casinos. They'll give you a feel for how players feel about the group at the moment. The reviews have been condensed for the purpose of brevity.
24-Feb-2022 Wink Bingo review by Ian:
This website has gone right down the drain. I've been a member for over two years and used to get a lot of bonuses plus a genuinely decent player experience. As of 2022 the bonuses are rubbish and never turn into real money. It feels like the slots have been capped, too. – source: Trustpilot
16-Feb-2022 Wink Bingo review by "Cooky Monster":
I joined Wink Bingo last week with a great bonus offer and won £200 straight away. I withdrew my winnings and got them three days later. Five stars for speed and customer service. – source: Trustpilot
24-Mar-2022 888 Casino review by Henry:
This is the worst casino. I played for two months and didn't win anything I could withdraw. Nothing pays anything, it's a scam. – source: Trustpilot
21-Mar-2022 888 Casino review by Leanne:
This site is rigged. I've spent hundreds of pounds here and never won a thing. They tell you it's all down to the random number generator but it can't be, it's so much worse than other sites. – source: Trustpilot
19-Mar-2022 888 Ladies review by Ionela:
888 Ladies is, by far, the worst casino site I've ever seen. It's literally impossible to win anything decent here. My account is closed, and I'm done with this scamming website. – source: Trustpilot
19-Mar-2022 888 Ladies review by David:
I lost a lot of money here. I didn't even get back 10% of what I paid in. How can the RTPs be right when even the bonuses don't pay out half of what you put in to get them? – source: Trustpilot
08-Mar-2022 Costa Bingo review by Belinda:
Absolute thieves. I've been with them for fourteen years but had a technical problem on 18th Feb when I should have won something. They take no accountability for it at all despite one of their own chat hosts witnessing it, and they won't pay me. I complained and they closed my account. – source: Trustpilot
11-Feb-2022 Costa Bingo review by Haley:
How is it fair that they let me deposit money but want ID now I'm asking to withdraw something? The only photo ID I have is my passport and they won't accept it because it's out of date. I can't get my money back. – source: Trustpilot
22-Mar-2022 888 Sport review by Francie:
I registered with them for the Cheltenham free bet offer. Gave them the £10 they asked for and was told I had the free bets as promised, and then they instantly blocked me until I send my passport. Now I can't log in and the free bets are no use to me. – source: Trustpilot
22-Mar-2022 888 Sport review by Daniel:
I've had an altogether terrible experience with 888 Sport. They were fine with me placing bets with them for several weeks, but the moment I go to withdraw they suspend my account and say I'm under investigation. I've had to write to eCOGRA to get my money back. I can't believe they're genuinely being regulated. – source: Trustpilot
Active 888 Group Sites
Below is a full list of all 888 Group sites that are active and online as of 2022. These are casino sites that the 888 Group owns and operates directly without assistance from any third parties.
White Label 888 Group Casinos
These are casinos that exist on the 888 Group platform but are operated by or in partnership with third parties, some of whom choose to remain anonymous.
Inactive 888 Group Casinos
Like almost every casino network company, the 888 Group occasionally closes casino websites down. There can be many different reasons for this, including sale to another casino network company or a lack of interest in the casino brand. If you're looking for a specific 888 Group site and it isn't on either of the lists above, it might be on the list below. Here are the 888 Group casinos that are no longer with us.
848 Play (848play.com)
888 Games (888games.com)
ABC Bingo (abcbingo.co.uk)
Biggest Bingo (biggestbingo.com)
Bingo Boudoir (bingoboudoir.com)
Bingo Calling (bingocalling.com)
Bingo Cove (bingocove.co.uk)
Bingo Dome (bingodomer.co.uk)
Bingo Flirt (bingoflirt.com)
Bingo Funland (bingofunland.com)
Bingo Hall (bingohall.co.uk)
Bingo in the Sun (bingointhesun.com)
Bingo Island (bingoisland.com)
Bingo Jet Set (bingojetset.com)
Bingo Lottery (bingo-lottery.co.uk)
Bingo Please (bingoplease.com)
Bingo Scotland (bingoscotland.com)
Bingo Wags (bingowags.com)
Bingo Yard (bingoyard.com)
Blastoff Bingo (blastoffbingo.com)
Brits Bingo (britsbingo.co.uk)
Broadway Bingo (broadwaybingo.com)
Candi's Bingo (candisbingo.co.uk)
Casino 848 (casino848.com)
Casino On Net (casino-on-net.com)
Champagne Bingo (champagnebingo.com)
Cheeky Bingo (cheekybingo.com)
Circus Bingo (circusbingo.com)
Cocktail Bingo (cocktailbingo.com)
Crystal Spins (crystalspins.com)
EU City Casino (eucitycasino.com)
Fairy's Bingo (fairysbingo.com)
Foxy Bingo (foxybingo.com)
Funtastic Bingo (funtasticbingo.com)
Get Betty (getbetty.co.uk)
Get Minted Bingo (getmintedbingo.com)
Gold Medal Bingo (goldmedalbingo.com)
Highlife Bingo (highlifebingo.com)
ITV Bingo (itvbingo.com)
Jester Jackpots (jesterjackpots.com)
Kingsway Bingo Online (kingswaybingoonline.com)
Little Big Bingo (littlebigbingo.com)
Look Bingo (lookbingo.com)
Loquax Bingo (loquaxbingo.com)
Lotto 24 Bingo (lotto24bingo.com)
Lucky Ace Bingo (luckyacebingo.com)
Luv 2 Bingo (luv2bingo.co.uk)
Majestic Play (majesticplay.com)
Mile High Bingo (milehighbingo.com)
New Chat Mag Bingo (newchatmagbingo.com)
New Pick Me Up Bingo (newpickmeupbingo.com)
Oink Bingo (oinkbingo.com)
Pacific Poker (pacificpoker.com)
Paint The Town Bingo (paintthetownbingo.com)
Peeps Bingo (peepsbingo.com)
Play Cosmo (playcosmo.com)
Play Woman Bingo (playwomanbingo.com)
Poker 848 (poker848.co)
Poker On Net (poker-on-net.com)
Priceless Bingo (pricelessbingo.com)
Prize Bingo (prize-bingo.co.uk)
Quid Bingo (quidbingo.com)
Red Carpet Bingo (redcarpetbingo.com)
Reef Club Casino (reefclubcasino.com)
Rollover Bingo (rolloverbingo.com)
Say Yes Bingo (sayyesbingo.co.uk)
Say Yes To Bingo (sayyestobingo.co.uk)
Sexy Shoes Bingo (sexyshoesbingo.co.uk)
Shampoo Bingo (shampoobingo.com)
Slots Monster (slotsmonster.com)
Sophie's Bingo (sophiesbingo.com)
Steamy Bingo (steamybingo.com)
Tea and Bingo (teaandbingo.com)
Telly Talk Bingo (tellytalkbingo.com)
TGI Bingo (tgibingo.com)
Top Ten Bingo (topten-bingo.com)
Deco Casino (uk.decocasino.com)
Scores Casino (uk.scorescasino.com)
Wacky Casino (uk.wackycasino.com)
White Rose Bingo (whiterosebingo.com)
Winneroo (Winneroo.co.uk)
WSOP (wsop.co.uk)
Bingo Millionaire (bingo.millionaire.co.uk)
Bingo 52 (bingo52.com)
Bingo Gringo (bingogringo.com)
Bingo Hall (bingohall.co.uk)
Bright Bingo (brightbingo.com)
Casino Heads (casinoheads.com)
Circus Bingo (circusbingo.com)
Deal or No Deal Spins (dealornodealspins.com)
Fantastic Bingo (fantasticbingo.com)
Flowerpot Bingo (flowerpotbingo.com)
Foxy Casino (foxycasino.com)
Gold Bingo (goldbingo.com)
Good Day Bingo (gooddaybingo.com)
Grand Mayfair (grandmayfair.com)
Iconic Bingo (iconicbingo.com)
Island Jackpots (islandjackpots.com)
Jackpot Fruity (jackpotfruity.com)
Kozmo Casino (jkozmocasino.com)
Lucy Bingo (lucybingo.com)
Ola Slots (olaslots.com)
OMG Jackpots (omgjackpots.com)
Pixie Bingo (pixiebingo.com)
Quid Bingo (quidbingo.com)
Shanghai Spins (shanghaispins.com)
Simply Spins (simplyspins.com)
Slots Force (slotsforce.com)
Um Bingo (umbingo.com)
Welcome Bingo (welcomebingo.com)
Welcome Slots (welcomeslots.com)
Wild Spins (wildspins.com)
Zinger Bingo (zingerbingo.com)
Zinger Spins (zingerspins.com)