Bally Casino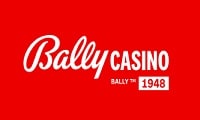 Bally Casino sister sites include JackpotJoy, Megaways Casino, Double Bubble Bingo, Virgin Games, Heart Bingo, Monopoly Casino and Rainbow Riches Casino. 
Bally Casino (ballycasino.co.uk) is operated by Gamesys Operations Limited of Suite 2, Floor 4, Waterport Place, Gibraltar, GX11 1AA.
Sites like Bally Casino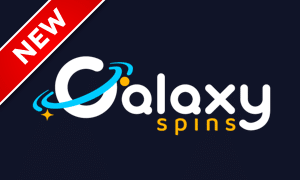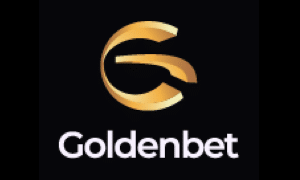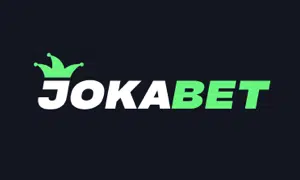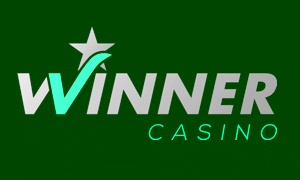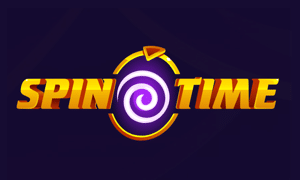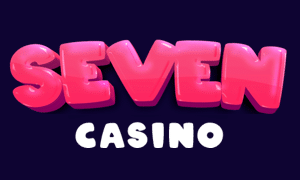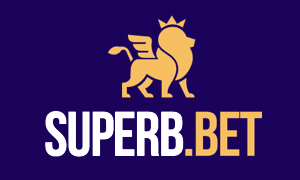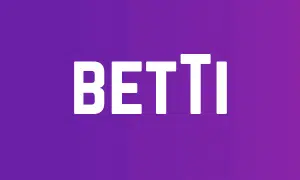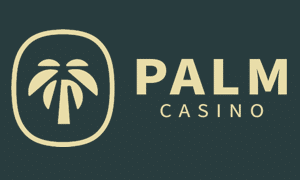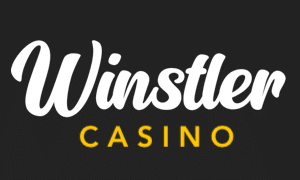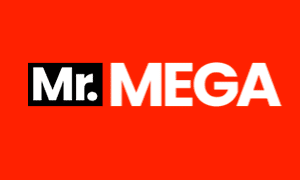 Bally Casino Sister Sites
When Bally Casino launched in 2023, it did so onto a network that was already full of big hitters. The Bally Casino sister sites include some of the biggest iGaming sites available to players in the UK. You only need to look at JackpotJoy for evidence of that, but there are several other star names among the Bally Casino sister sites. If you want the full scoop on all of the Bally Casino sister sites and the company that operates them (Gamesys Operations Limited), you can get one by clicking the link and visiting our page for the company. Here on this page, we have the best of the Bally Casino sister sites, plus a detailed review of Bally Casino itself.
Jackpotjoy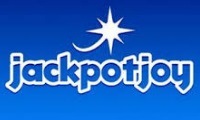 Having mentioned JackpotJoy already, it makes sense to begin with the most famous of the Bally Casino sister sites. We're not going to say that JackpotJoy is the outright biggest or most popular casino and bingo site in the UK, but it's in the top one per cent. If you move to JackpotJoy straight from Bally Casino, you'll notice a few similarities – not least in the way that the two sites are presented, and their happy habit of presenting players with wager-free promotions. You'll find these same similarities at most of the Bally Casino sister sites, which tend to follow the same template. Bally Casino threatens to become the new Gamesys Operations Limited flagship casino site, but until that happens, JackpotJoy rules the roost – a fact that it owes in no small measure to its many years of advertising on UK television and using celebrity ambassadors. Most people reading this will already be well aware of what JackpotJoy is and what it offers, but there's never a bad time to find out if you don't.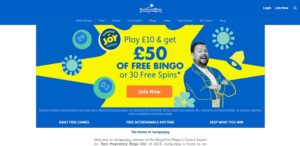 Double Bubble Bingo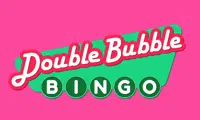 Double Bubble Bingo, with its curiously chewing gum-inspired aesthetic, isn't quite on the same level as JackpotJoy. It hasn't had the same number of celebrity endorsements, and it isn't a fixture on television. Nevertheless, it's become one of the most popular Bally Casino sister sites through word of mouth. Its focus is a little different to that of Bally Casino – one focuses on bingo while the other focuses on slots – but there's still plenty of overlap. If you're familiar with Bally Casino, you'll feel right at home at Double Bubble Bingo. The inspiration for the Double Bubble Bingo name comes from the old Double Bubble series of slots, bingo rooms and casino games, all of which are available here for players to enjoy. In fact, you might even find that there are a few Double Bubble games exclusive to this casino if that's what you're interested in.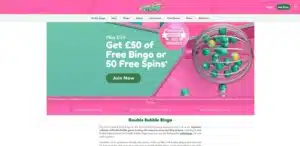 Rainbow Riches Casino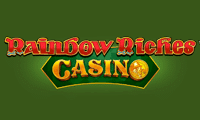 Nobody who knows their slots should need to be told where the inspiration for Rainbow Riches Casino comes from – it's an entire casino inspired by the legendary series of Irish-themed slots by Barcrest, which is now part of Scientific Games. The original Rainbow Riches is the slots game that all other Irish-themed slots aspire to be, and has been followed by countless sequels. Such has been the success of the series that there are even official Rainbow Riches bingo, Slingo and lottery games. You won't find the lottery games at Rainbow Riches Casino, but you'll find all of the other official entries in the series lined up and ready to play alongside the same extensive portfolio of casino games that all of the Bally Casino sister sites are blessed with. Rainbow Riches Casino might be a little more niche in its focus than the other Bally Casino sister sites, but its unique selling point has seen it perform well.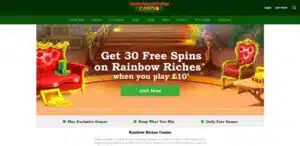 Monopoly Casino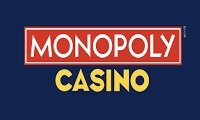 Monopoly Casino is to the official Monopoly games as Rainbow Riches Casino is to the official Rainbow Riches games. It's just that the scope is a little broader with Monopoly Games – they've been around for many years, and come in many different iGaming flavours. As an officially licensed Monopoly product, it's a sign of the respect that Gamesys Operations Limited is held in that the operator has been trusted with the brand and allowed to create this standout member of the Bally Casino sister sites family. While the site has "casino" in its name, its content is equally distributed between slots and bingo games, with promotions available on each. There's even some overlap between the promotions. Just as there are some exclusive Double Bubble games at Double Bubble Bingo, there are a few exclusive Monopoly games at Monopoly Casino. If you can't get enough of Monopoly-branded casino games, this is the best place to play them.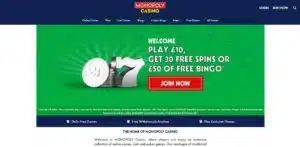 Virgin Games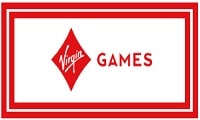 The big names just keep coming on the Bally Casino sister sites network – and they don't come much bigger than Virgin Games! This is, as the name implies and the logo confirms, one of the official Virgin iGaming brands. We say "one of" because there's also Virgin Bet, which confusingly belongs to a completely different casino network. Virgin Bet, though, is purely a sports betting brand. Virgin Games is the one to visit if you're a fan of Richard Branson's company and you'd like to play casino games under its auspices. While Virgin Games is broadly similar to all of the other Bally Casino sister sites – and especially similar to Bally Casino, given the colour scheme – it appears to be smaller when it comes to its games portfolio. The homepage of Virgin Games claims that the casino offers around four hundred titles, which is considerably fewer than you'll find at other casinos on the platform – although admittedly not Bally Casino.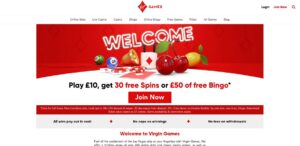 Bally Casino News
: The Sun has finally pulled its finger out to announce that Bally Casino, a renowned name with over 75 years of experience in the American casino industry, has ventured into the UK market – better late than never! The casino experts found that this casino boasts a large selection of games, including over 700 slots, progressive jackpots, Megaways titles, and live dealer games, all operating under a UKGC license. Players at Bally Casino can enjoy a variety of offers and bonuses, including a welcome bonus of 30 free spins on the Secrets of Phoenix – Megaways slot, with a minimum deposit of £10 and no wagering requirements. Additionally, the weekly Casino Showdown promotion offers players the chance to win up to £250. According to The Sun, the casino's strengths lie in its diverse range of games, although given that most UK casinos offer thousands of games, this may not be enough diversity for everyone!
The Sun also noted that improvements could be made by increasing the number of payment methods. However, on the plus side, the sign-up process is straightforward, and the casino ensures compliance with UK regulations, meaning that your wagers and banking information will be more than safe, especially with the use of end-to-end encryption. While it currently does not offer a no-deposit bonus, the casino's mobile compatibility and customer support make it a reliable choice for online gaming. Despite its strong American roots, Bally's UK venture doesn't significantly differ from its sister sites like Monopoly Casino and Rainbow Riches Casino, operated by Gamesys, which might be a point of consideration for players seeking a unique gaming experience.
: The inaugural month of Bally's temporary casino in Chicago's Medinah Temple has yielded a mixed bag of results, according to the latest report. While the venue has undoubtedly made its mark on the state's gaming scene, the figures indicate a decline in both revenue and admissions. In October, the casino reported over £7.6 million in earnings, which, while impressive, marks a 12% decrease in average daily revenue from its initial weeks post-launch. This downturn in daily profit — from approximately £278,268 to £245,446 — has positioned the River North establishment just behind the leaders in the state's roster of casinos, yet the numbers fall short of the optimistic tax revenue projections set for bolstering Chicago's police and firefighter pension funds.
Bally Casino's performance, still ranking as the second most visited gaming destination in Illinois, suggests an initial surge of interest may be diminishing. With the state figures highlighting this dip, industry observers and stakeholders will be keenly watching how the casino's fortunes unfold in the coming months. Such a trend is not uncommon in the casino industry, where initial excitement can give way to a normalisation of visitor numbers as the novelty wears off. It is also reflective of a broader pattern where new attractions experience a surge in interest followed by a stabilisation period. The significance of this revenue drop might prompt a strategic review for the casino, looking at marketing efforts, player retention strategies, and possibly the introduction of new gaming options to reinvigorate interest. In the competitive world of gambling, staying agile and responsive to such trends is crucial for long-term success.
: As the leaves turn orange and fall blankets the streets of Pennsylvania, a chilling and thrilling addition has made its way to the gaming scene. Play Pennsylvania recently shed light on a spine-tingling new Halloween-themed slot game called Infective Wild, introduced by Pragmatic Play, available for play at the renowned online establishment of Bally Casino Pennsylvania. Diving straight into the eerie depths of the game, players will find themselves entranced by its haunting theme, meticulously crafted to evoke the spirit of Halloween. The slot's vivid graphics come alive, painting a picture of a world teetering between the supernatural and reality. But what truly sets this game apart is its striking resemblance to the cult-favourite film, Sleepy Hollow. The atmospheric backdrop, ominous sounds, and character symbols harken back to the movie's memorable moments, making for an immersive gaming experience.
As players traverse this gothic world, they are in for more than just a visual treat. The game is generously peppered with bonus features, each designed to up the ante and elevate the player's adrenaline rush. Whether it's free spins, multipliers, or mystery symbols, there's always an unexpected twist awaiting around the corner. And, for those with an eye on the prize, the game doesn't disappoint. Players can walk away with staggering payouts, adding another layer of excitement to the entire experience. In conclusion, as Pennsylvania gears up for the Halloween festivities, this new offering at Bally Casino promises to deliver an unparalleled mix of suspense, entertainment, and rewards. A perfect tribute to the season, this game is bound to be a hit among players seeking a blend of thrill and opportunity.
: While Bally Casino in the UK is failing to make any headlines, much like the rest of the casinos in the Gamesys network, it is a different (news)story for the retail Bally's Casinos in the US. This week, Courier & Press proved that attempting to cheat while heading to a brick-and-mortar casino isn't just futile, it can come with some pretty serious consequences. After some punters attempted to switch a jackpot and steal some casino chips in the casino in Evansville, Indiana, two people landed themselves with some quite significant jail time. Two separate investigations are being carried out by the Indiana Gaming Commission, which clearly doesn't take such underhanded casino tactics lightly.
The first arrest took place earlier this week when officers booked a 42-year-old man, who was swiftly taken to Vanderburgh County Jail on one count of cheating while gambling. Even with the one count against him, he still faced serious consequences after he was slapped with a level six felony. The second offender was an 81-year-old man who was perceived to be guilty on two counts: misdemeanour theft and cheating at gambling; unlike the first perpetrator, the second has already been released on bail. The first was accused of attempting to avoid state and federal taxes by asking another person to collect his jackpot, which is referred to in the casino trade as a jackpot switch. Whereas the second illegally purchased a set of casino chips, which he later attempted to use at a roulette table in a Bally's casino.
: After reading a recently posted article by YOGONET, it is safe to say that Bally's temporary casino at the Medinah Temple in Chicago is doing infinitely better than the recently launched Bally Casino in the UK. In its first three weeks, the pop-up temporary casino has raked in a colossal sum of almost £7 million. The temporary casino opened on September 9th, and the reported figures go up to September 30th; the figures have only recently been reported by the Illinois Gaming Board, presumably, Bally has been popping champagne corks over them for the past few weeks leading up to the official ribbon cutting on the 3rd of October! The £6.7 million in revenue takes into account all the winnings that have been paid to casino revellers and presumably other costs of running the casino.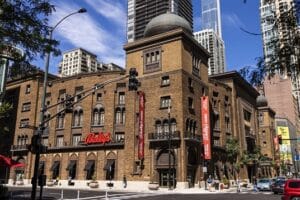 The bulk of the revenue came from the vast array of slot machine terminals (£4.3 million), while the remaining revenues were taken off casino tables – that is one hell of a house edge. Even though the casino is 'temporary', it is expected to remain in place until 2026 until Bally's new premises are finalised at Chicago Avenue on Halsted Street. At least they won't need to be worrying about paying the contractors! Even though a £6.7 million profit may seem staggering, in terms of profit, Bally's casino is ranked the eighth-highest among the sixteen land-based casinos operating in the state, but that is still a massive achievement, given that Chicago is still getting accustomed to the new location!
: Bally Casino's arrival in the UK has caused quite a stir in the iGaming sphere – even if the 'new' casino is pretty much a direct copy of Megaways Casino running under a different name. Thankfully, there are infinitely more interesting developments happening across the pond, especially after Bally's Corporation decided to launch a shuttle bus service to Ferry Point in an attempt to boost a casino bid, which largely revolves around implanting a new casino in the Golf Links Resort in Ferry Point. The free shuttle service will start on the 1st of October and transport NYC residents to the Golf Links resort, which previously belonged to the Trump empire before Bally's takeover. This slightly gimmicky new venture is just one of the avenues Bally's Corporation is taking to strengthen the bid which is asking for three upstate casino licences to be issued.
The branded Bally's bus, which can be viewed in an article on Yogo Net can accommodate 20 passengers on each trip, and it is fully wheelchair accessible. The service will be available to everyone from 10 a.m. – 7 p.m. on Monday to Friday, and it will run in a loop every 30 minutes from Hutchinson River Parkway to Golf Links. Brian Crowell, the general manager at Bally's Golf Links, stated that their patrons are at the heart of every decision they make; he is confident that the shuttle bus will elevate the experience for the patrons and stand as a testament to the company's long-term commitment to the gambling community
: It has to be said that the arrival of Bally Casino at the start of September didn't happen with much fanfare. However, this week, it seems that some iGaming sites were just slow off the mark in the celebration of the brand-new platform from Gamesys. On September 15, iGaming Business announced that Bally's is set to launch a brand-new platform in Britain, although when their resident online casino expert wrote that headline, the online casino had already been operational for over two weeks! The new platform was announced as a rebrand of one of the recently departed Bally Casino sister sites, Megaways Casino, which was already way past its prime, given that the site rarely got hold of new games featuring the Megaways mechanics.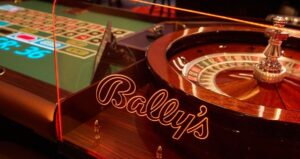 The Bally's signature brand is already well-established in several US States, if it fares as well in Britain, Gamesys may become the operator behind one of the best new sites of 2023. The platform caters to all tastes with the inclusion of everything from progressive jackpot online slot games to live poker games to live bingo rooms to Slingo games. In a press release, a spokesperson for Bally's affirmed that after accruing 75 years of experience in the entertainment business, they are more than capable of creating a platform which is just as big on entertainment as it is on rewards and customer service. For any players with an account with Megaways Casino, full details will be provided regarding the switchover, which will officially finalise on the 17th of September.
: Strangely, there aren't many news headlines hailing the arrival of Bally Casino which replaced the much-neglected sister site, Megaways Casino. However, there are plenty of announcements around the new partnerships with the new partnership contracts signed by the gambling operator, Gamesys. On the 30th of August, Gaming Intelligence announced that Pragmatic Play has recently signed a brand-new deal with Pragmatic Play which will see all of the iGaming developer's live casino games roll out on the Bally Casino sister sites. While access to the Pragmatic Live games will very much depend on where players are in the world, players in the UK and Spain have been assured that they will be given access to the state-of-the-art game shows, including PowerUP Roulette, Boom City, and Sweet Bonanza Candy Land.
The chief operating officer of Pragmatic Play, Irina Cornides, had all the good things to say about Gamesys in her press statement. She let the iGaming world know that from past experience with Gamesys, she knows they are a collaborative and creative team, which shares her commitment to player protection and entertainment. She sees this new extended partnership as a sign that their productive partnership is continuing to strengthen. She is also excited for more players to gain access to their premium table games and immersive game shows; even though there are already plenty of stellar games in their portfolio, the iGaming team is always hard at work developing new live games to make the virtual casino experience to the next level. The director of live casino strategy and development for Bally, Simon Field, stated that he couldn't be happier to showcase the boundary-pushing games from Pragmatic.
Can Bally Casino Be Trusted?

★★★★★
Bally Casino is a 3 Star trusted casino.
1. UKGC License

Bally Casino is listed on UK Gambling Commission licence no. 38905, which belongs to Gamesys Operations Limited.

2. UKGC Fines

This licence is clean, with no sanctions, suspensions, fines or other incidents noted on it.

3. Customer Service

Baly Casino offers live chat support on a 24/7 basis, plus email support. It doesn't currently offer telephone support.

4. Trustpilot Score

N/A – Bally Casino hasn't yet attracted enough reviews to secure a proper rating at Trustpilot.

5. Company Location

The head office of Gamesys Operations Limited is in Gibraltar, which is a UK territory.

6. Visible T&C's

All the relevant terms and conditions of Bally Casino are easy to find and clearly stated.

7. Social Media Presence

Bally Casino opened Twitter/X and Facebook accounts when it launched in August 2023.

8. Number of Sister Sites

There are six Bally Casino sister sites on the Gamesys Operations Limited platform.

9. Games portfolio

Barely over one hundred casino games in total, which is very low by modern standards.

10. Gamstop links

While there's a clickable logo/link to GamStop on the Bally Casino homepage, it's tiny and would easily be missed unless you were specifically looking for it.

Overall SCORE >

★★★

★★ – 3/5 Stars
Bally Casino Review 2023
Bally Casino isn't your average online casino. Bally's Corporation is one of America's biggest casino and iGaming companies but has a history that goes back long before the dawn of iGaming. The Bally's brand has been around for more than seventy-five years and has seen the entire casino world change around it. It's also the ultimate owner of Gamesys Operations Limited, which operates all of the Bally's Casino sister sites. Technically speaking, that means when Bally Casino launched in August 2023, it automatically became the network's flagship casino site. Is it worthy of that title? Let's run the rule over it and find out.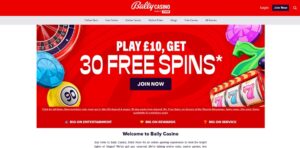 Bally Casino Welcome Promotions
Bally Casino promises its players an all-American casino experience, but we're used to portions being bigger in the United States of America than they are in the UK. The Bally Casino welcome promotion is, therefore, a little disappointing. New players can claim thirty free spins on the Secrets of the Phoenix Megaways slot when they sign up, deposit £10 into their new Bally Casino account, and then wager than £10. The spins are played through with a value of 20p per time, with the only bright side being that there aren't any wagering requirements attached to anything that you might win from them. Considering the reputation that the Bally brand name enjoys, it's underwhelming.
Other Promotions
Despite claiming to be "big on rewards" on the splash banner on its homepage, Bally Casino has barely any promotions to speak of. Aside from the sign-up bonus, the only thing at Bally Casino that might count as a bonus or a promotion is its selection of "Daily Free Games," which are available to be played once per day (with a maximum of one play of each individual game per week) by all players with a lifetime deposit history of £10 or more. The free games, which include titles like Doubly Bubbly, Search for the Phoenix and Daily Paper, can pay out prizes like free spins to be used on other games at Bally Casino and cash prizes of up to £750, which can be withdrawn immediately.
Pros and Cons of Bally Casino
Pros:
Bally Casino is a big-name casino connected to a massive American company that has a long history of success. It's a name that ought to be trustworthy. While it doesn't offer many promotions, those that it does offer have customer-friendly terms and conditions attached to them. Customer support is available 24/7, which is another plus.
Cons:
There are surprisingly few games at Bally Casino – far fewer than you'll find at most of the Bally Casino sister sites. The range of deposit and withdrawal methods available is slow and limited by modern standards, and there are very few promotions available. In general, there just isn't as much iGaming content at Bally Casino as you'd expect there to be.
Top Games at Bally Casino
We've said that Bally Casino is light on games a couple of times now, so we don't want to keep banging the drum about that. Instead, let's focus on what it does have to offer. The games at Bally Casino are neatly divided into their respective categories, which are slots, live casino games, poker, Slingo, and free games. Slots are listed first, though, so we can assume they're the casino's top focus. Here are the casino's three biggest hitters as of the time of writing.
Get ready to cast your line and reel in some big wins with "Fishin' Frenzy The Big Catch" by Blueprint. This engaging slot game takes you on a fishing adventure with a 5×3 grid and ten paylines. With an RTP of 96.12% and medium volatility, it offers a balanced gaming experience. The Free Spins feature is central to the gameplay, allowing players to scoop additional prizes with a progressive level-up system. Fish symbols pay up to 20x for line wins and come with fixed cash values that can be collected in the free games. The stakes range from £0.1 to £10 per spin, and the game's capable of delivering wins of up to 50,000x the stake or £250,000.
"7s Deluxe Fire Wheel" is a classic 3×3 slot game also developed by Blueprint Gaming, offering a fiery twist to the traditional casino experience. With high volatility and five paylines, this game features a substituting symbol to enhance winning opportunities. The RTP stands at 95%, with 2.32% contributing to the jackpot pots. A unique Fire Wheel feature activates when the screen fills with the same symbol, allowing players to spin a special wheel containing multipliers from x1 to x10. Additionally, the Jackpot King Deluxe Pot system offers two progressive jackpots, adding an extra layer of excitement. Betting ranges from £0.25 to £10, with a maximum win of x50,000 or £250,000.
Get ready for a lively Irish adventure with "Tippy Tavern," a high-volatility slot from Snowborn Games. Played on a 5×3 grid with 20 betlines, this game offers an increasing Coin Collect Multiplier system that can boost your winnings up to 10 times. The slot offers two unique bonus rounds, including the Happy Hour Bonus, a hold and win style feature. With an RTP ranging from 94.18% to 96.22%, depending on the market, and a maximum win of 7,500x your stake, "Tippy Tavern" provides an engaging experience. The Irish Luck theme is complemented by a cheerful Leprechaun swaying with his beer, adding to the game's charm. Will you be able to take advantage of the Coin Booster Multiplier? How will the Happy Hour Bonus treat you? Can you achieve the maximum win in this Irish-themed extravaganza?
Withdrawal Processing & Support
Bally Casino is nowhere near as fast as you'd hope for a casino launched in 2023 to be when it comes to processing withdrawals, and it doesn't offer much in the way of choice, either. When the casino receives a withdrawal request, it aims to process it within 4-24 hours. From there, the amount of time it takes to receive funds depends on the chosen method. For debit card withdrawals to a Visa card, you're looking at up to three working days unless you have Visa Direct, in which case that drops to a far more reasonable four hours. Mastercard withdrawals will take another full working day to process, as do bank transfers and Apple Pay withdrawals. There's no support for e-wallets or bank transfer intermediary services like Trustly. Also of note is the fact that Bally Casino uses a "closed loop" withdrawal policy, which means the method selected for withdrawal must be the same as the method selected for deposit.
Customer Services & Licensing
Bally Casino is covered by UK Gambling Commission licence 38905, which is held by Gamesys Operations Limited in its capacity as the casino's operator. The licence is clean and also applies to all of the Bally's Casino sister sites. Customer support at this casino is provided via live chat, which is advertised as being available on a 24/7 basis. There's also a contact form if you'd rather communicate with the support team that way, but there's no way of speaking to anybody at Bally Casino over the phone.
Bally Casino – The Verdict
If this casino had any other name, we'd see it as an average member of the Gamesys Operations Limited family. As it has the Bally name attached to it, we expected more. It doesn't come with enough iGaming content, it doesn't have any knockout promotions, and it's a little dated in the way that it handles transactions. We appreciate that it's still early days for the casino after launching in August 2023, though, and it's entirely possible that it will grow over time. We'll keep checking back, and if things improve, we'll revise this review. For now, though, it's basically fine, even if it doesn't bowl you over.
What are players saying about Bally Casino?
Here are our condensed / reader's digest summaries of recent player reviews of Bally Casino.
29-Oct-2023 by Manpreet:
I initially thought I'd struck gold when I deposited £15 and won £500. I tried to withdraw my winnings, but they kept it pending. Then, out of the blue, they closed my account with my £500 still in it. They claimed I breached their T&Cs but wouldn't tell me how. I'm not letting this go; I'll be contacting trading standards and their FCA. They're nothing but scammers. – source: Trustpilot
27-Oct-2023 by Emma:
I used to enjoy playing on Megaways and even won sometimes. But ever since it changed to Bally Casino, it's like throwing money into a bottomless pit. I've tried their promotions, but they're just as pointless. I'm seriously considering stopping my weekly deposits; it's just not fun anymore. – source: Trustpilot
21-Oct-2023 by Richard:
My partner and I used to have a good time on Megaways. But since it changed its name to Bally Casino, it's been a complete disaster. We've collectively spent over £150 and haven't seen a single win, not even a measly £10. It's like the site has turned into a black hole for money. – source: Trustpilot
04-Oct-2023 by Georgia:
I was a fan of Megaways, but Bally Casino is a different story. I've been trying to withdraw my winnings, but they're giving me the runaround. They asked for additional information, which I provided, and now they're ghosting me. My withdrawal is still pending, and their customer service has been abysmal. – source: Trustpilot
26-Sept-2023 by Laczko:
I thought I'd give Bally Casino a try and spent £20 on 10p bets. I was hoping for at least one free spin or a small win, but nothing! It's like the games are rigged. I've never had such a terrible experience with an online casino before. – source: Trustpilot
13-Sept-2023 by Luke:
I had a decent experience with Megaways, but Bally Casino has been a letdown. The win-loss ratio feels skewed, and it's been a disappointing ride. I'm giving it a bit more time, but I'm already on the lookout for a better site to play on. – source: Trustpilot
07-Sept-2023 by Carl:
Megaways was okay, but Bally Casino is a whole new level of bad. The payouts are rare, and when they do happen, they're less than your stake. I've heard they switched names to dodge an upcoming investigation. I wouldn't put it past them; the site is trash. – source: Trustpilot