Broadway Gaming Casinos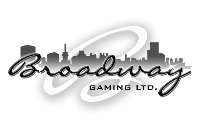 Broadway Gaming Limited operates eight online casinos. The Broadway Gaming sites are Casino Fantastico, Bingo Diamond, Butlers Bingo, Casino of Dreams, Dotty Bingo, Glossy Bingo, Lucky 247 and Rosy Bingo. 
Broadway Gaming Limited is based at 16-20 Hospitality House, Cumberland Street South, Dublin, Ireland, D027 097.







All Broadway Gaming Sites 2022
Rosy Bingo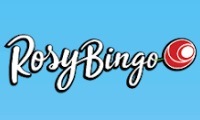 The first word that comes to mind when you're looking at the Rosy Bingo website is "plain," which isn't the first word that Broadway Gaming Limited would probably want us to think of when we're looking at any of their bingo and casino sites. The issue is that a lot of the Broadway Gaming casinos have been made with a similar template, and the template doesn't appear to allow a lot of flexibility. It's just a solid block of colour (blue in the case of Rosy Bingo) with a tiny logo, a "sign up" section, and a selection of reviews from Trustpilot. The inclusion of the reviews section is interesting because it showcases independent reviews on the Rosy Bingo homepage, but the reviews that are shown here are selective. We'll have more on that later. Scrolling a little further down the Rosy Bingo homepage confirms that this isn't just a bingo site at all. There's also a range of online slots at Rosy Bingo, albeit not a huge one. The page tells us that there are "over 300" casino games and slots at the site, which is significantly below the number you'd expect to see at a top site. The slots aren't the site's raison d'etre, though – it's a bingo site first and foremost, and the social aspect of the Rosy Bingo rooms is thought to be excellent. Chat is always lively, the chat hosts are friendly, and promotions are both plentiful and balanced. There are better-looking bingo sites out there – lots of them, in fact – but when it comes to substance, Rosy Bingo has enough content to please most bingo fans. However, there will soon be more bingo sites on Broadway thanks to the acquisition of the 888 Group's bingo business, so how Rosy Bingo competes against them remains to be seen. 
Dotty Bingo
There's only one difference between the Dotty Bingo homepage and the Rosy Bingo website, and the difference is that the Dotty Bingo homepage is red and has a different logo. Aside from that, you'd be hard-pressed to tell them apart. This isn't just an issue for these two sister sites – it's an issue for most of the Broadway Gaming sites. The layout is identical, with the "sign up now" section in exactly the same place and the handpicked Trustpilot reviews appearing just below the initial splash of colour. While we haven't directly compared every single game in the Dotty Bingo library to every game in the Rosy Bingo library, the fact that the number of games is again given as "over 300" leads us to believe that we're dealing with the same portfolio of games, too. Even the promotional graphic for the bingo rooms is the same, with the "Broadway Room" chosen as an example and the same mocked-up content in the chat preview window. There's no reason to choose Dotty Bingo over Rosy Bingo or vice versa other than if your favourite colour happens to be blue or red. Near-identical loyalty schemes exist in both places, though, so if you've maxed out the VIP rewards at Rosy Bingo, we suppose it might be an idea to try to do the same at Dotty Bingo and get the best of both worlds. Both Rosy Bingo and Dotty Bingo are going to have something else to worry about when new Broadway bingo sites appear later this year when the 888 Bingo takeover deal goes through. The games at Dotty Bingo (and the rest of the Broadway Gaming sites range) are provided by Pragmatic Play, Eyecon, and Microgaming. That's only a narrow band of providers, but the upside is that they're three of the most respected names in the casino industry.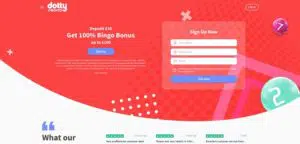 Glossy Bingo
Glossy Bingo is the third use of the exact same template for the Broadway Gaming casinos family, and it's a shame to see it. Many of the sites used to have individual styles, but at some point between 2021 and 2022, Broadway Gaming decided to go for a uniform look across its product range, and it's taken away the individuality of its bingo sites. The idea behind Glossy Bingo was once that the site was laid out to look like a glossy magazine (hence the name), but the only remaining clue that this was ever the case is its tabloid-style blocky logo. If you've read the two mini-reviews above, you can probably already guess what we're going to say about the rest of the Glossy Bingo site. The layout is the same, the graphics used on the site are the same, and the range of games and bingo rooms is the same. You'll even find that the promotional text in the "about us" section of Glossy Bingo is virtually identical to the text in the same section of Dotty Bingo and Rosy Bingo, meaning there's nothing unique to be found there either. One of the oddest things about the Broadway Gaming template is that it doesn't allow the bingo sites to show off their games. None of the site's games or bingo rooms are highlighted on the homepage – you have to go to the "bingo" and "slots" tabs at the top of the screen if you want to see the site's full range of wares. The template doesn't do much to make players feel excited about playing at Broadway Gaming sites, which surely defeats the point to some extent. We understand from the reviews that the content is good and players have a good time at Glossy Bingo, but the site could perform even better if it looked more appealing. Given that the Broadway Gaming bingo sites range is about to be significantly expanded, it might have an issue if those tweaks aren't made sooner rather than later.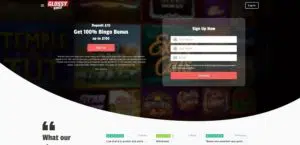 Butlers Bingo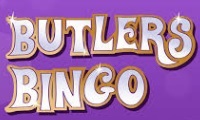 Butlers Bingo has been online since 2010. That makes it the oldest of the Broadway Gaming sites and, in theory, the casino network company's flagship brand. Whether the network sees it as a flagship brand is another thing, as sites like Glossy Bingo and Casino of Dreams might be more important to their owners these days. Given that all of those 888 bingo sites are about to become Broadway Gaming bingo sites, it may slip even further down the pecking order. Butlers Bingo used to have the look and feel of an old-school bingo hall turned into a website, but that look and feel have gone thanks to the introduction of the ubiquitous Broadway Gaming template. The current version of Butlers Bingo looks just like all the other Broadway sites now, save for a splash of purple colour as a reminder of the way things used to be. It's a shame more isn't done to clue players in to the fact that there are so many popular bingo rooms here. If you find your way to the site's dedicated bingo page, you'll see row upon row of bingo rooms listed in order of when the next game is due to begin. Jackpots within those rooms range from £10s and £20s to thousands of pounds, with tickets priced accordingly. No matter what your bingo budget is, you should be able to find a room at Butlers Bingo that suits it. Your experience in many of the themed rooms can be complemented by checking the latest offers in the site's promotions section, which is updated regularly and often features time-limited offers. For those reasons, it's worth a check every time you arrive at the site.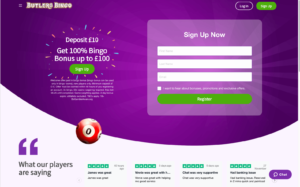 Bingo Diamond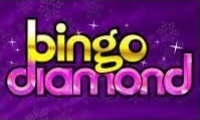 Bingo Diamond will provide you with the exact same experience that awaits you at Glossy Bingo, Dotty Bingo, or any of the other Broadway Gaming sites we've mentioned thus far in this list. At this point, we've run out of new things to say about the template. Nothing ever changes apart from the background colour, and there's no attempt to differentiate Bingo Diamond from any of its sister sites. We don't know what possessed Broadway Gaming Limited to take this approach with the bingo sites on its network, but we're not fans of the idea. It's true to say that players who enjoy one site on a casino network might also enjoy playing at its sister sites, but they still expect to see at least some differences when moving from one site to another. With Bingo Diamond – and the Broadway Gaming bingo sites in general – they get no differences whatsoever. We even lined up the bingo rooms here against the bingo rooms at Butlers Bingo and found that they have the same names, the same jackpot prizes, the same ticket prices and roughly the same degree of custom. The only reason we can think of for moving between these sites as a player is maxing out the bonuses and promotions on each site. Other than that, you might as well just pick one of the sites and stick with it. Bingo Diamond is likely to become so lost in the shuffle when there are more bingo sites on Broadway later in 2022 that it may not survive at all.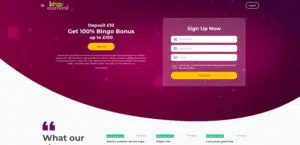 Casino Of Dreams
Every Broadway Gaming site we've looked at so far on this list has been a bingo site. Casino of Dreams has a different focus. It's the most popular of the Broadway Gaming casinos and focuses mainly on online slots. The homepage informs us that there are "hundreds" of games available at the site, which is a reminder that while you might find several of your favourite online slots at Casino of Dreams, Broadway Gaming Limited doesn't work with the whole of the market and can't be compared to a casino network that does. Even with that said, though, there's enough variety here to keep most players entertained. Slots dominate the homepage, but separate categories for table games and scratch cards are also provided. Rather than focusing on tried-and-trusted favourites, Casino of Dreams tries to keep things interesting by promoting new games above all other content. If you're interested in the latest creations from Microgaming, Eyecon, and Pragmatic Play, this would be a good casino to find them at. While the progressive jackpots at Casino of Dreams aren't much to write home about, the site does at least promise jackpots that have to be won every day. Somebody has to win those jackpots, so you have every bit as much of a chance at bagging one of them as any other player who arrives at Casino of Dreams today. Is this site literally the casino of your dreams? Probably not, but you won't find much to dislike about it, and the promotions might keep you entertained for a while.
Lucky 247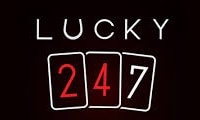 Lucky 247 is an altogether plainer-looking casino than Casino of Dreams, even though it features a broadly similar layout. The black background makes the site appear more minimal than its sister site, and the logo looks a little retro. Even with that retro throwback feel, though, the focus of Lucky 247 is very similar to that of Casino of Dreams. New games still get listed ahead of everything else, and the gaming portfolio is still divided into the same sub-categories. The "about us" section of Lucky 247 says that the casino is "fantastic by name, fantastic by nature," which suggests that somebody wasn't paying as much attention as they should have been when they copied and pasted the text across from Casino Fantastico. Lucky 247 still makes a point of showcasing its Trustpilot score underneath at the bottom of the homepage even though it has a lower Trustpilot score than any of the other Broadway Gaming sites. We suppose that's an honest approach, even if it isn't the best way of encouraging players to trust the casino. This casino operates a five-tier loyalty reward program with daily deals, free spins and "bonus Wednesday" rewards increasing at every level. All rewards are re-set every thirty days, though, so if you want to make it to the top of the tree at Lucky 247, you'll have to put quite a lot of time and money into playing at the site all month. "Fiery Tuesdays" and "Bonus Back Thursdays" are also regular features on the site, so we can say that this is a casino that tries to bring its players a little something extra to play for every day of the week.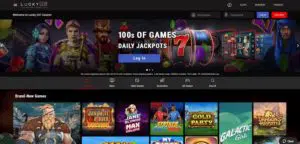 Casino Fantastico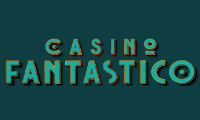 We've noted several times that all of the Broadway Gaming Limited bingo sites use the same template. So do all of the Broadway Gaming casinos. That's a good thing when it comes to players being able to know exactly where to go and what they do each time they move from one site to another, but it's a bad thing if you're looking for variety. If you're looking for a difference between Casino Fantastico and Casino of Dreams or Lucky 247, the most visible difference is that the background colour of the casino is green. Look a little closer, though, and you'll see another difference – one that might persuade you that you might be better off at Lucky 247 than you will be at Casino Fantastico. That's because Casino Fantastico doesn't operate a loyalty reward scheme. There are still daily deals and loyalty tokens, but the structured loyalty program that exists at Lucky 247 isn't repeated at Casino Fantastico. We're not sure why that is, as it obviously makes Casino Fantastico weaker than its sister site. We'd have to suggest that Lucky 247 is a better casino than Casino Fantastico for that sole reason, but that doesn't mean you won't still enjoy any time you spend at Casino Fantastico. The limited range of online slots you'll find here is of high quality, and the site is well-presented. We wouldn't call it "memorable," but you can still make money playing at casino sites that aren't memorable so long as your luck is in and your strategy is right. Casino Fantastico could do with a live dealer section to bring it in line with the more modern casino sites out there, but the same is true of all the casinos on this network.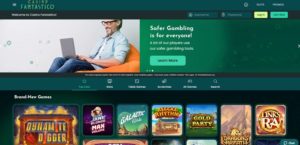 About Broadway Gaming Limited
In Their Own Words
It's easy to find out information about Broadway Gaming Limited on the internet because you can go straight to the horse's mouth. There's an official Broadway Gaming Limited website, and it contains information pertinent to both customers and potential investors. There might not be a lot of information – the site is just a single page – but it's still more than a lot of casino network companies make publicly available about themselves.
The Broadway Gaming Limited story began in 2010 with the formation of the company in Ireland, although the company has since opened a second office in Malta. In June of that year, it launched its first bingo site, Butlers Bingo. The Broadway Gaming website still describes Butlers Bingo as their flagship brand, although, as we noted above when we were discussing the various Broadway Gaming sites, it may no longer be the most popular or successful casino site on the network. Butlers Bingo was, in fact, the only bingo or casino site operated by Broadway Gaming until Glossy Bingo came along to join it almost three years later in February 2013. Three more casinos would join the network within the next two years, although these sites were acquired rather than launched. Rosy Bingo was the first to make the move in January 2014, followed by Dotty Bingo in July of the same year and Bingo Diamond in August 2015. To date, Bingo Diamond is the most recent bingo site to be added to the network. Broadway Gaming has added other brands since then, but they marked a change of direction for the company.
The first online slots and casino site to go live on the Broadway Gaming Limited network was Casino of Dreams, which has been online since November 2015. The company must have been happy with the way Casino of Dreams performed because it added Lucky 247 as a sister site barely eighteen months later, in May 2017. This is the most recent piece of information on the Broadway Gaming website, which tells us that the site hasn't been updated for a while. Casino Fantastico went live as the latest Broadway Gaming casino at the end of 2021, but you'll find no mention of that in the company's history or in the part of the site where it discusses its affiliate scheme.
Licensing and Affiliates
Broadway Gaming Limited holds two licences. The first and most important is held with the UK Gambling Commission under reference 39075. The current version of the licence has been in force since 2011 and is currently clean with no fines or sanctions. The company's second licence is held with the Malta Gaming Authority under reference MGA/B2C/184/2010. To the best of our knowledge, the company's licence in Malta is also clean. However, this isn't to say that Broadway hasn't had issues with the UK regulator in the past.
In June 2016, the UK's Advertising Standards Authority upheld a complaint from a customer regarding a promotion on Butlers Bingo. The promotion informed players that they could play with £35 in return for depositing £10 at the site as a welcome offer. The ASA found that the advert was misleading as it didn't communicate the numerous terms and conditions associated with the promotion. In light of this, the UK Gambling Commission decided in December 2017 that Broadway Gaming should pay a £100,000 penalty for publishing misleading advertising on its websites. Similar failings were noted on the network company's other sites at the time, all of which have since been corrected. Broadway Gaming Limited has not been involved in any similar incidents since then.
Like a lot of the larger casino network companies, Broadway Gaming Limited operates an affiliates scheme for anybody who wants to (try to) make money by introducing customers to its various casino and bingo sites. Unlike the majority of those companies, Broadway Gaming doesn't publicly disclose anything about the terms and conditions of its scheme aside from the fact that it's called "Broadway Gaming Affiliates." Anyone wishing to find out more about the program or perhaps participate in it is asked to contact the company via email.
Broadway Gaming Bingo Sites – Buying From The 888 Group
2022 has all the makings of becoming a hallmark year for Broadway Gaming Limited. At the very end of 2021, it was announced that the company had agreed on the framework of a deal to make two massive acquisitions from the 888 Group – the Dragonfish software company and the entire 888 Bingo business. Deals like this are long and complicated, and so a hundred things can go wrong before it's completed, but if we assume that all goes as planned, it will make Broadway Gaming Limited one of the biggest online bingo companies in the UK if not the biggest. 888 has well over one hundred bingo sites, and they would all transfer to Broadway Gaming if the deal is approved. The deal has been valued at $50m in the American press, which is over £38m when converted back into Broadway's domestic currency. That seems like a bargain when we consider that the number of Broadway bingo sites would multiply by more than ten overnight when the deal completes. 
The deal will include the existing 888 Dragonfish and bingo teams, including all customer support operatives and designers, so in theory, all of the sites can continue running uninterrupted while the transfer goes through. Many technologies and assets developed by 888 will come to Broadway Gaming along with the sites. David Butler, the company's CEO, said in January 2022 that he was delighted to reach an agreement with the larger company and was looking forward to combining the 888 product range with Broadway's existing brands. While the sheer number of bingo sites involved in the deal will boost the number of directly-managed and white-label Broadway Gaming sites exponentially, the company is just as excited about getting hold of Dragonfish. They believe the capabilities of the software platform will allow them to scale their business in a way that's never previously been possible. The deal was originally expected to complete by the end of the first quarter of 2022 but was subsequently pushed back to the end of the second quarter. Once the acquisition completes, Broadway Gaming will have to apply for a new licence with the UK Gambling Commission to cover its massively expanded operations. There's no news yet about how this would affect 888 Bingo, which is the 888 Group's flagship bingo site, but it would presumably close as part of the deal as 888 intends to focus on its traditional casino and sports betting brands. In the meantime, consider this – there are currently fewer than ten Broadway Gaming bingo sites. In a few short months, there will likely be more than one hundred.
What are players saying about Broadway Gaming casinos?
The following reviews come from players who have recently played at Broadway Gaming sites and wanted to share their experiences with others. The reviews have been edited for clarity and brevity.
11-Apr-2022 Rosy Bingo review by Pink:
I've been bullied by Lexi, one of the chat hosts who works here. She picks fights and then bans you if you answer back. All the other chat hosts are wonderful but Lexi has ruined Rosy Bingo for me after sixteen years of playing here. – source: TrustPilot
26-Feb-2022 Rosy Bingo review by Donna:
I had a good first day playing here but I'm disappointed with how long withdrawals take. I've been waiting for more than 24 hours. With other sites, I'm used to getting money in four hours or less. – source: TrustPilot
17-Apr-2022 Dotty Bingo review by Hilton:
I've just received a very professional service from their customer support team. Thank you Teresa. – source: TrustPilot
17-Apr-2022 Dotty Bingo review by Yazz:
The site has been a different place for the past few months, and I don't mean it in a good way. I never used to get as many dead spins as I'm getting at the moment. I'm not one to leave bad reviews but I feel like I have to now. – source: TrustPilot
11-Mar-2022 Glossy Bingo review by Lynne:
I had some queries about the timing of withdrawals so I spoke to James on the customer support team. He was very helpful and helped me change from PayPal to my bank so things are faster. Love the games too! – source: TrustPilot
15-Apr-2022 Butlers Bingo review by Gemma:
They keep removing my review so I'm just going to keep posting it. This site allows you to make money until you hit a certain level and then your account will be closed with no warning, losing everything that's in it. Don't say I didn't warn you. – source: TrustPilot
02-Apr-2022 Bingo Diamond review by Jason:
I thought I'd give them a try after reading the positive reviews but now I think they're all fake. Bonuses are really rare and even when they do arrive they pay you a pittance. I've tried playing different games and for different amounts but it's the same no matter what you do. – source: TrustPilot
14-Apr-2022 Casino of Dreams review by Tom:
Things were good here when I started, wins were regular. That changed after about a month. I went through six hundred dead spins in one sitting once. I think they reel you in for the first few weeks and then just start taking your money. – source: TrustPilot
03-Apr-2022 Lucky 247 review by Amanda:
I like this casino. Customer service is good and there are great games to play. – source: TrustPilot
15-Feb-2022 Lucky 247 review by Jing:
I played more than fifty spins on the same online slots game and didn't see a single bonus in all that time. – source: TrustPilot
Full List of Broadway Gaming Sites
This is a complete list of all Broadway Gaming casinos, all of which are owned and operated by the company directly.
Rosy Bingo (rosybingo.com)

Casino Fantastico (casinofantastico.co.uk)

Bingo Diamond (bingodiamond.com)

Butlers Bingo (butlersbingo.com)

Casino of Dreams (casinoofdreams.uk)

Dotty Bingo (dottybingo.com)

Glossy Bingo (glossybingo.com)

Lucky 247 (lucky247.com)