Jackpot World Casino App
Jackpot World sister sites include Lotsa Slots, Jackpot Crush, Cash Frenzy and Slot Casino Jackpot Mania.
Jackpot World is operated by  SpinX Games Limited of 9/F, MW Tower, 111 Bonham Strand, Sheung Wan, Hong Kong.
Real Money Casino Sites Like Jackpot World







Apps Like Jackpot World 2022
Lotsa Slots
Lotsa Slots is the most popular app that SpinX Gaming Limited has ever made. It's been downloaded well over ten million times. Some sources place that number close to twenty million. These are all good reasons why out of all the slots like Jackpot World, Lotsa Slots is the kingpin. However, appearances can be deceptive. For a start, despite being called "Lotsa Slots," this app doesn't have anywhere near the most slots of the apps made by SpinX Gaming. That honour goes to Slots Casino Jackpot Mania, which can boast of 200 games as standard plus more if you're able to work your way through the in-app levels and unlock more games. Lotsa Slots starts with about eighty and increases into three figures as players work their way through the bonuses and unlock additional content. Lava Loot is among the best of the slots that are available when you first open the app, as is Poseidon Cash. New Lotsa Slots players are welcomed with two million free coins to get them started, but if they vanish faster than you were anticipating, more coins will come along in two hours. There's always the option to pay for more coins and speed your progress up a little – but that's precisely what SpinX Gaming Limited wants you to do. "Lotsa" players think that free-to-play casino apps are at their best when you don't spend any money on them, but the choice is ultimately yours.
Jackpot Crush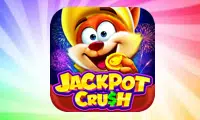 Jackpot Crush is the most "relaxed" app in this range of apps like Jackpot World made by SpinX Gaming Limited. We don't mean that as an insult. There are apps in the family that try to grab the attention of players by stacking every conceivable bonus, trick, side game and other feature into their range, and then there are apps like Jackpot Crush that like to tone things down a little and appeal to players with more traditional sensibilities. Yes, it's true to say that there's at least one bonus feature in all of the slots you'll find within the Jackpot Crush app, but they tend to be safe and familiar bonus features like free spins. As well as keeping things relatively simple on the gaming front, Jackpot Crush has more multiplayer options than most apps like Jackpot World. If it's important to you to be able to play social casino games with your friends, Jackpot Crush is probably the right app for you. Even if the social aspect isn't what drives you to play apps like this, there's another good reason to choose Jackpot Crush – bonus coins. Whereas some apps will keep you waiting for hours at a time to get new coins when your stash has run out, Jackpot Crush tops up your account four times per hour free of charge. If you need coins more often than that, perhaps it's time to step away from the app for a while and do something else.
Cash Frenzy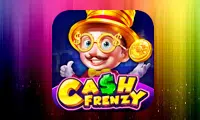 Cash Frenzy is another of the big hitters among the slots like Jackpot World and another app that's racked up more than ten million downloads for SpinX Gaming Limited. They have every reason to be proud of the performance of this app and the gold-spectacled man who hosts it, and they're quite right to sing its praises on their company website. We'll be discussing that website in more detail later. Rather than focusing on the number of games that it hosts or even the content of those games, Cash Frenzy attempts to entice players with vague promises like easy-to-win jackpots. It also promises free versions of popular Vegas-themed slots – and that's where we have to take issue with the app. There are a lot of great slots in Cash Frenzy (Fortune Train and Regal Tiger are especially strong), but there aren't any slots that you'll find at a major online slots website. Free-to-play slots and real money slots are two different things and rarely do the two things meet. Still, it's a white lie because it doesn't affect the overall quality of the app. Bonus coin allocations are topped up every fifteen minutes in Cash Frenzy, so keeping things spinning ought to be easy, but you can always spin the Cash Frenzy bonus wheel once per day and attempt to win even more coins if you find yourself running short.
Slots Casino Jackpot Mania
Slots Casino Jackpot Mania is newer to the range of apps like Jackpot World that SpinX Gaming Limited offers. We presume that's the reason it lags so far behind apps like Jackpot World and Cash Frenzy when it comes to downloads because it can't have anything to do with the quality of the app. Slots Casino Jackpot Mania might be a slightly ridiculous name, but if the name of this app is over-the-top, so is its content. There are well over two hundred different slots available to play within this app when you first download it, and players can increase that number significantly by playing slots, winning coins, and unlocking more content. That process should be easy at first because the Slots Casino Jackpot Mania welcome offer is one hundred million coins. The downside is that new coins aren't awarded as often in this app as they are in some of the other apps in the range, but there had to be a negative somewhere to counteract all the positives. One hundred million coins should keep the overwhelming majority of players going for quite a long time, and if you're patient enough to wait a while for the next coin drop, there's still no need to spend money purchasing additional coins unless you desperately want to. Slots Casino Jackpot Mania is an all-singing, all-dancing free-to-play casino app. For a lot of people, it's the very best on the market. Given that you can download and play it for free, there's no harm in trying it to find out what all the fuss is about.
Jackpot World Review
The figure "10m + downloads" on the Google Play store tells you a lot about the popularity of Jackpot World. Bad apps don't tend to be downloaded more than ten million times. That's a lot of players and, presumably, a lot of people having fun with the multitude of slots games available within Jackpot World despite the fact that it's physically impossible to win real money by playing any of the games. Jackpot World might not be able to deliver you a big jackpot that will make a difference to your bank balance in the same way that a jackpot at your online slots website of choice would, but the whole point of playing slots is that we play for fun. Apps like Jackpot World take that idea and run with it.
SpinX Games Limited describes Jackpot World as the best free slots app in the business. We're not totally convinced that they mean us to take that statement literally. The company offers several other free-to-play casino and slots apps, and some of those apps are even more popular than Jackpot World is. We see no reason why Jackpot World ought to be considered any better than the best of them. However, it does have a couple of extra strings to its bow that you won't find tucked away inside all of those other apps. One of those "strings" is Vegas-style roulette. All of the SpinX Gaming Limited apps offer dozens of slots, but not all of them cover table games and roulette. Perhaps that's one of the reasons why the company believes this app is a cut above the rest.
Listing all of the slots available within Jackpot World would almost be pointless because so many new games are added every week, but we can happily give you a rundown of the most popular. They include Fortune Tree, Fortune Babies, Penguin Quest and Leprechaun Blast. As you can tell from the names alone, the themes of the slots in Jackpot World reflect the themes that are popular with real money slots, from the Irish theme to the Oriental genre. It's unlikely that you could team up with your friends to play slots at a regular casino site, but you can do that here, thanks to the social aspects of the Jackpot World app. You can play with or against your friends and family on almost all of the games contained within the app and even go on daily quests and missions with them to win a share of a bonus pot. Coins won in the games are stashed into a "kitty pot," which is then used to unlock specific features, bonuses and rewards within the app. We'll look at them in more detail now.
Jackpot World Welcome Offer and Bonuses
You can't win real money in Jackpot World, but you can buy in-game currency with it if you want to. Not everybody is going to want to do that, and it's highly unlikely that anyone would ever download the app at all if players had to pay for things with their own money right from the outset. That's why Jackpot World starts players off with a welcome bonus allocation of twelve million game coins. That's more than enough coins to give a few of the slots a try and work out whether or not Jackpot World is the right app for you. If you run out of those coins, there are several ways you can get more without paying for the luxury. One of them is the free wheel bonus, which might pay out as many as ten million bonus coins every day. Even if that doesn't work out for you, more bonus coins are deposited into your account every fifteen minutes for as long as you remain logged into the app. There really is no reason to pay for coins if you don't want to do so. Completing the daily missions in Jackpot World gives players bonus coins, too.
As for other bonus rewards – look out for super wild or double golden respin symbols on the reels, which can turn up in any game at any time and make a massive material difference to coin wins. Rise up the Jackpot World VIP rankings by collecting bonus gifts, and complete your stamp collection by unlocking special prizes. You can even unlock a virtual pet in Jackpot World, which isn't something that we find ourselves saying about most casino apps or games!
Who Are SpinX Gaming Limited?
SpinX Gaming Limited, also known as SpinX Games, is a company based in Hong Kong. They claim to have been active since 2018, but there's some controversy about that which we'll address in a moment. One of the many bold claims that SpinX Gaming makes on its website is that it's the world's most player-centric entertainment company. There's no way to validate such a claim, but it effectively means they're the most player-focused business in the world. They're certainly good at what they do and have been successful in their chosen field, but we're not sure we'd go that far. SpinX Gaming Limited knows what it's good at and sticks to it. The only products it's ever brought to market are simulated casino products – but if you can make your money making simulated casino products, why would you bother to make anything else? SpinX says that it likes to create "lucky moments" and deliver "pure fun" to players. Based on reviews, it seems they're succeeding in that aim.
There are dozens (if not hundreds) of free-to-play casino apps out there, but SpinX Gaming Limited makes more effort than most to make its slots and casino games look like those that you'll find at a real-money casino site. In some ways, the company even behaves like a real casino network company. The existence of the SpinX Affiliate scheme is testimony to that. Affiliates are invited to sign up with SpinX and direct customers to the company's apps, with cash available for those who can make referrals in bulk. That might sound like an odd move given that SpinX doesn't make any money when an app is downloaded, but perhaps it offers us an insight into how much money is rolling into the company through a combination of in-app advertising and players buying coins. Another indicator that SpinX Gaming is enjoying a golden business period is the fact that the business is recruiting in just about every area at the moment, from technical specialists to people to handle the aforementioned affiliates. With tens of thousands of people downloading the company's apps every day, the future looks bright.
We often look at App Brain when we're assessing the credibility and success of a casino app. In the case of SpinX Gaming, everything – for the most part – appears to be as successful as the company claims it to be. There's an interesting wrinkle, though – App Brain thinks SpinX Gaming Limited was founded in 2017 rather than 2018. We're not sure why the company would want to mask its foundation date. App Brain is tracking seven casino apps created by SpinX Gaming Limited and says they've been downloaded more than sixty million times between them. A number that high puts SpinX into the top 1% most downloaded app developers on planet Earth, which is an amazing achievement for a company that most people have never heard of. Apps made by SpinX have been reviewed by players more than two million times and have an average rating of 4.54 out of 5, which indicates they've been exceptionally well received. Whether you're playing Jackpot World or an app like Jackpot World – Cash Frenzy, Lotsa Slots, Jackpot Crush or something else – it seems like this company has things on the right track.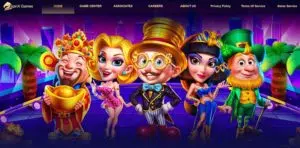 Jackpot World Technical and Price Information
Android Users:
Jackpot World requires Android version 4.4 or up.
Apple Users:
Jackpot World requires iOS 11.0 or better for iPhone & iPod Touch. It's iPadOS 11.0 or better for players on iPad. Mac users will need macOS 11.0 or upward and an Apple M1 chip.
General Information:
Jackpot World is free to download from both Google Play and Apple's App Store. The download size is 235.3MB. App Store rates Jackpot World as 17+ because of its gambling content. Google Play sees it as suitable for teens for the same reason. Players aren't obliged to make purchases in Jackpot World, but coin packages are available for between £0.99 and £399.
Jackpot World Download Links
For Apple: Download from the App Store.
For Android: Download from Google Play. 
What Are Other Players Saying About Jackpot World?
These reviews of Jackpot World come from players who've downloaded the app for either Android or Apple devices, played it, and decided to leave their thoughts. We've edited some of their comments to keep them to the point.
03-Mar-2022 by Fightintim
I gave it a go after seeing ten adverts for it. After twenty minutes I'd used up all the free coins and then it started trying to make me buy coins. All of these games are scams. – source: App Store
21-Feb-2022 by Applequeen16:
The game is OK but I had to delete it after a day. I love playing slots but I can't deal with all the adverts it tried to make me watch. – source: App Store
25-Nov-2021 by Crisvna:
It's OK to begin with but the more coins you have, the harder the game is to play. Once you have billions it makes you bet billions and then your coins run out fast. They're forcing you to buy coins to reach the best levels. – source: App Store
14-Sep-2021 by owskiik:
You win lots for the first three days and build up coins but after that, the fun stops. You'll have lost your money by day five and then the adverts start. It's a joy killer when it happens. – source: App Store
28-Feb-2021 by bnecio:
I've never won since I started paying for coins. Save your money, don't buy coins and you'll win more. I never come on the internet to complain but I feel like I've been scammed into buying coins and the games are rigged against me. – source: App Store
01-Jun-2022 by Karen:
The advert I've just seen came in three parts, fifteen seconds long each. After the ads finished the app froze so I didn't even get my coin reward. I lost so many coins but customer support didn't care. – source: Google Play
29-May-2022 by Joseph:
This is a pointless game. The ads say you don't need to pay for coins but I ran out of free coins immediately and then started getting endless adverts to buy some. The adverts never stop either. – source: Google Play
01-May-2022 by Jerry:
The most frustrating thing about Jackpot World is how many times you have to try to open it before it actually loads, it crashes all the time. It's fun when it works but it breaks so often that I'm going to have to uninstall it. – source: Google Play
28-Mar-2022 by Eloise:
I played the game for a few months and didn't have any trouble, but now it's changed. The app is glitchy and the daily gifts won't load. Even uninstalling and reinstalling didn't work so I guess I can't play it anymore. – source: Google Play
14-Apr-2022 by Michael:
I love everything about this game apart from the crashing. It happens every time I'm playing bonus spins. Each time I play I have to restart at least five times. If it doesn't get fixed soon I'm uninstalling it. – source: Google Play