Moon Bingo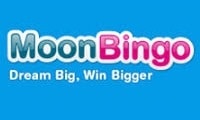 Moon Bingo sister sites include Prize Land Bingo, Genie Riches, Tip Top Bingo, Bingo All Stars, Quality Bingo, Sugar Bingo, Ted Bingo, Quizingo, Bingo Barmy, Robin Hood Bingo and Vegas Spins.
Moon Bingo (moonbingo.com) is operated by 888 UK Limited, 601-701 Europort Gibraltar, GX11 1AA.
Sites like Moon Bingo







Moon Bingo 
Sister Sites 2022
Tip Top Bingo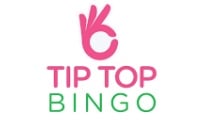 Tip Top Bingo makes for the perfect comparison to Moonbingo because both casinos are 888 Group white-label brands. They have all the power of an 888 casino plus the individual flair that comes from having somebody else involved in managing the site. Tip Top Bingo tries to establish itself in a very competitive market by offering a big 200% matched fund deposit bonus to new players, and keeps things simple with a clean, easy-to-navigate interface.
If you'd prefer to pay for your casino fun using your mobile phone rather than any other method, you have the facility to do so at Tip Top Bingo. Be aware that your individual network might not allow it, though.
Sugar Bingo
Once you've identified Tip Top Bingo and Moon Bingo as an 888 Group white-label site, you should be able to do the same with Sugar Bingo. All three sites have elements of their design in common, although there's enough that's different to make playing at Sugar Bingo feel like a unique experience. The same 200% matched deposit welcome offer is available at SUgar Bingo, but it's possible to get £40 specifically for bingo games, too.
Sugar Bingo was designed on a "mobile-first" basis, so using it on the go should be hassle-free. All the "big" bingo games are here, including 90 ball, 75 ball and 52 ball varieties.  You can pay for your bingo action using almost any payment method you can think of, including most major e-wallet services.
Ted Bingo
Ted Bingo is licensed in both its home territory of Gibraltar and also in the UK by the UK Gambling Commission, so it's a casino and bingo site you can play at with confidence. It's also more than a little cute. A cute teddy bear never fails as a maskering mascot, and it's not about to start doing so at Ted Bingo. The fact that the teddy bear is also a spy just makes things even cuter.
Offering a bit more meat on the bone than some of the other Moonbingo sister sites, Ted Bingo's welcome offer could be worth up to £700 if you're able to take full advantage of it. Ted's special bonus wheel could push your introductory offer even higher if your luck is in. Players at Ted Bingo enjoy access to a special "Ted Bingo" game that isn't available anywhere else.
Robin Hood Bingo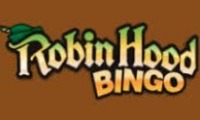 The whole philosophy of Robin Hood was to rob from the rich and give to the poor. The 888 Group is certainly rich, so don't feel bad about lining your pockets by taking money from them at this bingo and casino site. A casino site with a name like this has to go big to justify the association with the British legend, and we're pleased to say that Robin Hood Bingo does. The range of games is excellent, and there's far more to it than just bingo. It even has access to seven-figure progressive jackpot slots.
Players shouldn't have any issues accessing Robin Hoods casino either on a mobile device or a tablet, but in the unlikely event that they do, they can download the bingo site's dedicated app instead. There's one each for Android and Apple users.
Vegas Spins
You don't have to try too hard with theming when you include the word "Vegas" in the name of an online slots site. Just throw in a few neon graphics and you'll be fine. That's exactly what the 888 Group has done with Vegas Spins, and we don't mean that as a criticism. The casino looks great, but also simple enough to find your way around without having to go looking for the site map.
Unlike the other Moonbingo sister sites we've looked at so far, Vegas Spins is purely a slots site. There's no bingo here, but there are more than five hundred slots taken from some of the best providers in the business.
888 Ladies
You don't have to be a lady to play at 888 Ladies, but as the site likes to say, "every day is ladies day." It's long been established that bingo is of more appeal to women than men, so the 888 Ladies site caters to that market. Don't go thinking that it's nothing more than "another bingo site" though, because there are extra strings to its bow.
888 operates hundreds of bingo and casino website, but it only puts the 888 name on the ones that it considers to be the best of the brand. This is one of them, and so you can expect a few extra perks. One of those perks is cashback on losses. Another is the fact that there are slots and instant win games here to go with all the bingo action. 
Prize Land Bingo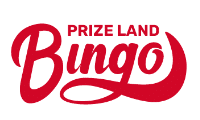 Prize Land Bingo has managed to accomplish the unlikely task of surviving even after losing its major branding partner. The casino used to be called "Iceland Bingo," but is no longer affiliated with the frozen food store. You can still detect traces of the former partnership at the casino site, though, including its red and white colour scheme.
Aside from all the bingo action you'd be entitled to expect from landing at a site with a name like this, you'll also be eligible for a range of spot prizes thanks to the extensive range of promotions and incentives that Prize Land Bingo offers. The brand is still advertised regularly on television, so as a "prestige" bingo site it goes a little further to reward regular, loyal players.
Quality Bingo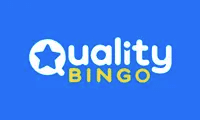 Quality Bingo is a relatively new Moonbingo sister site, and advertises itself as such at the top of its homepage. A new site needs to push hard to attract customers, so Quality Bingo is currently offering up to 105 bingo tickets plus ten free spins on slots to anybody who wants to jump on board and give the new brand a try.
Quality Bingo isn't as flashy as some of the other 888 bingo sites. It doesn't go overboard with visual flair and nor does it try to sell you on its merits by using celebrity sponsorships. Instead, it does exactly what it says on the tin by offering you a quality bingo experience. This site is all about the games.
Quizingo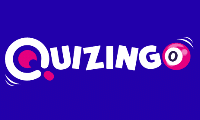 Is offering bingo alone enough to attract attention in today's crowded marketplace? That's a question that every casino operator has probably asked itself in the past year or so, and when they decide that the answer is "no," they try something a little different. Quizingo is an example of that theory in practice.
Quizingo is still a bingo site first and foremost, but it also hosts regular quiz events where you'll be rewarded for your knowledge rather than your selection of lucky numbers. If you're always the difference-maker for your local pub quiz team, you might want to capitalise on that by turning your knowledge into money at Quizingo.
Genie Riches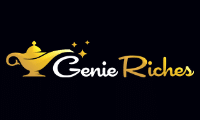 If you're going to "borrow" inspiration from anywhere, there are far worse places to borrow it from than Disney. Genie Riches doesn't directly say that it's an online slots site inspired by the Disney classic "Aladdin," but it finds more than a few subtle ways to let you know that's the case. One of them is the casino's motto. Apparently, Genie Riches is a "whole new world" of casino action.
As another one of the Moon Bingo sister sites that puts slots above bingo action, Genie Riches has a library of more than seven hundred slots available, including some of the most-played in the UK. We'd be very surprised if your favourite slot isn't here, so it's all a question of whether the genie will grant your wishes when you play them.
Bingo All Stars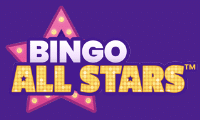 If you were around in the 1980s and 1990s, there's a fair chance you'll recognise the numerous celebrity makes attached to Bingo All Stars. They include Mr. Motivator, Linda Lusardi, Christopher Biggins, and Rustie Lee. Basically, it's like all the people who usually get invited to take part in "I'm a Celebrity Get Me Out Of Here" decided to turn the invitation down and start advertising a bingo website instead.
The bingo site makes the most of its celebrity connections by attaching them to specific games. Rustie Lee, as an example, has her own dedicated bingo rooms. That's not to say you'll ever find her in them, but it gives the rooms a unique sense of personality and sets them apart from the blander rooms that you might find at other bingo sites.
Bingo Barmy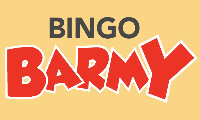 The style at Bingo Barmy is "off the wall," and that's just how its players like it. Where else are you going to see a pineapple that's also a disco ball? The site's mascot is strange, the decor is a little odd, and everything else at Bingo Barmy is decidedly off-kilter, too. This probably isn't somewhere to come if you take bingo seriously – but then where's the fun in that?
Bingo and casino games should all be about fun more than anything else, and Bingo Barmy delivers fun by the slice with its kooky comic book style. It's a casino site that has the potential to genuinely make you laugh, and that's not something we can say about many other casinos. Come for the good times, stay for the wins if you can persuade lady luck to smile on you!
Can Moon Bingo be trusted?

★★★★★
Moon Bingo is a 3 Star trusted casino, here's why:-
1. Cookies popup

YES – You'll see the cookie notification at the bottom of your screen as soon as you land on the homepage using a desktop or laptop. 

2. Mass Media Adverts

YES – This brand has been advertised on television using a marketing campaign based around the first-ever moon landing in 1969.

3. Casino look and feel

GREAT – Loading time is next to nothing, all the banners and images look sharp, and finding your way around the casino shouldn't be a problem thanks to the clearly-marked menu options. 

4. TrustPilot Score

BAD – After more than 200 reviews on TrustPilot, the casino has an average score of 1.9 out of 5. 

5. Payment Options

OK – Players at Moon Bingo can pay by bank transfer, PayPal, PaySafe card, Apple Pay, or through their mobiles. There are no debit card or e-wallet options.

6. Help Options

GOOD – Players can contact support through email, phone, or through the provided social media links.

7. Operator country

TRUSTED – 888 UK Ltd is based in Gibraltar. As a UK dependency, this is a trusted location. 

8. UKGC Records

888 UK Ltd was fined £9.4m and issued with a formal warning in February 2022 after breaching anti-money laundering and social responsibility regulations.

9. Key Bonus Terms

HIGH – Wagering requirements on bonus funds can go as high as x85, which is far higher than the industry average and could be considered unreasonable. 

10. Slot Developers

GOOD – Through Microgaming, NetEnt and a few more, Moon Bingo has access to a most of the slots and games you'd expect to see at a top casino site. 

Overall SCORE >

★★★

★★ – 3/5 Stars
Moon Bingo ought to be trustworthy, but we're forced to mark it down because of its poor player reviews and extremely high wagering requirements.
What are players saying about Moon Bingo?
Here are our condensed / reader's digest summaries of recent player reviews of Moon Bingo.
23-Nov-2021 by J Parish:
Stay away from this site. I've paid in hundreds of pounds and got nothing back. It's a shame because it used to be really good. – source: TrustPilot
22-Nov-2021 by Trudy:
I've been playing here for a few months now and I like the slots more than the bingo. Recently, though, I feel like I'm winning less than I used to.  – source: TrustPilot
13-Nov-2021 by Rosie:
I have no idea where my winnings have gone. I downloaded the app and played on that, won a few times but can't see my winnings anywhere. It's not straightforward to use at all. – source: TrustPilot
10-Nov-2021 by Mandy:
Keep well away. You'll never win anything. I spent hundreds here like fool and didn't win anything, and now it won't even let me delete the app.  – source: TrustPilot
20-Oct-2021 by Nikki:
Games are good, payouts are fair, but why do I have to wait so long for payouts? It's instant with other sites but here it can take as much as a week for no obvious reason..– source: TrustPilot

03-Jan-2021 by Gilbert:
I joined this casino today and did not take the bonus they provide to the new players. Played with my own money and won £250. Now I'm waiting for withdrawal, I will update about it soon. – source: TrustPilot
02-Jan-2021 by Jin:
Even though I have lost my first £10, This casino is as good as it gets. The games are well optimised and the staff is great. I enjoy playing here. – source: TrustPilot
25-Nov-2020 by Eve:
This casino is a good casino compared to other casinos. The website layout is easy to navigate and the bonuses are good. The only issue I have is the long payout times. – source: TrustPilot
09-Oct-2020 by Samuel:
I got scammed by this website. I won £2490 and asked for a cashout. They said "transaction is completed" but there was no deposit on my bank account. – source: TrustPilot
05-Aug-2020 by Ben:
The games keep crashing. I joined yesterday but only had 1 complete game of bingo. They do not refund the money if the game crashes. – source: TrustPilot
20-Jul-2020 by Ruby:
Started playing on this bingo site years ago and never had any issues. They provide free spins to their regular customers. The games are easy to use and the deposit system is great. – source: WhichBingo
17-Sept-2019 by Sorla:
Best bingo experience ever. I started playing on this website 3 months ago. The odds of winning are high and the promos are generous. – source: WhichBingo
29-Apr-2019 by Danny:
I have played on many bingo websites but it is the best experience so far. The staff is great and the payouts are fast with many transaction methods. – source: WhichBingo
22-Apr-2019 by Rony:
This online casino is superb. The games are fun and have a great variety. The website is easy to navigate, and the performance of the games is superb as well. – source: WhichBingo
11-Apr-2019 by Nathan:
The slots on this casino are great as I have won many times on them. The live chat host is great and friendly. Payouts are fast and the limit is high. – source: WhichBingo
Moon Bingo Review 2022
As the name suggests, Moon Bingo is a casino where you can get access to a plethora of bingo and other casino games. The site's owners don't want you to come here for bingo and then go elsewhere for slots – they'd like you to do it all here with them. Whether you should is another question, but let's try to answer it.
Moon Bingo belongs to the 888 UK Ltd family of casinos and is a brand with good awareness in the UK after being advertised on television in the past. The "moon" theme isn't as strong as it used to be, but it's a pleasant site to look at and is easy to use. It doesn't offer a full range of casino games, but it does have bingo, slots, and the increasingly popular Slingo games to go with them.
New Player Welcome Offers
The first thing most players look for when they land on a new site is the welcome offer. In the case of Moon Bingo, it's a matched deposit that can go as high as 200% of a first deposit plus fifty free spins on selected slots. Unfortunately, the small print that comes with the offer isn't a pleasant read. You might have to wager as much as 85x the value of your bonus funds before you can withdraw them. This is miles higher than the industry average, and isn't the best way to make a first impression.
Monthly Promotions
Once you've used up the welcome offer (which might take you a while for the reasons described above), the remaining promotions at the site are a prize wheel, daily jackpots, and site-specific "trophies" that can lead to further rewards if you collect enough of them. There's very little detail given about the nature of the trophies, and more information wouldn't go amiss from the point of view of a new player debating whether to make Moon Bingo their new favourite bingo site.
Pros and Cons
Every bingo or casino site has its own list of unique pros and cons. In the case of Moon Bingo, that lists looks like this:
Pros:
•No withdrawal fees
•Slingo and slots games to go with the bingo titles, offering players variety and range.
Cons:
•Recent reviews from players are mostly poor, with particular complaints about delays with withdrawals and low chances of actually winning anything.
•Very high wagering requirements that take all the fun out of having bonus funds to play with.
Featured Slots and Casino Games
As mentioned previously, Moon Bingo provides the best of both worlds on their casino website, allowing players to play a large number of bingo games as well as 500+ slots, all of which are provided by a network of high tier providers like Scientific Gaming, Eyecon, and NetEnt.
Some of their featured slot titles include, but are not limited to:
•Raging Rhino – Raging Rhino is a WMS video slot that is being provided on Moon Bingo. It comes with a safari theme, and it's every bit as volatile as the wild animals that appear on the reels! There are six reels to play with, offering offer 4000 ways to win.
•Wolf Gold – Pragmatic Play releases dozens of slots every year, but they might never top the success of this atmospheric, vaguely Native American-themed 2018 release. It won awards when it was brand new and is still a firm favourite with players today. The "Hold and Win" respins feature can offer a jackpot of x250,000 your stake for the very luckiest of players.
Deposit and Withdrawal Methods
Moon Bingo no longer deals with cards, and doesn't make provisions for e-wallet users either. If you have a PayPal account, though, you can both deposit and withdraw using this method. PaySafe pre-payment cards are accepted, and you can also use bank transfers or even your mobile phone account for deposits only on some networks.
The terms and conditions page of the casino was broken when this review was written in early 2022, so we can't say how quickly Moon Bingo is supposed to process withdrawals. From player reviews, though, we can see that it sometimes takes a week or more.
Customer Support and License
Getting hold of customer support at Moon Bingo should be easy. The casino offers telephone and email support, and even responds to queries on social media if you'd rather go down that route.
All the casino operations of Moon Bingo are covered by 888 UK Limited's license with the UK Gambling Commission under account number 39028. The casino also holds a second license via the gambling authorities of Gibraltar.
Final Verdict
Moon Bingo is a hybrid website that boasts both bingo titles and slots. It belongs to a trusted and respected operator, and it has excellent customer support. That being said, the wagering requirements are far too high and players complain a lot about poor odds and long waits for payouts. For those reasons, we'd have to conclude that there are other 888 UK Ltd casino and bingo sites out there that do the job far better.
Moonbingo Is Part Of 888 Group UK
Moonbingo is an online casino and bingo site that is part of the 888 Group. The site has been active for quite some time, and after its rebranding in 2019, it has continued to be a popular and regularly updated casino site. The services and the website in the UK are managed by 888 Holdings, which is incorporated in Gibraltar and licensed by the UK Gambling Commission. The main and most well-known 888 brands include 888 Casino, 888 Ladies, and 888 Sport. The services offered at Moon Bingo, however, are provided by Virtue Global Digital Services Limited, which is also incorporated in Gibraltar. 888 Group UK provides the casino on a "white label" basis to Virtue Global Digital Services, who handle the casino site's day-to-day operations.
At Moon Bingo (which can correctly be referred to as either Moon Bingo or Moonbingo), you will not just find bingo but also many other types of casino games. As well as a range of different kinds of bingo, including the likes of 90-ball Bingo, Swedish Bingo and Penny Bingo; this site also offers slots, scratch cards, and arcade games. Moon Bingo has also created a more condensed version of bingo that is optimised for mobile play, and the bingo games are optimised depending on if you are playing on Android, iPhone, iPad, or tablet. What's more, there is even an app version to be downloaded that is suited for on-the-go play and fun. The fact that these tailored games that have been adapted to be better on a handheld device really shows that this casino cares about its players and genuinely wants them to have a good experience with their site.
Latest News On Moon Bingo
The main page of Moon Bingo is aesthetically pleasing to say the least. The blue, white, and pink colour scheme runs strongly throughout the site, with the logo matching all categories and pages. The home page features a pink castle floating in the clouds, with a pink and white hot air balloon showcasing the sign 'as seen on TV'. Behind the castle, which is decorated with string lights and rainbow bingo balls, you can see a huge full moon. Also, just below this header image, you will find the slogan 'Spin to the moon and back!' which ties in the theme perfectly. With the moon featuring in the name, as an image at the top of the site, and in the catchphrase, you can tell that this casino has a strong theme that runs throughout the site.
Moon Bingo has its very own blog page, like many other casinos do, but what makes Moon Bingo's blog unique? This blog is split into five different categories – Bingo, Casino, News, Social, and "Did you Know?" The blog is displayed very professionally and is laid out in a way that's easy to read. The Bingo category, which is appropriately placed at the top of the blog, gives insight into everything you need to know about bingo as well as the latest offers and games. The casino section is very similar, offering information about casino games and the world of online casino betting and gambling. The "Did you Know" section is broader, and answers a lot of questions surrounding the online gaming industry as a whole, while offering lots of facts and knowledge about relevant issues relating to bingo and casinos. The news section is even more broad, and acts as a haven for general knowledge, where you can find informative articles about anything from literature to the spring season. Finally, the social section is similar to the news section, where it provides useful articles on general issues and occurrences, but the focus is more on social facts and statistics, to break up the blog even further. Also, this blog is updated regularly, with a massive range of available articles from the last few months to last year. This is one of the more structured and impressive casino blogs out there, and it makes the whole site feel very professional and cared for.
Advertising And Social Media for Moon Bingo
In January 2010, there was an advertising campaign released for Moon Bingo that fittingly took inspiration from Neil Armstrong's famous catchphrase from the first moon landing back in the 1960s. Moon Bingo altered this phrase to fit their site by using the slogan "Moon Bingo – One Small Step for Man, One Giant Leap for Bingo". The adverts featured on multiple famous TV channels including Channel 5 and ITV. The advert itself features two people in space suits dancing around on the 'moon' with a flag that shows the Moon Bingo logo. The voiceover promotes the '£30 free play' welcome offer as well as the 'daily free bingo' that you could get at the time when you signed up to Moon Bingo. The advert is fun and light-hearted, with an upbeat song playing in the background of the dancing astronauts. This advert is extremely well suited to this casino and integrates the pink, blue, and white colour scheme into the advert, meaning that when you see this advert you will know exactly which site it is advertising.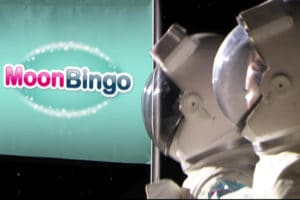 On social media, you will find both a Facebook and a Twitter page for this online casino. The Facebook page boasts an impressive 15k likes, and the Twitter has just over 1k followers. The Facebook page posts just the right type of content for a casino Facebook page, which includes promotional codes for seasonal games, celebratory posts for lucky winner, as well as interactive and engaging posts for their fans. Many of the posts on this page receive lots of likes and comments, so this proves that Moon Bingo has a solid player and customer base that regularly interacts with the content they put out. The Facebook page also shares the blog posts and puts those onto social media for more to read and enjoy. Overall, this is a good example of what other online casinos could be doing to gain more online interaction that comes from outside the actual casino site itself.