Paddy Power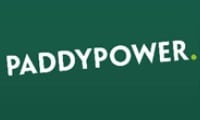 Paddy Power sister sites include Betfair, Sky Vegas, Sky Bingo, Sky Bet, Fox Bet, Pokerstars, and Sky Casino.
Paddy Power (paddypower.com) is operated by PPB GE Limited, Power Tower, Belfield Office Park, Dublin, Ireland, D04 V972.
PPB GE Limited is owned by Flutter Entertainment.
Sites like Paddy Power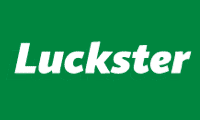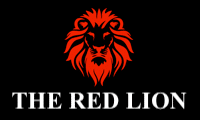 Paddy Power Sister Sites 2022
Paddy Power belongs to Flutter Entertainment – a casino network company that was born out of the union between Paddy Power and Betfair. Flutter Entertainment now owns and operates all of the Sky branded casinos. That means there's a whole new range of Paddy Power sister sites. Some of them are drastically different from Paddy Power, whereas others are more comparable. We'll look at some of the highlights now.
Betfair
Betfair is one of the biggest names in sports betting in the UK. So is Paddy Power. There are other Paddy Power sister sites now that the Sky Betting group is under the Flutter Entertainment umbrella, but Betfair is the biggest. Through its website, its app, and a limited number of high street shops, Betfair gets a significant amount of the sports betting market share.
Betfair is so closely linked to sports betting that it's easy to forget that it does anything else. Visit its yellow-and-black homepage, though, and you'll find a full live casino portfolio offering poker, slots, special exchange games, and even a few virtual sports options if there's nothing "live" to bet on at the time of your visit. Betfair does everything that Paddy Power does, but with different odds and different promotions. of all the Paddy Power sister sites, Betfair is the closest comparison.
Sky Casino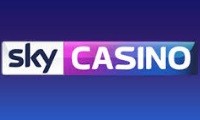 The Sky brand is known and used by millions of people in the UK, whether that's for television, the internet, mobile phones, or just for gambling. It's a name that the British public knows and – for the main part – trusts. That level of brand familiarity has been useful for drawing people to the Sky branded casino sites, which are owned by Bonne Terre Limited but fall under the Flutter Entertainment umbrella. That makes them Paddy Power sister sites.
Sky Casino is the "catch-all" brand. It offers almost every type of iGaming activity under one roof. Players' reviews of the casino aren't always the best, but it's one of the largest casinos of its kind in the UK and does its best to cater to everybody. It might look and feel radically different to Paddy Power because it's a casino site rather than a sportsbook, but there are comparisons to be made here because of the existence of the other Paddy Power brands like Paddy Power Vegas and Paddy Power Casino.
Sky Vegas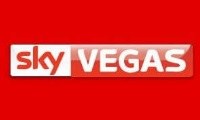 Sky Vegas is similar to Sky Casino when it comes to the games available and the terms offered on those games, but it aims to bring a little more glamour to proceedings with its Las Vegas theme. Sky Vegas is the most glamorous of the Sky brands, and the most likely to be advertised on television. The casino focuses on gimmicky "game show" games as much as it does on slots and traditional casino fare and has more attractive promotional offers than its siblings.
Safe betting is obviously a priority for Sky Vegas. Whilst almost all big-name casinos feature responsible gaming banners and logos, Sky Vegas is one of only a handful that lists a huge banner across the top of its homepage above the list of games. It promises that players can "set a limit in under a minute," thus ensuring that gambling remains fun. Sky Vegas probably makes for a better comparison to Paddy Power Vegas than Paddy power, as the differences between the two brands are minimal.
Sky Bet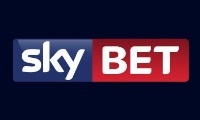 Flutter Entertainment was created when Betfair and Paddy Power – two of the biggest sports betting companies on the planet – came together. You'd have thought the last thing they'd want or need is another sports betting company, but they bought the Sky Betting and Gaming range anyway. That means – in a manner of speaking – that Sky Bet is a Paddy Power sister site. You could use Paddy Power, Betfair, or Sky Bet to place wagers on the sport of your choice, and the money would mostly end up in the same place.
Sky Bet has risen to prominence through a series of well-placed sponsorships, including sponsoring the entire English Football League. It's a big money brand with a massive media profile and a vast player base, so it's yet another asset to this gargantuan company. As far as Sky branded casinos and betting sites go, Sky Bet is the most similar to Paddy Power because of its focus on sport. There are differences between the two, but they're mostly differences in branding rather than content. 
Sky Bingo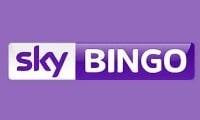 Eyes down for Sky Bingo – another Sky-branded casino site that competes with Foxy Bingo, Gala Bingo, 888 Bingo and all the other big names at the top of the bingo tree in the UK. This is actually one of the oldest of all the Sky casino sites, launching long before Sky Vegas was even an idea in a marketing executive's head.
Sky Bingo offers exactly what you'd expect from it in terms of bingo rooms and bingo-based promotions, but doesn't stop there. It's branched out into offering Slingo and slots, and comes with a few exclusives that you might not find at other Sky-branded casino slots or elsewhere on the Flutter Entertainment range. It may carry the Sky name, but it's a bingo site with its own unique personality.
PokerStars UK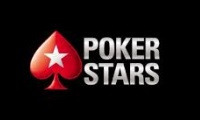 PokerStars has a marketing deal with Neymar, the Brazilian football superstar. That tells you almost everything you need to know about how big this casino is in a single sentence. You might think "casino" is the wrong word to use when we're talking about a poker website, but we'd disagree. PokerStars undoubtedly focuses on poker, but it doesn't draw the line at poker. Its poker tournaments are known worldwide, but the UK PokerStars website also offers sports betting and full casino facilities.
PokerStars is known for being especially accommodating to those who are new to the game. Learning to play poker can be intimidating – especially when some players will happily take the shirt off a newcomer's back. The "learn to play" section of the Pokerstars website will walk you through everything you need to know as a beginner and make sure you're not paired with card sharks while you're still learning the hobby. With a little time and practice, you might one day make it to one of the casino's celebrity tournaments! Paddy Power does provide poker games so there are fewer differences between Poker Stars and Paddy Power than you might initially imagine, but it's still a stretch to say that they're comparable brands or betting sites. 
Paddy Power Games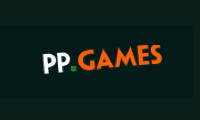 Is Paddy Power "just" a sports betting website? Absolutely not. Sports betting might be how the Paddy Power story started, but that was many years ago now. Having gained recognition and prominence through sports betting, Paddy Power has since branched out into every other form of casino gaming you can imagine. Rather than launch separate sites for each type of game, though, Paddy Power has created dedicated areas within the main Paddy Power website. Paddy Power Games is a Paddy Power sister site, but it's a Paddy Power sister site you can access without leaving the main site.
Paddy Power Games offers slots, live casino entertainment, daily jackpot prizes and far more. There are even a few exclusive Paddy Power branded slots made by high-profile developers like Blueprint Gaming. Paddy Power may already be your favourite place to come and bet on sports, but through Paddy Power Games it hopes to become your favourite online slots site too. It's the presence of these online slots that makes for the biggest difference between Paddy Power and Paddy Power Games, but the comparable factors are all there in the design and branding of the minisite.
Paddy Power Bingo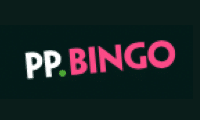 Paddy Power Bingo is another one of the Paddy Power sister sites that can be visited without waving goodbye to Paddy Power. This isn't a tiny little mini-site stuffed away in a corner of Paddy power, though. It's a whole different brand with its own logo, its own visual style, and its own promotions. Paddy Power has conquered the world of sport, and it's taking a fair stab at conquering the world of slots and table games. If Paddy Power Bingo takes off in the way the company wants to there might be no stopping them.
Paddy Power Bingo is as much about Slingo as it is about traditional bingo. If that heady mixture of online slots and old-school bingo works for you, you won't go short of options at Paddy Power Bingo. You'll even find a few bingo and Slingo games that were created specifically for the brand. Through clever use of exclusives, this brand presents a viable alternative to the specialist bingo brands that exist elsewhere. At the risk of stating the obvious, the key difference between Paddy Power and Paddy Bower Bingo is the presence of so many bingo games, which don't appear anywhere else in the Paddy Power range. The only aspect of Paddy Power Bingo that's comparable to Paddy Power is the name and the logo.
Paddy Power Casino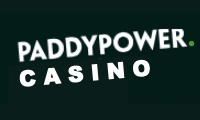 Paddy Power Casino and Paddy Power Games are more or less the same website approached in two different ways. There's always a spin of Paddy's Wonder Wheel available every day so long as your account is funded, and you're unlikely to notice any difference between the (huge) gaming libraries. With nothing to pick between Paddy Power Casino and Paddy Power Games, you can always be sure of one thing – if you enjoy one of them, it would be really weird if you didn't enjoy the other.
This is a Paddy Power sister site that just so happens to be physically attached to the Paddy Power website. You don't even have to leave the site or remember another set of login details to access it. That's something it has in common with Paddy Power Vegas and Paddy Power Bingo. All smaller brands within Paddy Power come together to make a bigger whole, and Paddy Power Casino is every bit as important a piece of that whole as the rest of them are. It's the least-known member of the family, but it still has more to offer than nine out of ten slots and casino sites out there. Paddy Power Casino is far more similar to Paddy Power Vegas or Paddy Power Games than it is to Paddy Power's original incarnation, but that doesn't mean that every single aspect of it is different. You should find plenty of comparable factors at the two sites if you're a fan of the Paddy Power style of presentation. 
Paddy Power Vegas
Paddy Power Vegas is yet another Paddy Power sister site embedded within the Paddy Power website and also yet another one that deals with traditional casino games. You might be wondering what the point of Paddy Power Vegas is when we already have Paddy Power Games and Paddy Power Casino handling slots, roulette, game shows and all the other elements that go into making a great online casino site in the 2020s. The answer is that Paddy Power Vegas has a totally different focus. It contains far fewer games than Paddy Power Casino – but every game you'll find at the site comes with a shot at a big jackpot. It's in this attribute more than any other that there's a difference between Paddy Power Vegas and any of the other Paddy Power products or brands. 
When people go to Las Vegas, they do so with dreams of hitting the big one in a casino. Paddy Power Vegas aims to replicate that experience by proving jackpots that have to be won by somebody somewhere every hour and a larger jackpot that has to be won by a certain time every day. This is the home of Paddy Power's "premium" slots – they're the A* games from within the range, and they're presented here for the attention of high rollers and those who are attracted by the chance of huge payouts.
Can Paddy Power Be Trusted?

★★★★★
Paddy Power is a 3 Star trusted casino, here's why:-
1. UKGC License

YES – Paddy Power holds a license with the UK Gambling Commission with PPB GE Limited under account number 52819.

2. UKGC Fines

CLEAN – PPB GE Limited has never been fined or subjected to disciplinary action by the UK Gambling Commission. 

3. Customer Service

OK – You can speak to Paddy Power through live chat or by email, but there isn't a telephone option. 

4. Trustpilot Score

VERY BAD – After over 2,000 reviews, Paddy Power is rated at 1.3 out of 5.

5. Company Location

TRUSTED – Paddy Power's parent company operates from an address in Ireland. 

6. Visible Terms

NO – Offers in the casino section of the site are stamped with "Ts & Cs Apply" without a link to the terms and conditions in some cases.

7. Do they pay?

YES – Paddy Power can be trusted to pay out successful bets. 

8. SSL Secure

YES – Their website is fully secured with SSL encryption.

9. Wagering on Bonus

GREAT – Free spins at Paddy Power come without wagering restrictions, but this information is very hard to find on the site. 

10. Gamstop links

YES – Gamestop links are present.

Overall TRUSTSCORE>>>

★★★

★★ – 3/5 Stars
Paddy Power can be trusted, but attracts bad reviews and isn't always clear enough about its promotional terms.
What are players saying about Paddy Power?
Here are our condensed / reader's digest summaries of recent player reviews of Paddy Power. We've taken them from players who have direct experience of using Paddy Power's brands and products and wanted to share their experiences.
02-Feb-2022 by Dariusz:
This is the worst site ever. I got no new customer rewards so I contacted customer support. It took me over half an hour to get an answer and then they just passed me on to someone else, which took another 20 minutes. – source: TrustPilot
02-Feb-2022 by Darren:
The bingo rewards have gone badly downhill. I used to be a VIP here but I lost my status and they can't tell me why. They can't tell me how to get it back again either. Loyalty should count but it doesn't seem to here. – source: TrustPilot
02-Feb-2022 by Jane:
It's a nightmare trying to get in touch with customer service. They don't have a phone number, they don't answer my emails, and the live chat is just automated messages. – source: TrustPilot
01-Feb-2022 by Laura:
Their app is just horrible. It freezes at least five times a day and the only way to fix it is to turn your phone on and off again. – source: TrustPilot
31-Jan-2022 by Carl:
They're ruthless. How they're allowed to keep a license is beyond me. They're not a patch on either Sky Vegas or 888, their RTP might as well be zero. They need to sort themselves out. – source: TrustPilot

23-Dec-2020 by Leon:
Don't gamble with Paddy Power, they're a waste of time and money. – source: Youtube
21-Dec-2020 by Francis:
Their sports betting section is really good and you often get your money back. However, their poker section seems awfully rigged, and there's hardly ever a win. – source: TrustPilot
17-Dec-2020 by Betty:
There's nothing about this site that I don't like. Spent a lot of money on this site and it really shows, and gives back too! – source: AskGamblers
16-Dec-2020 by Chris:
I've been playing with Paddy Power for more than ten years, and can honestly say their games are quite brilliant. – source: TrustPilot
20-Nov-2020 by Maverick:
The odds can be a bit sticky at times, but overall Paddy Power is a top-class website. – source: TrustPilot
23-Oct-2020 by Greg:
I use Paddy Power and I think it's really easy to use, not to mention the quick withdrawals and plenty of offers. – source: TrustPilot
27-Jun-2020 by Terry:
The sports betting is better than most sites out there, and the rest is pretty epic too. They do exactly what it says on the tin. – source: AskGamblers
13-Mar-2020 by Joloco:
A range of games to play and support is always available for help. Rewards the best I've come across in a long time of playing online casinos. – source: AskGamblers
Paddy Power Review 2022
Paddy Power is one of the most famous casinos in the UK, but it's famous as a sports betting website. It's far less well-known for its bingo and casino offerings, even though it has plenty of both. Should they be getting as much of your attention as the sports betting options do? Is Paddy Power still worthy of its position as a top-rated betting brand after being online since 2004? This review will give you the answers.
New Player Welcome Offers
There are differing welcome offers at Paddy Power depending on whether players are interested in placing bets on sports or placing bets inside the casino. As a new sports betting customer, a player can place a £10 bet on sports and then get it back in cash if they lose. 
The welcome bonus for new players in the casino is fifty free spins upon registering plus 100 more upon depositing £10. There are no wagering restrictions on free spins winnings, which is fantastic. 
Monthly Promotions
There isn't much in the way of ongoing promotions at Paddy Power, which is a shame as there used to be a wide variety, including a VIP reward structure for loyal players. Now there's little more than one free spin per day in the casino and a "refer a friend" reward scheme for sports betting. The majority of promotions at the site focus more on sports than they do on casino games and are built around specific games, fixtures, and events. Check the banner of the homepage for the latest offers, which are updated on an almost daily basis. 
Slots players get an additional £5 in bonus funds every time they bet £20 or more on slots. The £5 is credited at the start of the following week. 
"Paddy's Wonder Wheel" can be spun once a day inside the casino and offers the chance to win free spins, bonuses to be spent on sports or casino games, and free instant win scratchcards.
Pros and Cons – What Are The Benefits Of Playing At Paddy Power?
The biggest benefit of playing at Paddy Power is the site's sheer range and scale. It tries as hard as it can be to cover every aspect of gaming. It has bingo, live dealer games, slots, Slingo, jackpot games, and (of course) sports. So long as you're happy with the terms and conditions that the site offers, there's little need for you to ever go anywhere else. Having no wagering restrictions on free spins is a real treat, too. 
The biggest drawback is that you won't get much in the way of rewards for your loyalty or your spending. Some of the terms and conditions are far harder to find than they need to be, which is odd because – like with the zero wagering requirement on free spins – they're worth promoting rather than hiding. Having such a low Trustpilot score after so many reviews is a worry, too. Players aren't happy, and they can't all be wrong. 
Featured Slots and Casino Games
There are some weird and wonderful casino games in the spotlight at Paddy Power, including slots that you might not see often (or even at all) at other casinos. They update their range regularly, but the hottest slots right now include:-
Pirates Hold: Davy Locker's Coins – This Cayetano Gaming slot is a February 2022 release and was made available at Paddy Power before it was released elsewhere. It's a pirate-themed slot that borrows a lot of its visual cues from "Pirates of the Caribbean" and comes with a changing reel set that can grow up to six rows high. The bigger it grows, the higher the multipliers on your wins are. RTP is 95.02%. 
Big Fishing Fortune – There are a lot of Fishin' Frenzy clones on the market, and perhaps the kindest thing that can be said about Big Fishing Fortune from Inspired Gaming is that this is one of the better ones. The "win every time you see a fish and a fisherman on the same spin" mechanic is more than familiar by this point, but this slot gives you the perk of a guaranteed win every time you trigger free spins. RTP is 94.8%, and volatility is around average. 
Leprechaun's Luck: Cash Collect – Playtech released this Irish-themed slot at the end of January 2022 and surprised everyone by taking a very retro approach to presentation. Who cares about graphics, though, when there are coins to collect and random jackpots of up to x500 your stake to be won? "Collect" symbols remain in view throughout free spins by "walking" across the reels, thus ensuring you pick up a few wins. RTP is 95.38% with moderate volatility. 
The Sportsbook
The other big attraction at Paddy Power is the sportsbook. They almost don't need us to sing their praises because they're among the best-known sports betting companies in the UK. From accumulator rates to in-play match odds, this is one of the most comprehensive sportsbooks in the UK. If you can't bet on a sport here, the chances are that you can't find anywhere to bet on it at all. 
Paddy Power also offers live dealer and non-live dealer variations of roulette, blackjack, and other popular casino staples. 
Deposit and Withdrawal Methods
You won't struggle to find an acceptable deposit method with Paddy Power. You can use debit cards as you might expect, Skrill or Neteller e-wallets, a PaySafe voucher card, Rapid Transfer, or PayPal. Apple Pay may be available for some users on Apple devices. You can even make a bank transfer to Paddy Power, although that might take a day or five to reach your account. All other methods of deposit should clear instantly. 
The fastest way to withdraw money is via Rapid Transfer, which is instant. PayPal and e-wallet withdrawals should come within 1-4 hours. Debit cards and Apple Pay will take 1-3 days, and bank transfers may take between 1-5 days.
Customer Support and License
You can't speak to Paddy Power over the phone, which is the source of at least some of the negative Trustpilot reviews. You can, however, speak to them any time via live chat so long as you're logged into your account. 
Through PPB GE Limited, Paddy Power holds licenses with both the UK Gambling Commission and the Malta Gaming Authority. 
The Verdict
Paddy Power might not have the compelling promotional offers and incentives that it used to be able to boast about, but it still has plenty to offer to most UK players. The sportsbook won't be bettered anywhere else, and there's nothing shabby about the casino games either. We have concerns about the number of bad reviews the site attracts, though, and the terms and conditions on the promotions that are still available aren't quite as clear as they perhaps ought to be. 

Paddy Power In The Media
About Paddy Power and News
Paddy Power was founded 33 years ago, in 1988, in Dublin, and has grown into one of the biggest bookmakers in the UK and Ireland. They merged with Betfair in 2016 to become Paddy Power Betfair, before rebranding to Flutter Entertainment in 2019. While the in-person green stores are still existing, the move to online gambling is becoming more and more of a priority for the company. Paddy Power is certainly keeping up with the changes. Flutter Entertainment is arguably one of the biggest online entertainment providers of its kind. When it comes to the latest news and updates, Paddy Power actually has its own news site, that includes a massive range of content, including results, tips, and general news about football, horse racing and a lot more. Players and gambling fans can check this site for relevant news and other types of content, and it's often as specific as the news you'll find on a non-gambling site. Paddy Power claims that they like to do things differently and "serve up mischief", so it is no surprise that they are also widely known for their controversial stunts and advertising.
Criticisms and Failures of Paddy Power
With great success and popularity also usually comes great criticism. Even with Paddy Power's huge reputation across Ireland and the United Kingdom, there have been many criticisms of the brand for a number of controversial things that have happened in the past. The Advertising Standards Authority (ASA) have received thousands of complaints about many of Paddy Power's publicity stunts, adverts, and more. Paddy Power has previously offered betting odds on events that could be constructed as unsavoury and do not fit within regular betting standards. Some of these instances include betting on an assassination attempt on former US President Barack Obama, accepting wagers on the first species to become extinct due to the BP oil spill in the Gulf of Mexico, and on the potential extinction of polar bears in 2009. Not content with all that, they also welcomed betting on the outcome of the court trial of Oscar Pistorius for the murder of his girlfriend in2014 in South Africa. Additionally, in 2017, the company offered betting odds on a deceased footballer (Ugo Ehiogu), to become the new Birmingham City F.C manager. That was later blamed on human error.
Paddy Power has also been criticised for withholding large pay-outs, such as the instance when Shane Lowry won the Irish Open in 2009. The company claimed that the 3000/1 bet they'd accepted on that outcome had been offered by mistake and 'arrangements' were made for those involved. In 2010, a hacker gained access to more than 600,000 people's personal information, including addresses, phone numbers, and security questions/answers, and Paddy Power did not inform the Information Commissioner's Office until 2014. That was a whole four years after the actual incident. Also, in 2018, a gambling addict was allowed to wager thousands of pounds of stolen money, in both William Hill and Paddy Power betting shops. Two victims of the thefts were seeking £965,000 from Paddy Power because of the bets made, and the victims said that Paddy Power had not yet compensated them for their losses.
Paddy Power Advertising; the Good, the Bad, and the Ugly
If you venture over to YouTube for video advertisements, the first video that shows when you search for "Paddy Power adverts" is a 2015 video entitled "Top 5 Most Controversial Paddy Power Adverts", which is never a good start. The five adverts featured in the video include a range of different scenarios making jokes at the expense of religious groups, the LGBTQ+ community, and the lower class. Some may say that these controversial adverts are a way of gaining mass popularity – bad publicity is still publicly, one might suggest. The flipside of that argument is that Paddy Power alienates people within these groups and also upsets the sensitivities of existing customers every time this happens. It's a consequence of their "high risk, high reward" promotional strategy.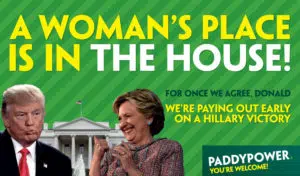 Although Paddy Power has succeeded in attracting attention by causing offence and controversy, they still sometimes find ways to get themselves in trouble when they're not even trying. In 2010, Paddy Power built a huge Hollywood style sign on Cleeve Hill overlooking the Cheltenham Festival, which was received badly by many racecourse officials. Paddy Power was not the official sponsor of the festival, and this sign drew a lot of attention away from the actual sponsors. But this did not stop the company from erecting the sign once again in the same year, this time near Celtic Manor overlooking the 2010 Ryder Cup, which was not approved any more than it was the first time. Although this publicity stunt is a lot less harmful than some of their other adverts, it still landed Paddy Power in hot water with event organisers.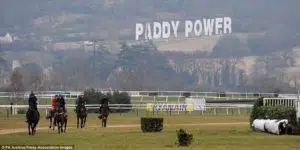 Paddy Power on Social Media
As well as being well known for its advertising and associated controversies, this gambling brand is also very popular and present on social media. They have over 1.5 million "likes" on their verified Facebook page, as well as an extremely active Twitter account with over 650k followers. The verified Instagram page also holds over 170k followers, as well as having 54k subscribers over on YouTube. The popular Facebook page keeps up with sports news by sharing mostly memes and an occasional responsible gambling post. This type of content reaches not only their main target audience but also a lot of younger social media users and are therefore introducing themselves to new customers through the posting of memes and related funny content. Paddy Power's use of social media is a lot more consistent than other casinos, likely due to it being a huge brand to start with. They always find ways to get their name into the newspapers – and you'll probably hear about yet another daft Paddy Power stunt sooner rather than later.
Paddy Power Social Links
| | |
| --- | --- |
| Facebook | https://www.facebook.com/paddypower |
| Twitter | https://twitter.com/paddypower |
| Instagram | https://instagram.com/paddypowerofficial |
| YouTube | https://www.youtube.com/c/paddypower |