Regent Play
Regent Play sister sites include Slots N Play, High Bet, Million Pot, Spin Rio, 24 Spin, Bellis Casino, Karamba, Bet Target, Jambo Casino, Wild Slots and many more. 
Regent Play (regentplay.com) is operated by AG Communications Limited, High Street 135 Sliema, SLM 1548, Malta.







Regent Play Sister Sites 2022
Mr Play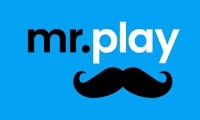 We'd never have known that it was possible to theme an entire online casino website around a moustache until we saw this quirky Regent Play sister site. Perhaps it helps that the moustache on the homepage of Mr Play is affixed to the face of an especially beautiful model. Mr Play is a weird and wonderful site and has been online since 2017. It's a very highly rated site among players, not least because of the potential generosity of its VIP rewards and the fact that it offers more than one thousand casino games to choose from. There's even a sportsbook at Mr Play, which isn't something you can say about too many of the other casino sites in the AG Communications Limited range. As well as the sprawling games portfolio, Mr Play usually has a welcome promotion that's worth looking at, too, so keep your eyes peeled for that if you give the site a visit.
MrFavorit
If you started a tour of Regent Play sister sites and moved from Mr Play to Mr Favorit, you'd be entitled to wonder whether AG Communications limited had essentially developed an online casino answer to the movie "Reservoir Dogs." As entertaining as that would be, the "Mr" theme doesn't go any further than these two sites. Mr Favorit opened its virtual doors in 2019, perhaps as a planned companion site for Mr Play. It doesn't have the same graphical spark as its older sibling, but Mr Favorit is on hand to welcome you to the site and appears to be a magician in the Derren Brown mould. Sports betting is off the table at Mr Favorit, but the site has both an extensive virtual casino and a live casino, along with a well-chosen selection of popular table games. It's a little basic, but it might hit the spot if you're a dedicated online slots fan purely because of its massive slots library.
Slotzo Casino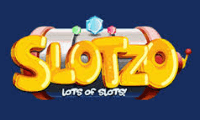 Slotzo is an online casino built for the space age, which might explain why the homepage of this Regent Play sister site looks a little like the flight deck of the Starship Enterprise. This is another casino that was launched in 2019, which must have been a busy year for AG Communications Limited. You probably already know what to expect from this chrome-and-purple casino site just from looking at its name – online slots and lots of them. Even the "Featured" section of the online slots catalogue runs to 727 games, so we're almost fazed by thinking about what kind of number the full library might run to. Instead of trying to count that high, we'll say that you could play a different online slots game here every day, and it would be several years before you ran out of new games to play. If you love online slots, there's a very strong chance you'll love Slotzo, but if you're still on the fence, you might like to know that the site has a live dealer section too.
Billion Casino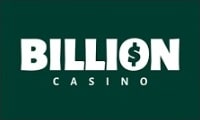 Has an online casino ever turned a player into a millionaire? Yes, several times over. Has an online casino or slots website ever made anyone a billionaire? No, not that we're aware of. Will the Regent Play sister site Billion Casino be the first to do that? Probably not, but don't let an odd choice of name put you off giving this teal-green casino site a look. It's themed around wealth, featuring a top-hat wearing man throwing cash at a stream train as a mascot. The entire right-hand side of the Billion Casino homepage is given over to an ever-scrolling list of recent winners at the site, as well as the amount that they won. Either the information is exaggerated, or Billion Casino pays out in the four-figure range far more often than we'd expect an average casino site to. Billion Casino doesn't have the range that some of the other Regent Play sister sites have, but with a focus on big-money games, it marks itself out as a digital venue for high-rollers and jackpot chasers.
Wild Slots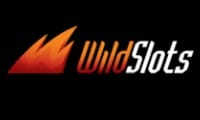 Wild Slots is yet another online slots-focused casino from AG Communications limited. There are quite a lot of them within the range of Regent Play sister sites, and most of them attempt to carve a niche for themselves by using clever themes. At Wild Slots it's wild animals, which would explain why a fairly terrifying tiger is the first thing you'll see when you land on the casino's homepage. Online slots that feature wild animals feature heavily on the casino's homepage, but if you look a little closer, that's just a selective re-ordering of the same games collection that appears at several other casino sites on this network. Wild Slots claims to have exclusive games to offer, but we were unable to verify any of the slots and games as being exclusive when we visited the site. As is almost always the case with AG Communications Limited casinos, Wild Slots also has a live casino section on offer.
Slots N Play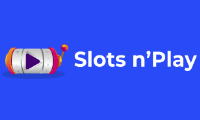 Slots n' Play is a name that tells you what to expect from this casino before you arrive at it. Unlike almost every other Regent Play sister site, though, Slots n' Play doesn't really have a theme. The logo, as you can see above, is generic. It paints a bad impression of the site, which actually has quite a large and impressive splash graphic of Gonzo from "Gonzo's Quest" waiting to greet all visitors. If Slots n' Play has a selling point, it's the supposed speed of its registration and welcome bonus promotion. Allegedly you can sign up for an account, make a deposit, and start playing through the welcome promotion within seconds of the page loading. We'll take the site's word for that, but we certainly appreciate the built-for-purpose graphics it uses and the almost comic book style of the site, which becomes steadily more apparent the further you scroll down.
24 Spin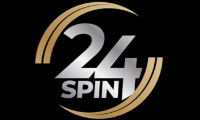 You don't get any prizes for working out that 24 Spin is another one of the Regent Play sister sites that focuses on online slots at the expense of almost everything else. We've reached the "paint by numbers" section of the AG Communications casino network range now, and there's a sense of deja vu about looking at 24 Spin when you've already looked at several other sites on the network. The template that the company uses doesn't result in all of its casinos looking identical, but there are definite similarities in both layout and content. 24 Spin tries to break the mould by using a zany approach to presentation. We have no idea why there are knock-off versions of Mario from "Super Mario Brothers" and Lion-O from "Thundercats" on the site's banner graphic, but it caught our eye, and we suppose that's what it's there for. Competitive gaming seems to be in the spotlight at 24 Spin, with player versus player tournaments extensively promoted across the site.
Bellis Casino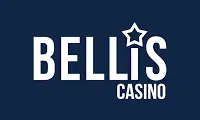 Bellis Casino is exactly what we mean by AG Communications Limited using a template from time to time – and we say that despite the fact that Bellis Casino is one of the most popular Regent Play sister sites in the entire range. Take away the differences between the logos and the colour scheme, and you'd have a really hard time spotting the difference between Bellis Casino and 24 Spin. No matter, though – both casinos appear to do a great job of entertaining their players and, if the scrolling sidebar is any indication, paying out big wins. Bellis Casino might be a better choice for players who like to take the slow and steady approach, as it staggers its rewards rather than splurging everything at once. Even the welcome offer is spread out across several deposits, so you'll have to pay in three times if you want to extract the maximum possible value from it. Nothing about Bellis Casino stands out, but there's nothing to make us doubt it as a worthy casino either.
High Bet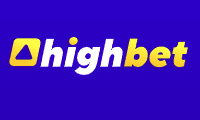 Appearances can be deceptive. At first glance, High Bet looks like one of the more basic, minimalistic online casinos in the Regent Plays sister sites range. Pay close attention to the list of options on the left-hand side of the landing page, though, and you'll find that this is one of that handful of AG Communications Limited casinos we mentioned earlier that offer sports betting as an accompaniment to all the traditional casino action. High Bet does a great job of providing enormous amounts of gaming content without distracting visitors from the task of playing those games. There aren't any flashy graphics or animations, and even the promotional banner is small compared to the standard across the range. The casino allows its games to take centre stage and features new games more prominently than games of any other type. This is an especially well-stocked and supplied online casino, so if you want to keep an eye on the latest releases, High Bet is a good place to look.
Million Pot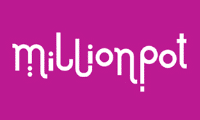 There are a few reasons why players flock to Million Pot. One of them is the collection of more than nine hundred casino games, within which almost every provider and developer worth their salt is represented. Another is the cleverly-curated collection of promotions, which includes a monthly cashback offer for players who play and deposit regularly. Perhaps some people are simply drawn here because they like online casino sites that aren't afraid to show a little bit of pink. Whatever the reasons might be, Million Pot is one of the most popular Regent Play sister sites overall and a highlight of the entire AG Communications Limited range. It's achieved all of this despite being a re-use of the same template we've mentioned a couple of times during this brief overview of the AG Communications range, so it just goes to show that there's no accounting for what the gaming public might flock to once it's been decided that a certain site is either hot or cool!
This is the end of our list of highlighted AG Communications Limited casinos, but it's a long way short of being a full list of Regent Play sister sites. Check out our dedicated AG Communications Limited page if you want to see everything the network company has to offer. In the meantime, we're going to take a closer look at Regent Play.
Can Regent Play be trusted?

★★★★★
Regent Play is a 3 Star trusted casino.
1. UKGC License

Regent Play is covered by the licence held with the UK Gambling Commission by AG Communications Limited (39483).

2. UKGC Fines

There are no recent actions against AG Communications Limited detailed on the UKGC website.

3. Customer Service

Regent Play doesn't offer any customer support other than email.

4. Trustpilot Score

Regent Play has a below-average rating of 2.1 out of 5 with Trustpilot, but has been reviewed fewer than 25 times.

5. Company Location

AG Communications Limited is based in Malta.

6. Visible T&C's

Terms and conditions are listed alongside Regent Play's promotions.

7. Social Media Presence

There are official Regent Play or Regent Play pages on Twitter and Facebook, but they appear to have been abandoned.

8. Number of Sister Sites

AG Communications Limited operates almost 100 Regent Play sister sites.

9. Games portfolio

The collection of games at Regent Play is approaching one thousand, and may pass it soon.

10. Gamstop links

As per its obligations, Regent Play carries the GamStop logo and a link to the site.

Overall SCORE >

★★★

★★ – 3/5 Stars
What are players saying about Regent Play?
Here are our condensed / readers digest summaries of recent player reviews of Regent Play.
22-Mar-2022 by Michaela:
No problems with Regent Play here. I can pay in OK and when I made a withdrawal it was in my bank account within 48 hours. – source: TrustPilot
08-Feb-2022 by Cal:
I tried to make a withdrawal of £1500 after scoring a big win with the welcome bonus, but they told me I'd "abused the bonus policy and took £1400 back. All I did was win, how is that abuse? – source: TrustPilot
16-Jan-2022 by Linda:
Regent Play is the worst. I've been waiting from a payout from the site for a full month now and they're still giving me excuses. – source: TrustPilot
24-Nov-2021 by Lichen:
You won't get fast withdrawals from Regent Play even if you use PayPal. All the customer service responses are copy and paste, and my last big withdrawal took an entire week. Custoiemr service is an unproductive nightmare. – source: TrustPilot
22-Sep-2021 by Toni:
I should have read these reviews before I played. Please steer clear of this casino, it's the worst I've ever come across. It's so bad that someone should look into it. – source: TrustPilot

04-Feb-2021 by Roger:
Faced alot of problems while registration but their customer service didn't help me out the slightest. Terrible depositing methods as they were too slow and outdated – source: TrustPilot
21-Jan-2021 by Michael:
Don't waste your money at this casino as their games were rigged and winning odds were too low here. Going to close my account from this casino. – source: TrustPilot
31-Oct-2020 by Maria:
This casino was an absolute joke as their bonus system was not fair enough, wagering terms were impossible to meet and live chat was always disabled. – source: TrustPilot
05-Oct-2020 by Rob:
Awful experience at this casino as their gaming pool was sluggish and bonuses were not on time. The staff was also very arrogant to deal with. – source: TrustPilot
23-Sept-2020 by Sylwester:
Depositing methods were not optimaland payouts also took a day to process which is terrible. Slot machines were also old and slow. – source: TrustPilot
15-May-2020 by Cameron:
Didn't impress me at all as their slot machines were slow because of this winning odds were too low here. Their methods of payouts were also outdated. – source: TrustPilot
14-May-2020 by Thomas:
It was a great experience at this place as their bonus system was great and the depositing bonus was a nice addition from them. Will be back here sooner. – source: TrustPilot
14-May-2020 by Lisa:
Avoid this casino at all cost as their live chat was miserable and customer service was arrogant. They should also reconsider their wagering policy. – source: TrustPilot
12-May-2020 by Patrick:
The chances of winning were great because their gaming pool was pretty sick. Bonuses were extraordinary and payouts were super fast. – source: TrustPilot
28-Mar-2020 by Luke:
They totally ruined my holiday as I didn't manage to win even a single penny. The wagering experience was horrible at this casino and depositing limits were too high. – source: TrustPilot
Regent Play Review 2022
Regent Play, which styles itself as "Regent Casino" outside the UK, is an online casino with a name linked to royalty – but probably not in the way that you're imagining. There's nothing more British than the royal family, and with a name like "Regent," the British royal family would be the obvious place for the inspiration for the name to have come from. According to the wording on the Regent Play website, though, that's not where the name came from. Instead, it's named after the "world-famous" Regent Street in London, which was named in honour of King George many years ago. It's an odd way for an online casino to arrive at a name, but it doesn't seem to have harmed the prospects of this enormously popular site. Whether you know it as Regent Play or Regent Casino, you'll undoubtedly also know it ass one of the most popular casinos in the country.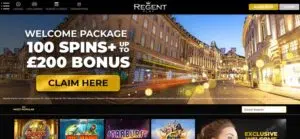 The purpose of a king is to rule, so is Regent Play the king of the online slots and casino world? The best way to work that out is to review it, so that's what we're going to do right now.
Welcome Offer
You can tell that Regent Play is proud of its welcome offer because it takes up half the space on its landing page. The headline is that new players can earn up to £200 in bonus funds with 100 free spins to go with them, although as per usual, there are some caveats to apply to that. In the case of this particular welcome promotion, the caveats make for quite a long list. This is a matched deposit, with a maximum of £200 and a minimum of £20. That's double the industry average of £10 for promotions like these. In better news, the bonus gets split up as 50% bonus funds and 50% real money funds, which is generous. On the other hand, the maximum you're allowed to win from bonus funds is £500.
On top of all of the above, you can't claim the entire bonus in one go. First deposits are matched at 100% up to £50 and come with 20 free spins on Starburst, followed by 20 free spins on Book of the Dead the day after that, another 20 spins on VIP Black on day three, and 20 free spins of Aloha! Cluster Pays on day four. That's all the free spins allocated, but players can still get a 50% matched deposit up to £75 on their second deposit and the same again on their third deposit. All bonus funds come with an x35 wagering requirement.
Ongoing Promotions
Having pushed the boat out with its welcome promotion, Regent Play is a little more reserved about ongoing promotions. We won't beat about the bush – there aren't any. The only two promotions listed on the "promotions" page at Regent Casino (or Regent Play) at the time of our visit to write this review were the welcome offer and a "Drops and Wins" promotional package for Pragmatic Play slots. While it's impressive that Pragmatic Play pays out millions of pounds on its Drops and Wins slots every month, the promotion isn't exclusive to Regent Play. You could go to any other casino that hosts Pragmatic Play slots and find the same offer.
The text on the Regent Play promotions page implies that there might be other bonuses available, but it keeps its cards close to its chest on that front. The casino says that it "may" launch competitions where players can win smartphones and gadgets and references an "exclusive club." The mention of the club suggests the existence of a VIP loyalty program, but no further details are offered. We're aware that Regent Play has offered reward programs for VIP members in the past, but there's nothing at the site now that tells us it still exists. We're not sure whether this reference is out of date or whether the casino only offers entry to the club on an invitation basis. Either way, a little more clarity on the matter would be appreciated.
Pros and Cons
On the whole, Regent Play is a top-quality casino site. It isn't difficult to work out why it's so popular. However, every casino site has its pros and cons, and here are the pros and cons for Regent Play as we see them. 
Pros: 
The availability of more than one thousand casino games. 

The backing of a long-standing, well-respected casino network company with a great track record for treating customers fairly. 
Cons: 
The only customer support method available is email, which is unacceptable in this day and age. 

Ongoing player rewards are thin on the ground, and the incentives offered are non-specific. 
Featured Slots and Games
Regent Play offers most of the gaming categories you'd hope to find at a modern online casino site. Most people come to online casinos for the slots, and Regent Play won't let anyone down on that front with its collection of almost one thousand. Its live casino is well kitted-out with all your favourite table games and roulette wheels, plus specialist varieties like Power Blackjack and Lightning Baccarat, along with Evolution's live game shows, including Deal or No Deal and Dream Catcher. If that's not for you, perhaps you'd like something a little more immediate, like the games in the dedicated Scratch Cards area of the Regent Casino site. If it's slots you're after, though, these were the most popular at the casino when we visited. 
Book of Dead: Book of Dead will always be one of the most popular online slots at any casino that offers it. Regent Play is no exception to that rule, and this Egyptian-themed Play n' Go classic is doing big numbers. It's more than five years old now, and its trademark expanding symbols free spins feature is a little dated compared to the more adventurous slots in the marketplace, but the millions of people who love it don't seem to mind. It's as volatile as it's always been and offers 94.25% RTP. 
Immortal Romance: Microgaming was so far ahead of the game when it released the vampire-themed Immortal Romance slot in 2011 that it still looks fresh now. Part of that is down to its dynamic features. This is a character-driven online slots game, and your choice of character will determine which bonus features are available to you. That might be adjustable free spins, additional wild symbols, big multipliers or a combination of the three. It's an all-time great slot with 96.86% RTP and average volatility. 
Starburst: If you've been playing online slots for a long time, there's probably nothing we can tell you about Starburst by NetEnt that you haven't heard already. You'll know it's the most popular online slots game in the UK. You'll know that it has 96.09% RTP and low variance. You might even know that it will soon celebrate its ten-year anniversary, having been released in 2023. If you've never played this space-themed slot before, though, you're in for a treat. Whether it's the "both ways" payline feature or the joy of getting a respin every time a wild symbol lands, this is a slot that gets just about everything right. 
Deposit and Withdrawal Methods
Every casino in the UK offers debit cards as a deposit and withdrawal method, but not everyone takes as long to process them as Regent Play does. All deposit methods are instant and free, but if you want to make a deposit to your Mastercard or Visa Debit card, you'll be looking at a wait time of up to six working days. You'll surely be wanting something a little quicker than that, so it's a good job there are alternatives. The fastest methods are the e-wallets Skrill, MuchBetter and Paypal, which take no more than two business days and will be instant where possible. Trustly – a banking intermediary service – can be used for withdrawals so long as you're happy to wait up to four business days. Even old-fashioned bank transfers can be used for withdrawals, but they might take up to six days. The only deposit method that can't also be used for withdrawals is PaySafe cards.
Customer Support and License
The only way of reaching customer support at Regent Play is through email. Given the high standard that AG Communications has demonstrated throughout the rest of the casino site, it's impossible to see this as anything other than a letdown. We know AG Communications offers live chat on some of the Regent Casino sister sites and even telephone support in some cases, so there's no good reason why players at this site shouldn't have better support. To make matters worse, emails are only responded to between 8am and midnight every day.
In the UK, Regent Play is covered by the licence that AG Communications Limited holds with the UK Gambling Commission under account number 39483. Outside the UK, where the site is known as Regent Casino, it's covered by a licence held with the Malta Gaming Authority by Aspire Global – which is AG Communications working under a different name.
Final Verdict
Regent Play is, in almost every way, a great casino site. The range of games and slots available here is excellent, and the casino network company that runs the site is as trustworthy as you'll find. We have every confidence that players can have a fun time at Regent Play and be safe while they're doing it. AG Communications could be doing a lot better with customer support, though, and more promotions and incentives beyond the welcome offer would enhance the casino's appeal too.
Regent Play is an AG Communications Casino
AG Communications Limited is one of the biggest casino network companies in the world, but you won't see its name appear outside the UK. "AG Communications" is a trading style of Aspire Global and is used only within the British Isles. The AG Communications name is the one that appears on the company's iGaming licence with the UK Gambling Commission – a licence that is completely clean despite the company's many years of casino operations and the fact that it has over eighty brands under white-label management. Aspire Global is the name that appears on the company's Malta Gaming Authority licence and on all the other licenses that this enormous company holds. Attempting to separate AG Communications Limited from Aspire Global is a pointless exercise – the two companies are one and the same.
Aspire Global opened its doors in 2005 and has demonstrated slow and steady growth ever since. Here and now, the company has more than 400 people working for it across thirty different offices and fourteen licensing jurisdictions. It's thought that the business made more than £40m in net profit during the past financial year, which is a sign that it's in rude financial health. We've already covered that Aspire Global has iGaming licences in the UK and Malta, but you can add Sweden, Portugal, Denmark, Belgium and Italy to the list of European territories that the company is active within. In recent years we've also seen Aspire Global spread into new markets in Africa and the Americas, with licenses and permissions obtained in Nigeria, Colombia, Mexico and the United States of America. Such is the size of the business that it's listed on the Nasdaq First North Premier Growth Market.
Aspire Global sees itself as a "one-stop shop" for any potential partner wishing to enter the casino and iGaming market, with bespoke packages for sportsbooks and casino games and marketing support if required. It claims to grow a little more every day. Looking at how far it's come in less than twenty years and the number of casino brands it now operates, we can't disagree with that claim.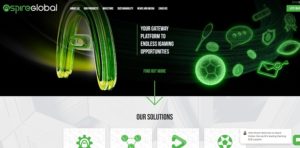 Advertising and Marketing for Regent Play 
Big casinos tend to have an equally big commercial presence. When you think of one of the biggest casino sites in the UK, you can probably also think of its most recent television or social media marketing campaign. Regent Play is a big casino, but it bucks the trend by not having any television or sponsorship presence whatsoever. You won't see either the Regent Play or Regent Casino names on television, nor will you see them connected to any significant sponsorships. The growth of this casino has been almost entirely organic, supported by word-of-mouth and good reviews. When you go looking for adverts for either the Regent Casino or Regent Play brand, you'll find them to be almost entirely conspicuous by their absence.
Regent Play does at least have a small presence on social media, but it doesn't do much with either of its main social media accounts. The official Regent Play Casino Twitter account has only existed since February 2022. Our records suggest that there was a Regent Casino Twitter account before that date, but it's disappeared, so the appearance of this new account might suggest that the casino has gone all-in on the Regent Play name and is preparing to get rid of Regent Casino once and for all. Thus far, the account has posted just one Tweet, which was a small advert in the month of its launch. It's been silent since then and currently has no followers. There's slightly more to see on the official Regent Play Casino Facebook account, which has been up and running for a lot longer. Still, though, the account has barely fifty followers and averages only one post per month with hardly any interaction. After looking at the commercial, social media and marketing status of Regent Play, you'd be quite right to scratch your head and wonder how the casino has become such a big deal. We're also left wondering how much bigger it might become if it put more effort into promoting itself.