SpinYoo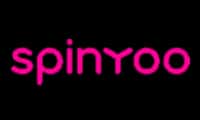 SpinYoo sister sites include Dream Vegas, Grand Ivy, Playzee, 21 Casino, Captain Spins, Jonny Jackpot, Jackpot Village, Temple Nile, Slot Planet, Casilando and many more. 
SpinYoo (spinyoo.com) is operated by White Hat Gaming from Cornerstone Business Centre, Mosta, MST 1180, Malta.
Sites like SpinYoo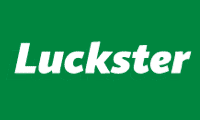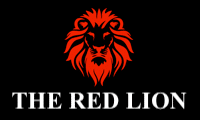 SpinYoo Sister Sites 2022
SpinYoo is a White Hat Gaming Limited casino. That means there are lots of SpinYoo sister sites out there, not all of which will be highlighted in the section below. If you'd like a complete list of all the casinos operated by White Hat Gaming Limited, you'll find it by clicking the highlighted link at the top of this page. If you'd like to see nothing but the best SpinYoo sister sites, stay here and keep reading.
Dream Vegas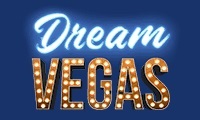 There's no question that Dream Vegas is one of the most popular SpinYoo sister sites that White Hat Gaming Limited operates. When you land on the homepage of the site, you'll immediately see why. This is an extremely slick casino site with an animated background, nailing the Vegas theme to a T with images taken from Sin City itself. Not every player gets blown away the moment they see a good-looking casino, but Dream Vegas certainly knows how to make a strong first impression.
One thing you'll notice quickly about the SpinYoo sister sites is that the white-label nature of them allows for a lot of diversity in welcome offers and promotions. In the case of Dream Vegas, it allows for a 100% matched deposit up to a maximum value of £300 plus up to 150 bonus spins as a "thank you" for joining. The wagering requirement attached to the bonus funds is x35, which is irritating but in line with the average across UK online casinos. Free spins can only be redeemed on NetEnt slots, but there are enough quality NetEnt slots at Dream Vegas for that not to be a problem.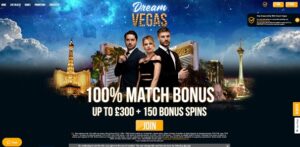 Grand Ivy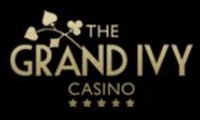 The idea of Grand Ivy (or, to give it its full name, The Grand Ivy Casino) is to replicate the look and feel of a real-life high-class casino establishment. That's not a million miles away from the idea of Dream Vegas, thus indicating that there's a little overlap between the themes of some of the SpinYoo sister sites. If we had to choose between the two, we'd say that Dream Vegas does a better job of carrying the theme, but that's not to say there aren't things to like about Grand Ivy. The beautiful way the casino is rendered in the background of the site makes us sure we'd visit it if it were a real-world location. It's a little retro and makes us feel like we ought to put our finest outfit on even when we're sat behind a laptop screen.
We mentioned there are differences between the welcome promotions of SpinYoo sister sites because of the white-label nature of them, and Grand Ivy illustrates that point perfectly. New players at this luxury casino get a welcome package made up of a 100% matched deposit up to £300, but only 25 free spins on Starburst to go with their bonus funds. Encouragingly, the wagering restriction attached to those bonus funds is still only x35. The font at Grand Ivy might make things hard to read occasionally, but you can rest assured that you're getting a good deal from the casino.
Playzee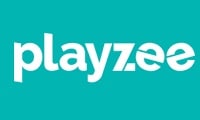 Playzee is an online casino that most of our readers will already be aware of. It's arguably the most popular of the SpinYoo sister sites (although SpinYoo itself is rapidly closing the gap), and because of that, it's a place we suspect a lot of you have played at already. If you're yet to try the delights of Playzee, we can assure you there are plenty of them in store for you. This is a casino site full of wit and personality – we just hope that you've got a strong tolerance for puns because you're going to find them everywhere, starting with an invitation to "enjoy zee games" at the site. All of the games and entertainment on offer at Playzee are presented by "Professor Zeegmund," who's your usual Albert Einstein-style mad professor stereotype. It's nothing original, but it helps Playzee to stand out.
When you register a new account and begin to play at Playzee, you get a 100% matched deposit up to a max of £300 (that figure should be getting familiar by now), plus 100 Zee (free) spins on selected slots and 500 Zee points. The latter reward is helpful because Zee points count towards the Playzee loyalty reward scheme. On top of all that, there are promotions available every day of the week, starting with "buzee Monday" and progressing through "crazee Tuesday" and "lazee Wednesday." You'll roll your eyes when you see the names of the promotions, but what they have to offer should help you to spin a few reels, too.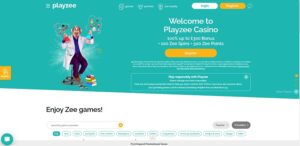 21 Casino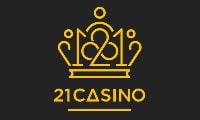 There are more than a handful of online casinos available to UK players that make use of "21" in their title. 21 Casino is one of the most popular of them but often gets mistaken for 21.co.uk. It's easy to see why. The number twenty-one might be a good choice for an online casino because it's synonymous with blackjack, but it's also difficult to build a theme around it. Unfortunately, 21 Casino is proof of that, too. This is one of the least imaginative SpinYoo sister sites, not helped much by the poor-quality English on display in the casino's slogan "try our most popular slot machines in the United Kingdom."
It's the focus on online slots that hurts the appeal of 21 Casino more than anything else. Based on the name alone, players would be entitled to expect a classic-style casino with a focus on table games and roulette. Instead, it's just another casino site offering a range of mostly-classic online slots to enjoy. There's nothing wrong with that – it's just that several of the SpinYoo sister sites do it better. Even the welcome offer doesn't quite hit the heights it sets out to hit. By matching at 121%, it sounds more generous than the promotions we've looked at so far, but it still caps at £300. We include 21 Casino in our list because it's popular, but if we're honest, we don't know how or why.
Casimba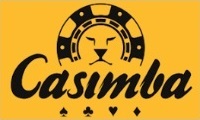 Casimba is imaginative in all the ways that 21 Casino isn't. Consider the name. "Casimba" is a combination of "casino" and "Simba." If you're of a certain age, you'll know all too well that Simba is the main lion in "The Lion King" by Disney. That explains why the logo of Casimba Casino is a poker chip with a lion's face in it. It's White Hat Gaming Limited (or rather the casino network company's third-party partners) making use of the audience's familiarity with the character of Simba without breaching Disney's copyright. It's a clever trick, and it at least partially explains the popularity of this casino site. If all of the SpinYoo sister sites were named and promoted this imaginatively, White Hat Gaming Limited would be an even bigger deal than it is.
Unfortunately, Casimba can't quite stick the landing when it comes to the welcome promotion it currently offers. It's a 100% matched deposit offer, just like almost all the other SpinYoo sister site welcome offers are, but it's capped at £200 and comes with just fifty bonus spins. That means you get less for free at Casimba than you do at a couple of the other sites in the family. Still, the site offers live dealer and table games to do with all of its many slots and also allows players to search its collection by provider if they prefer the output of some studios more than others.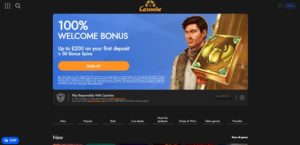 Captain Spins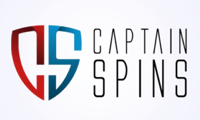 Nobody knows how long the current superhero trend will last in the movie world, but most analysts who've predicated its downfall have been left with egg on their faces as it continues unabated. The same is presumably true of online casinos with superhero themes, of which Captain Spins is one of the best-known. Much as White Hat Gaming flirted with copyright issues when putting Casimba together, they're playing with fire with the design of Captain Spins. The impressively well-rendered mascot of this casino, Captain Spins himself, looks so much like "Captain America" star Chris Evans that Evans himself would recognise himself when looking at the avatar. Nevertheless, Captain Spins is here to save the day, and he brings one of the most generous free spins packages of the entire SpinYoo sister sites range.
The total number of free spins available as a new starter at Captain Spins is 520. Players have to make a deposit of at least £20 on their first four deposits to get all those spins – so they're not truly "free" – and the downside is that the spins have come at the expense of any bonus funds. We suspect most players would prefer to have a couple of hundred pounds of bonus funds than a couple of hundred free spins to play with, but if you're not one of them, Captain Spins might be the casino for you.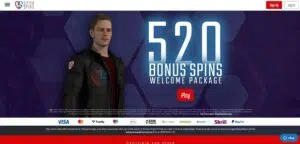 Jonny Jackpot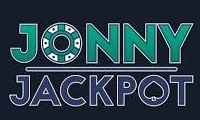 Speaking of casinos with rendered 3D mascot characters, here's Jonny Jackpot. Jonny isn't quite as visually impressive as Captain Spins, but you'll find him wearing his best suit on the homepage of Jonny Jackpot, offering you the best welcome package he can muster. At the moment, that welcome package is five hundred free spins. The way this promotion works is very similar to the welcome promotion of Captain Spins, with the free spins doled out across four deposits so long as new players continue to deposit at least £20 each time they top their accounts up. Unfortunately, this means that the welcome offer at Jonny Jackpot has the same pitfall as Captain Spins – there aren't any guaranteed bonus funds attached to it.
Jonny Jackpot has a relatively sober and austere theme, opting for a simple "real world" casino backdrop and touting classics like Book of Dead and Big Bass Bonanza as slots that Jonny is "enjoying" at the moment. We'll never have any objection to a casino that does the classics well, though, and we're pleased to note that Jonny Jackpot offers a loyalty reward program. That isn't something we can say about all the SpinYoo sister sites, so it's a feather in the cap of this one.
Can SpinYoo Be Trusted?

★★★★★
SpinYoo is a 3 Star trusted casino.
1. UKGC License

SpinYoo is covered by the licence that White Hat Gaming Limited holds with the UK Gambling Commission (52894)

2. UKGC Fines

White Hat Gaming Limited reached a settlement of £1.3m with the UKGC in January 2021 after failures in the company's processes for identifying at-risk customers were identified.

3. Customer Service

SpinYoo provides customer support via live chat and email, but there's no telephone support.

4. Trustpilot Score

After over 25 reviews, SpinYoo has a rating of 2 out of 5. The score is considered poor.

5. Company Location

White Hat Gaming Limited is based in Malta, which is considered safe and trusted.

6. Visible T&C's

Terms and conditions are presented in plain sight alongside promotions at SpinYoo.

7. Social Media Presence

SpinYoo posts regularly on both Facebook and Twitter, but has fewer than fifty followers on either account.

8. Number of Sister Sites

The White Hat Gaming Limited casino network contains more than thirty SpinYoo sister sites.

9. Games portfolio
There are more than 1600 slots at SpinYoo, plus table and live casino games.
10. Gamstop links

Yes, SpinYoo carries both the GamStop logo and a link to the GamStop site.

Overall SCORE >

★★★

★★ – 3/5 Stars
Spin Yoo Casino Review 2022
SpinYoo is still a relatively new casino after launching in 2021 but has been exploding in popularity in recent months. Why is that? What does this casino have that all the other online casinos don't? Is it just a fad, or are we about to see SpinYoo become a major player in the UK casino scene? The only way to find that out is to give the casino a fresh review – and so we'll do that right now.
Although this point doesn't fit into any of the categories we're going to go into below, we thought it was worth mentioning:- SpinYoo is a "social casino." Members can customise their own avatars, interact with each other (to a small extent) and create custom pages full of their favourite slots and games. SpinYoo also sends tailored offers to players on a regular basis. That's why the casino is so named (SpinYoo = "Spin You"). It might be this aspect of the site, more than any other, that's drawing players to SpinYoo and keeping them there.
SpinYoo Welcome Offer
SpinYoo uses the phrase "first deposit bonus" rather than "welcome bonus" to describe its first offer, but it amounts to the same thing. The offer is a 100% matched deposit up to a maximum of £250 on all first deposits of £20 or more, plus 100 free spins paid out at twenty per day across the following five days. Each batch of twenty spins is to be redeemed on a different online slots game. The bonus funds come with an x35 wagering requirement, but that's standard across the SpinYoo sister sites and the industry as a whole.
If players don't like that offer, they could instead choose to receive a first deposit bonus for live casino and table games instead. The bonus is offered as a 100% deposit match with a minimum of £20 and a max of £100 and can be used on any of the table and live dealer games that SpinYoo offers. The same x35 wagering requirement still applies.
SpinYoo Ongoing Promotions
The most substantial ongoing promotion at SpinYoo is called "Yoo Loyalty" (everything at this casino is called either "Yoo Something" or "Something Yoo"). Novelty name aside, it's a fairly standard "collect loyalty points to earn rewards" scheme. Points are accrued at a rate of roughly one for every £5 spent, although money spent on poker, card games, and roulette is worth less than money spent on slots in the context of the loyalty program. When making deposits, Yoo Points are awarded at a rate of 1:£1. The news about getting points back out again at the other end is less encouraging. Players get a £5 bonus for every 1,000 points they convert. That's not so bad the first time around, as players get 500 Yoo Points when they first register an account with SpinYoo, but it's hard going after that.
Other promotions available at SpinYoo may be seasonal but currently include cashback Mondays and daily free spins allocations. The site also regularly hosts "live casino challenges" and further promotions related to the randomly-selected game of the month. SpinYoo isn't the strongest online casino we've ever come across in terms of promotions, and the loyalty program could definitely be a lot more generous than it is, but on the other hand, it's a lot better than having nothing at all.
SpinYoo Pros and Cons
Pros
SpinYoo is an enormous casino with more than 1600 online slots to go with all of its live casino and table games. 
The casino comes with a loyalty reward scheme to keep long-term players interested. 
Cons
There are no guarantees given about timescales for withdrawals.
White Hat Gaming Limited has recently had issues with the UK Gambling Commission for failing to protect at-risk customers. 
Top Games at SpinYoo
An online casino that offers as many slots as SpinYoo does is always going to be more about slots than anything else, even though SpinYoo has a well-equipped live casino, Slingo games, table games and all the other amenities you'd expect from a popular rising star of a casino site. The only things missing are bingo rooms and sports betting options. If you want to know what the most popular games at SpinYoo are, all you need to do is look at the "trending" section of the homepage. Here are the slots we found there when we visited SpinYoo to write this review. 
Big Bamboo: This Push Gaming slot was released in February 2022 and comes with an Orient-inspired animals and nature theme. As you might have guessed from the name, pandas are the most prominently-featured animals in the slot! It offers 95.11% RTP, stacked symbols and multiple free spins variations, but players should be aware before they play that the slot is highly volatile. It might tax your bankroll before a big win rolls in. 
24K Dragon: Players at SpinYoo must enjoy highly volatile slots because this Play'n Go game fits that description, too. Couple the high volatility with 94.2% RTP and those wins you're waiting for might keep you waiting for a very long time. There are 1024 ways to win, though, with more appearing every time you unlock a new row with a respin. During the slot's bonus features, wild multipliers bring added value, and the additional rows begin to expand. 
John Hunter and the Tomb of the Scarab Queen: The John Hunter slots have been doing big business for Pragmatic Play for a long time now, and this 2019 entry into the canon is no exception. The Indiana Jones impersonator takes another trip to Egypt in this themed slot, with average volatility and 95.5% RTP. The highlight of the slot is a money collect feature, but the free spins feature is also potentially lucrative because the value of all money symbols that appear during it is automatically added to the bonus pot. All you need is one collect symbol to win the entire pot at the end of the round. 
Deposits and Withdrawals
This is an area where SpinYoo could and should provide more information. The casino isn't exactly short of deposit and withdrawal methods – as well as the usual Mastercard Debit, Visa Debit and bank transfer options, the casino also deals with Maestro, Apple Pay, e-wallets including PayPal, Neteller and Skrill, Trustly's banking intermediary service and Paysafe voucher cards. Every payment method apart from Paysafe is valid for withdrawal as well as deposit, but no details are given about how long withdrawals might take to process. We're always hopeful that instant withdrawals might be possible when casinos support e-wallets, but the lack of information on the website is concerning.
SpinYoo – The Verdict
SpinYoo is a couple of points away from being a five-star casino site. We're impressed by the sheer number of online slots at the site, with all major providers represented. The design of the site is unusual – it won't be to everybody's taste, but at least it has an original style. We can't help but be worried about a casino that won't commit to withdrawal timescales, though, and any casino operated by a company that's recently had regulatory issues will always come with an asterisk. File SpinYoo under "good, not great."
What are players saying about SpinYoo Casino?
Here are our condensed / reader's digest summaries of recent player reviews of SpinYoo Casino. They're all genuine reviews, but the comments have been edited for the sake of brevity.
19-Jul-2022 by Jamie:
I was supposed to get 100 free spins and a matched bonus when I signed up, but they only gave me 20 spins instead of the 100 they promised. – source: TrustPilot
03-Jul-2022 by Graham:
I won £900after spending about £300. Three days later, I got an email telling me that most of my wins came from a no-deposit bonus, so they were removing them. It wasn't a non-deposit bonus. I don't need this kind of stress, and I think their tactics are disgusting. – source: TrustPilot
30-Jun-2022 by Alexander:
I think all the White Hat Gaming casinos are rubbish, and SpinYoo is just another one with a low RTP that doesn't like paying out. – source: TrustPilot
10-Jun-2022 by Callum:
I deposited £50 and won £200. I had it back in my PayPal account within two hours of asking for it. Customer service from Kaz was great as well. I highly recommend SpinYoo. – source: TrustPilot
26-May-2022 by Tyler:
They don't pay out your winnings. They'll just keep telling you they can't process your payment. Every time I've been told it'll be done in 48 hours, it hasn't happened. There are a lot of better options out there than SpinYoo, so stay away. – source: TrustPilot
01-May-2022 by CJ:
I had a terrible experience at this casino, I gambled my amount on this casino, and they closed my account for no reason as they were saying this is not my own. – source: TrustPilot
01-May-2022 by Leah:
This casino has a variety of fun games, a large selection, and a lot to do on it. Great service is being provided at this casino, I was personally satisfied. – source: TrustPilot
12-May-2021 by Gillian:
This is the worst site ever made, I got spins for free, but I paint over a hundred pounds on the simple low spin, please everyone stay away from this site. – source: TrustPilot
12-Mar-2021 by Emir:
This is the worst casino in the history of casinos, I deposited my money on this casino, and they never emailed and restricted my access to the account. – source: TrustPilot
11-Dec-2021 by Jordan:
This casino has a lot of games to choose from, and they seem fun, but when it comes to the payments, they are a total scam, they never pay you back. – source: TrustPilot
11-Dec-2021 by Andrei:
Stay away from this site as far as you could because they are good at stealing money from the players, they give pretty bonuses and then nothing is paid back. – source: TrustPilot
11-Jan-2021 by Goldee:
This site is terrible, and they steal money from the players and just restrict their account, highly unacceptable, why would they do it, I rate this casino very poor. – source: TrustPilot