Unibet Sister Sites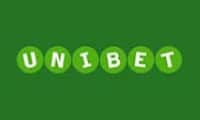 Unibet sister sites include Bingo.com, Unibet Bingo, Unibet Casino, and 32Red.
Unibet (unibet.co.uk) is operated by Platinum Gaming Limited, Kindred London Ltd, Kindred House, 17 Hartfield Road, London, SW19 3SE.
Sites like Unibet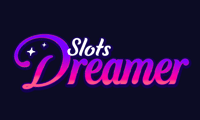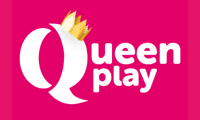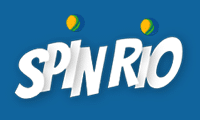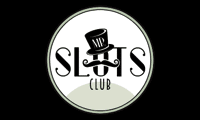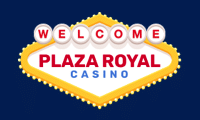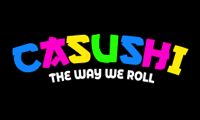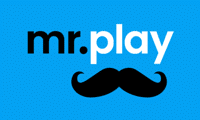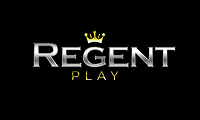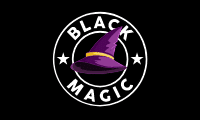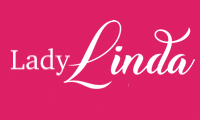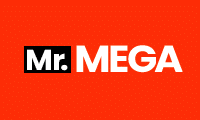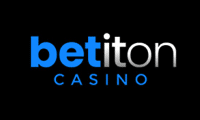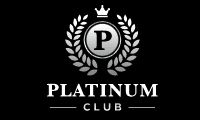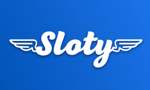 Unibet Sister Sites 2022
Unibet Casino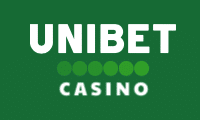 Unibet Casino is the part of the main Unibet website that players come to if they want live dealers, table games, or slots. While the Unibet brand is known for sports bets above all other things, Unibet Casino is a little more diverse. Much like Unibet Bingo, Unibet Casino is a Unibet sister site that also happens to be part of the Unibet site proper. Platinum Gaming Limited does an excellent job of keeping all of its brands "under one roof." The games portfolio at Unibet Casino runs two thousand deep. That's a lot of options to get to grips with, and better still, the casino learns from you. It takes note of what kind of games you enjoy playing and recommends new ones to you based on what you've played before. It's a bit like the online casino equivalent of Netflix! Unibet Casino doesn't have the experience in the market that the Unibet sports betting brand does, but it offers quality and depth. That makes it worth your consideration.
Unibet Bingo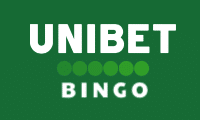 Unibet Bingo was born from the same train of thought as Unibet Casino. It's another Unibet sister site that's linked directly to the main Unibet site, and it fits in with the "all under one roof" idea that we mentioned when we were talking about Unibet Casino. This is a thoroughly modern bingo minisite with an easy-on-the-eye design and a small but well-formed collection of bingo games. There are bingo rooms at Unibet Bingo with prize pots both high and low, but each room is also linked to a progressive jackpot that could be won by any player at any time. Promotions come and go, but the Unibet Bingo Wheel is a permanent part – and a big part – of the bingo fun at Unibet Bingo. Players can qualify for a spin of the wheel just by playing games, and when they've earned enough points to spin it they can win instant cash prizes and free bingo games. If you decide to visit Unibet Bingo, be sure to check out the bingo guides section. It's not your average info section – it contains advice that genuinely could improve your chances of becoming a regular winner.
Bingo.com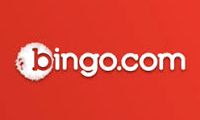 We've already covered the fact that Unibet Bingo exists, and it's a good bingo site (or minisite). However, it's still slightly surprising that it exists at all when Bingo.com is one of the Unibet sister sites. A bingo site with a URL as convenient as bingo.com is always likely to be a hit with players, and that's the case here. It's not just one of the most popular bingo sites in the UK – it's one of the most popular in the entire world. It almost goes without saying that this is a casino site that specialises in bingo, so there's no point in giving Bingo.com a visit if you're interested in any other type of casino or betting game, but if you tire of the rooms available at Unibet and you're looking for something more specialised, there are far worse choices out there than this one.
32red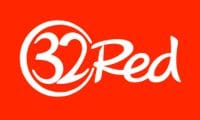 Not a lot of people know that 32Red is technically a Unibet sister site, but that's because not a lot of people know the Kindred Group exists. Unibet is the property of Platinum Gaming Limited, and 32Red has a limited company casino network of its own, but both of those smaller companies belong to the enormous Kindred Group. The group doesn't publicise itself, but it sits in the background of the UK scene and is, in fact, one of the biggest casino companies in the country. In fact, its reach expands beyond the UK. There are Swedish and Finnish casinos attached to the group, some of which aren't even open to UK players. Back to the topic of 32Red, though – this is one of the hottest gambling brands in the business. It's a noisy site and brand, frequently indulging in high-profile advertising campaigns with celebrities, but it offers everything Unibet does with the exception of bingo.
Can Unibet Be Trusted?

★★★★★
Unibet is a 3 Star trusted casino.
1. UKGC License

Unibet is a Platinum Gaming Limited brand, and is covered by UK Gambling Commission licence 45322.

2. UKGC Fines

In June 2019, the UKGC found that Platinum Gaming Limited had breached its social responsibility code by failing to identify that a customer was placing large bets with stolen money. It had to return £629,420 to the victim of the theft and paid £990,200 in lieu of a formal financial penalty from the regulator.

3. Customer Service

Unibet offers full telephone, live chat, and email customer support coverage, but makes you work hard to find it.

4. Trustpilot Score

Unibet has been reviewed over 1500 times at Trustpilot. Its rating is 1.5 out of 5, which is poor.

5. Company Location

Platinum Gaming Limited is a UK-based company with offices in London.

6. Visible T&C's

Terms and conditions are visible on Unibet's promotions.

7. Social Media Presence

Official Unibet YouTube, Facebook, Instagram, and Twitter accounts are available.

8. Number of Sister Sites

Platinum Gaming Limited operates only three Unibet sister sites, with the 32Red group serving as distant cousins.

9. Games portfolio

N/A – This review is of Unibet as a sports betting site. Unibet Casino and Unibet Bingo are treated as separate entities.

10. Gamstop links

Gamstop, Gamban and others are linked from the footer of the Unibet homepage.

Overall SCORE >

★★★

★★ – 3/5 Stars
What are players saying about Unibet casinos?
Here are our condensed / readers digest summaries of recent player reviews of Unibet.
07-Mar-2022 by A.F:
This is an untrustworthy gambling website. They took deposits from me happily but suspended my account when I tried to withdraw. I've been waiting eight days now. Bad casino, bad customer service. – source: TrustPilot
05-Mar-2022 by Jordan:
I've made fifteen deposits in a week and not seen a single feature. No wins, no play, nothing. I've closed my account. – source: TrustPilot
04-Mar-2022 by R.R:
Unibet are beyond useless. It takes them hours to verify ID documents and even when that's sorted, bonuses don't appear in my account when they're supposed to I can't even make their website work because it's so full of ads my browser blocks it. – source: TrustPilot
02-Mar-2022 by Leanne:
Unibet are liars and thieves. I signed up because I wanted the £30 racing bonus. I got that, but when I bet with it and won they suspended my account because I "broke bonus rules." How? All I did was place the bet! Avoid them like they're your ex. – source: TrustPilot
01-Mar-2022 by Ben:
You can place bets with Unibet no problem, but when it comes to withdrawals you should prepare yourself for the most difficult verification process known to humanity. I eventually had to do through eCOGRA to get my money back after Unibet told me it was impossible. It's a disgusting company run by crooks. – source: TrustPilot

13-Feb-2021 by Ben:
This casino was one of the top sites that I ever played on but recently their site is just going down and they are not paying attention to it. I will suggest you avoid this site until they fix it. – source: TrustPilot
09-Feb-2021 by Nicole:
I recommend all of you to stay far away from this site. When I wanted to deposit and I asked the support if my account was verified or not, they said it was, but when deposited and won they told me to get my account verified again. – source: TrustPilot
09-Feb-2021 by Freddie:
It's a pretty good site to play on since they have lots of games and they always keep players updated on the promotional offers. – source: AskGamblers
06-Feb-2021 by Paul:
For a while, the site has been more or less dead for me. Unibet has no good points on any part of their site. Their website is not stable and the games are always crashing. – source: TrustPilot
04-Feb-2021 by Matt:
Unibet is just scamming people with fake deposit and withdrawals. At first, they will let you deposit and they will link your accounts and then they will stop your payouts for no real reason. – source: TrustPilot
31-Jan-2021 by White:
I hate this casino, they are just sitting idle and doing nothing. Their games and bets are rigged so you can never win. Do not, I repeat, do not play on this casino. – source: TrustPilot
09-Oct-2020 by Pete:
In my opinion, this is the best casino I've come across. They have up to date design and a stable website. The support is nice and supportive all the time. – source: AskGamblers
17-Sept-2020 by Wales:
Been a player on this casino for a long time now, their poker part is good but the casino part is even greater. The withdrawals are fast and the verification is quick too. – source: AskGamblers
31-Jul-2020 by Alexander:
This casino is like a hidden gem, I suggest you all try it once. Their deposit is easy and quick, and I was verified within a day and won some pretty good cash on slots. – source: AskGamblers
11-Jul-2020 by Suzie:
They offer good bonuses as well as a quick verification process. The deposit has a lot of methods and payouts are easy as well. The staff is also cooperative. – source: AskGamblers
Unibet Casino Review 2022
Being first to the part doesn't automatically make a sports betting site or online casino a major player, but it gives the site a considerable advantage over those that arrive later. Unibet's website was launched all the way back in 1999 when it was far from a certainty that most people would even have the internet in their homes. That gave them a head start over the likes of Sky Bet, and although Sky Bet is arguably a bigger gambling site here in the 2020s, Unibet still has a sizable player base. Most people are familiar with the logo and the site's signature green branding. A lot has gone on with the world of sports betting since the 1990s, though, so should Unibet still be among the places you consider when you're thinking about placing a wager today? Here's an examination of the facts.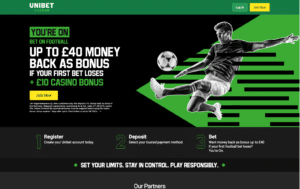 New Player Welcome Offers
There are two welcome offers up for grabs at Unibet, but in this review, we're focusing squarely on the sports betting aspect of Unibet. We have a separate dedicated page for Unibet Casino, so if that's what you're interested in, you're invited to go and check it out. If sports betting is what you've come for, the offer is £40 cashback plus a further £10 to spend inside the casino after you've made your first bet. To qualify for the bonus, you first need to register an account, deposit at least £10, and spend that £10 on sports bets. Please note that you'll only actually get the cashback offer if your bet loses, which feels a little mean-spirited. If your bet wins, you get neither the cashback offer nor the casino bonus. Your £40 must be wagered on sports bets x3 before it can be withdrawn, and the casino bonus cannot be used before the sportsbook bonus has been wagered. The casino bonus comes with a very high wagering requirement of x50, so as enticements to give Unibet Casino a try go, it isn't a very good one.
Monthly Promotions
There isn't a VIP program at Unibet. We'll get that out of the way before we go any further. The absence of any such scheme weakens the overall promotional offering, but there are still a few offers for players to check out if they plan on hanging around after they've taken full advantage of the welcome offer. Bear in mind that the permanence of offers and promotions is never guaranteed, though, so some or even all of these offers may have gone by the time you arrive at the Unibet site. Always double-check the page.
The most basic ongoing offer at Unibet is £150 for referring three friends to the site. The bonus is paid out on a "per friend" basis, so it's £30 for referring the first friend, £50 for the second, and then a further £70 for the third. However, the friend has to wager a minimum of £500 in sports bets within sixty days of joining Unibet in order for the promotion to be valid. That's likely to be a high bar for some people.
The ongoing promotion that's likely to be the most useful to you if you're interested in betting on horses is the "best odds guaranteed" pledge. Unibet will never knowingly be beaten on odds. Several bookies make this pledge, though, so the best possible outcome you'll get from using it is that you'll be offered the same odds that you've seen somewhere else. Short-term bet boosts and promotions centred around individual sporting events are also available.
Pros and Cons
If you choose to use Unibet, you're betting with a company that's existed since 1997 and has been online since 1999. That's an awful lot of knowledge and experience, and so it offers a degree of security. It's a big, trusted name with excellent customer support. There are also a couple of routes to receiving withdrawals within 24 hours of making a request.
The cons of Unibet include the lack of a VIP reward system and the stinginess of the few promotions that it does offer. You only get a welcome offer if your first bet loses, which isn't very welcoming. If you choose to use the casino bonus that comes with the welcome offer, you'll be faced with a wagering requirement of x50, which is way above average. Even the refer a friend bonus isn't as generous as it appears to be because any friend you refer needs to spend a lot of money before you get anything from the deal. On top of that, banking and customer service contact information is much too hard to find on a website that isn't especially user-friendly.
Featured Slots and Casino Games
We're not dealing with the Unibet range of online slots here because we consider them to be part of Unibet Casino. Check out our Unibet Casino review page for all the relevant information about that. We're also not dealing with the bingo area of the site here because we classify that as Unibet Bingo. Again, a separate and dedicated review page is available. Unibet.co.uk is primarily a sports betting site, and that's what we're dealing with on this page.
All of the big-name sports betting brands in the UK have massive sportsbooks, but the way in which some of the sportsbooks are presented can feel overwhelming. Hitting customers with everything you have at once results in a huge wall of names, odds, and buttons and might leave a player feeling like they don't know where to start. Any risk of that is averted at Unibet thanks to its streamlined approach. You'll see today's horse racing action first, followed by tennis. Tennis is a Unibet speciality. Conveniently-placed clickable options will take you to the cricket, football, darts, and esports sections of the Unibet sportsbook. That's far from all Unibet has to offer, though. Open up the sidebar, and you'll see that you can bet on everything from bandy to squash with Unibet. It has everything you could expect from a modern sportsbook specialist site, and any bets with boosted odds are highlighted to catch your attention.
We've mentioned the other aspects of Unibet already, but just for the sake of completion, we'll point out that the site also has a busy, popular poker area.
Deposit and Withdrawal Methods
We're left a little bit in the dark about acceptable payment methods and turnarounds at Unibet. There isn't a banking page, and the FAQ section is so badly designed that it's impossible to find all the information you need in a single place. We're left to go off the logos that feature in the site's footer, which include Visa, Mastercard, Maestro, and bank transfers as basic options. If you prefer to use e-wallets, it looks like your options are PayPal or Trustly.
Digging through the FAQ section by typing specific queries into the search box, we were eventually able to determine that card withdrawals take 1-3 days to process, but PayPal and Trustly withdrawals are expected to be complete within 24 hours. It's unlikely that a new player would put as much effort into finding this information as we did. They're more likely to give up and find another site that doesn't bury such vital information.
Customer Support and License
The good news about Unibet's customer support is that it's available any way you like it, whether that be telephone, email, or live chat on the website. The bad news is that whoever designed Unibet's website has made it incredibly difficult to find. First, you need to click the "help" option. Then, you need to type the words "contact us" into the search box. Even with that done, you'll have to scroll past a suggestion that you'll find what you're looking for in the FAQ section and click yet another "contact us" button. Only then will you see a phone number, a live chat button, and an email button. Making it so difficult to get in touch almost defeats the point of having such extensive customer support, and we have no idea why Unibet would do this.
Gambling operations at Unibet are governed by two licences – one with the UK Gambling Commission (45322) and one with the Gambling Commissioner of Gibraltar (RGL 091 & RGL 092).
The Verdict
Unibet has a sportsbook that stands up to any other sportsbook in the business. It also has a better set of customer support options than you'll find at most other gambling websites and casinos and includes more than one option for 24-hour withdrawals. It's let down slightly by poor web design and unfriendly terms on promotional offers, but it's still a perfectly acceptable sports betting website with attachments to bingo, casino, and poker minisites for those seeking extra entertainment.
Unibet In The Media
Unibet Sponsorships
The last couple of years has been busy and lucrative for Unibet. In July 2021, the company announced its entry into a fourth season of partnership with the Derby County football team as their in-stadium partner. Unibet's name will remain on the Club's training kit for the 21/22 season. In all likelihood, the deal will extend way beyond that, as Unibet and all the casinos in the Kindred Group demonstrate long-term commitment to their sports sponsors. 
The Kindred Group also runs the Team Talk programme via Derby County's Community Trust. This trust was founded with the aim of getting men to open up about mental health issues, providing support and breaking stigma. It became a very popular service when it moved online during the pandemic. Here is what the Head of Business Development, Ashley Peden had to say about the renewed sponsorship deal:
"Since our partnership began in 2018, we have engendered a working relationship which continues to go from strength to strength and are looking forward to seeing the Unibet brand being featured on our training wear for the upcoming season, as well as continuing to see their presence at Pride Park Stadium on a matchday."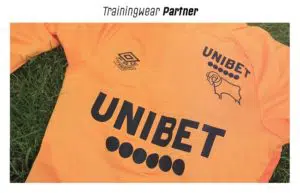 After the National Hockey League officially made the move to allow sports gambling sponsors to broadcast their adverts during games, one of the first casinos to make an impression on NHL fans was Unibet, alongside Bet365. In July 2021, Unibet expanded its sponsorship of the Qatar Goodwood Festival – which is one of the most prestigious horseracing events in the UK. Via the extended sponsorship, it was agreed that Unibet would sponsor three more races, on top of the nine races that the site has already sponsored. Unibet has always claimed to be "one of racing's biggest fans", it is safe to say that they are putting their money where their mouth is through this new sponsorship expansion that leaves both parties equally as delighted. Two months before the deal was signed, Unibet also helped the horseracing charity partner, Go Racing Green during their mental health campaign.
Happy Hour Boosts Return to Unibet
In November 2021, the return of happy hour boosts at Unibet Casino was excitedly announced by Best Bet USA. This was news to celebrate for sports betters who prefer to back underdogs at great odds. The happy hour revival meant that from Wednesday to Friday, players could browse the promotional time-limited offers between 12pm – 6pm and take advantage of the boosted marketplace. All players need to do to access the great odds is log in during the happy hours and place bets with the boosted prices instead of the standard prices. Unibet does not restrict the happy hours promotions to a limited number of sports, the promotions run across all of the sportsbook throughout the year. So, even if your favourite sport or team doesn't show up one week, it is likely that you will find them as part of the promotion eventually. If players placed a cash deposit before placing their bets, there are no wagering limits on the winnings. All cash is instantly credited and can be withdrawn immediately. Players don't need special bonus codes or to use opt-in forms.
Unibet Improves Its Live Poker Casino Experience
Simply having a live casino experience isn't enough to get online casinos ahead anymore. Players have become incredibly discerning now that there are so many casinos to choose from. However, with the most recent innovations at Unibet, players are unlikely to find fault. No longer are emojis and animated characters reserved for social media and messages, now they feature on Unibet live poker games – bringing a whole new meaning to bringing your poker face to the table. Other updates that happened on Unibet's poker software this year include the incorporation of spam prevention software to ensure that the live chat space is exclusively reserved for players.
Another software update is set to come from the global brand behind Unibet poker games, The Kindred Group, it is set to improve the poker layout on desktops. As noted by the prestigious website, Poker Industry Pro, Unibet is renowned for its open communication with its players and the frequency of its software updates. It hardly comes as a surprise that Unibet's poker division reported that it generated the same income in 2021 as it did in 2020 – which certainly wasn't the case for all online casinos.
Unibet Adverts
The latest video advert launched by Unibet premiered in 2020. It came with the catchy title slogan Unibet: Luck is No Coincidence. Usually, online casino ads are fun, energetic and charming affairs, but Unibet decided to go in a far more cinematic direction with their 2020 ad. The advert starts by panning in on two chess players locked in intellectual battle in a decadently atmospheric hall, the tension starts to build with the sound of the timer ticking and the baritone drawl of "it is all about the preparation". After the chess players start to make their frenetic moves, athletes and professional sports players burst onto the screen in a Rocky montage kind of way, before the emphasis was put on the importance of putting thought into every single move we make. The extremely clever advert finds an ingenious way of saying that success in sports betting doesn't come down to luck, it comes down to strategy.
Unibet on Social Media
Unibet has become less of an online casino and more of an institution in the sports betting world. On Twitter, UniBet has over 131,000 followers, and over on Facebook, there are almost one million followers. Unibet doesn't just use its socials to promote itself and its offers, discernibly, they also work hard to engage their community and award them with valuable content. The site constantly posts well thought out opinion pieces on sports news and games, offers betting tips and gets sports fans excited before major games and tournaments.