Atlantic Management B.V. Casinos
Atlantic Management B.V. is a casino network company with nine active sites. The Atlantic Management casinos are Supercat Casino, Pyramid Spins, Libra Spins, Tropic Slots, Spinamba, Lucky Bird Casino, Slottyway Casino, Slottica and All Right Casino. 
Atlantic Solutions B.V. is based at Emancipatie Boulevard, Dominico F. "Don" Martina 29, Curaçao.
THE ATLANTIC MANAGEMENT B.V. CASINOS ARE NOT AVAILABLE IN THE UK. CHOOSE ANOTHER CASINO FROM THE LIST BELOW.







Top Atlantic Management B.V Sister Sites 2022
The casinos operated by Atlantic Management B.V. operate on a licence granted by gaming authorities on the island of Curacao. That licence precludes the casinos from offering their services to players in the UK. Most of the Atlantic Management B.V. casinos block any attempts by UK players to register with them. Some will even block UK players from landing on their homepages. However, a couple appear to have slipped through the net. For the avoidance of doubt, you shouldn't play at any of these casinos if you live in the UK.
The best way to stay safe for UK casino players is to play only at sites that are covered by a UK Gambling Commission licence. Atlantic Management B.V. does not have a UK licence. 
Super Cat Casino
Supercat Casino is the flagship of the Atlantic Management B.V. range. It's also totally off-limits to players in the UK. Not only can players from the UK not register at this casino, they can't even see it. Any attempt to arrive at supercatcasino.com from a UK IP address is redirected to a page marked "restrict." On that page, you'll see a notice that the casino is not available in your region, which is signed "respectfully, the tech team." Tantalisingly, we also get a glimpse of the Supercat Casino mascot which is, unsurprisingly, a cat dressed as a superhero. What might be more surprising is that this isn't the only online casino that uses a superhero cat as a mascot, which is a reminder that marketing teams can use cats to sell almost anything. Players who do have access to Supercat Casino speak of a site with a slick interface and a great collection of games but also complain that the design is more than a little dated, and it can be difficult to get hold of customer support. It's a shame that this casino – along with all the other Atlantic Management B.V. casino sites – isn't available in the UK, but based on reviews, we don't think we're missing out on anything special.
Pyramid Spins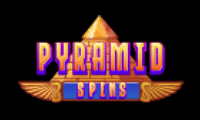 Pyramid Spins demonstrates the inconsistency of Atlantic Management B.V's geoblocking approach. While we can't get anywhere near SuperCat Casino, Pyramid Spins loads as easily as any UK-facing casino website would. It even allows players from the Uk to register, although we can't condone the idea of doing so. That aside, this is a fairly basic and dated looking casino site with a plain black background and a logo that looks like it might have been designed in MS Paint. However, there are a couple of aspects of Pyramid Spins that make the casino stand out. For one, it has a full sportsbook to complement its array of online slots. As a second point of interest, it works with almost fifty slots and games providers. Some of the biggest names in the business work with Pyramid Spins, which is a sign that the site is trustworthy even if it isn't covered by a respected licence. Pyramid Spins offers physical perks as well as the standard promotions you'd expect from a modern online casino. Goods on offer at the time of our visit included a Lenovo laptop, a Huawei laptop, Apple Airpods and a Samsung TV – although Samsung had been incorrectly spelt "Smasung." Small-but-visible mistakes like that tell visitors that Pyramid Spins might not be the most professional casino operation in the world.
Libra Spins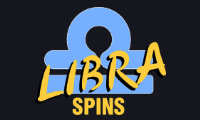 Libra Spins has recently been rebranded as LB Spins, but the site's URL hasn't been changed. The rebranding has come with a renovation of the casino's website. Because of that, it looks far more modern than Pyramid Spins or SuperCat Casino. It's also much easier to navigate thanks to the presence of large menu options positioned to the left of the screen. Whether players are looking for the games (all of which are slots), live casino options, sportsbook, Esports or promotions, they're never more than a single click away. Libra Spins comes with a "Promo Rating" system, which is the casino's equivalent of a VIP reward program. The higher your promo rating is, the better the quality of the promotions you'll attract. Much of the text on the homepage is given over to persuading players to download the Libra Spins mobile app. However, the quality of English used across the site is poor – which should serve as a reminder to UK players that they're not supposed to be here and shouldn't register to play here. Still, now the site's been redesigned, it has the potential to become a more significant asset for Atlantic Management B.V.
Tropic Slots
If you go straight to Tropic Spins from Libra Spins, you're likely to do a double-take. The main differences between these two Atlantic Management B.V. casino sites are that Tropic Slots is green and has a different logo. Aside from that, everything is identical, from the number of game providers to the way the casino's VIP rewards work. The similarities in the designs of the two casinos are the biggest clue that they belong to the same casino network company – Atlantic Management B.V. doesn't actually name itself on either site. That's odd, but it's not unheard of with casino companies that call Curacao home. New players at Tropic Spins can claim a welcome bonus of up to 525% as a matched deposit across their first two deposits, but the terms and conditions of the promotions aren't clear, and we're led to believe that wagering restrictions are high. This is a well-designed, attractive casino site that puts Pyramid Spins in the shade, but it still suffers from poor grammar and spelling, and it still has the same licensing issues as all of the other casino sites in the family.
Spinamba
Spinamba – or Casino Spinamba, if we're to give the site its full name – is a return to the standard set by Casino SuperCat. By that, we mean that it doesn't allow players from the UK to visit its website. The same block should exist across the entire Atlantic Management B.V. range, and we have no idea why it doesn't because it ought to be an easy thing to implement. Spinamba is a little similar to Tropic Spins in that it's a casino site with an exotic desert island theme, so perhaps Atlantic Management B.V. believes that you can't have too much of a good thing. While the collection of online slots at Spinamba Casino is understood to be enormous, fans of live dealer games will have less luck at the site because the collection of games that match their interests is relatively limited. Customer support is available on a 24/7 basis and in ten languages, which tells us that Spinamba is a casino site with an international focus regardless of whether or not it's allowed to ply its trade in the UK. Again, though, we don't feel that Casino Spinamba offers anything that players won't be able to find at a top-level casino site covered by a UK Gambling Commission licence, so players shouldn't feel too hard done by that they can't see it.
Atlantic Management B.V. 2022 Review
If you're familiar with casinos based in Curacao, it probably won't surprise you to hear that Atlantic Management B.V. doesn't have a website. If you're new to Curacao-based casino network companies, we'll give you a brief explanation. The island of Curacao is both an exotic and glamorous holiday destination and a hotbed of casino companies. There are several dozen companies headquartered on the island, some of which are more reputable than others. Atlantic Management B.V. is one of the biggest of those companies and – as far as we can tell from a distance – one of the most trustworthy. The majority of the companies based in Curacao hold a licence with the government's regulator Antillephone N.V. which, while being better than not having a licence at all, is seen as a weak licence. The regulator rarely takes enforcement action against any of the companies that it's supposed to regulate and has a poor track record when it comes to handling complaints. It also seems to hand licences out to anybody who wants one. Being based in Curacao means that casino network companies are able to operate with virtually no scrutiny. They're free to hide in the shadows if they wish, and so most of them do. Atlantic Management B.V. doesn't even include its name or address on most of the casino websites that it operates.
With so little information available about Atlantic Management B.V. online, it's hard to be sure about any facts pertaining to the company's size, philosophy, or level of success. Even the Dun & Bradstreet website, which can usually be relied upon to paint a picture of the health of a business, is in the dark. It records that Atlantic Management B.V. was founded in 2016 – a fact that's confirmed by records on Open Corporates – but aside from that, it knows nothing. Dun & Bradstreet estimates that the company made a little over £100,000 last year, but that should be treated as the roughest of rough estimates. It's doubtful that the company could sustain itself if that's all it was bringing in, so we doubt that the figure is even in the right ballpark.
At one point, Atlantic Management B.V. had fifteen online casino sites under management. During the past two years, we've seen that number drop. You'll find all of the currently active Atlantic Management B.V. casino sites listed at the bottom of this page, along with their URLs. We don't know why the company has been closing sites recently, but we can speculate that they've decided to make better use of their time by focusing only on those that matter and make money. Fifteen casino sites are a lot to launch in just six years, so it's possible that the company overstretched and is now attempting to reel itself back in.
You can tell a lot about a casino network company from the providers that choose to work with it. While we were looking at the top Atlantic Management B.V. casinos, we mentioned that the best-served of them work with nearly fifty providers. This list includes big names like Microgaming, NetEnt, Evolution Gaming, Playtech, Play'n Go and many more. Casino companies don't get partnerships like this unless they're doing something right, so the providers must be reasonably assured that the casinos on the network aren't up to anything untoward. We might not have any useful facts about how Atlantic Management B.V. conducts itself, but we can surmise from the company that it keeps that it must be doing something right. Having established a list of successful casinos and opened itself up to several important gaming territories, the next logical step for the company would be to obtain licenses in Malta and the UK so it can spread itself even further. It's almost unheard of for a Curacao-based casino company to obtain a UK Gambling Commission licence, though, so we don't anticipate any change to the status quo unless the company relocates.
What are players saying about Atlantic Management B.V. casinos?
Here are our condensed / readers digest summaries of recent player reviews of Atlantic Management B.V. casinos. Please note that these reviews are no longer updated as the Atlantic Management B.V. casinos are not available to UK players.
02-Jun-2021: All Right Casino by Peter:
This casino is a total scam there bonuses sucks, no name of support service there. Games were kept crashing after every 30 minutes. – source: AskGamblers
14-May-2021: Spinamba by Adrin:
They got quite a good selection of slots, with that they don't have enough methods for withdrawals. No depositing bonus was offered here. – source: AskGamblers
29-Jan-2021: Lucky Bird by Jasper:
Terms and conditions were very strict and they also didn't give any welcome bonus which they promised while registration. Slots were total trash here. – source: AskGamblers
30-Dec-2020: All Right Casino by Abby:
Stay away from them they all are looters, their bonus offers are useless. Verification was terrible and then they blocked my account without giving any justification. – source: AskGamblers
25-Jun-2020: Lucky Bird by Alister:
The casino was good there management was professional and playing here was really fun. I also got my funds cleared within the given time. – source: AskGamblers
01-May-2020: All Right Casino by Frank:
They offered alot of slot games with a great bonus system. The site design was catchy and navigation was easy. Software providers were also famous here. – source: AskGamblers
22-Apr-2020: All Right Casino by Milan:
Avoid this casino at any cost it is impossible to win there. My first withdrawal took almost 3 days, in fact, no one was ready to help the customer. – source: AskGamblers
09-Feb-2020: All Right Casino by Scott:
Best casino ever especially their bonus offers were fantastic and games were up to the mark. Funds were also processed within the time they gave. – source: AskGamblers
01-Feb-2020: Spinamba by Clarke:
They offer a nice welcome bonus that why winning was good here every time. The website was also smooth and their live chat was very polite and cooperative. – source: AskGamblers
30-Nov-2019: Lucky Bird by Randy:
Joined this casino roughly 3 months ago, deposit bonus was a nice addition. Free spins were the best part and winning was easy here. – source: AskGamblers
Full list of Atlantic Management B.V. Casinos
The following is a complete list of Atlantic Management B.V. casinos along with their web addresses. We present the list with an additional reminder that players in the UK are best advised not to play at any of these casinos, regardless of whether they accept registrations from UK addresses or not.
Active Atlantic Management B.V. Casino Sites
SuperCat Casino (supercatcasino.com)
Pyramid Spins (pyramidspin2.com)
Libra Spins (libraspins.com)
Tropic Slots (tropicslots.com)
Spinamba Casino (spinamba.com)
Lucky Bird Casino (luckybirdacsino.com)
Slotty Way Casino (slottyway.com)
Slottica (slottica.com)
All Right Casino (allrightcasino.com)