Gamesys Operations Limited Casinos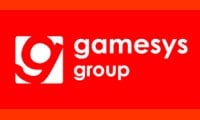 Gamesys Operations Limited is a casino network company. The Gamesys sites are Double Bubble Bingo, JackpotJoy, Bally Casino, Heart Bingo, Monopoly Casino, Rainbow Riches Casino and Virgin Games.
Gamesys Operations is based at Suite 2, Floor 4, Waterport Place, Gibraltar, GX11 1AA.
Similar to Gamesys Casinos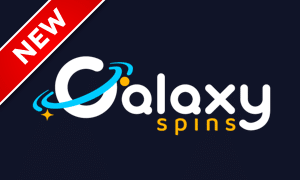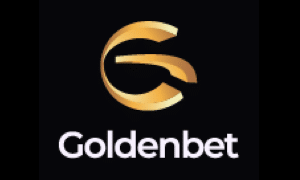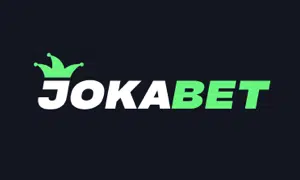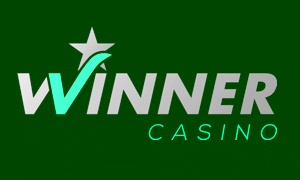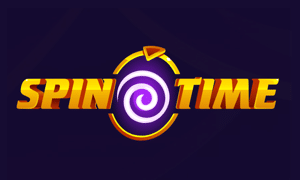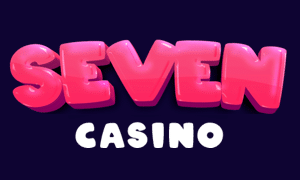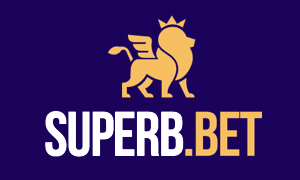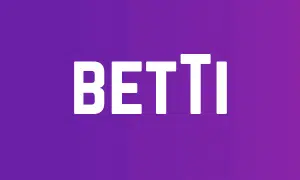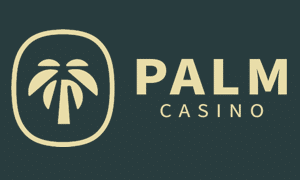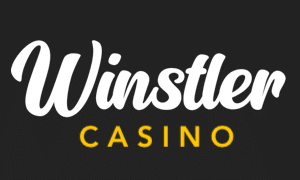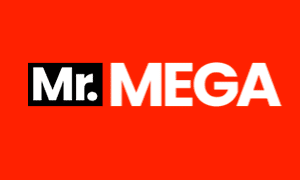 Gamesys Operations Casinos 2023
Gamesys Operations Limited isn't the biggest casino network company in the UK in terms of the number of iGaming sites that it operates, but it's one of the biggest in terms of the profile of its iGaming sites. How could it not be when it's the company behind the likes of JackpotJoy and Virgin Games? What the Gamesys Operations Limited platform lacks in quantity it more than makes up for in quality. Some of these casinos and iGaming sites are so famous that you don't need us to tell you anything about them at all, but let's take a closer look at them anyway.
JackpotJoy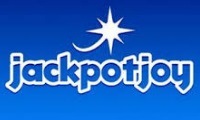 JackpotJoy rules the roost among the Gamesys Operations Limited family of casinos. Most of the brands on this casino network are big, but JackpotJoy is the biggest. Few bingo and casino sites in the UK enjoy so large a profile as this one. When the site was launched in 2002, it was advertised in television commercials by the late "Carry On" and "Eastenders" star Barbara Windsor, thus ensuring that the casino became a famous name almost immediately. She remained the face of the brand for several years before passing the torch to Paddy McGuinness. The comedian and TV presenter still appears in adverts for the site to this day. JackpotJoy started life as a bingo site but has expanded considerably over the years. Players these days are just as likely to visit the site for its online slots as they are for its bingo games, and they also have Slingo, poker, and live casino games at their fingertips, too. It's not quite the biggest bingo site in the UK, but it's easily within the top five and perhaps even the top three.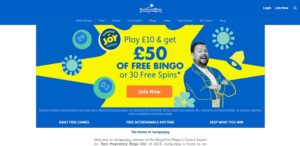 Double Bubble Bingo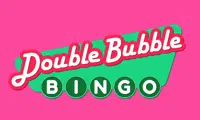 At first glance, Double Bubble Bingo might appear to be the odd one out on the Gamesys Operations Limited casino network. All of the other sites – with the exception of Jackpot Joy – have brand partnerships, whether that's with Heart Radio or Virgin. Jackpot Joy might not have any brand partnerships, but it gets around that problem by spending big money on TV advertising. Double Bubble Bingo isn't advertised on television and doesn't have a big name attached to it, so how has it become so popular in such a short space of time? There are a couple of potential answers to that question. The first is that Double Bubble Bingo is the newest casino site in the Gamesys range, and as the network company already has a reputation for producing quality casinos, it was inevitable that players would want to come and check it out. The second is that Double Bubble Bingo isn't quite as "unconnected" as it appears to be. The online slots experts among you will already have noticed that the name and logo of the bingo site are identical to that of Double Bubble and Double Bubble Megaways, both of which are very popular online slots by Roxor Gaming. The entire website might look like chewing gum, but that barely matters when the range of games on it is so much fun to play.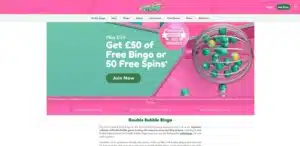 Bally Casino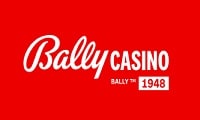 Further down this page is a detailed profile of Gamesys Operations Limited. We don't like to give away spoilers, but when you read that profile, you'll find that Gamesys Operations Limited is the property of US-based casino giant Bally's Corporation, which paid around £2bn to buy the company in 2021. Bally Casino carries the Bally's Corporation name and logo, and so Bally Casino ought to be seen as a threat to JackpotJoy's status as the flagship casino and iGaming site on the Gamesys platform. However, we wouldn't say that Bally Casino has seized the mantle just yet. It launched in August 2023 with a surprising lack of fanfare and in a state that struck us as being only semi-complete, with a reduced portfolio of games compared to its sister sites and very little in the way of promotional clout. It's grown since then, though, and has displaced Megaways Casino on the Gamesys roster. As successful as Megaways Casino was, Gamesys shut it down to make room for its new All-American brand.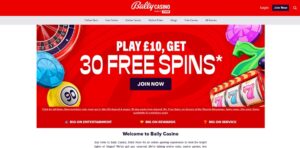 Heart Bingo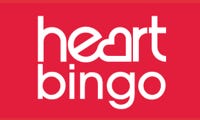 The situation with Heart Bingo and Gamesys Operations Limited is a little bit unusual. Gamesys Operations Limited used to operate both Heart Bingo and its sister site Smooth Bingo. Then one day, BV Gaming Limited (the owners of Bet Victor) swooped in and bought both properties. Smooth Bingo was shut down in favour of focusing on Heart Bingo, and Heart Bingo got a new website and a new lease of life thanks to a high-profile advertising campaign starring singer, television presenter and former X-Factor star Olly Murs. Given that the Heart Bingo brand – which is connected to the radio station Heart FM – is now a BV Gaming Limited property, you're probably wondering why we've included it on a list of casinos that belongs to Gamesys Operations Limited. It's a fair question, but the answer is that Gamesys is somehow still involved. The UK Gambling Commission lists Heart Bingo as a white-label casino brand connected to the Gamesys licence but also lists it as a white-label brand for BV Gaming. It seems the two rival casino network companies are working together behind the scenes on this casino, which makes it all the more unique.
Monopoly Casino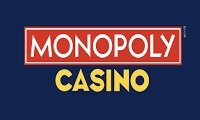 Monopoly Casino comes from the same school of thought as Megaways Casino, which is one of the Gamesys casinos that are sadly no longer with us. If you were new to the world of online casinos, you'd probably associate the name "Monopoly" with the popular traditional board games sold by Hasbro. Versions of Monopoly have existed since 1903, long before the idea of the internet was even a twinkle in the eye of a genius. Since the internet and online casinos came along, though, Monopoly has taken to the format like a duck to water. Playing Monopoly is all about speculating to accumulate, which is the same thing we all do when we play online slots or other casino games. There have been well over a dozen official Monopoly gambling games made up until this point, and all of them are available to play at Monopoly Casino. Whether you're looking for the latest Monopoly slots, official Monopoly bingo rooms or Monopoly Slingo, you'll find it all within these four digital walls. You'll also find everything else that Gamesys Operations Limited has to offer, too because, like Megaways Casino, this is another reskin of the Double Bubble Bingo template.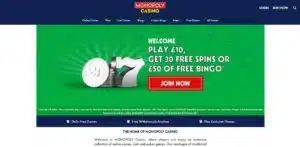 Rainbow Riches Casino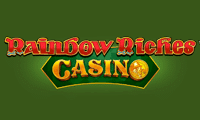 If you don't recognise the name "Rainbow Riches," you're very late to the online casino party. The Rainbow Riches franchise has been the most popular series of Irish-themed casino games in the business for well over a decade, and the Irish theme is a very crowded market. We're losing count of how many online slots and other games there are in the Rainbow Riches franchise, but whenever we do need to count, we come to Rainbow Riches Casino and tally them all up in their collection. The Rainbow Riches series is so popular with players that its logo can attract them to brick-and-mortar gaming venues, so it's no real surprise that it's just as capable of attracting players to a digital venue. Rainbow Riches Casino hasn't been treated as a huge priority by Gamesys Operations Limited in the past, but that might be beginning to change. In recent years we've seen the brand advertised on television with its "Rainbow Hunter" van, and the site itself has recently had a minor facelift. As with so many of the other casino sites in the Gamesys collection, it's just the same template and the same games again delivered with a different focus, but why tamper with a winning formula?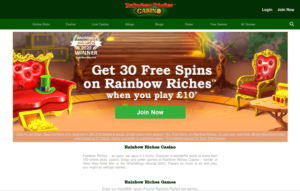 Virgin Games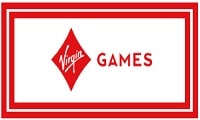 The Virgin logo has been splashed over so many things in the past thirty years that it was inevitable it would one day find its way to online casinos. It's a boon to Gamesys Operations Limited that when the time eventually came, it was they who were trusted with the world-famous name. Richard Branson's brand has been used to sell cola, tickets for planes and trains, records and gym memberships in the past, so casino games are just the latest products in an extremely long line. The fact that Virgin Games has been promoted in television commercials underlines the importance of this brand to the casino network company as a whole, even if it doesn't explain why the commercials are themed around the idea of vampires playing online slots. You won't necessarily find anything at Virgin Games that you wouldn't also find if you rooted around in the archives of any of the other online casinos on the network, but the presence of the Virgin name makes the whole experience of playing at this casino feel a little more upmarket. The promotions available at Virgin Games tend to be at the upper end of the Gamesys scale too, so if you're moving from one Gamesys site to another, it would be worth making this one an early stop on your tour.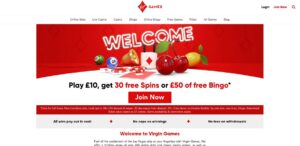 About Gamesys Operations Limited
The Latest Gamesys News
: In a recent article by talkSPORT, the spotlight was cast on 20p Roulette, a distinctive online casino game that has garnered significant attention since its debut. This game is a modern twist on the classic roulette format, which originated in France in the early 18th century and has evolved into various forms, including the European, American, and French versions. 20p Roulette, developed by Inspired Gaming, is a fast-paced variant of European roulette, distinguished by its singular zero pocket, which contrasts with the American version's single and double zero pockets. The uniqueness of 20p Roulette lies in its simplicity and accessibility. Each chip in the game is valued at 20p, making it an affordable option for players. The game requires a minimum of £1 worth of bets to start, and players can place bets on a variety of numbers and combinations in a single spin.
One of the key highlights of 20p Roulette is its Return to Player rate of 97.30%, which is relatively high for casino games. This indicates a favourable chance of returns for players over time. The game also offers a range of betting options, from 20p bets on single numbers and pairs to £1 bets on larger combinations like columns and dozens. Virgin Games is listed as one of the top sites to experience 20p Roulette. Operated by Gamesys Operations Limited, Virgin Games offers a broad selection of over 400 slots and table games, including 20p Roulette – obviously! talkSPORT also mentioned that the Gamesys site is known for its loyalty rewards, 24/7 support, and the availability of free games, making it an attractive platform for both new and seasoned players.
: In a recent report by iGaming Business, the gaming corporation Bally's emerged with a contrasting financial narrative for quarter three of 2023. Despite a 9.4% rise in revenue, the company has reported a staggering net loss of £61.8 million. This update sheds light on the complex currents beneath the surface of the gaming industry's financial streams. The article lays out a clear overview of the unexpected loss incurred by Bally's, despite the revenue growth. The loss has been pinned down to various factors, including operational costs and expenses linked to recent acquisitions and expansions. It's a classic case of growing pains in the business world, where expansion efforts do not immediately translate to net profitability.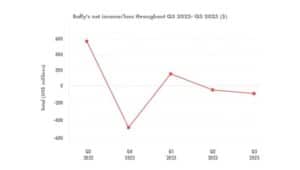 The year 2023 has been a busy one for Bally's, marked by ambitious undertakings such as the launch of Bally Casino in the UK, operated by Gamesys. This move signified the company's foray into the competitive British online gambling market, underscoring its strategy to expand its digital footprint and diversify its portfolio. Yet, such strides have come with significant investments that have, in turn, affected the company's short-term financial results. The impact of these developments has been substantial enough for Bally's to revise its full-year guidance, adjusting expectations in the light of quarter three's figures. It's an acknowledgement that while the company is broadening its horizons and enhancing its digital and international presence, the cost of such growth is currently overshadowing the revenue gains. This financial portrait, as painted by iGaming Business, highlights the precarious balance companies like Bally's must maintain as they navigate expansion and strive for profitability.
: Exciting developments are afoot in the world of online gaming, and at the heart of it all is Sam Sedi, the CEO of LiveScore Group. With a vision and determination that are second to none, Sam Sedi is on a mission to build an empire that's making waves in the industry. Let's dive into the details of this remarkable journey and the transformation of LiveScore Group. Sam Sedi is no stranger to the world of online gaming, having overseen LiveScore bet's journey from acquisition by Gamesys in 2017 to its subsequent sale to the Jackpotjoy Group. But that's not where the story ends. LiveScore Group's remarkable trajectory continued with its inclusion in a monumental £2 billion merger with Ballys Corporation, cementing its position as a player to watch in the industry.
However, what truly sets Sam Sedi and LiveScore Group apart is their determination to chart an independent course in this dynamic landscape. In a bold move that caught the attention of industry insiders and enthusiasts alike, LiveScore Group emerged as a standalone entity, no longer tethered to the giants of the gaming world. This move signifies a new chapter in the company's journey, one marked by innovation, agility, and a commitment to delivering exceptional gaming experiences. As the CEO of LiveScore Group, Sam Sedi is spearheading this exciting transformation. His leadership is characterised by a forward-thinking approach that places the player at the centre of the gaming universe. With a clear focus on user experience, LiveScore Group is poised to revolutionise the way we engage with online gaming, offering a seamless blend of sports, betting, and entertainment.
: One company's trash is another's treasure, which seemingly also applies to executive personnel if this week's happenings in the corporate quarters of the iGaming industry are anything to go by. EGR Global, Gaming Intelligence, and iGaming Business all reported on how the London-listed company Gaming Realms has hired the ex-Gamesys head as their chief product officer. Suki Sandhu has decades of experience within the iGaming world with some of the biggest companies in the industry, including IGT, WynnBet, and PartyGaming, which is now operating under the Entain banner. In his new position, Sandhu has been tasked with enhancing the already robust portfolio of Slingo games as a priority, second to his mission of introducing new elements and concepts to strengthen Gaming Realms' stake to the claim of being one of the leading suppliers within the industry.
With Sandhu being no stranger to the responsibilities which come with holding senior roles in high-profile companies, no one is cynical about his capacity to achieve his new employer's objective, especially after his success as a product director for Inspired Entertainment. The CEO of Gaming Realms, Mark Segal was thrilled to welcome Suki Sandhu to the company in a recently circulated press statement which went public on October 10th. Segal believes that his skills and expertise are exactly what the company needs to level up their existing products and bring a few more into the fold so that players from around the globe can benefit from more entertaining and engaging gaming experiences – no pressure there.
: AI has integrated itself into the iGaming industry in a number of ways, from recommending appropriate games to players to detecting fraudulent activity. Now, it is likely that AI will play a larger role in online casino security. On September 27, the website Kalkin Media shared an article highlighting how one of the leading providers of strategic business insights and regulatory guidance, Gambling IQ, is currently betting on the introduction of biometric measures in the UK gambling industry. The company made two proposals to the Gambling Commission and the UK Government which championed AI tech as a mode of verifying digital identities and reducing fraud risks which are faced by online gamblers. Gambling IQ also suggested bringing in biometric checks for land-based gambling premises to ensure underage gamblers are not able to place bets or use gambling terminals, such as slot machines.
Several high-profile companies were mentioned in Gambling IQ's report, including Gamesys, NetEnt, GamStop, Aspire Global, and Reflex Gaming. You can read the full report via the official Gambling IQ website or read the TLDR take on the report by heading to the Kalkin Media site, which goes into a fair amount of detail on how the biometric tech will function, and the benefits, which will also be noted by gamblers who are at risk of gambling addiction. Gambling IQ stated that the real-time monitoring capacities of their AI models will be able to track changes in behaviour and trigger alerts which will result in immediate intervention, especially with instances of binge gambling.
: Bally's Corporation (the owner of Bally's Interactive International, formerly known as the Gamesys Group) has announced that it will be making a £5 million donation to the Community College of Rhode Island Foundation, in a bid to solidify a long-term partnership with the foundation. In a press release, which was shared by PR News Wire on the 14th of September, Bally's iterated their belief that investment in the foundation will advance higher education, and in turn, provide significant economic opportunities for the Rhode Island workforce. In addition to the significantly generous donation, Bally's partnership with the foundation will also develop academic programs, focused on gaming, retail, and hospitality. In the not-all-too-distant future, the community college will boast state-of-the-art learning labs and environments which can facilitate on-site training opportunities.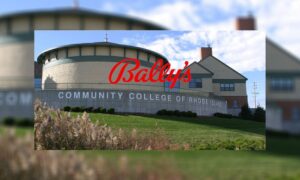 Clearly, Bally's Corporation has very vested interests in this new venture, but that doesn't completely deride their benevolence with the foundation. Especially considering that the donation is the largest ever to be received by the CCRI in its 45-year history, and it is also one of the biggest received by community colleges in the US in 2023. Students looking to get into the iGaming industry or hospitality sectors will benefit from the major donation, which has reportedly doubled the CCRI's endowment; Bally's employees are also welcome to use the on-site training opportunities to hone their skillsets and talents. Bally's chairman, Soo Kim, saw it as an honour to partner with the CCRI, especially on such an important and exciting initiative, which will create new jobs and drive economic development.
: On September 4th, iGaming Business published a rather damning report which illustrated that the number of sports bets placed in July by residents of Rhode Island had dipped to a three-year low in July 2023. Sports bettors *only* spent £20.2 million on sports bets in July, which converts to a relatively measly sum of £16 million. For comparison, the figure for July 2022 was £25.2 million, meaning that the figure was down by 19.8%; even compared to June 2022 figures, there was a 14.8% downturn from the total of £23.7 million. Online bookmakers raked in the bulk of the funds (£15.4 million), whereas retail bookmakers only managed to pull £4.9 million onto the books. However, considering that the takings were only split between two bookies, Twin River (£3 million), and Tiverton Casino (£1.9 million), the profits didn't have to go too many different ways.
This dip in sports bets follows the legalisation of online casinos in Rhode Island, which only happened in June 2022. Currently, Gamesys is the sole casino brand operator active in Rhode Island; Gamesys had the pleasure and privilege of being the operator that introduces slot fans in Rhode Island to the shiny new world of iGaming via its increasingly famous casinos Rainbow Riches Casino and Virgin Casino. While it is unclear if iGaming Business believed Gamesys was to blame for online and retail bookmakers starting to lose their shine and appear a little lacklustre, it was certainly heavily implied in the article, even though it may very well be a case of correlation instead of causation.
: On the 24th of August, King Casino Bonus UK ranked and rated the top six Gamesys online casinos. The only site to receive a 4.3 / 5-star review instead of 4.1 stars was Virgin Games, which has been in operation since 2013. It may have slightly slower payout times compared to the other sites that are featured on the roundup which are capable of giving players access to their winnings in as little as 24 hours, and it might have the second smallest game library with only 960 games within it, but for some reason, which isn't disclosed in the review, it received the highest star review.
If getting access to the biggest game library is an important factor when you are sizing up Gamesys sites, you will want to acquaint yourself with Monopoly Casino, which gives players first access to all the latest and greatest Monopoly-branded video slot games and live game shows; it also has infinitely more games than the rest of its sister sites by giving members a selection of 1,500 titles. At Jackpotjoy and Double Bubble Bingo, you might have a better selection of bingo games, but both sites only have room for 750 games in the library. When it comes to comparing the sites based on the welcome bonuses, you will find that Double Bubble Bingo, Rainbow Riches Casino and Jackpotjoy are a cut above the other sites; instead of offering a measly welcome deal of 30 free games, you can claim up to £50 in bonuses after making a £10 deposit.
: On the 11th of August, the casino Slots Up published an article in its in-house blog that shared Bally's confidence that has been placed in the resilience of Gamesys ahead of the refreshed Gambling Act in the UK, which has loomed over the iGaming industry for a while, but now, it looks as though its arrival is imminent. The blog shared its understanding that there will be significant shake-ups within the iGaming industry once the talks are over and the White Paper has been published. To give online casinos a fighting chance of adapting and thriving with the new regulations and guidance, the new changes are expected to be rolled out in the next few years, instead of them all being introduced simultaneously, but at this stage, it is all speculation how the digital landscape will be remodelled in a bid to protect gamblers from the harms of excessive or irresponsible gambling.
Bally's has also been all too happy to be part of the consultancy process with the UK government. In doing so, the company has emphasised that it is eager and willing to be a positive influence while changes are drafted and implemented. In a press release, the company's CEO, Robeson Reeves, stated that he hopes to work with the UKGC and the UK Government to find effective solutions that ensure the reforms are fair and appropriate and most importantly, the reforms build a sustainable and safe gambling ecosystem and economy. Meanwhile, several other gambling operators are keen to leave the UK market to avoid stringent measures.
: When World Sports Network rounded up ten of the best mobile casinos and apps to enjoy in August 2023, the casino experts didn't overlook the offerings from the gambling firm, Gamesys. Virgin Casino was rated as the 8th-best online casino for mobile players – even if it is considered one of the outliers in the US mobile casino world. Nevertheless, in the app store, the native app has a user review rating of 4.7 / 5, and the availability of free games that are available to play every day for registered members discernibly played their part in the placement of the Virgin-branded casino on the ranked list.
Away from the daily and monthly free games, the bingo content was dubbed a major speciality at Virgin Casino, as new 90-ball bingo games are commencing every 30 minutes from 10 a.m. to 11 p.m. each day. With some online casinos, jumping into online bingo rooms is easier said than done for mobile players, but this is far from the case at Virgin Games, which also goes for the rest of the Gamesys sister sites. In the US, new players can claim up to $100 back in cashback on their net losses; as you will receive the cashback as real cash instead of as bonus credit, which is yours to do with as you please, this can be a highly lucrative welcome offer. The only listed drawback was the lack of deposit match bonuses for new players and reload deposit boosts for regular players – at least Virgin Games has all other bonus bases covered!
: On July 17, talkSPORT reviewed Double Bubble Megaways and provided a few tips on the best sites to enjoy the game, how to handle the features, and how to maximise your spinning experience when the highly aesthetic set of reels is in motion. At this stage in the game, the iGaming developer has launched several sequel slot games, which all carry the same pastel American diner allure as the original game, but each new title adds a little bit of innovation into the mix without evolving too far past the original appeal. Three Gamesys casinos were named the best places to spin the reviewed game, including Megaways Casino, Virgin Games, and Rainbow Riches Casino. For some reason, talkSPORT chose to exclude the platform which was branded around the original game, Double Bubble Bingo; despite the name, it holds just as many online slot games as the rest of the sister sites in the Gamesys network.
If you pop your bubbles right with this game, you will trigger the free spin bonus game, where you will receive 8 – 12 free spins, depending on how many scatter symbols fall onto the reels at the same time. The game is also equipped with a progressive jackpot feature; the progressive jackpot seeds from £25k, and it will grow from that value until it drops into the account of a lucky player. Of course, there is also plenty to be won in the game itself; the Megaways mechanics provide 729 – 117,649 different ways to win on every spin.
: When talkSPORT isn't talking about sport, they're using their gambling knowledge to help online casino fans find the fairest casinos, which set themselves apart from the rest. It has to be said that talkSPORT often plays favourites in their rundowns of the best sites to play at, which is why it was surprising to see them finally turn their attention to one of Gamesys sister sites, Megaways Casino. We can't blame casino reviewers for turning a blind eye to Gamesys platforms due to their slightly lacklustre nature – fresh promotions only come about every blue moon, and the stream of new games that hit the sites is a trickle at best. With all that being said, talkSPORT seemed to be enamoured with Megaways Casino, even going as far as to say that the site "makes players smile".
After clarifying that the site is based around the proprietary reel technology of Big Time Gaming and that Megaways Casino has been around since 2021, talkSPORT listed a few accolades that the casino has picked up along the way, including being dubbed as the Best New Slots Site by Slots Wise and the Best Slots Site by WhichBingo Awards. The pros of the site, according to the talkSPORT casino review team, included the collection of high-quality games, the zero wagering requirement welcome offer and the free games that allow players to win cash prizes every day. On the other hand, the reviewers weren't best pleased about the lack of a native app and the limited selection of banking options.
: This week, a disgruntled member of the Virgin Games online casino took to TrustPilot to add to the pile of 1-star reviews and claim that all Gamesys casinos are scams lately. Although, you may want to take her opinion with a pinch of salt – given that she also claimed the sites have been taken over by AI. Online casinos have used AI for a while to recommend the most relevant games to members and enhance other features and aspects of the online experience. We're fairly certain that if Gamesys employed AI to fix all the games the UKGC would soon be knocking on their metaphorical door with a fine. However, the reviewer, going by the name Colette DC, shared the consensus with many other angry reviewers as she stated that the slots have changed. There are 1-star reviews as far as the eye can see on the Virgin Games Trustpilot page, so it is safe to say that the casino is doing more things wrong than they are doing them right in 2023.
Another reviewer, posting under the name Iain Esslemont told fellow online casino frequenters to avoid Virgin Games like the plague after he staked £300 on the slot game Big Fish and received only £5 in return. He even went as far as using the archaic lament, "even Dick Turpin wore a mask". Meanwhile, plenty of other reviewers littered their comments with profanities to allude to how frustrated they were in losing hundreds or thousands of pounds with nothing to show for it.
: This week, the review platform Bojoko, turned its attention to one of the main Gamesys sister sites, Monopoly Casino. The 4-star rating seemed to stem from the fact that Gamesys is a well-established and long-running casino brand operator, how easy the platform is to get familiar with, the unique theme, and the wager-free bonus available to all new members. Monopoly Casino lost a star due to the game library, which needs to be supplemented a little more to compete with other casinos, and the customer care system, which leaves a lot of room for improvement.
Bojoko was especially keen on how Monopoly isn't just the theme of the casino, it is the entire identity of it, which works well in today's iGaming market when Monopoly has become so much more of a board game. Rest assured, you can find all the Monopoly live dealer games on the platform, although finding other content is slightly trickier due to the lack of search filters, which would have been useful to help players find the kind of content they are looking for. With that in mind, there are certainly worse things for a casino to be lacking in. According to Bojoko, the top game providers, which frequently share their iGaming wares with Monopoly Casino, include Big Time Gaming, Barcrest, Microgaming, and Pragmatic Play. Although, as only 11 providers contribute to the game library, it is safe to say that there are far more diverse curations of games out there. Furthermore, the only live dealer games are supplied by Evolution Gaming.
: After Gamesys was dubbed one of the major players in the online bingo industry, its platforms have been garnering more attention than usual. Just a few days ago, The Sun even introduced Gamesys' Rainbow Riches casino brand to its readers and had plenty of positive things to say about the three main promotions available via the platform. Typically, the Gamesys sister sites all tend to stay on the same promotional track, but the values of the promotions can differ – especially the welcome promotions. At Rainbow Riches casino, new players can pick from 50 free bingo tickets or 30 free spins. As the value of the free spins is only 1p and the bingo tickets carry a monetary value of £1, it should be an easy choice! But if you're dying to snag the free spins on Rainbow Riches, go right ahead and take the trip to the Emerald Isle with the leprechaun that inspired this popular online casino!
The refer-a-friend scheme seems lucrative at first as there is £20 to bank for every successful referral. However, you will only receive your £20 if your friend deposits a minimum of £10 and wagers a minimum of £40. Thankfully, there aren't any catches with the daily free games. Once you have topped up your account once, the free games will always be there to play, and every day, you will have the opportunity to bank up to £750 in real cash! As the winnings are paid in cash, there are no wagering requirements or pesky win caps.
: In an article celebrating the booming iGaming market and its progressive trends published by Cottonwood Holladay Journal, Gamesys was named as one of the trendsetters alongside Flutter Entertainment, GVC Holdings, bet365 and the Kindred Group. The article, which was published on the 18th of May also covered a few of the potential opportunities the market could boast by 2030. The article stemmed from the 2023 Global Online Marketing Research Report, which provided an overview of the current state of the online gambling industry, the developments that have sealed the success of the industry and a comprehensive analysis of regional and major segments.
The report also provided insights into the drivers for future market opportunities, the present conditions, the segments which are currently trending, consumer behaviour and other factors that have fuelled the optimism for the future of the industry after a very rocky post-Covid recovery period. Other leading companies featured in the report include 888 Holdings, William Hill, The Stars Group and Betfred. Anyone interested in the vendor information for the globally popular sports betting and online casino companies can view the report, which will undoubtedly be priceless for investors in the iGaming industry, which continues to boom in spite of the economic crisis that is rapidly changing the landscape of brick-and-mortar casinos, bingo halls and betting shops as more gamblers are getting their needs met by online platforms, which also happen to offer phenomenal promotions along with other perks, such as VIP loyalty programs, which give away everything from free bets to deposit matches.
The History of Gamesys
Gamesys Operations Limited was not born yesterday. While it might not be the oldest casino company in the world, it's a veteran of the industry and celebrated its twentieth anniversary in 2021. The world of online casinos looked very different when Gamesys took its first tentative steps into it in 2001, but the company has both survived and thrived since then despite being faced with wave after wave of new rival casino network companies that have emerged during that time. Its success has been down to shrewd manoeuvring within the marketplace, clever branding of its casino websites, and knowing when to make changes to suit the changing world around it. Those changes have been wholesale. In the past, the company we now know as Gamesys has been called Intertain and the JPJ Group, as well as spending a brief period named after its most successful online casino site, JackpotJoy. The Gamesys name arrived in 2019. We've become accustomed to calling the company "Gamesys," but based on past form, we probably shouldn't get used to it. They could easily change names again more than once before the end of the 2020s.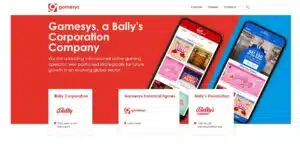 As you can see from the above image, Gamesys Operations Limited maintains a public website. We'd call it a "customer-facing website," but the content on it doesn't seem to be intended for the general public. Instead, it's a business-focused website providing facts, figures, and investment news about the company. Business-speak is prevalent all over the site, starting with the text on the banner graphic in which Gamesys acknowledges its status as a "Bally's Corporation Company" and describes itself as a "leading international online gaming operator." The follow-on text notes that they're strategically well-positioned for future growth, which sounds a little like an invitation to investors or perhaps even an open door for another corporate takeover. Many of the usual things we'd expect to see on a casino network company's website aren't present here. There is not, for example, a company mission statement or a statement about the Gamesys Group's values. There isn't a cosy "get to know us" section outlining the company's history or profiling its senior staff. It's just wall-to-wall facts, and so while the red-and-white colour scheme might seem warm and inviting, the website itself leaves us a little cold.
Gamesys on Wikipedia
While it isn't necessarily true to say that having a Wikipedia page is a sign that a casino network company is successful, it's certainly true that a successful casino network company is more likely to have a Wikipedia entry than an unsuccessful casino network company. With that in mind, the Gamesys Group has a short entry on Wikipedia – and that entry provides a lot more information about the company's backstory than its official website does.
From the Gamesys Wikipedia, we know that the company's founders back in 2001 were Robin Tombs, Noel Hayden, and Andrew Dixon. We also know that the Virgin Games brand was acquired at significant cost by Gamesys in 2013, but it briefly parted with Jackpot Joy by selling the casino to the Intertain Group in February 2015 for £425.8m. Gamesys and Jackpot Joy would be reunited in 2019 when Intertain, which would go on to change its name to the JPJ Group, carried out a reverse takeover of Gamesys. Between the takeovers and the reverse takeovers, the history of Gamesys can become quite difficult to follow, but things get a lot easier after March 2021. That's when Bally's Corporation, a US-based casino company, acquired Gamesys and all of its subsidiaries for about £2bn.
What is Bally's Corporation?
As we now know from the above paragraph, Gamesys Operations Limited is no longer a standalone, independent company. Its destiny is controlled from overseas by Bally's Corporation. The name "Bally's" might sound familiar to anybody who played physical slot machines and gaming cabinets in the 1980s and 1990s, but the brand and the company behind it has changed and grown beyond all recognition since then. It's now a leviathan company with a global presence, offering both iGaming and sports betting in both physical and digital venues. Bally's Corporation owns fourteen physical casinos split across ten states in the USA and even has its own horse racing track in Colorado.
The number of people that work for Bally's Corporation, including everyone employed by Gamesys Operations Limited, is close to ten thousand. While the majority of those ten thousand people work on the digital side of things, some of them are tasked with maintaining the company's 15,000 physical slot machines, five hundred or so table games, and over five thousand hotel rooms attached to its casinos. As if any further proof of the size and power of Bally's Corporation were needed, the company trades on the Stock Exchange in New York. While they have offices all over the world, Bally's head office is in Providence, Rhode Island, USA.
Even though Bally's owns Gamesys, there's still an element of Gamesys in charge of Bally's. That's because Lee Fenton, who was previously the Chief Executive Officer of Gamesys between 2015 and 2021, is now the Chief Executive Officer of Bally's Corporation. Bally's Corporation is not to be confused with Bally Technology, which is another old British gaming company that's now in American hands under the umbrella of Scientific Games.
Gamesys Group Licenses and Fines
Gamesys Operations Limited has, for the main part, managed to keep its nose clean in terms of staying out of trouble with the UK Gambling Commission, which regulates the hobby in the United Kingdom. However, there has been one notable exception to that. In June 2019, the UKGC investigated Gamesys and found that the company was guilty of breaches of the Money Laundering Regulations Act of 2007 and a failure to comply with Social Responsibility Code 3.4.1, which is a condition of the company's licence. To be more specific, the UKGC found that on three occasions, Gamesys failed to notice that customers spending large sums of money at its online casinos had been the subject of police investigations in the past and that the money being spent at the casino sites was stolen. It was the view of the UKGC that further identification checks should have been performed on these customers and that all three customers should have been interacted with by Gamesys staff when they showed signs of problem gambling by placing an ever-increasing series of wagers. This was a costly experience for Gamesys, as the company was eventually ordered to make a payment of £690,000 to gambling charities in lieu of a formal financial penalty and was also made to repay £460,472 to the victims of the aforementioned thefts. The failures cost Gamesys £1.2m in total, and the group has not been sanctioned since.
The licence that Gamesys Operations Limited holds with the UK Gambling Commission is numbered 38905. Casinos operated by the company are also licenced by the Gibraltar Gambling Commissioner under account number RGL 46.
Full List of Gamesys Sites
Active Gamesys Operations Limited Casinos
Below we list all the Gamesys Operations Limited casinos that are actively owned and operated by Gamesys, along with their web addresses.
Double Bubble Bingo (doublebubblebingo.com)
Jackpot Joy (jackpotjoy.com)
Bally Casino (ballycasino.co.uk)
White-Label Gamesys Operations Limited Casinos
These are Gamesys casinos that are owned and operated by Gamesys in partnership with a third party. The names of the third parties involved aren't always given.
Heart Bingo (heartbingo.co.uk)
Monopoly Casino (monopolycasino.com)
Rainbow Riches Casino (rainbowriches.com)
Virgin Games (virgingames.com)
Inactive Gamesys Operations Limited Casinos
These are casinos that were once owned and operated by Gamesys but are no longer active. That may not mean they're shut down – in some cases, they might have been sold or transferred to another casino network company.