Boyle Casino
Boyle Casino sister sites include Boylesports, Boyle Bingo, Boyle Games, Boyle Vegas, Boyle Lotto and Boyle Poker.
Boyle Casino (boylecasino.com) is operated by Boylesports Enterprise, Finnabair Industrial Estate, Dundalk Co Louth, A91 Y899, Ireland.
Sites like Boyle Casino







Boyle Casino Sister Sites 2022
Boyle Games
One way of looking at Boyle Casino is that it's just one big casino site with multiple subsections that cover almost every aspect of modern gambling. Another is that BoyleSports is the "master" website and contains all the Boyle Casino sister sites under one roof. That's how we're looking at it, and that's why we've separated them out for you here. BoyleSports Games is first up, and it's the most arcade-focused of the minisites. There's a far smaller selection of games at BoyleSports Games than you'll find at Boyle Casino, but there's an emphasis on the fun side of gaming with arcade-style attractions.
Aside from a couple of snazzy introductory offers, Boyle Sports Games is divided into easy-to-follow sections for Megaways slots, Slingo games, and even a whole collection focused on the massively popular fishing genre of online slots. This is the part of the Boyle Casino site that's most likely to make you smile, which is reason enough to give it a visit.
Boyle Bingo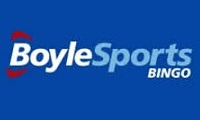 The bingo section of BoyleSports comes second to none, and players will pick up that impression from the landing page of BoyleSports Bingo when they see game categories like Bingo80, Speed Bingo, Deal or no Deal Bingo and other eye-catching rooms. Some of those rooms are exclusive to this minisite. The site is fully optimised for mobile usage, which allows both PC as well as mobile users to cross-play with each other without having to be on the same device.
Aside from the usual games that almost every other bingo website provides, BoyleSports Bingo – a site that runs on the same platform as Boyle Casino – provides a community section as well, where players can interact with each other and get insights regarding their games as well as exchanging tips with each other and perhaps even making friends. There's a real sense of community at this Boyle Casino sister site.
Boyle Vegas
Wherever an online casino uses the word "Vegas," it's a sign that it's focused on the classic Sin City experience. This Boyle Casino sister site is most definitely not an exception to that rule. BoyleSports Vegas comes in slightly darker hues than the rest of the Boyle Casino site, perhaps reflecting the more serious tone of the games you'll find here.
While classics like roulette and poker are the order of the day at BoyleSports Vegas, there's more than a little crossover between what you'll find in this section of the website and what you'll find at Boyle Casino. The differences between the two are only skin deep – the core is very similar. One of the aspects in which the two brands differ the most is in the promotions, so check what's on offer in both places before you commit to spending your money with one or the other. There's no right or wrong answer – it's all about what works for you as a player.
Boyle Poker
BoyleSports Poker is the home of "Bounty Hunter" tournaments. That's the unique selling point of this Boyle Casino sister site, which otherwise is guilty of looking extremely dated when compared to the bigger poker sites on the market. This site certainly isn't of the standard of Sky Poker or PokerStars, but the Bounty Hunter series and its £1.5m top prize is reason enough to play here for more than a few card fanatics.
If you want to get the best out of BoyleSports Poker, you'll have to download the dedicated app. There's only so much you can do within the browser version of the site, and there's no reason to limit yourself to what's available in a browser so long as you have enough storage space on your phone. BoyleSports is very proud of the "upgraded" VIP club at BoyleSports Poker, so give that a look and see if it speaks to you if you plan on sticking around for a while.
Boyle Sports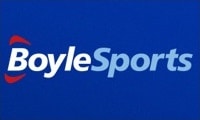 It's hard to say whether BoyleSports is a sister site of Boyle Casino or whether BoyleSports is a Boyle Casino sister site. They're both about as popular as each other with players, and both occupy a similar amount of space on the website. BoyleSports came first, though, and it's the BoyleSports name that appears in the branding of all the other sister sites. If we're talking about overall quality, though, it would be hard to say that BoyleSports isn't the best-looking and most impressive of the sites in the range.
BoyleSports was the first online casino launched by this company, which is why "BoyleSports" is also the name of the casino network that owns it. There are so many betting options here that you could even bet on virtual dog races if you wanted to, although there are so many live options in play at all times that it's hard to see why you'd ever need to. BoyleSports may never reach the heights that the Paddy Powers and Sky Bets of the world have reached, but it's still a powerful player in the market.
Boyle Lotto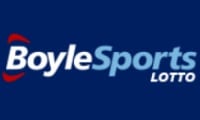 Boyle Lotto is the oddest of the Boyle Casino sister sites. It doesn't so much offer independent lottery services as it does curate them from all over the world. From the homepage of Boyle Lotto, players can bet on the Irish Lottery, the UK National Lottery, the French Lottery, the German Lottery, and even lotteries as far away as New York in the United States of America.
Very few of the lotteries – if any – at Boyle Lotto are "live" because the schedule depends on when and where the individual lotteries it offers access to are staged. Fortunately, all that information is listed in an easy-to-digest format on the site's homepage. Offering worldwide access to lotteries on a casino site is a niche product, but there must be enough people interested in this niche product to keep it ticking over.
Can Boyle Casino be trusted?

★★★★★
Boyle Casino is a 3 Star trusted casino.
1. UKGC License

BoyleSports holds a licence (39469) with the UK Gambling Commission, and the licence covers Boyle Casino.

2. UKGC Fines

The UKGC fined BoyleSports £2.8m in October 2020 after finding the company guilty of breaching anti-money laundering regulations.

3. Customer Service

Boyle Casino customer support is available to call on the phone, to speak to through live chat, or to email. You can also raise a support ticket if you'd prefer.

4. Trustpilot Score

There are no specific reviews of Boyle Casino at Trustpilot, but BoyleSports is rated at a slightly-below-average 2.7 out of 5 after over 850 reviews.

5. Company Location

BoyleSports is based in County Louth, Ireland.

6. Visible T&C's

Full terms and conditions are listed alongside all promotions at Boyle Casino

7. Social Media Presence

BoyleSports maintains active YouTube, Twitter, and Facebook accounts.

8. Number of Sister Sites

There are six Boyle Casino sister sites, all of which are contained within the same website.

9. Games portfolio
There are around 250 online slots at Boyle Casino plus a live casino. The overall range is comparatively limited.
10. Gamstop links

Boyle Casino supports GamStop with a link and a logo contained within the footer of the site.

Overall SCORE >

★★★

★★ – 3/5 Stars
What are players saying about Boyle Casino?
Here are our condensed / reader's digest summaries of recent player reviews of Boyle Casino. There haven't been any reviews of Boyle Casino posted online for a while, so if you play here regularly, why not help your fellow players out by leaving a review somewhere?
27-Jan-2020 by Diane:
This casino is a complete waste of time and I should not recommend this casino to anyone, the gaming services are bad and the withdrawals are impossible to process. – source: Askgamblers
14-Apr-2019 by Kate:
The variety of games is good and these games also offer a fun time for the players, the bonuses on this website are very limited and it should offer more. – source: Askgamblers
19-Feb-2018 by Justin:
The withdrawals do take some time but all of the other services provided by the Boyle Casino are fine, the players can play some very popular games on this website. – source: Askgamblers
22-Jun-2017 by Susan:
Players can have a very fun time playing on this website, the variety of games is amazing and the players can also get themselves some good bonuses to boost their session. – source: Askgamblers
13-May-2017 by Daniel:
Most of the services offered at this casino are centred around sports betting, the casino services are very limited and should be increased. – source: Askgamblers
08-Dec-2016 by Wendy:
Bonuses and the games on this website are updated regularly to ensure that the players can get the best gaming experience, it also covers all kinds of necessary information for the players to use. – source: Askgamblers
01-May-2016 by Cody:
Customer service is horrible and the bonuses are also useless for the players, the staff is very rude towards the players and the rules for the bonuses are very strict. – source: Askgamblers
05-Feb-2016 by Tony:
Ths casino will not let you get rou withdrawal and they will keep making different excuses, I won on a few games and I requested a withdrawal which they declined. – source: Askgamblers
07-Nov-2015 by Rafael:
This is the only Playtech casino that I play on and the gaming experience is fantastic, I joined it a long time ago. It offers all the new games and popular titles for the players to enjoy. – source: Askgamblers
31-Aug-2015 by Denny:
Some players may face performance issues in this casino but most of the time the performance is flawless, the players can also get help from customer services. – source: Askgamblers
Boyle Casino Review 2022
BoyleSports is a sports betting website first and a casino second. That becomes quite obvious when you visit the website. The site has quite a history and is one of the biggest sports betting sites out there, and belongs to a brand that was established by John Boyle in 1982 and has been functioning ever since. We're not talking about BoyleSports here, though – we have a dedicated page for that elsewhere on our website. We're here to talk about Boyle Casino – and this is our analysis of it. 
Welcome Bonus
The introductory offer at Boyle Casino, dubbed as an "Irish casino welcome," is £25 in bonus funds plus twenty-five free spins to use up on selected online slots. Before you can claim the offer, though, you'll have to part with £25 of your own money. Spend that amount on any of the Boyle Casino online slots or instant win scratch games, and your account will immediately be credited with the spins and the bonus money.
On closer analysis, the terms and conditions of the welcome offer state that only players based in Ireland are eligible to receive it. We're not sure how true that is, as we accessed the site from the UK to write this review, and it appeared to be available to us. Bonus funds are subject to a wagering requirement of x20, which is lower than the average across the industry, and bonus winnings are capped at £500. The bonus must be used (and the wagering restriction met) within 72 hours of the promotion being awarded.
Monthly Promotions
There aren't any promotions aside from the welcome offer currently available to players at Boyle Casino. There used to be, but there aren't now. As we covered above, we're not even totally sure that the welcome offer is available to players outside Ireland, so it might be that there aren't any promotions available to UK players at Boyle Casino whatsoever.
While the complete absence of promotions is a clear weakness for the casino and a surprise for a relatively big-name brand, it's not atypical of companies and casino brands that have recently faced disciplinary action from the UK Gambling Commission. Companies in those circumstances often err on the side of caution, and that careful approach sometimes means reining in promotions so as to completely alleviate the risk of getting in trouble because of their terms. If this is the case, Boyle Casino may eventually offer a few more promotions in the future.
Pros and Cons
We give Boyle Casino top marks for customer service. It offers the full range of options in terms of support, and you're never more than a click away from help if you need it.
Unfortunately, the tale of Boyle Casino is probably one of downs more than ups. The selection of games is quite limited, there's virtually nothing in the way of promotions, and the fact that the UKGC has had cause to fine its parent company is a worry. BoyleSports is better known as a sports betting company than a casino, and based on this evidence, there are good reasons for that.
Featured Slots and Games
While the collection of slots and games at Boyle Casino might not be the greatest, it does feature some hot releases from a few of the best providers in the casino world. Playtech features heavily in the Boyle Casino portfolio, and here are some of the most popular slots at the casino right now. 
Shark Blitz: Fishing-themed online slots are all the rage at the moment, so maybe sharks are the next big thing. This is an experimental slot from Playtech, with a challenging 3-5-5-5-3 layout of reels and rows offering 5625 ways to win. The free spins feature is what brings Shark Blitz to life, with a wild multiplier that becomes more valuable each time you trigger it. Shark Blitz is linked to four progressive jackpots and offers 95.1% RTP with average volatility. 
Ronnie O' Sullivan Sporting Legends: Boyle Casino is a sports casino at heart, so maybe we shouldn't be surprised to see the official online slots game of the legendary snooker player Ronnie O'Sullivan in its collection. It's another Playtech slot, and as with the rest of the "Sporting Legends" collection, it comes with a fun bonus side game based on playing a virtual round of snooker and hitting symbols into pockets as if they were snooker balls. The progressive Sporting Legends jackpot could be won on any spin, with 93.07% RTP. 
Sahara Riches Cash Collect: Making it a hat-trick from Playtech, Sahara Riches Cash Collect places you in the baking heat of the African desert, where you'll hope to win cash by landing multiple coin symbols and the "collect" symbol on the same spin for big money. The "collect" symbol becomes sticky during free spins, which makes it much easier to score back to back wins while the feature is active. RTP is 95.67%, and volatility is average. 
Players also have a live casino section to check out at Boyle Casino and a dedicated section for Fire Blaze Jackpot slots. Even with that said, though, the casino's repertoire is fairly lacking when compared to the giants of the casino world. 
Deposit and Withdrawal Methods
The range of methods for deposit and withdrawal at Boyle Casino covers pretty much everything. You can even call into a BoyleSports shop and either deposit into or withdraw from your Boyle Casino account in cash if you wish. That probably isn't an option for most players, though, so you can use your debit card, Skrill or Neteller e-wallet, Paysafe voucher card, Apple Pay, Google Pay, or PayPal when conducting transactions. Bank transfers are an option if nothing else works for you, and you can even use BOKU. That's a mobile payment company based in the USA, and it's very rare to see it offered at a UK-focused casino site.
Irrespective of the withdrawal method chosen, Boye Casino will spend 24 hours processing your withdrawal request and then get your money to you in between 3-5 working days.
Customer Support and License
Very few online casinos offer as wide a range of contact methods as Boyle Casino. Picking up the phone and calling the casino is probably the easiest way to get help, but you can use live chat if you don't want to do that. If your query is especially technical, you might want to raise a support ticket instead.
All Boyle Casino sister sites are covered by the license that BoyleSports holds with the UK Gambling Commission, account number 39469. The company holds a second licence with the Gibraltar Gambling Commission under RGL 083 and RGL 084.
Final Verdict
Boyle Casino isn't a great online casino site. It is, however, a great sports betting site. Although BoyleSports treats all of its casino brands as if they were independent of each other – which is why they all have different URLs – everything but the sportsbook feels like a bolt-on to it. There simply aren't enough games here to keep most casino players interested, and the lack of promotions means there's nothing additional to play for either. It's not often we say this so candidly, but you'll find better options elsewhere.
About the Boylesports Brand
Boylesports Casino is an online betting and gaming casino, and is part of the huge Boylesports brand. The casino site itself offers a range of different games and has a lot of options to choose from. At first, the casino site seems quite overwhelming with how busy it is and how much choice it provides, but at least there is no lack of things to do or see here. Since the Boylesports Casino site is linked to the main Boylesports brand, the casino site is actually not located on a separate website from the sports betting site. They are all interlinked and can be moved between at the top of the page, which makes navigating through the different brands very easy and accessible.
The casino section of the Boylesports site features a whole load of different games and categories, but still manages to follow the theme and aesthetics of the rest of the Boylesports brands. Boylesports notes that they are licensed by both the UK Gambling Commission and the Gibraltar Gambling Commission for their players outside of the UK. They also feature lots of additional materials and support at the bottom of their site, including their rule book and also information on responsible gambling.
Boylesports as the parent company is actually one of the biggest independent bookmakers in Ireland. It was established all the way back in 1982, originally as a single betting shop opened in Northern Ireland. In 1989, five new stores were opened, then in 2002, 14 more new stores were added. Their start-up was slow, but it rapidly grew and sped up in the early 2000s. By 2004, there were 77 stores, and in 2006, their 100th store was opened. In 2018, their 250th store was opened, then a few years months later, Boylesports announced their move into the UK market. They have recently, in 2020, acquired a number of  former William Hill stores, making them Ireland's largest retail bookmaker.
Boylesports Casino Advertising, Sponsorships, and News
There are no particular video adverts for Boyle Casino, although there is a promotional video on the Boylesports YouTube channel that advertises the new Boylesports Casino app, which was uploaded in 2018. There are, on the other hand, a large number of video adverts specifically promoting the Boylesports brand as a whole. Since the casino site can be accessed directly on the Boylesports site, this advert will still in turn help promote the casino section of the site, since it is all pretty much linked together anyways.
One of the most popular video adverts for the Boylesports brand can be found on their main YouTube channel, named 'BoyleSports This Is Betting'. The video was uploaded in 2019 and has a short and a longer version. The short version has over 620,000 views and works to promote the Boylesports brand as a whole. The advert is very typical of a sports site advert but definitely reaches its target audience by including shots of football games and players that will excite and entice people. This is definitely their biggest and best advert, and with over half a million views on YouTube, it will have definitely worked to reach new audiences and viewers.
As well as their successful TV ad, Boylesports has also taken part in a huge number of sponsorships, brand deals, and gotten involved with different ambassadors for the brand. Again, these sponsorships are all linked to Boylesports as a brand as a whole, not particularly just the casino site, but since the casino section can be accessed through the main site it works to promote all aspects of the site including the sports betting and casino sections.
Boylesports Football Sponsorships
On their main site, they showcase all of the different teams and brands they work with, many of them being very popular and well-known. For example, in their 'about us' section, it can be seen that Boylesports work with Coventry City Football Club and Birmingham City Football Club as a principal partner, with Newcastle United and Wolverhampton Wanderers Football Club as the official sponsor, as well as being the title sponsor for the Irish Greyhound Derby 2021, the PDC World Grand Prix and the Irish Grand National.
While these sponsorships are listed on the Boylesports site as their main sponsorship deals, there is little information about them on this site. Their earliest sponsorship was back in 2007, when they sponsored Sunderland AFC in the Premier League for three years. Their main sponsorships, however, began in 2010, where they started with the Boylesports Champion Chase Day that has run at the Punchestown Festival every year since. Leading up to their most recent big sponsorship deal, they were announced in August 2021 as the main UK and Ireland Betting Partner of Newcastle United in the English Premier League.
To top it all off, Boylesports have also had a number of brand ambassadors get involved with the Boylesports brand as a whole. Most recently, in 2021, former football captain Steven Gerrard, and sports broadcaster Natalie Sawyer have joined Boylesports as the main brand ambassadors to assist with the 2020 UEFA European Championship. Previously though, Boylesports have also had footballer, Kevin Kilbane, jockey, Robbie "Puppy" Power join Boylesports in the year of 2016 as Football Brand Ambassador and Horse Racing Ambassador (respectively).
Boylesports Casino on Social Media
It is not surprising that with all of this success in the field of advertising and sponsorships Boylesports also has a prominent and successful social media presence. With over 150,000 followers on their Facebook page, it is clear that their hard work in the media field is paying off. Their social media content is current, active, and relevant, earning them a lot of additional interaction and popularity in the online sphere. While it is clear that Boylesports are the leading independent bookmaker in Ireland, it is no surprise that they are swiftly on their way to dominating the market entirely, including the casino and gaming market, with their brand growing every day.