BoyleSports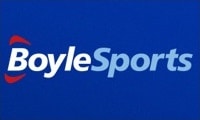 BoyleSports is a casino network company operating seven casino sites. The BoyleSports sites are Boyle Casino, Boyle Sports, Boyle Games, Boyle Bingo, Boyle Lotto, Boyle Vegas and Boyle Poker.
BoyleSports is based at Finnabair Industrial Estate, Dundalk, Co. Louth, Ireland, A91 Y899.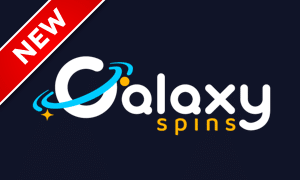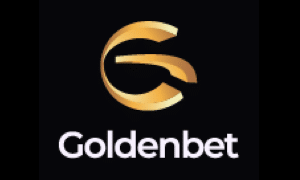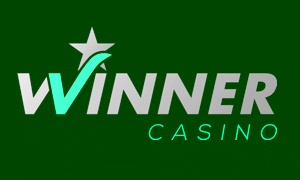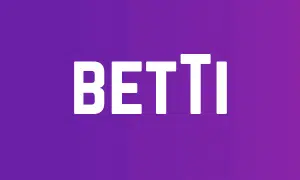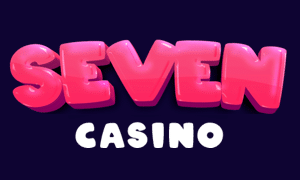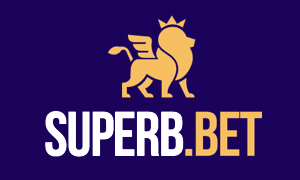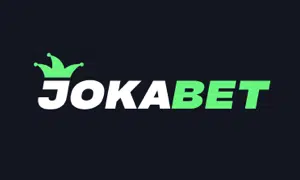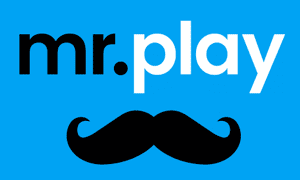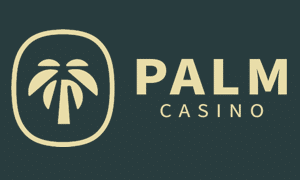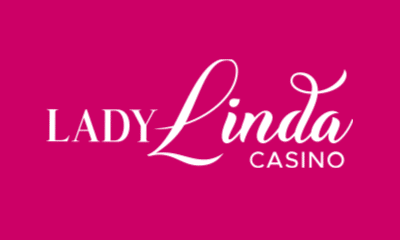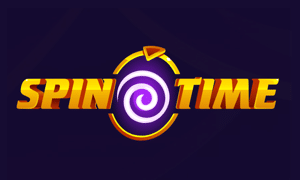 All BoyleSports Sites 2023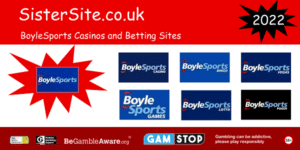 Boyle Casino
The BoyleSports casinos aren't like most networks of casino sites you'll encounter elsewhere. Rather than being a series of separate, standalone sites, the BoyleSports sites are all offshoots of the "main" BoyleSports site, by which we mean its flagship sportsbook. Taking and settling bets on sports is how BoyleSports got started and will always be the core of the business, but the BoyleSports of the 2020s is a massive international enterprise that covers almost every aspect of modern gaming. If there's a type of bet you want to place, BoyleSports will find a way to let you place it – and that's why Boyle Casino exists. Boyle Casino is the BoyleSports take on a traditional online slots website and is fed by some of the best providers in the business. It also has all the promotions and perks that you'd expect from a modern online slots site, including wagering requirements that generally come in below the industry average of x35. Boyle Casino is the first place you should look if you're interested in playing games with live dealers, but if you came to BoyleSports for sports betting, you might be interested to know that there's an entire dedicated section of Boyle Casino given over to "Sporting Legends" slots. They are, as the name suggests, slots with a sporting theme and often contain entertaining sports mini-games if you're able to trigger their bonus features.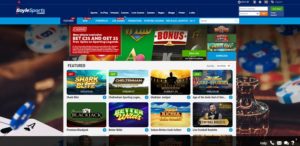 BoyleSports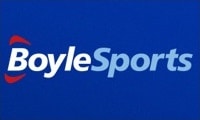 BoyleSports is the brand where it all began as far as this casino network company is concerned. There might be several other BoyleSports sites, but they're all connected to the main Boylesports site, and this it is. Unlike the BoyleSports casino sites, BoyleSports deals with sports and sports only. It might not be a huge household name in the UK in the same way that, for example, William Hill or Ladbrokes is, but it's still a name that should be familiar to the majority of regular UK-based bettors. That could be down to the multiple sponsorships that BoyleSports has signed – which have, in the past, included English Premier League football teams – or it could be down to the presence of BoyleSports shops in their home town or city. The latest football and horse racing odds dominate the homepage of BoyleSports, but if you cast your eyes over the long list to the left of the page, you'll find a whole A-Z of sports, including most major sports you can think of, plus at least a couple that you probably can't. You can even keep betting at BoyleSports when there are no live sports happening at all because the casino also provides a range of virtual sports, including virtual football, virtual horse racing, and virtual dogs. "Bet bundles" are the most common promotional offers at BoyleSports, but if you keep your eyes peeled and play regularly, you should find you're able to take advantage of the occasion free bet, too.
Boyle Bingo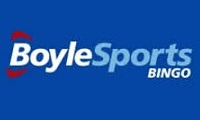 Boyle Bingo is the most visibly different of the BoyleSports casino sites. The usual two-tone blue colour scheme gives way to lighter shades of purple and pink, perhaps reflecting the belief that bingo is still considered to be more of interest to female players than men. You'd be entitled to expect a lot from a bingo site operated by a company as big as BoyleSports, and Boyle Bingo doesn't let anybody down in that respect. There's a list right in the middle of the landing page confirming which rooms are due to open and when, and on that list, you'll find familiar themes like Deal or no Deal Bingo and Rainbow Riches Bingo. You'll find these rooms at many other bingo sites on the internet, but their presence is usually an indicator that the site you're playing on is a quality one. Big-money jackpots are a core aspect of the Boyle Bingo proposition, with top prizes going as high as £200,000 in some rooms. You'll obviously be asked to pay a higher price per ticket if you intend to go chasing after the big bucks, but if you have more reserved tastes, there are rooms like Cheetah Chase and Hippo House available for just two pence per ticket. Boyle Bingo can usually guarantee that rooms will be busy, so you get the sociable aspect of playing bingo as well as (hopefully) the excitement that comes with landing a winner. We can't imagine that many people reading this will never have played bingo before, but if you are, Boyle Bingo is a good place to get started because of its extensive beginner's guide to bingo.
Boyle Vegas
When you arrive on the Boyle Vegas homepage after visiting Boyle Casino, you'll start to realise that there's some overlap between the BoyleSports casinos. There's not much to pick between Boyle Casino and Boyle Vegas other than a different approach to the layout of the mini-site and a different emphasis. Even BoyleSports themselves would probably concede that you can play the same online slots at each of the sites, but Boyle Vegas places greater value on slots that have enormous jackpots. Going one step further, it also offers site-wide jackpots that can only be claimed on certain games. There are three jackpots in play at all times at Boyle Vegas – one that has to drop every ten minutes, another that drops every day, and a "super drop" that could drop at any time but doesn't operate on a specific schedule. The "super drop" can often run into tens of thousands of pounds, and even the "daily drop" can reach £20,000 or more before it drops if you happen to visit the site on a lucky day. As well as focusing on jackpot games, Boyle Vegas strongly promotes Megaways and "Power Reels" slots. The idea behind Boyle Vegas seems to be that this is the BoyleSports site you come to if you want to play with modern bonus features and new releases rather than classic games and traditional slots. There isn't a live dealer area at Boyle Vegas, but there doesn't need to be when that aspect of casino gaming is catered for elsewhere in the range.
Boyle Games
It would be perfectly reasonable to ask whether BoyleSports really "needs" to operate Boyle Casino, Boyle Vegas and Boyle Games separately when the contents of all of them could be amalgamated into a single casino, but it's also possible to justify the existence of each one of them individually. Each of the BoyleSports casinos serves a different purpose. We've just said that Boyle Vegas is there to serve people who are interested more in newer games than they are in older ones. Boyle Games does the precise opposite of that, and Boyle Casino is somewhere in the middle. It's all a question of emphasis. You know that you're in "classic and traditional" territory from the moment the Boyle Games homepage finishes loading. Rather than trying to catch your eye with a huge jackpot pool or a massive banner touting the site's latest promotions, Boyle Games offers us a list of classics. The first game on the "featured" list at Boyle Games is blackjack, and the next one after that is roulette. The first online slots game on the list is the NetEnt smash hit Starburst. If you're looking for your all-time favourite online slots, the chances are that you'll have an easier job of finding them at Boyle Games than you will at any of the other BoyleSports casinos. The downside to the site's retro style is that it's comparatively devoid of promotions and incentives, but on the plus side, it has a whole section dedicated to fishing-themed slots like Big Bass Bonanza and Fishin' Frenzy. Slingo is also easier to find at Boyle Games than it is at Boyle Vegas, so this is the place to come if you can't get enough of the increasingly-popular genre.
Boyle Lotto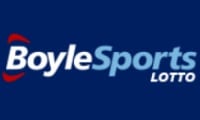 By including lottery games in its portfolio, BoyleSports ventures into territory that a lot of other casino network companies steer clear of. The fact that Boyle Lotto exists underlines the fact that the BoyleSports sites tick every box that an online iGaming fan could conceivably want to see ticked. Lotteries remain the most popular form of gambling in the UK – even more popular than sports betting – but the range of lotteries available to players at Boyle Lotto extends way beyond the shores of the United Kingdom. You can play the UK lotto from this site if you want to, partaking in the draws that happen every Wednesday and Friday, but you could also play the Irish lottery if you feel like it. In fact, you could also play the Greek lottery, the French lottery, or the German lottery. There are fifteen different lottery draws available at Boyle Lotto, meaning you never have to go a day without checking your lucky numbers if you don't want to. Helpfully, Boyle Lotto even has a lottery draw calendar to make sure you never miss a lottery you've bought a ticket for. The "daily millions" lotto is the most popular on the site, but 49s is there as a curiosity, and the European "lucky stars" lottery is a popular choice with players, too. You won't find any casino promotions to play with at Boyle Lotto, but that's not unusual for a lottery site.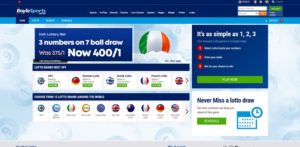 Boyle Poker
All of the BoyleSports sites we've looked at thus far in this list have been playable in-browser, with no software download necessary. There's a BoyleSports app you can download if you wish, and you should find the full functionality of all of the BoyleSports casinos available on it, but there's no requirement to do so. Boyle Poker is the exception to that rule. If you want to play Boyle Poker, you have to download the dedicated app. The Boyle Poker mini-site exists only to provide information about what the app contains and also offer an overview of what you need to know if you're a newcomer to the game of poker. We're not sure why this obstacle has been placed in the way of players because there are plenty of high-profile poker sites out there that work inside a browser, but it's BoyleSports' decision to make, and they must have their reasons for it. In return for downloading the app and playing regularly, Boyle Poker offers a five-star VIP club that has, as of 2022, recently upgraded all of its perks and incentives. You have to spend a lot of money to qualify for the best of the perks available as part of the scheme, but for most poker players, that goes with the territory. Strangely, one of the current Boyle Poker promotions involves players winning avatars for performing certain tasks. These avatars can then be used to express moods and emotions during poker games. We're not sure how well that would sit with the more serious poker players out there, but it provides a little levity and marks Boyle Poker out as a poker brand that isn't afraid to show off a little personality.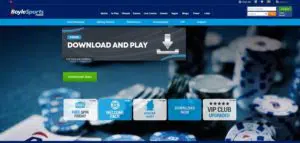 About BoyleSports
BoyleSports History
It's sometimes hard to find the full history of a casino brand or gambling company on the internet. That isn't the case with BoyleSports, because the brand is such a big deal that it has its own Wikipedia article. The story told on Wikipedia is one that you might know already if you're a regular sports bettor because it's been told in televised commercials for the brand. While it might be a UK-focused brand now, the story of BoyleSports actually begins in Northern Ireland, which is where the company still has its head office to this day.
BoyleSports was founded by John Boyle in 1982 when the entrepreneur opened his first betting shop in Markethill, County Armagh. The next six years were up and down for the fledgling firm as it struggled to find a foothold in the competitive sports betting market, but it all came good by the end of the decade. 1989 was the year that BoyleSports really started to gather momentum, as it opened a further five shops elsewhere in Ireland. From there, things began to expand exponentially. A further fourteen BoyleSports shops had opened by the end of the 1990s. It only took a further six years to go from twenty stores to one hundred, with the hundredth BoyleSports shop opening in 2006. By that point, the business was making enough money to start buying out smaller firms – so that's exactly what it did.
While BoyleSports prospered, other betting companies in Northern Ireland began to struggle. One of them was Celtic Bookmakers, which was on the verge of bankruptcy when it was acquired by BoyleSports in February 2011. The takeover brought BoyleSports a further eleven shops across the country, which it followed up by purchasing fifteen floundering William Hill shops. John Boyle was getting on in years by this point but remained at the helm of the company until 2017, when he was succeeded as CEO by Conor Gray. John Boyle is happily still with us and remains involved in the company he founded in a reduced capacity.
A year after John Boyle stepped down, Conor Gray announced that BoyleSports would drastically expand its online portfolio. That was the starting point of the digital version of BoyleSports becoming the diverse range of iGaming sites that it is today. By that point, the company had 250 shops and was still going strong. It was no longer a company that focused exclusively on Ireland – it had entered the UK by purchasing thirteen shops from bookmaker Wilf Gilbert in the Midlands. A further 33 former William Hill shops followed in January 2020, but the biggest news in the past couple of years is the addition of the Aspire Global platform to the BoyleSports sites. That deal was agreed in January 2022 and has allowed the company to massively expand the number of games available on its sites.
Here and now, BoyleSports operates just under 350 shops across the UK and Ireland and employs more than 2,500 people. It will soon celebrate forty years in the casino and betting industry and looks likely to be an even bigger deal in the years ahead than it has been in years gone by.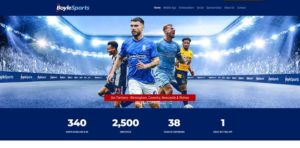 BoyleSports Sponsorships
BoyleSports might not have the same level of experience as Ladbrokes, Coral, or William Hill, but it's trying to catch up with its older rivals when it comes to visibility. BoyleSports began involving itself in high-profile sponsorships around the year 2010 and has attached itself to a variety of sports, sportspeople, and tournaments. Some of the sponsorships involve the company name, whereas others promote individual BoyleSports sites and BoyleSports casinos. The first notable sponsorship BoyleSports paid for was a special "Champion Chase Day" at the annual Punchestown Festival horse racing event in its native Ireland. Just four years later, BoyleSports became the primary sponsor of the Irish Grand National. In the process of sponsoring the race, BoyleSports upped the prize money attached to it to £500,000, attracting elite-level horses and jockeys to the race for the first time.
Horse racing sponsorships are one thing, but professional football sponsorships are quite another. Horse racing is popular but remains a niche interest. Sponsoring a horse racing event does not guarantee that your company's name will be seen by millions – perhaps even billions – of people around the world. Sponsoring a high profile football team usually does. With that in mind, BoyleSports became the primary sponsor of Birmingham City Football Club in the English Championship at the beginning of the 2019/2020 season. The deal remains in place and is scheduled to run until at least the end of 2023, at which point it will be reviewed and could yet be extended further. The betting company doesn't currently sponsor an English Premier League team's shirt, but they're the official betting partner of Birmingham City's local rivals Wolverhampton Wanderers. We can't help but wonder how some Birmingham City fans might feel about that. They've since become the main betting partner of Newcastle United and also sponsor the shirts of Coventry City. Major sponsorships of the past include Sunderland, for whom BoyleSports was the primary shirt sponsor during the club's Premier League years between 2007 and 2010.
Away from football and racing, BoyleSports also sponsors the Professional Darts Corporation's annual World Grand Prix and various greyhound races. Several brand ambassadors from the world of sport have also helped to boost BoyleSports' profile, including ex-Republic of Ireland international midfielder Kevin Kilbane, ex-Liverpool and England striker Stan Collymore, and former Liverpool captain and Rangers manager Steven Gerrard.
BoyleSports Regulatory Issues
BoyleSports currently holds two licenses for its betting and casino sites – one with the Gibraltar Gambling Commissioner and one with the UK Gambling Commission. We believe the company's record with the Gibraltar authority is clean, but we, unfortunately, can't say the same about its UK Gambling Commission licence.
In October 2020, BoyleSports was officially sanctioned by the UK Gambling Commission after an investigation found that the company had breached two of the conditions of its licence. The first, condition 12.1.1, concerns the prevention of money laundering and terrorist financing. The second, condition 12.1.2, concerns special anti-money laundering measures for operators that are based in foreign jurisdictions. BoyleSports, as an Irish company, falls into that category. It's common for the UK Gambling Commission to publish a statement of facts in cases like these, thus providing further details about the nature of the breaches, but they elected not to do so in this instance. Instead, they issued BoyleSports with a formal warning, attached additional conditions to its licence, and fined the company £2.8m. It was noted at the time the fine was announced that BoyleSports had fully co-operated with the investigation process and had admitted to the failings at the earliest opportunity. The company has never been in trouble with the regulator before or since, so it's to be hoped that whatever this incident was, it was a one-off.
What are players saying about BoyleSports Sites?
The following reviews were all written by people who have recently played at BoyleSports casinos. and wanted to share their experiences with other players. Their comments have been edited for the sake of brevity and clarity.
13-Apr-2022 BoyleSports review by Olive:
I don't make many bets and I don't play often, but so far my experience with the BoyleSports app has been a good one. – source: TrustPilot
13-Apr-2022 Boyle Casino review by Tracy:
This is a scam site, don't use it. They'll take all your money but don't give you any wins, the RTP rate is so low that it can't be right. – source: TrustPilot
12-Apr-2022 BoyleSports review by Patrick:
Placing bets is easy and returns are paid quickly. Customer support has been a great help too, so thank you BoyleSports. – source: TrustPilot
12-Apr-2022 BoyleSports review by Dean:
BoyleSports is a great site. It's really easy to navigate and the odds are good. – source: TrustPilot
12-Apr-2022 BoyleSports review by John:
BoyleSports is a great bookmaker. They offer the best price guaranteed even the day before an event. – source: TrustPilot
12-Apr-2022 Boyle Casino review by Darren:
I like the selection of games and they pay out quickly, but they set a deposit limit on my account without telling me. I think it's because I've just returned from self-exclusion. – source: TrustPilot
11-Apr-2022 BoyleSports review by Steven:
I'm used to the terms and conditions of betting companies being as clear as mud, so I must say I found Ben and Mairead on the customer support team surprisingly helpful. They even gave me a free bet as a gesture of goodwill. – source: TrustPilot
09-Apr-2022 Boyle Casino review by Laura:
I withdrew my winnings into a Revolut account and they vanished. I'm now being told I should never have tried to withdraw to Revolut since I paid with my debit card but why let me do it if I'm not supposed to do it? I'm not getting any help from customer services either. – source: TrustPilot
07-Apr-2022 BoyleSports review by Simon:
The live chat is great. They had trouble finding a solution to my problem at first but they persevered and eventually got there. I'd give them five stars. – source: TrustPilot
07-Apr-2022 BoyleSports review by John:
BoyleSports is a great gambling site and I love the app, but I'd like to be able to use the app to play casino games as well as bet on sports. – source: TrustPilot
Full List of BoyleSports Sites
All of the following are BoyleSports casino sites directly owned and operated by the company.
BoyleSports (boylesports.com)

Boyle Bingo (boylebingo.com)

Boyle Casino (boylecasino.com)

Boyle Games (boylegames.com)

Boyle Vegas (boylevegas.com)

Boyle Lotto (boylelotto.com)

Boyle Poker (boylepoker.com)