Aladdin Slots Sister Sites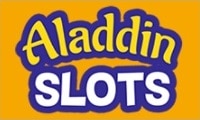 Aladdin Slots sister sites include Jungle Reels, Fever Slots, Slots Kingdom, Simba Slots, All Star Games, Dove Slots and many more.
Aladdin Slots (aladdinslots.com) is operated by Jumpman Gaming Limited of La Corvee House, La Corvee, Alderney, GY9 3TQ.
Sites like Aladdin Slots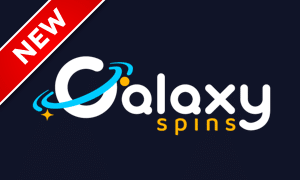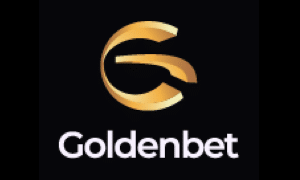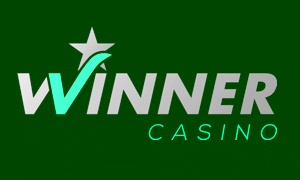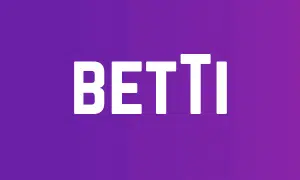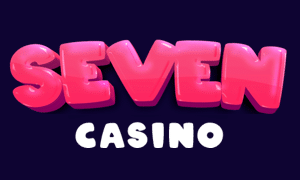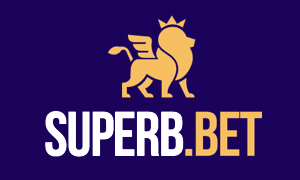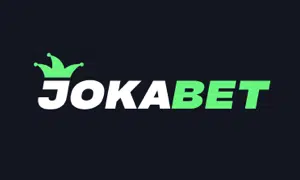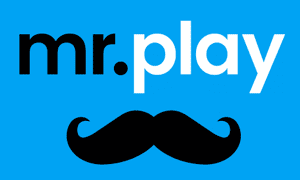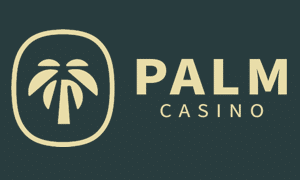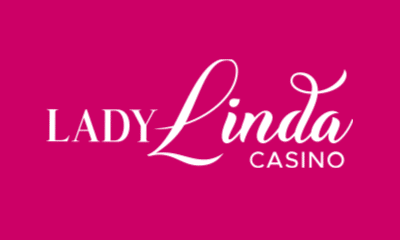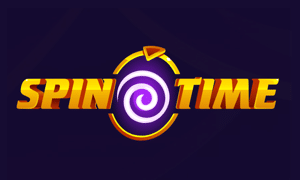 Aladdin Slots Sister Sites 2023
Aladdin Slots is part of the gargantuan Jumpman Gaming Limited casino network. This is one of the biggest casino network companies serving the UK, so there are over 200 Aladdin Slots sister sites to choose from. We've included some highlights from the range below, but if you want a complete list of Aladdin Slots sister sites, reviews and bonuses, visit our dedicated Jumpman Gaming page by hitting the highlighted link at the top of this page.
Dove Bingo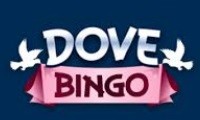 There's something you ought to know about the Aladdin Slots sister sites that claim to be dedicated to bingo; they're not really dedicated to bingo at all. Yes, there are a few bingo rooms at them, but you'll find a few bingo rooms at all of the Jumpman Gaming Limited casino sites. In fact, they're the same bingo games. The iGaming portfolios of all these casinos are identical, so the only way of choosing between them is either going for the theme you prefer or choosing the site that offers the promotions most suited to you. Unfortunately, there isn't much to choose between the promotions either. Dove Bingo is a good example of that, with up to five hundred free spins available through spinning the Dove Bingo mega wheel. The fact that Dove Bingo's biggest promotion is based on online slots rather than bingo tells you all you need to know about where its priorities are. The lack of bingo games on the Dove Bingo homepage merely serves as confirmation. It's a perfectly good-looking casino with a vaguely 16-bit theme, but its name is more than a little misleading.
Cash Arcade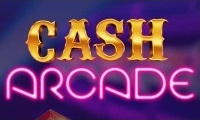 The good news about Cash Arcade is that it offers a no-deposit welcome promotion for all new players. The bad news is that the promotion is tiny and doesn't offer any real value. New players can claim just five free spins on Chilli Heat when they register with Cash Arcade. Even in the unlikely event that they win anything from those five free spins, they'll still have to contend with an x65 wagering requirement on those winnings before they're eligible to withdraw anything. That makes the promotion feel less of a bonus and more of an insult, but as we noted earlier, this is true of the bonuses at all of the Aladdin Slots sister sites. Cash Arcade is a bulky, blocky casino site presented with a retro neon theme, and aside from the (useless) five free spins, it also offers up to five hundred free spins on Starburst to new players who deposit at least £10 to open the site's mystery treasure chest. As you'll no doubt have guessed already, those spins are subject to the same terms and conditions that plague promotions everywhere else on the Jumpman Gaming Limited casino network.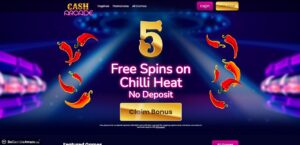 Spin Hill
Both the name and logo of Spin Hill remind us of a private school, but that's not what the theme of this casino is. Instead, Spin Hill's backdrop of the Houses of Parliament, photographed on a sunny day as two London buses drive past, underlines its status as one of several patriotic British-themed Aladdin Slots sister sites. There are so many casinos on the Jumpman Gaming Limited casino network that every theme gets touched on at least once, and some get touched on several times. The red, white and blue theme of Spin Hill is one such theme. If you're wondering why we're spending a lot of time talking about themes and little time talking about bonuses or games, it's because bonuses and games tend to be virtually identical no matter which of the Aladdin Slots sister sites you choose to play at. You'll always have around one thousand slots and games to choose from, and the biggest promotion will always be either five hundred free spins on a top slots game or a shot at winning a matched deposit bonus of 1000%. Spin Hill fits into the latter category. We wish we could tell you that Spin Hill is the exception to the x65 wagering requirement rule, but sadly it isn't.
Easy Slots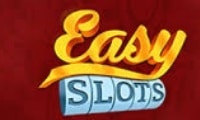 We've mentioned a few times that many of the Aladdin Slots sister sites were put together using a template, so it's always a pleasure to see one that wasn't. Easy Slots fits that bill, which might have something to do with the fact that it's a casino that Jumpman Gaming Limited owns and operates directly rather than farming it out to a third party as a white-label casino. However, even a fresh look can't change the fact that the promotions and games at Easy Slots are identical to those everywhere else in the range. It's particularly disappointing to note that the same massively high wagering requirement of x65 still applies even when casino sites are directly owned and operated by Jumpman Gaming, too. The casino network can reduce that if it wants to, but instead chooses to continue putting unreasonable barriers in the way of players attempting to withdraw bonus funds they've been promised. The casino might be called Easy Slots, but there's nothing easy (or fair) about the terms of the promotions at it. On a more positive note, Easy Slots publishes the RTPs of all of its games so players can see which one offers the friendliest terms. At the moment, that's NetEnt's Ugga Bugga, with an RTP of 99.07%.
OK Bingo
Everything we said about Dove Bingo is also true of OK Bingo. The Aladdin Slots sister sites don't really "do" bingo, and the eight generic bingo games you'll find on the homepage of OK Bingo are proof of that. It's another identikit Jumpman Gaming online slots site save for the more prominent featuring of those bingo games. There's an important difference between OK Bingo and almost all of the other Aladdin Slots sister sites, though, and that's the fact that OK Bingo has big-brand connections. This is the official bingo (or casino) site of OK Magazine, which has been one of the most popular glossy celebrity magazines in the UK for well over twenty years. OK Bingo has been online since 2009 but hasn't always been with Jumpman Gaming Limited. It got a makeover when it joined the network several years ago and now lines up with other media-connected Aladdin Slots sister sites like Star Wins, Express Wins and Mirror Bingo. Jumpman Gaming appears to have become the network of choice for publications that want to operate casino sites.
Sugar Spins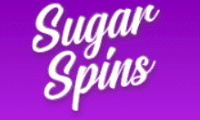 Sugar Spins is the kind of online casino site that would give your dentist nightmares. The site has stunning graphics, but the graphics are there to appeal to anybody with a sweet tooth. There are sweets and treats everywhere you look at Sugar Spins, from towers made of ice cream to enormous lollies and mint humbugs. Nobody could argue that Sugar Spins doesn't look fantastic, but is it as sweet to play as it is to look at? We'd lean towards the answer to that question being "no" purely because it's stuck with the same wagering requirements as the rest of the Aladdin Slots sister sites, but that might not bother everybody. Ultimately, it's possible to opt out of the welcome promotion (and all of the other promotions) if you try hard enough, and doing so might make Sugar Spins and all of the other Aladdin Slots sister sites a lot more fun to play at. Sugar Spins offers yet another iteration of the same portfolio of casino games, but at least it offers them with pleasant scenery.
Buffalo Spins
Buffalo Spins is a whole casino site themed around the massively popular online slots game Buffalo Blitz by Playtech. Basing a whole casino around a single slots game might seem like an odd thing to do, but only until you realise that there are three Aladdin Slots sister sites based on Fluffy Favourites. For those who are interested in such things, those slots are Fluffy Wins, Fluffy Spins and Fairground Slots. If the Playtech classic is of more interest to you, you'll appreciate the aesthetic of Buffalo Spins. The cartoonish buffalo of the slot march in the background, always threatening to come over the top of a hill but never quite getting there. There's a cart of gold in the foreground, and the sky is on fire. It's an atmospheric and impressive-looking casino which does a good job of (almost) masking the fact that its portfolio is stuffed full of the same games you'll find at all the Aladdin Slots sister sites. While we've made that point a few times, it's not a criticism. All the big-name providers are represented in the collection, and Jumpman Gaming Limited casino sites tend to receive four or five new games every week. You'll never get bored at Buffalo Spins.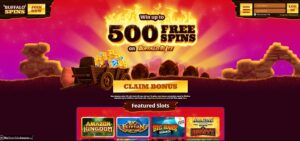 Your Favorite Casino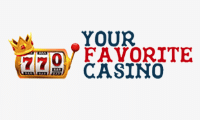 "Your Favorite Casino" is both the name of this site and a statement of intent. For most players, it will be a claim that the site can't back up. Save for a few well-chosen photos of famous cities from around the world (including London and Las Vegas), Your Favorite Casino is a casino site without a theme. It's unlikely to be anyone's favourite casino from among the Aladdin Slots sister sites, let alone their favourite casino overall. Also, note the spelling. This is a UK-facing casino site, and yet it opts to use the American spelling of "favourite." It's a strange decision that we can't find a rational explanation for. In fact, you won't find many explanations for anything at Your Favorite Casino. Whereas most of the casinos on the Jumpman Gaming Limited network have very lengthy "about us" sections to extol their qualities and ambitions, Your Favorite Casino chooses not to have one at all. It's almost as if the third-party company that worked with Jumpman Gaming on the site decided that the name alone would be enough of the draw, and they didn't need to put any further effort into the site. If so, they were wrong.
Can Aladdin Slots Be Trusted?

★★★★★
Aladdin Slots is a 3-star trusted casino.
1. UKGC License

Aladdin Slots is covered by licence 39175, granted by the UK Gambling Commission to Jumpman Gaming Limited.

2. UKGC Fines

In May 2022, the UKGC ruled that Jumpman Gaming had breached licence conditions that govern customer interaction and preventing money laundering. Jumpman Gaming settled the matter for £500,000 rather than facing formal disciplinary action.

3. Customer Service

Email is the only way of contacting Aladdin Slots, and getting a response might take two days.

4. Trustpilot Score

N/A – Aladdin Slots doesn't have enough reviews on Trustpilot to judge the casino this way.

5. Company Location

Jumpman Gaming Limited is based on the Channel Island of Alderney.

6. Visible T&C's

Promotions at Aladdin Slots come with their terms and conditions clearly listed.

7. Social Media Presence

Aladdin Slots hasn't posted on Facebook since September 2021. It doesn't have a Twitter/X.com account.

8. Number of Sister Sites

The Jumpman Gaming Limited casino network contains over two hundred Aladdin Slots sister sites.

9. Games portfolio

Aladdin Slots offers around one thousand slots, plus a limited number of bingo and table games.

10. Gamstop links

GamStop's logo and link are clearly visible at the bottom of every page at Aladdin Slots.

Overall SCORE >

★★★

★★ – 3/5 Stars
Aladdin Slots Review 2023
Aladdin Slots has a real struggle on its hands to stand out from the crowd. There are so many Aladdin Slots sister sites (some of which have big-brand connections) that it would be easy for this casino to be overlooked, even if it does have a name that suggests it might have connections to a very popular Disney movie. For the record, no such connection exists – but Aladdin Slots does have a huge catalogue of online slots to offer. Is that enough to make it worth a visit? Read this review and find out.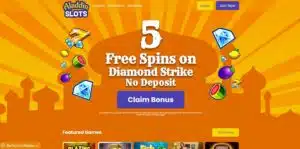 Before we go any further with this review, we should make a point about the appearance of the Aladdin Slots casino website. It's a little bland. It wouldn't be unreasonable to expect a casino with a name like this to have gold, flying carpets and perhaps even a smiling blue genie to look at, but instead, we're stuck with a dull, beige and purple colour scheme with a backdrop of minarets. Almost nothing has been done with the casino's theme. Perhaps that's down to Jumpman Gaming not wanting to attract the attention of Disney's lawyers, but it makes Aladdin Slots feel a little bland.
Aladdin Slots Welcome Offer
There's a two-stage welcome promotion open to new players at Aladdin Slots. The first is five free spins on Diamond Strike, which players receive simply for signing up. There's no need to make a deposit to receive that reward – it happens automatically. When players do make a deposit of at least £10, they get to rub the genie's lamp. Doing so will generate a random prize which, at best, could be five hundred free spins in the Chilli Heat slots game. Smaller prizes are contained in the lamp, too, though, and it's more likely that a new player will end up with one of those smaller prizes than the eye-catching 500 spins. It's even possible to win nothing at all, which feels unnecessarily stingy on the casino's part. Speaking of stingy, the wagering requirement attached to all bonuses at Aladdin Slots is x65. That's ridiculous and is reason enough to give the whole casino a miss.
Ongoing Promotions
If you stick around at Aladdin Slots for long enough, you'll start to earn trophies for making deposits, spending money and playing games. Collecting trophies is the best way to get a better quality of promotional offer from the casino. There are ten levels to progress through, with free spins and a spin of the site's "Mega Reel" available at every stage. By the time a player reaches level ten, they may have received as many as twenty thousand free spins, depending on how lucky they were when they span the Mega Reel. Collecting two hundred trophies gains a player entry to the site's "200 Club," at which point an Amazon voucher is awarded, and additional perks become available. The only thing that never changes is the wagering requirement, which continues to suck the fun out of all the promotions at the site.
Not every player will reach the two hundred trophy mark, but there are other promotions to play with if you're one of them. Promotions at Aladdin Slots are chopped and changed regularly, but if you keep an eye on the promotions tab, you'll see new free spins offers, matched deposit bonuses, and other incentives added regularly. Some of them even bring real-world benefits, like getting a free takeaway dinner or more Amazon vouchers to spend.
Aladdin Slots Pros and Cons
Pros: 
Aladdin Slots offers access to a collection of about one thousand slots to choose from, with new games added regularly. 
The casino's trophies system means that long-term play and loyalty are rewarded with increasingly valuable promotions. 
Cons:
No casino should impose wagering requirements as high as x65. It's almost double the average across UK casinos and makes the prospects of ever being able to convert bonuses into withdrawable cash very remote. 
Customer support at Aladdin Slots is dreadful, with email as the only means of contacting the site. 
Featured Slots and Games
You don't have to look very far to find the featured slots at Aladdin Slots – they're right in the middle of the homepage. There's some bias towards new releases in the collection, as they tend to go straight to the top row. The real stars of the show at the casino are the slots that stay in the featured slots collection through popularity alone, and they're mostly very familiar names. 
Eye of Horus: The Egyptian theme is one of the most common among UK online slots, but few Egyptian-themed slots are as popular as this one from Reel Time Gaming. It offers 96.31% RTP and average volatility. Players love it for the way symbols upgrade during free spins, with the least valuable symbol disappearing from the reels after each win. Wild symbols expand even during the base game, which makes winning a little easier. 
Fluffy Favourites: Almost everybody reading this review will have heard of Fluffy Favourites by Eyecon, and most online slots fans will have played the highly volatile 95.39% slots game at least once. It's one of the most iconic slots of all time. Players fell in love with it when it was released in 2007 because of the gang of cute stuffed toys that make up the cast of the game, but the "claw grabber" bonus side game adds to its charm, too. 
Fishin' Frenzy: Big Bass Bonanza might have become more popular than Fishin' Frenzy over time, but Fishin' Frenzy is the slots game that made the fishing theme trendy in the online casino world. A combination of 96.12% RTP and below-average volatility means you'll sometimes be waiting a long time to catch a big win, but the "cash fishing" bonus feature is exciting, and the tranquil theme of the slot is genuinely quite relaxing. 
Deposit and Withdrawal Methods
Like all Jumpman Gaming Limited casinos, Aladdin Slots comes in light in terms of deposit and withdrawal options. Most players are limited to three choices debit cards, Paysafe cards and PayPal. Some players might also be able to make deposits using their phone bills, but not every telecom network supports the function. Only two of those methods (debit cards and PayPal) work for withdrawals. PayPal withdrawals ought to be instant (and are at a lot of other casinos), but no matter which option you choose, you'll be faced with a 72-hour wait for your withdrawal request to be approved. After that, it might still take up to three days for the money to arrive with you. That's just not good enough by modern standards.
Customer Support and License
Aladdin Slots provides poor-quality customer service. We accept that not every casino is capable of offering telephone support, but Aladdin Slots doesn't even offer live chat assistance. The only way to speak to anyone at this casino is by sending the site an email ([email protected]). Aladdin Slots can't promise to respond to any email in fewer than 48 hours. If you have an urgent problem that needs addressing, you're essentially on your own. Much like the withdrawal situation, that's just not good enough for a casino of the 2020s.
The casino operates under a licence from the UK Gambling Commission (39175), which is held by Jumpman Gaming Limited. As we recorded in the Trust Score table above, the operator found itself on the receiving end of disciplinary action from the regulator in 2022 and had to part with half a million pounds to resolve the issue. The same licence covers all of the Aladdin Slots sister sites.
Aladdin Slots – The Verdict
It should be fun to play at an online casino with one thousand online slots to offer. The problem with Aladdin Slots is there are too many factors that get in the way of the fun. The bonuses are rendered worthless because of the wagering requirements they're attached to, customer services are none existent, and withdrawals are excruciatingly slow. There are far better casinos out there in the modern age, and you'll find quicker withdrawals and better customer support at almost all of them.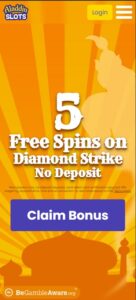 What are players saying about Aladdin Slots?
Here are our condensed/reader's digest summaries of recent player reviews of Aladdin Slots. The reviews are real, but we've edited the comments to keep them brief.
05-Jul-2023 by Davie:
Aladdin Slots won't pay out my £300 winnings. They happily take your money but don't accept my bank statements as proof, which is an utter scam. This site should be shut down for these practices. – source: Trustpilot
01-May-2023 by Joshua:
Aladdin Slots, which is part of Jumpman Gaming, is a scam. It's been 5 weeks since I won £23,000, and they're still stalling. They keep asking for documents I've sent multiple times and take five days to reply. I've opened an account with Resolver, but it's not going well. – source: Trustpilot
31-Jan-2023 by Dan:
I deposited £20 and tried to withdraw £310 at Aladdin Slots. They rejected my Revolut and Monzo statements as proof of address, claiming they don't accept these banks, which isn't stated anywhere. They're just avoiding paying what they owe. – source: Trustpilot
15-Dec-2022 by TA:
Aladdin Slots is a scam site! They won't release your winnings. Avoid them at all costs. – source: Trustpilot
26-Apr-2022 by Kyle:
Aladdin Slots is a scam. They take your deposits but refuse to pay out winnings. – source: Trustpilot
24-Apr-2022 by Lynda:
Aladdin Slots is the worst site I've ever played. They take a lot of money but don't ask for ID until you try to withdraw. Their games are fixed. A complete scam. – source: Trustpilot
16-Feb-2022 by Luke:
Avoid Aladdin Slots, a total scam site. Won £28 in free spins, wagered to £1600, and earned about £350. After completing wagering, they deducted the £350, leaving only £10 as withdrawable. Total scam. – source: Trustpilot
22-Nov-2021 by Rachel:
Tired of waiting for my winnings from Aladdin Slots since early November. Slow email responses and poor communication on Facebook Messenger. You are better off with more reliable sites like Sky Vegas or Coral. – source: Trustpilot
23-Jul-2021 by Lorraine:
I've been waiting over two weeks for my withdrawal from Aladdin Slots. They keep asking for different IDs. Fed up with Jumpman Gaming casinos. – source: Trustpilot
01-Jul-2021 by Jasey:
Aladdin Slots is a scam. Won a little on free spins, then over £200 disappeared from my account after playing another slot and winning over £300. Reporting them for theft. Do not use this casino. – source: Trustpilot
About Aladdin Slots and Jumpman Gaming
Aladdin Slots is an online casino site that is operated by Jumpman Gaming. The aesthetic of the site mirrors the Disney film Aladdin, with imagery of genie lamps and temples littered throughout the site. Like many other Jumpman Gaming sites, the tab at the top calls you back to the site by flashing the messages 'Hey!' and 'Come back' whenever you leave the page. The changing messages are definitely eye-catching but could be quite irritating for some, even if it does make you want to go back. The featured slots are the first section of games on the home page, but at the side, there is a small menu that can take you to trophies, promotions, or all games.
The trophies section leads you to part of the site that shows you your progression and levelling up across the site. Each level that is unlocked gives the player a free spin on the Mega Reel then, after each level you climb, there is a better Mega Reel offered to keep you playing. The top of the home page also shows the most recent big winners and the prize money they managed to win – this is enticing and will make more people want to play in order to be in with a chance of winning too. This site is very similar to most Jumpman Gaming casino sites, with similar layouts and a lot of the same games. Aladdin Slots even has its own page on Jumpman Gaming's site that gives you all the information you need to know about the Aladdin Slots site. Jumpman Gaming, and therefore also Aladdin Slots, is licensed and regulated by the UK Gambling Commission, so it is a trusted and safe site to visit. Jumpman Gaming was created back in 2009 and has a huge portfolio of other casino sites. As well as Aladdin Slots, Jumpman Gaming also owns Amazon Slots, Buffalo Spins, and OK Bingo. Since 2009, Jumpman Gaming has just been expanding and diversifying its brands and sites, so it is now a reliable and well-known company within the industry.
Aladdin Slots Advertising and Sponsorships
Unfortunately, there are no video advertisements available for Aladdin Slots. This may be because the brand of Aladdin is owned by Disney, so it may be tricky for them to create an advert that is visually relevant to the theme of the site. This is one downfall of choosing this to be the theme of the site. While it may be easier to generate a detailed site, if the base it was built off is copyrighted, it will be hard to make any advertisements to go alongside it. On YouTube, there are some videos that have been uploaded by third parties of them playing on Aladdin Slots, but there are no videos uploaded by Aladdin Slots themselves.
Aladdin Slots has also not partnered with any brands or companies, and they have not taken part in any form of sponsorships. This means that it will be difficult to promote themselves to new players, and online casino players will only find it through referrals, reviews or stumbling across it themselves. It would be beneficial for the popularity of the site for Aladdin Slots to take part in some brand deals, but since there are so many sister sites all owned by Jumpman Gaming, it is likely not a priority.
Aladdin Slots on Social Media and More
Without any form of advertising, sponsorships, and not even a YouTube channel, there is only one thing that Aladdin Slots has left – social media. Luckily for them, they are, in fact, running an up-to-date and regularly updated Facebook page. This Facebook page has a decent 2,000 followers, and they have, in the past, posted new and fresh promotions, giveaways, and competitions. The giveaways and competitions are a fantastic way to bring in new players to the site. New players will see this giveaway on their Facebook feed and will likely visit Aladdin Slots to see if they can be in with a chance of winning. It is also useful to have a social media page so regular players can get in touch and voice their concerns about the site if they have any.
As well as the giveaways being shared on the Facebook page, they are also shared on the promotions section of the website. Aladdin Slots seems to give away a lot more prizes than many other casinos out there. In recent months, the prizes have included a Fiat 500, an iPhone 13 Pro, or a Nintendo Switch! This is probably one of the most endearing parts of the Aladdin Slots casino sites, as it is not hugely unique or different in any other way. These prize giveaways, however, will have lots of people choosing to wager their money here instead of somewhere else just to be in with a chance of winning these big prizes.
On a site named Aladdin Slots, you would expect slot games and an Aladdin theme. Bring those two things together, and you have Aladdin-themed games! Sadly, there are only two games on the site that are related to Aladdin, those being 'Aladdin and the Sorcerer' and 'Aladdin's Loot'. Although these games are definitely linked to the story of Aladdin, it would be nicer to see a few more games to really show that this site was dedicated to the theme. Using Aladdin as a theme for a casino site is quite clever, as the magic genie lamp grants Aladdin wishes and brings him luck whenever he is in possession of it. When people choose to gamble, they too are hoping to find luck, so this is a more original theme to use, as many casinos tend to use the lucky Irish four-leafed clover as a symbol of luck rather than something more uncommon, like Aladdin's genie lamp. This theme is seen throughout the site, with the lucky genie lamp appearing many times across the casino site.