Sky Vegas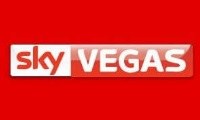 Sky Vegas sister sites include Sky Bingo, Sky Casino, Sky Bet, Sky Poker and others.
Sky Vegas (skyvegas.com) is operated by Flutter Entertainment plc, Sky Betting and Gaming, 2 Wellington Place, Leeds, LS1 4AP.
Sites like Sky Vegas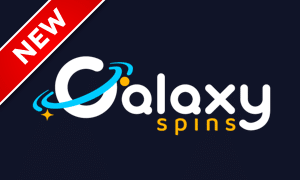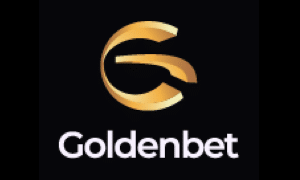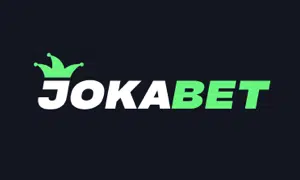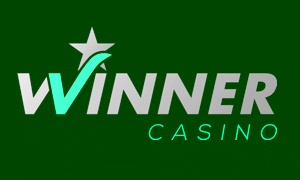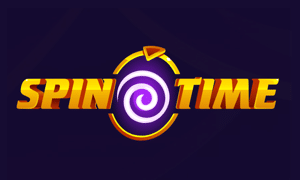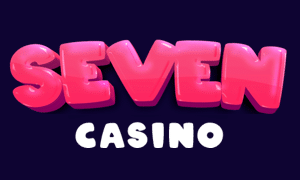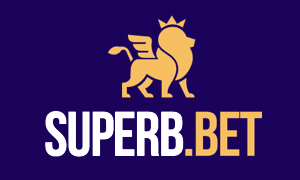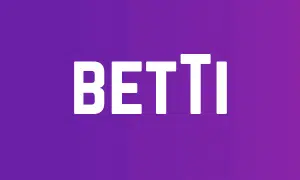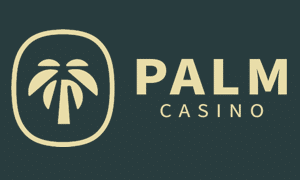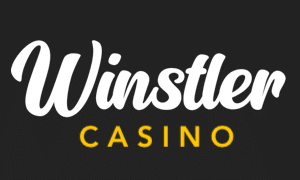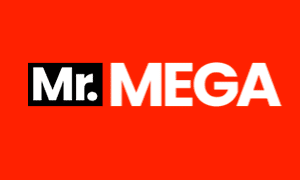 Sky Vegas Sister Sites
Since all of the Sky Betting and Gaming brands are now part of Flutter Entertainment plc, we could have listed several more casino sites here. We could, for example, have listed Tombola, Paddy Power, Betfair and PokerStars. Instead, we've chosen to focus only on the Sky-branded casinos because they're the "true" Sky Vegas sister sites. If you'd like more information about any of the other casinos in the Flutter Entertainment plc family, click the highlighted links.
Sky Bet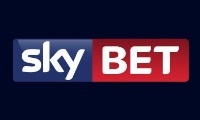 Sky Bet is more than just another sports betting website. For a large number of bettors and gamblers in the UK – especially those who never bet on anything other than football – Sky Bet is "the" sports betting website. It's the only one they ever play at. Sky Bet is arguably the biggest of all the Sky Vegas sister sites and benefits enormously from the fact that Sky television is where the majority of English Premier League football matches are shown. Every time a match is broadcast live, Sky Bet offers odds on it. Even outside the Premier League, Sky Bet directly sponsors the Football League Championship and every professional division below it. You can bet on far more things than just football at Sky Bet, from the odds on the next leader of a political party to your favourite song's chances of winning at Eurovision, but football betting is the backbone of the site and has helped it to become a giant.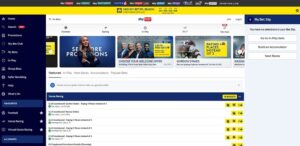 Sky Casino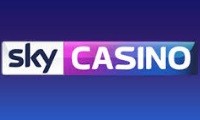 The tone of the Sky Vegas sister sites is generally quite a sober one. With the possible exception of Sky Vegas, the Sky-branded sites are built for those who take the hobby seriously and play because they want to make a return. Sky Bet is a "no-frills" betting site, and Sky Casino somehow manages to strike an even more serious tone than that. Perhaps that's a consequence of the fact that this is the oldest of all the casinos on the Bonne Terre network. It was the success of Sky Casino that made it possible to launch all the other sister sites that have come since then. That same success also allows the casino to offer some hefty incentives and rewards for loyal players, including a VIP lounge and a multi-layered reward scheme. Sky Casino and Sky Vegas occupy a similar space and have a similar focus, but there's a thematic difference between the two. Sky Vegas is where you should go if you want a glamorous, jackpot-driven experience full of ultra-modern slots and arcade-style entertainment. Sky Casino is a little more old-school and traditional – and its players love it for that exact reason.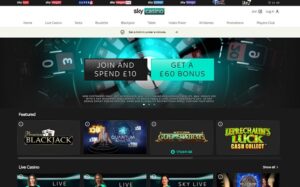 Sky Bingo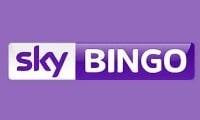 The purpose of Sky Bingo is obvious. Of all the Sky Vegas sister sites, this is the one that wastes the least time in getting to the point. You're here to play bingo, and so you can start doing so within a couple of clicks of landing on the homepage so long as you're already registered. Even registration is a breeze, with an average processing time of under two minutes. Sky Bingo benefits massively from the exposure that comes with being on the Bonne Terre platform, which gives it an enormous advantage over ninety per cent of other UK-based bingo sites. It then retains that advantage by offering great perks like a weekly free bingo room for anybody who's made a deposit within the previous seven days to use. The Sky Bingo Arcade offers access to a small selection of online slots, but you'll still want to come to Sky Vegas if slots are what you're interested in. The slots at Sky Bingo are little more than a distraction from the constant supply of bingo games at the site, which ranges from familiar names like Rainbow Riches Bingo to hidden gems like Potion Shop Bingo. That last one is exclusive to the Sky Bingo site – and it's not the only exclusive room or game you'll find here.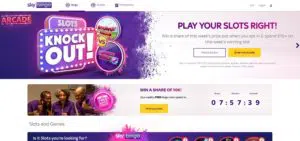 Sky Poker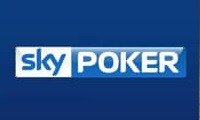 Each one of the Sky Vegas sister sites has a clear purpose. We're at risk of stating the obvious here, but if you want to play bingo, you should go to Sky Bingo. If you want to play old-school and classic casino games, Sky Casino is your best option. If you like what you find at Sky Casino but wish it had something a little more modern or edgy, that's when it's time to move to Sky Vegas. Sky Poker is there for when none of those things apply because you just want to play competitive, big-money card games against your peers. This is one of the biggest poker sites in the UK, and it won't hesitate to remind you of that as often as possible. The design of Sky Poker is a little dated, which is strange for a Bonne Terre site, but it doesn't detract too much from the overall quality of what's on offer here. If you want to dive headlong into tournaments, you're welcome to do so. If the game of poker is new to you and you're a little worried about getting schooled by a seasoned pro, you might want to start in the academy instead. There's even a forum section to chat with your fellow players away from the tables, so you might even make a few friends at Sky Poker. If you do, you're more likely to keep coming back to the site. We're fairly sure that's why the forum is included.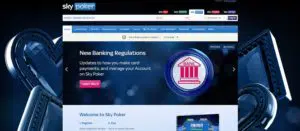 Sky Vegas News
: Sky Vegas has just got its hands on "Deal Or No Deal The Big Hit Megaways," a dynamic new slot game by Blueprint, which is available only at this casino until December 10th. This game, inspired by the iconic TV show "Deal or No Deal," combines the thrill of the show with the excitement of Megaways mechanics, offering players up to 117,649 ways to win on a 6×7 grid. With a medium variance and a maximum win potential of x25000, this slot promises to keep players on the edge of their seats. The game features a Bonus Trail that evolves with every spin, adding an element of surprise to each game. Players' progress on this trail is determined by winning cascades, each pushing them one step closer to unlocking incredible bonuses. "Deal Or No Deal The Big Hit Megaways" is more than just a slot game; it's a high-stakes adventure that combines the suspense of the TV show with the innovative gameplay of Megaways.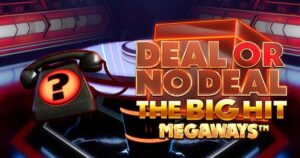 As we enter December, Sky Vegas is bucking the trend of adding Christmas-themed slots by introducing this exciting game. The 10-day exclusivity period at Sky Vegas highlights the casino's commitment to offering unique and engaging gaming experiences to its players. The game's RTP is set at 92.5%, and it includes features like additional free spins, avalanche/cascading wins, a bonus game, bonus symbols, free spins with multipliers, and a mystery symbol. The branded theme, along with objects and genres related to the TV show, enhances the immersive experience. "Deal Or No Deal The Big Hit Megaways" is a standout addition to their slot game collection.
: This week, it seems that Sky Vegas has made a significant impression on OddsChecker, a platform traditionally focused on sports betting. OddsChecker says that this Black Friday, Sky Vegas stands out with its enticing offer of 50 Seriously Free Spins for new users, with no deposit required. This offer is applicable to a variety of popular games, including The Goonies – Jackpot King, Eye Of Horus, Fishin' Frenzy, and several others. Additionally, Sky Vegas ups the ante by offering an additional 200 free spins upon a £10 deposit, further enhancing the appeal of their already attractive selection of jackpot titles. This move by Sky Vegas not only demonstrates their commitment to providing value to their customers but also showcases their ability to create offers that resonate well with the gaming community.
The coverage by OddsChecker, a site known for its focus on sports betting odds, highlights the growing appeal and significance of online casinos in the gaming industry. The fact that Sky Vegas and other casinos have caught the attention of such a platform indicates a shift in the landscape, where online casinos are increasingly becoming a central part of the gaming world. This development is a testament to the innovative approaches and competitive offers that online casinos like Sky Vegas are bringing to the table. As the industry evolves, it's clear that platforms like Sky Vegas are not only adapting but are also setting new standards in the world of online gaming, making them a noteworthy player in this ever-changing domain.
: Sky Vegas is proud to announce an exclusive new addition to its slot game collection: "Perfect Peacock Coin Combo" by Light and Wonder. This game, available only at Sky Vegas for a limited time, showcases the casino's significant influence in the industry, a testament to its ability to secure exclusive gaming content. "Perfect Peacock Coin Combo" is a visually stunning slot game inspired by the elegance of peacock birds and the richness of Chinese culture. It features a 5-reel, 3-row layout with 243 pay lines and an RTP of 96%. Players can start their adventure with a minimum bet of £0.22, going up to an oddly specific maximum of £60.88 per spin. The game is adorned with three coloured bowls atop the reels, each corresponding to different Element Coins that land during the base game. These coins accumulate in their respective bowls, triggering various features and Jackpots, adding layers of excitement and potential rewards.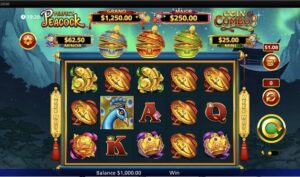 One of the unique aspects of "Perfect Peacock Coin Combo" is the Red Mystery Envelope Bonus, which can randomly trigger during the main game, offering players cash prizes based on their bet level. This feature, along with the game's high variance and the potential for a maximum win of up to 30,300 times the stake, makes it an exhilarating choice for players at Sky Vegas. The game's dynamic gameplay is enriched with numerous features, including Bonus Game, Bonus symbols, FreeSpins, Pot Collection, RTP range, and Wilds, ensuring a diverse and engaging experience.
: Sky Vegas is currently showcasing "Stacked Fire 7s" as its most popular new slot game this week, a title that's reigniting the love for traditional slot themes among players. Developed by Inspired Gaming, Stacked Fire 7s is a classic fruit-themed video slot that combines the nostalgic charm of retro fruit machines with modern gaming features. Launched in March 2020, the game is set on a 5×4 reel with 40 fixed paylines and boasts a fiery design reminiscent of Inspired Gaming's earlier release, Super Fire 7's. The game's symbols, including the high-paying double Fiery 7's and traditional Golden Bells and Fruit Symbols, are all stacked on the reels, enhancing the potential for big wins. The game's simplicity is its charm, offering straightforward slot action with the excitement of stacked symbols in both the base and free spins rounds.
The game's appeal lies in its blend of simplicity and potential for high payouts, especially in the Free Spins feature, where only the high-paying seven symbols appear. This medium to high volatility slot has a Return To Player of 95% and offers a maximum win of up to 2500 times the bet. The inclusion of a Gamble Feature adds an extra layer of excitement, allowing players to gamble their winnings for a chance to double or triple them or trigger the Free Spins Bonus. Despite its basic sound effects and an RTP that could be higher, Stacked Fire 7s is proving to be a hit at Sky Vegas. Its popularity underscores the enduring appeal of slots with traditional themes, offering a blend of nostalgia and modern gaming to both new and seasoned players.
: PlaySunny Casino is yet again brightening up the iGaming scene with the latest addition to its iGaming roster, Tetris Slingo. This innovative game, developed by Slingo Originals, marries the iconic puzzle game Tetris with the bingo-style action of Slingo, creating a unique and engaging experience. With an RTP of 94.07%, Tetris Slingo offers a 5×5 playing field and the chance to place bets ranging from £0.20 to £100. The game stands out with its cluster pays and is designed to be fully responsive, ensuring that players can enjoy the action on any mobile device. The nostalgic appeal of Tetris, combined with the modern twist of Slingo, could indeed prove to be a winning formula for PlaySunny.
The game's retro design and straightforward rules are a nod to the classic era of gaming, yet it promises to deliver a fresh and dynamic experience with features like additional free spins, scatter symbols, and wilds. The inclusion of Tetris Slingo in PlaySunny's collection is a strategic move, likely to attract both long-time fans of Tetris and new players looking for an inventive gaming experience. As PlaySunny continues to expand its selection with games that evoke a sense of nostalgia while providing modern gameplay mechanics, Tetris Slingo is poised to become a favourite among those who appreciate a touch of retro in their gaming sessions. It also makes us wonder what's next for Slingo games. We've seen Slingo Space Invaders and Slingo Tetris – could Slingo Pac-Man be on the horizon? If so, count us in!
: Who says you need to be a sports betting site to cash in on the adrenaline-pumping action of a big-money fight? Sky Vegas has found a clever way to get in on the excitement surrounding this weekend's Tyson Fury vs Francis Ngannou bout. And let us tell you, it's a knockout deal. Here's the scoop: Sky Vegas is offering a promotion where you can earn free spins based on the outcome of the fight. Opt-in, stake £10 on selected Sky Vegas games, and you could win 10 Free Spins if Fury triumphs, 30 Free Spins if Ngannou emerges victorious, or even 50 Free Spins if it's a draw. The spins are valued at 10p each and come with no wagering requirements. Plus, they'll be credited to your account by 5pm on Sunday, 29th October. The promotion runs from 10:00 on Thursday, 26th October, until 21:59 on Saturday, 28th October. The free spins can be used on a selection of popular games like 'King Kong Cash Go Bananas Jackpot King' and 'Diamond Mine 2'. And if the fight gets cancelled or postponed? No worries! You'll still get 5 Free Spins as a consolation prize.
It's a brilliant move by Sky Vegas, leveraging the buzz around a major sporting event to engage its casino audience. And let's be honest, who wouldn't want to spin the reels while keeping an eye on the ring? It's a win-win, no matter which way the fight goes. So, if you're looking for a way to make this weekend's fight even more thrilling, Sky Vegas has got you covered. Just remember, the clock is ticking, and the offer is only available until 30,000 claims have been made or until the end of the promotional period. So, get in there and take your best shot!
: If you've been paying attention to the news this week, you might have seen that Flutter Entertainment Plc, the parent company of the Sky betting brands, has found itself in a bit of a pickle. The Advertising Standards Authority (better known as the ASA to many) has given Sky Bet a yellow card, banning a tweet featuring Gary Neville. The tweet, which was part of a promotion for The Overlap football podcast, was deemed to have "strong appeal" to under-18s, thus breaching advertising rules. Sky Bet argued that Neville's appeal to the younger crowd was minimal, given that his glory days at Manchester United were over 30 years ago, and so any young fans he had then are well into adulthood now. However, the ASA wasn't having any of it, pointing out that Neville's social media following includes a significant number of under-18s.
Now, why does this matter for Flutter Entertainment and its other brands like Sky Vegas? Well, a foul in one part of the pitch can affect the whole game, can't it? Negative publicity for one brand could easily spill over to the others, especially in the age of social media, where news travels faster than a Cristiano Ronaldo sprint. Flutter Entertainment has expressed its disagreement with the ASA's decision and is considering asking for both an appeal and an independent review. But for now, it's a cautionary tale for all of Flutter's brands: tread carefully in the advertising arena or risk getting sent off. We presume the next advertising campaign for Sky Vegas will be adjusted accordingly.
: In news that further cements Sky Vegas' status as one of the UK's top iGaming platforms, the casino has been featured in a comprehensive bonus guide by The Telegraph, one of the UK's most respected newspapers. The guide focuses on the best no-wagering casino bonuses available in the UK for October 2023. Sky Vegas's new customer offer is highlighted as one of the most attractive in the industry. The offer is a no-wagering, no-deposit bonus, which means new customers don't have to deposit any of their own money to unlock the bonus. Specifically, Sky Vegas offers 50 free spins with no wagering requirements, each worth 10p, totalling a value of £5. What's more, there's no win cap, allowing you to withdraw any money you make from these free spins directly into your account. If you decide to deposit and wager £10, you'll unlock a further 200 free spins, also with no wagering requirements.
Being mentioned in such a reputable publication as The Telegraph not only adds a layer of credibility to Sky Vegas but also exposes the brand to a wider, more discerning audience. This is particularly beneficial in a saturated market where standing out is crucial for attracting new customers and retaining existing ones. The no-wagering feature of their bonus offer is a strong selling point, making it easier for Sky Vegas to compete effectively in the online casino landscape. So, what does this mean for Sky Vegas? Well, it's a significant endorsement that could lead to increased customer acquisition and brand loyalty. After all, who wouldn't want to take advantage of such a generous offer, especially when it comes with the stamp of approval from a trusted source like The Telegraph?
: There aren't any new promotions at Sky Vegas this week, but there is a promotion that you're about to lose access to forever if you don't act quickly! As of the time of writing, there are only six days remaining on the "Stake £20 and get 20 Free Spins" promotion at Sky Vegas. The promotion has proved to be a popular one because of the way that it brings slots and live games together in a single promotion, and it couldn't be any simpler to use.
Anyone who wants to take advantage of this promotion before it's removed must ensure they click on the "take part" option when making their qualifying deposit. To get your free spins, stake £20 on either Crazy Time or Everybody's Jackpot Live between now and midnight next Thursday. Your twenty free spins will then be credited immediately and can be used on either Fishin Frenzy: Even Bigger Catch or Diamond Mind 2 Megaways. There are no wagering requirements attached to those spins, so if you pull any winnings out of your chosen slots game with the bonus, your prize is delivered as real money and is immediately eligible for withdrawal. Terms and conditions don't come much fairer than that, which is all the more reason to make use of the promotion before it disappears.
: Getting a mention from the Daily Telegraph is generally a bigger deal for an online casino than getting a mention from The Sun, because the Daily Telegraph is more high-brow and doesn't cover iGaming news very often. It's happy to dip its toe in the market with a (presumably sponsored) piece every now and then, though it's done it this week with an article on its website about the best no-deposit casino bonuses in the UK for September 2023. The article was written by Connor Whitley, who probably didn't do a great deal of research before hitting the "publish" button. The idea is that the article provides details on the hottest and newest no-deposit casino bonuses available to players in our domestic market, and if you know about the promotions at Sky Vegas, you can probably already guess where we're going with this.
According to Connor, the best no-deposit free spins promotion is the fifty no-deposit free spins offered to all new players by Sky Vegas. The article correctly points out that players have twelve different slots to choose from to play their spins out on and that there aren't any wagering requirements attached to the spins. That's all factual information. The issue is that the Sky Vegas welcome promotion is anything but new – it's been the top welcome promotion at the casino for a very long time. Still, though, there's never anything wrong with reminding players of that fact – especially in a publication as notable as this one.
: Some casinos only belong to the digital realm. Others only belong to the physical realm. There are cases – Grosvenor Casino, for example – of casinos that straddle the two. Sky Vegas has always been a digital-only iGaming brand, as have all the Sky Vegas sister sites other than Sky Bet. That very briefly changed last weekend when a pop-up Sky Vegas casino appeared in London. So, was this a gimmick, or was this Sky Vegas dipping its toes in the water ahead of a possible real-world launch of the brand?
The Sky Vegas pop-up went by the name of Sky Vegas Live and was produced by Fab Lab, Premier and Krow. They're all marketing agencies, and the fact that so many marketing agencies were involved in this makes us think that it's more likely to have been a publicity stunt than anything else. However, if any online casino brand could gain traction in the UK with physical venues, it's Sky Vegas. The brand has been around since 2003 and is one of the best-known iGaming sites in the country, with thousands of regular players. It's a name that UK-based gamblers know and trust, and plenty of players would happily play in real-world Sky Vegas premises if the opportunity presented itself. Whether any such opportunity will ever present itself again is another matter – we only heard about this one after the event. We'll try to do better next time, but stealth appears to have been one of the goals of the exercise.
: Sky Vegas is in hot form for attracting exclusive titles recently, and it's done it again this week with a real star attraction – the long-awaited Diamond Mine 2 Megaways from Blueprint. The original Diamond Mine was one of the biggest Megaways hits Blueprint has ever had, so expectations for this one are high. The slot looks and plays a lot like Bonanza Megaways, which isn't really a surprise since it uses the same mechanics and the same theme. We think that the reels and the layout could be a little tidier than they are, but that doesn't necessarily get in the way of gameplay.
What sets Diamond Mind 2 apart from its predecessor is that the mystery symbols of the original are now available in the base game and during all other stages of the game – not just in the bonus features. That's an extra bit of spice for every spin. Another innovative feature is the free spins multiplier guarantee, which ensures that free spins will continue until the promised multiplier level is hit. That means you'll spend the whole feature hoping that you don't move on to the next active multiplier level, which might be a first in the history of online slots. The only real weakness is the RTP, which comes in below average at 95%. The maximum possible win in this slots game is x10,000 against stake, and if you're playing outside the UK, you can take an ante bet option for a 20% boost.
: We've noted in the past that Sky Vegas is treated as a "star brand" by the companies that make slots and casino games. Such is the high profile and prestige of Sky Vegas (and, to be fair, the Sky Vegas sister sites) that plenty of providers are willing to let the casino have their new creations on an exclusive basis for a while before they're released to a wider audience. Sky Vegas has had that pleasure again this week, as it's currently the only online casino in the UK where players can play Coba Reborn by Elk Studios.
You only need to see the logo or the reels of Coba Reborn once to understand that this is a slots game all about snakes, particularly cobras. We haven't missed a letter in the spelling of the game, though; it's called "Coba Reborn" rather than "Cobra Reborn," and we're not sure why. Elk Studios has form for this, though, as the slot is a sequel to a 2022 release, which was simply called "Coba." It's a very complicated cluster-pas slot that incorporates a few aspects of snakes and ladders into its design and should perhaps be viewed with suspicion because of its high volatility and 94% RTP, but we have no doubt that it'll find fans. The other exclusive game at Sky Vegas this week is called "Sky Vegas Hot Offer Deluxe," but we're not sure that a self-branded game really counts as an "exclusive" in the same way that Coba Reborn does.
: On paper, there have been three new slots games added to Sky Vegas within the past seven days. In reality, though, there's only one of them we'd be happy to call genuinely "new." That new slots game is the delightfully-titled 800 Pound Gorilla, which is so new that we can't even verify which provider the game comes from. We suspect that it might be exclusive to Sky Vegas, which isn't unheard of at this casino. It's a complex creation with a 4*1 reel and a 5*4 reel set lined up next to each other and interacting as the game goes on and includes a stampede feature, re-spins, multipliers and free spins. The RTP is a little lower than we've come to expect in the modern era, though, and is set at 94.35%.
The reason we're not looking at the other two new additions as truly "new" slots is that they're both sequels to long-running series – and they're series that are getting a little long in the tooth. One of them is Big Bass Amazon Xtreme, the latest in what feels like a thousand unnecessary variations on the original Big Bass Bonanza by Reel Kingdom, and the other is Gold Cash Free Spins Megaways. The whole point of the original Gold Cash Free Spins is that it's a very simple game, so why someone felt like it would be improved by stretching the formal across the Megaways system remains to be seen. That's only our opinion, though – yours may differ, and if it does, the slots are available to play at Sky Vegas immediately.
: Very few people remember this now, but when Sky Vegas first launched way back in 2003, it only offered three games. The online betting and casino world has changed beyond almost all recognition since then, and so has Sky Vegas. There are now hundreds of great games to enjoy at this Flutter Entertainment casino, but even with that said, Sky Vegas has never had as large a portfolio of games as, for example, PlayOJO or JackpotJoy. Nor, for that matter, have any of the Sky Vegas sister sites. Perhaps that's beginning to change. Sky Vegas – or rather the company that runs it – has been signing up new provider after new provider in recent months. This week, it was the turn of Design Works Gaming, better known as DWG.
The new deal will see DWG's games become available at both Sky Vegas and Sky Bingo, but apparently not Sky Casino. Examples of slots and games included in the package include the "Lucky Tap" series (Test Your Strength, Break the Bounty, Flippin Rich and more), which are designed specifically for players on mobile phones and are novelties more than they are serious gambling games. According to DWG, the purpose of the exercise is to expand the company's presence in the UK. If that's the objective, the company could scarcely have chosen a better brand to partner with. Sky Vegas is one of the UK's top casino sites and has been for many years. The games are available immediately if you're interested in trying them.
: One day, the market for fishing-themed online slots and casino games is going to reach the point of absolute saturation, and people will stop making them. The Fishin' Frenzy and Big Bass Bonanza slots have the market more than covered, but that doesn't stop other providers from trying to get involved. We can see this on the homepage of Sky Vegas this week, where "Big Catch Bass Fishing" is listed as one of the casino's hottest new games. We're not sure how Blueprint even managed to persuade Sky Vegas to take the slots game with a name so obviously "inspired by" Big Bass Bonanza, but we think we might know what's got players at Sky Vegas so excited by it – the £3m progressive jackpot pool that it's attached to.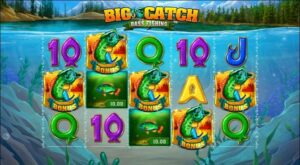 It's a good job that Big Catch Bass Fishing has such a massive potential jackpot pool attached to it because it doesn't have much else going for it. If there's one thing we've come to expect from Blueprint, it's slots with fantastic graphics and innovative bonus features. Big Catch Bass Fishing doesn't provide us with either of those things. The graphics in the slot are colourful, but they're a little basic. We like the upgradeable symbols in the free spins feature, but they're nothing new. In general, it feels more like a tribute to the other fishing-themed slots in the genre rather than anything innovative, and that's not like Blueprint. It would be a fair enough slots game from almost any other provider, but we have higher expectations of this one.
: Is there any such thing as bad publicity? We'll let you make your own mind up on that topic by the time you've finished reading this news update. During the past seven days, the name of Sky Vegas has been attached to a story in the press that the brand's owners would rather it hadn't been. In the Isle of Man, a 38-year-old woman called Jennifer Cowie has been convicted of fraudulently claiming more than £8700 in benefits. Her claim hadn't been fraudulent when she first made it in early 2021, but soon after, she began receiving money from two former partners. She also failed to declare that she had money in a separate Barclays account and more money in a PayPal account.
By this stage, you're probably wondering where the Sky Vegas connection comes in. The answer is that it relates to the PayPal account. Cowie's defence lawyer claimed that not all of the money in her PayPal account should be reclaimed by the state on the grounds that she'd won some of the balance playing at Sky Vegas, thus ensuring that the Sky Vegas name appeared in every newspaper that picked up on the story. While Sky Vegas will obviously be unhappy that someone was playing at its website with stolen benefit money, if there's an upside here, it's the fact that it seems the casino can at least be relied upon to pay out if people win, no matter whether or not those people actually deserve their winnings.
: Light & Wonder isn't the biggest online slots or casino games developer in the business, but it's a provider with a growing reputation. Based on the news that's come out in the past week, it looks like Light & Wonder is ready to take things to the next level. The company has always had a close relationship with the Sky Vegas sister sites, and so Sky Vegas and Sky Bet have been chosen as platforms for the exclusive launch of a brand new live game based on the provider's enormously popular 7s on Fire slots game. Slots fans will know that 7s on Fire is a classic-themed game, so it's not an obvious choice to make the transition to a live format. That alone is likely to pique the curiosity of players, as they'll be eager to know how the new game works.
7s on Fire Live has been developed by Authentic Gaming, which is a relatively new subsidiary of Light & Wonder. On July 19th, Gaming Intelligence broke the news that the game will become available on both Sky Vegas and Sky Bet for a two-week period of exclusivity beginning immediately. Following those two weeks – and assuming that all goes well – the game will receive a wider release. The markets reacted positively to the news, with shares in Light & Wonder Inc gaining 1.21% on NASDAQ immediately after the news broke. Hopefully, the game will be as good as all the hype makes it sound, and Light & Wonder will have another hit on its hands.
: We appreciate Sky Vegas for trying to give us something new each and every time we visit the casino. However, we sometimes find ourselves wondering just how "new" some of the slots and casino games that wear the "new" tag on the Sky Vegas homepage actually are. This week, we're asking ourselves that question more than ever because "Crazy Time" is sporting the "new" tag smack bang in the middle of the Sky Vegas homepage. We can think of a lot of words to describe Crazy Time with – most of which are complementary – but "new" isn't one of them. It's one of the most famous live game show titles in the iGaming business, but it's been around for several years. We appreciate that it might be new to Sky Vegas, but that's not the same thing as claiming it to be genuinely new.In terms of recent additions to Sky Vegas that can genuinely be classed as new, we have Golden Winner and Cygnus 3. The former is a delightful throwback of a slots game from Inspired Gaming, offering fruity visuals on a five-reel, three-row slot that comes with 94.5% RTP and average variance. The cash collector mechanic in the free spins feature is by far the best thing about Golden Winner. For Cygnus 3, which comes from Elk Studios, things are a lot more complicated. It's a massive 6-4 slots game with a cluster pays system and more than four thousand ways to win. RTP is 94%, and while the provider claims that Cygnus 3 is slightly above average when it comes to volatility, we're inclined to think that it's probably very volatile indeed.
: Sky Vegas' operating company, Flutter Entertainment, has made a big announcement this week via their blog page. They have announced this week that Sky Bet (operated by Flutter and sister site to Sky Vegas) has signed a five-year deal with the English Football League that will continue their League title partnership. This partnership is an amazing promotional opportunity for the Sky brand, as they feature on all promotional material for the Championship, League One, and League Two, as well as featuring on all of the sleeves of players in these divisions. The Championship, in particular, this year is sure to be an exciting watch, with some of the biggest names in English football featuring in it, such as former Premier League giants such as Sunderland, newly relegated Premier League main stays like Leicester, and newly promoted sleeping giants such as Ipswich Town. This is great news for Sky Bet, as they continue their partnership with the English Football League which is sure to be great for their brand, as well as their operating company and sister sites such as Sky Vegas.
Looking over at the Sky Vegas site now, they have added some new games to their site this week, one of these being Reel Kingdom's Big Bass Amazon Xtreme. Big Bass Amazon is one of the biggest games in the slot gaming world, so it is great to see another addition to the series. This game is played on 5 x 3 reels with ten paylines. It has a max win of x10,000 your stake and an RTP of 96.07%.
: This week, Sky Vegas' operating company announced on their blog site that they would team up with online gaming industry leaders to launch the Quebec Online Gaming Coalition. The Quebec Online Gaming Coalition is an industry-led organisation that is committed to working alongside the Quebec government as well as local shareholders to create a new regulatory framework for the iGaming industry. It seeks to tackle increasing concerns about consumer safety, responsible gaming, and advertising. It is great to see operators such as Flutter work alongside local governments to make sure they can protect players from any harm in the iGaming space, allowing them to provide a service that seeks to bring a positive gaming experience. This is a new coalition created by Flutter, so we will keep readers updated on any more news we hear about it here.
Over at the Sky Vegas casino site, they have launched a new promotion for players to get involved with this week, which is the FA Cup Free Spins promotion. This promotion allows players to get five free spins for every goal scored in the FA Cup Final between Manchester City and Manchester United. To take part, players need to click the "take part" button during the promotional period and stake £20 on the selected qualifying games over at Sky Vegas. It is important to note that these free spins will be credited at 5pm on Sunday, 4th June 2023. The FA Cup final is sure to be a great football match, so it is great to see Sky Vegas create a promotion to go alongside it!
: Sky Vegas' operating company Flutter Entertainment have had a big week this week as they have found themselves in multiple news headlines. The first of which comes from a statement that Flutter put on their own news site, which they were addressing and confirming that they have been fined £490,000 by the UK Gambling Commission for sending out promotional notifications to devices linked with Paddy Power to players who had opted out of such emails. In this statement, they held their hands up, apologised, and admitted to this happening, stating that this was a mistake on their end and that they tried to fix the situation as soon as they were aware this had happened. This is a big mistake, as it could have had a bad impact on players who may be struggling with bad playing habits, so it is good to see them taking accountability, and hopefully, this mistake is not made again.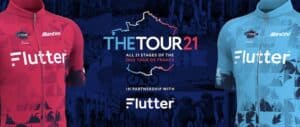 Moving onto more positive Flutter-based news, they have announced this week they will be the headline partner of Cure Leukaemia's Tour 21. The Tour 21 is an amateur cycling event that takes place a week before the Tour De France, and all profits go towards the Trails Acceleration Programme network, which provides lifesaving treatment for over 20 million people that cannot be accessed through standard care. It is great to see Flutter getting involved with such an honourable cause as their main sponsor, putting light on a very good charity. We hope to report on more stories like this in the future.
: If you enjoy the Sky Vegas sister sites using Sky Broadband, you may want to pay attention to the article posted by The Express Online on May 15. The article warned readers that time was running out on their chance to slash their broadband bills by taking advantage of some of the monthly discounts available. Sky Broadband users won't need to compromise on internet speeds; the price-cut promotions apply to packages involving some of the fastest internet speeds ever provided by the broadband brand. The promotional window will close on the 18th of May; until then, new and existing users of the broadband packages alike can shave up to £10 off their monthly bills.
For an idea of how generous Sky Broadband is being with its price slashes, the Gigafast service will give you a download speed of 900Mbp. For perspective, those download speeds will allow you to download full HD films in as little as 40 seconds. Gamers who opt to download games directly to their consoles will also drastically benefit from those 900Mbp speeds; a new PS5 game, which consists of 50GB, could be ready to play in as little as 10 minutes. Impressively, those download speeds are 10x faster than the average speeds in the UK. For a limited time only, this Broadband plan will cost £53 instead of £58. There are even bigger savings on the Sky Ultrafast Broadband packages, which are available for just £30 and the Superfast Broadband option, for just £25 a month.
: Sky Vegas is sometimes one of the quieter Sky-branded iGaming sites in the media. The same cannot be said for one of the most prominent Sky Vegas sister sites, Sky Bet, who are continuously in the media for their highly alluring odds on upcoming sports fixtures. This week, ahead of the World Snooker Championship, the sports news platform, Squawka informed its readers of how they could deposit and wager a minimum of £5 before receiving £20 in free bets. Of course, as usual, this promotion is only available to new members at Sky Bet, but there are a fair few other incentives to keep existing players regularly betting at Sky Bet.
After outlining all of the necessary information on how to qualify for the free betting tokens and what kinds of terms are attached to the free bets, the writers continued to outline just how hotly anticipated the Snooker Championship is in its 2023 installation. The tournament will see the top 16 snooker players from across the globe all converging for the tournament, which started on April 15, and will wrap up on May 1st. There is £2.4 million on the line for the winner, who is expected to be Ronnie O'Sullivan; in 2022, he celebrated his seventh victory, and in 2023, he is expected to strike it lucky once again. If you share the same optimism as the Snooker tipsters at Squawka, there are some incredible odds at Sky Bet that will give you a great return. Of course, you will get an even greater net return if you place that wager with the £20 in free bets.
: This week, Sky Vegas didn't get as much love as one of its far more popular sister sites, Sky Bet, which is understandable given how irresistible the offer extended to Grand National bettors was. On April 14, the sports news website, Live Darts, which covers far more sports than what its name alludes to, shared the Aintree Festival Free Bet Offer that is available to all new members. Aintree Racing offers from online bookmakers seem to be going one of two ways; they either offer a free bet worth £10 – £30 after a minimum deposit and wager, or they give new members the chance to recoup their losses if their first bet isn't a winner.
For Sky Bet, it was the former option; the Sky-branded sportsbook allowed its new punters to bet £5 and get £30 in free bets. But that was far from the only incentive to get cosy with Sky Bet for the course of the hotly-anticipated steeplechase festival. The non-runner no-bet deal is a valuable guarantee that if the horse you have placed your faith in and your money on doesn't enter the race on the day, for any given reason, your wagered money will be returned to you – no questions asked. While it would have been better if the sportsbook paid your refund in the form of cash, you can only expect to see a free bet token for the same value come back your way. Other perks of Sky Bet include ACCA insurance and best odds guarantees.
: On April 3, The Universe News Network website zoned in on the no-deposit welcome deal that is currently open to all new brand-new players at the Sky Vegas sister sites. Before you invest anything in the well-known, revered and trusted website, you will receive 50 bonus spins, so that you can get a feel of the site before you use any of your own funds to enjoy the digital Vegas experience. The article that mostly promoted the newbie deal had no shortage of praise for other aspects of the site; the fact that the platform has partnership contracts with some of the best software providers was a major selling point.
Furthermore, when you feel ready to deposit and stake a minimum of £10, you will receive 200 more bonus spins. To avoid missing out on the 200 free games, ensure that you make your first deposit of £10 within 30 days of registering your new account. Unlike the majority of other online casinos that lavish you with bonus spins when you first start giving them your custom, Sky Vegas doesn't put a dampener on the deal by making it impossible for you to keep or spend your winnings – the wagering requirements and win caps aren't a part of the shady terms and conditions. However, you may have to wait for up to 72 hours to see your no-deposit free spins. As you have plenty of free games to use, the site was kind enough to provide a long list of eligible games to try them on.
: If you have always wanted to play the role of a bigshot oil tycoon but never wanted to get your hands dirty, the new online slot game that has launched across the Sky Vegas sister site network this week, Oil Tycoon, will allow you to live vicariously, while giving you the chance to earn a chunk of a tycoon's wages! The 4096 pay line game comes from Core Gaming, and while it isn't an overly complex game in terms of features and reel modifiers, every bonus feature is worth its weight in gold. If you get really lucky while spinning this bright but oily set of reels, you could bank one of the five supercharged jackpots! In the main game, the mystery symbols will do their fair share of work helping you to form big line wins, but the action becomes even sweeter in the free spin bonus game, where you will be spinning with a FS multiplier.
Until the 2nd of April, Sky Vegas is giving all its members the chance to take part in the massive £10k giveaway. A £10 wager is all it takes to enter the competition and earn one entry, but there is nothing getting in the way of you earning multiple entries. To make the promotional offer even sweeter, there is also a selection of half-price ticket games; if you opt to wager on these titles instead, you only need to spend £5 for an entry. The half-price ticket games include the hit titles Everybody's Jackpot Live, Crazy Coin Flip, Crazy Time and Monopoly Live.
: Regardless of your taste in online slot games, everyone with any awareness of the video slot game world can agree that few iGaming developers in the Western slot landscape can rival Play N Go. So it was a pretty big deal when The World Casino News Directory disclosed that the Sky Vegas sister sites have finally signed a partnership contract that will see the developer's content available on the platform. For now, this new contract only means that the UK arm of Sky's gambling and betting brands will get to platform the content, even though the iGaming developer is already operational in 25 other jurisdictions globally. For the first time, members of Sky Vegas will get to test their luck on titles such as Boat Bonanza, Book of Dead and Reactoonz. A regional director for the slot developer stated that the new alliance is an incredibly exciting and promising prospect, due to how it is joining together two major brands with a forward-thinking and agile business model. Isn't it funny how in the wake of such deals, spokespeople always have an incredibly cookie-cutter response to share with the public?
The head of content for Sky Betting, which also covers Sky Bet, Sky Casino, Sky Bingo and Sky Poker, Eamonn Beardsley stated that Play N Go has been a major part of the Flutter family for a considerable amount of time now, so it was this pleasure to bring the developer under the Sky Betting umbrella, which is thriving as discerning casino players flock to the site for the games, bonuses, and the overall feel of the first-class site.
: If you have never registered with any of the Sky Vegas sister sites and are on the hunt for a rewarding new sportsbook, now is the time to throw your details onto the Sky Bet platform – especially if you want to see some returns from the Cheltenham Festival. On March 8th, the website Live Darts shared a juicy offer from Sky Bet, which gave new customers the chance to bet on everyone's favourite horse, Constitution Hill, to win the Champion Hurdle at 40 / 1. It is a bit of a slap in the face for customers that have been with Sky Bet for a while that those boosted odds are only available to new customers, but there is a slight catch. If Constitution Hill wins, the wins won't be paid in cash like an ordinary bet. Instead, the winnings will be free bets. However, as the minimum wager is £1, it is a great opportunity to gain 4 x £10 free bet tokens.
The downside to this promotion is that it seems to be in place of a free bet offer. The return is generous if Constitution Hill wins the Champion Hurdle, but on the off-chance that he loses, there isn't much to gain. The free bets will be credited within 72 hours of the bet being settled; once they are in your account, they can be used on a variety of betting markets; one of the only exclusions that apply is that you can't spend the free bets on virtual races or matches.
: Sky Vegas sister sites, such as Sky Bet, are often much more successful in accruing press, which was the case this week after Racing Post covered the best sports betting sites to bet with in 2023. Eight online sportsbooks were named, and Sky Bet came midway down the list, but Racing Post discernibly didn't struggle to find good things to say about the online bookmaker. After introducing a few of the other platforms that are overseen by Flutter Entertainment, including Sky Poker, Sky Bingo and Sky Casino, Racing Post began to outline the unique selling points of Sky Bet. Usually, sportsbooks will pour most of their effort into staying in uniform with each other, it isn't all too often that a unique feature appears. Thankfully, that isn't the case at Sky Bet with Soccer Saturday Super 6, which is a fun, free and lucrative football prediction game that is available to use every Saturday.
The highlights of the sportsbook include the choice of over 40 sports in addition to non-sport markets, promotions available to sports bettors, and its unrivalled betting markets, odds and offers for football fans. Even with everything that has to be squished onto the platform, both the website and app are easy to use. There were two negative factors in the review, including the low maximum payouts, which could cramp the style of high rollers, and the inability to deposit and withdraw with e-wallets, such as PayPal, Neteller, Skrill and Trustly. The only way to pay and play at Sky Bet is via Visa Debit.
: For a casino of such high standing, Sky Vegas doesn't often end up in the Google News section, but this week was very much the exception after it was announced on February 14th that Sky Betting & Gaming has finally inked a deal with Evolution Group. If you have spent any amount of time browsing live dealer content on online casinos, you will already recognise Evolution Group as one of the leading purveyors in that arena. The new and exclusive deal for the Sky Vegas sister sites agreed that Evolution will start to supply their live dealer games to all Sky Betting sites, including Betfair and Paddy Power. While many other casino brand operators got their mitts on Evolution Gaming live games some time ago, it has taken significantly longer for Sky Betting to seal the landmark deal. Both parties involved in the deal spoke out in a recent press release, and they were as equally as flattering as each other when alluding to the delight at the partnership.
The Gaming Managing Director at the Sky Betting & Gaming Group, Andrew Rushgrove, recognised the strong performance of Evolution Gaming in the iGaming industry and the impressive nature of the ever-expanding game library. While one of the CEOs at Evolution Gaming was stoked at the prospect of putting Evolution Gaming content in front of Sky Vegas customers after a promising roadmap had been drafted. Gambling Insider was just one of the news outlets to break the news, in addition to iGaming Business and Gambling Industry News.
: It has been another week of zero attention for Sky Vegas – not even its partner news site, Sky News, seems prepared to promote it and the incredible offers that are constantly appearing on the platform. There's nothing like a bit of mystery to set excitement and anticipation; Sky Vegas used the air of mystery to tempt its members into trying the brand-new Spin a Mystery Bonus. From February 3rd – 24th, the promotion will run between 7 am and 12 am every Friday. Apparently, it is "a riddle wrapped in a mystery wrapped in an enigma". To participate, stake £5 or more on the Spin or Win live wheel, and you will have a shot at winning £150 in cash. So, it turns out it isn't much of a mystery after all – not that anyone will be complaining if they bank £150 in cold hard cash!
Games-wise, it is no surprise that Sky Vegas has laid on a thick smorgasbord of delectable content. The most appetising game will undoubtedly be down to preference, but there is a lot of hype around Slotting Slopes. If you haven't been able to afford your usual skiing holiday this year, there is a chance you will win the cash to descend the Alps via this quirky and cute game by Cayetano Gaming. A wild storm, while you are on the slopes, is the last thing you would want in real life, but in this game, it means 3 – 6x random wild symbols rocking up on the reels carrying win multipliers that can vary in value.
: To participate in Sky Vegas' brand-new 1 Million Free Spins promotion, all that is required is a simple opt-in and £10 staked on any of the qualifying slot games. Given that there are one million free bonus spins in the prize pot, there is certainly enough to go around all participating players who qualify for the promotion before it ends on the second of March 2023. The top prize is 100 free games, and remember, Sky Vegas never attach wagering requirements to their bonuses – any winnings from those free spins are yours to do with as you please. The participating slot games include classic games, progressive jackpot games tied to the Jackpot King prize pot and brand-new additions, including Mega Bars Big Hit.
Alien-themed online slot games seem to be all the rage in 2023, and there is no greater testament to that fact than the hype that is amassing around the brand-new online slot game, Blobsters Clusterbuster. If you loved Reactoonz, you will want to set aside plenty of time to try this quirky slot that will introduce you to an array of colourful, gooey and endearing characters. Red Tiger Gaming certainly went out of its way to create a game that breaks its own mould – the spacey kaleidoscopic aesthetic is light years away from their usual aesthetic style. On the giant 9 x 9 reel grid, symbol upgrades frequently happen around the other reel modifiers that add up to 20 wild symbols onto the reels and implant supersized 3 x 3 symbols.
: If you have received a win you want to shout from the rooftops about, you can prevent yourself from receiving a disturbance of the peace order from the police and take to Twitter instead. Sky Vegas has announced that all throughout January 2023, the Tweet Your Win competition has returned. The rules of engagement are incredibly simple; reply to the pinned Tweet on the casino's official Twitter page, use the #TweetYourWin hashtag and share some of the details of your win! To reward you for helping boost their profile on social media, one winner from the competition will be selected at random. Even though the competition has been running for almost three weeks, there have only been 46 comments, making your chance of winning the £50 prize reasonably high.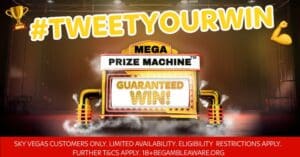 If you always like to stick to the Jackpot King online slot games from Blueprint Gaming, the new classic-slot-inspired game Mega Bars Big Hit, which is entirely exclusive to Sky Vegas and its sister sites is more than worth a spin. At the time of writing, the progressive jackpot prize for it stood at over £3.2 million, and if the sequel is anything like the original game, there will be massive prizes seeping from the gameplay of the slot itself. The original Mega Bars game, which is still a staple for many traditionalists, boasted a 50,000x top win, to compensate for the total lack of features. Even though there are almost three years between the releases, you wouldn't be able to tell by the visuals.
: Few review sites know how to dissect a casino as sharply as Times of Casino. This week, the review platform sharpened its knives before getting stuck into Sky Vegas. Judging by the number of pros against cons, it is safe to say they approved of what they found when they put the site under a microscopic lens. The only negative was the lack of telephone support. However, given that the live chat team is more than capable of resolving queries in a quick and easy manner, this is hardly an issue. Moving onto the positives, the versatility within the robust game library, the range of promos, and the transparency with terms and conditions were all rightly mentioned in the review. In the review conclusion, the platform was described as fast and fun, thanks to the vibrant range of games.
It is always interesting to see how user reviews hold up against the views of a critic; by looking at the recent additions to Sky Vegas' Trustpilot page, the answer is not very well. The most recent review was left on the 9th of January from one man who claims to have lost the best part of £3k. After losing his cash, he made no complaints as he hoped that he could win some money back, but one day, he entered his login details only to find that he had been excluded from the site – that will happen if a site suspects gambling addiction! Another review was left recently, which alludes to the allegedly unfair nature of the platform.
: After Sky admitted it was suffering in the current economic climate last year, all of its promotional content projected into 2023 seems very transparent. For example, their latest article published on Sky Sports on why this year is an unmissable year on Sky Sports subscriptions due to The Ashes, The Ryder Cup and The Premier League games scheduled throughout 2023 screams, "please don't leave us, there's good stuff coming!" The brand owner of Sky Vegas also included the return of Formula 1 and the boxing nights throughout the year as a reason to not forego the sports subscription service. The article goes on to amp up the anticipation around all of the forthcoming races, games and tournaments in a bid to seem like Sky Sports is something that you can't possibly live without.
Over on the Sky Vegas site, there are no new promotions, but there are almost too many new games to choose from. While that choice will undoubtedly be easier when you refine them based on your theme, volatility and mechanic preferences, there is still a solid line-up of new games, including Temple of Fire. The IGT game will spin you back to the era when the Aztec tribes reigned as the supreme civilization. Despite the fiery theme, the volatility runs rather cold with a low – medium rating, which means that the win potential is on the lower end at 450x. The free spins are where you will dig out the biggest wins, as they can play with 1x, 2x or 3x multipliers.
Can Sky Vegas Be Trusted?

★★★★★
Sky Vegas is a 3 Star trusted casino.
1. UKGC License

Sky Vegas is covered by the licence that Bonne Terre Limited holds with the UK Gambling Commission.

2. UKGC Fines

In February 2022, Bonne Terre Limited was fined £1.17m by the UK Gambling Commission for failing to comply with licencing conditions relating to marketing consents and marketing to self-excluded customers.

3. Customer Service

Sky Vegas offers customer support over the phone, via live web chat, on Facebook Messenger, and via Twitter. However, the effectiveness of this is reduced by making the options so difficult to find.

4. Trustpilot Score

After more than 1600 reviews, Sky Vegas holds a rating of 1.5 out of 5 on Trustpilot.

5. Company Location

Bonne Terre Limited is a UK-based company, with offices in Leeds.

6. Visible T&C's

The various promotions at Sky Vegas come with their T&Cs clearly listed.

7. Social Media Presence

Sky Vegas has active accounts with Twitter and Facebook, and uses them to provide customer support.

8. Number of Sister Sites

There are only four Sky Vegas sister sites under the Bonne Terre banner, but there are others because of Bonne Terre's connection to Flutter Entertainment.

9. Games portfolio

The total number of games available at Sky Vegas is below 400, which is disappointing for a casino connected to such a big brand.

10. Gamstop links

The GamStop logo appears toward the bottom of the Sky Vegas homepage.

Overall SCORE >

★★★

★★ – 3/5 Stars
Sky Vegas Review 2023
Everybody in the UK knows who and what the Sky group is. It operates the country's largest subscription television services and has a near-monopoly on elite level sports. Through Bonne Terre Limited – which belongs to Sky – it also operates one of the country's biggest groups of gambling websites. The Sky Vegas sister sites are among the biggest of their kind in their respective fields of expertise, and Sky Vegas itself is the "glamour" brand among the group. How does it stack up against its sister sites – and how does it stack up against the other massive names in the UK scene? This review will tell you.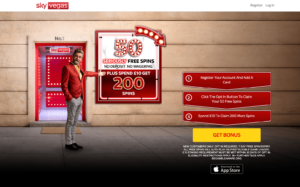 Sky Vegas Welcome Offers
The welcome offer at Sky Vegas isn't just fifty free spins – it's fifty "seriously" free spins. Sky Vegas makes a big point of emphasising that because it's been unusually generous in putting this package together. No deposit is required to access this offer. New players need only to register a new account, click the "promos" button, and then have fifty free spins to use up on some of the site's best slots. Anything you win from those spins is free of any wagering requirements. If you win something, it's yours. That's rare in the modern age, and it's welcome.
If you want to keep playing at Sky Vegas after you've used up your free spins, you can access another welcome offer by making a deposit of £10. In return, Sky Vegas will give you another two hundred free spins. There's still no wagering requirement on the free spins, making this one of the best welcome promotions on the market. It was all there for the taking when we wrote this review, and we hope it's still available to you whenever you're reading this.
Monthly Promotions
Sky Vegas doesn't offer VIP rewards, which is perhaps a surprise for a casino brand of this size, but it does offer regular time-limited promotions. Some of them have such brief shelf lives that they're not even worth writing about here because they'll be gone by tomorrow, but others hang around for a little longer. One of them is the "free to play" offer, which can be played once per day by everyone with an eligible Sky Vegas account. It's called "The Prize Machine," which takes the form of a single-reel slots game that you can spin once. Everybody is guaranteed to win a prize, but that prize could be as low as a 5p bonus or a single free spin. At the other end of the scale, it could be as many as ten free spins or £100 in instant cash. Amazingly, the "no wagering restrictions" incentive is still active on the Prize Machine.
The other long-term incentive at Sky Vegas is "The Vault." It can be played once per week on Fridays and only by players who've played at least one online slots game or instant win scratch game during the previous seven days, with a minimum stake of £2. The more someone plays, the better their chances of being able to unlock the vault become. Playing slots and games gives players "lives," like in a video game. You can keep trying to unlock the vault until you run out of lives, but if you get it open before you're "dead," you could win up to £30,000 in cash.
Sky Vegas Pros and Cons
As you may have been able to predict based on our enthusiasm, our opinion is that the biggest "pro" of playing at Sky Vegas is the lack of wagering requirements attached to the various promotions that the casino offers. Bearing in mind that there are big-name casinos out there that attach wagering requirements of up to x85 on their bonuses, Sky Vegas stands head and shoulders above most of its rivals when it comes to promotions. Its generosity is almost unmatched.
The "cons" at Sky Vegas are the size of the games portfolio and the difficulties that a player might face with being able to reach customer support. Anything fewer than five hundred games is too low a number for a casino that wants to dine at the top table, and Sky Vegas is some way short of that. When it comes to customer service, Sky Vegas offers every route possible but buries them so deep in the FAQ that some players might never find them. The same is true about payment and withdrawal information, which is impossible to locate without using the search function within the FAQ and doing some typing.
Featured Slots and Casino Games
With only around 400 games in its library, Sky Vegas is more concerned with the quality of its selection than how many options it provides players with. The "Featured" section on the homepage will tell you what's popular with players right now, but the contents of that section will change over time as new games are added, and others fall out of fashion. Here's a selection of what was in there at the time of our visit. 
Rainbow Jackpots: Every online slots provider has tried to create a world-class Irish-themed slot at some point, and this is Red Tiger's best stab at it. It's a jackpot-driven game that also contains a fun "beer bonus" where you pour pints of stout in the hope of winning prizes. Another neat feature is the "symbol swap" bonus round, which guarantees you at least one win. The quality of the graphics is a little poor – especially by the standards of this provider – but at 96.15% RTP with above average volatility, it can be fun to play. 
Luck O' The Irish Gold Spins: Irish-themed online slots must be very popular at Sky Vegas because this is another one that's found its way into the "Featured" section. It comes from Playtech, and it's almost entirely based around its bonus features. The slot might not look like much at first, but the 5*4 reel set can split into as many as four matching reel sets if you unlock all the bonus features – and from there, almost anything can happen. Free spins are also up for grabs in a slot that offers 95% RTP and – perhaps unsurprisingly – high volatility. 
Eskimo Dough: We're not sure "Eskimo" is the politically-correct way to refer to Inuit people these days, but that hasn't put CORE Gaming off using it in the title of this Arctic-themed 6*4 snowy slot. Having twenty-four positions on the grid means there's space for a lot of bonus action – especially when avalanche wins kick in and one win quickly follows another. Both a prize-picker feature and free spins are included in the bonus offerings, along with random multipliers and access to a substantial progressive jackpot. RTP comes in at 96.35%, and volatility is above average. 
Sky Vegas also offers an extensive live dealers section along with table games, instant win scratches, and a premium slots collection where the jackpot "must go" within a certain timeframe. 
Deposit and Withdrawal Methods
Deposit and withdrawal methods are an aspect of Sky Vegas where the casino lets itself down in more ways than one. For a start, the information you need to know is unnecessarily hard to find. We had to specifically search for "payment methods" within the FAQ to find the info – it wasn't even offered as a featured question. That might be because the site only deals in debit cards. Apple Pay and Google Pay might be accepted for some users, but only on certain networks. Modern methods like e-wallets and PayPal aren't welcome at Sky Vegas.
It's slightly better news when it comes to withdrawals. So long as your debit card is approved for fast withdrawal, you should have your money within two hours. Failing that, withdrawals take a minimum of two business days but may take up to five in some circumstances.
Customer Support and License
You can speak to customer support agents at Sky Vegas over the telephone during business hours. You should be able to access live chat outside of those hours, and both Facebook and Twitter are used to provide customer support, too. The biggest challenge is finding the contact information, which involves declining every suggestion the FAQ section makes until it gives in and offers to let you speak to somebody.
Sky Vegas, through Bonne Terre Limited, is licenced with both the UK Gambling Commission (38718) and the Alderney Gambling Control Commission.
Sky Vegas – The Verdict
Sky Vegas gets so many things right that it ought to be considered a five-star casino in most respects. What holds us back from giving it that rating is the comparatively small selection of games and the poorly-organised FAQ and help section, which makes finding information way harder than it should be. Fixing these problems might be the key to attracting better reviews on Trustpilot, where Sky Vegas is currently taking a battering. It's a good casino that could and should be doing better.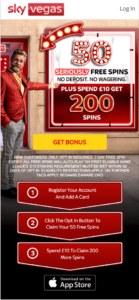 What are players saying about Sky Vegas?
Here are our condensed/reader's digest summaries of recent player reviews of Sky Vegas. The reviews are genuine, but we've edited the comments to keep them brief.
30-Jul-2023 by Neil:
I was excited about a bonus I got, but then the game crashed and I didn't receive it. I've had enough and moved to Betfair. 

– source: TrustPilot

29-Jul-2023 by ScamScum:
This casino is a total scam! It's rigged and has the lowest RTP. It's pure evil. 

– source: TrustPilot

28-Jul-2023 by Steven:
I was having a good time at Sky Vegas until they barred me from playing Pots of Gold, my favourite game. Their promotions are also disappointing. 

– source: TrustPilot

28-Jul-2023 by Nessie:
The customer service team treated me poorly. It felt like they just brushed me off. 

– source: TrustPilot

26-Jul-2023 by Craig:
I'm convinced that Sky Vegas uses a 'no bonus'/'no big win' algorithm. If they decide you're not winning, you could put in thousands and get nothing. Stay away! 

– source: TrustPilot

26-Jul-2023 by Michael:
This is one of the worst casinos I've ever played at! Bonuses are like a myth here. 

– source: TrustPilot

25-Jul-2023 by Sam:
My advice? Save your money or play elsewhere. Sky Vegas is not worth it. 

– source: TrustPilot
Sky Vegas – A Commercial Giant
Listed On Wikipedia
If you want to get a measure of how popular and successful an online casino website is, head to Wikipedia and see if it has its own dedicated page. Sky Vegas does. That's probably not a surprise, given the size of Sky as a company and the media profile that anything connected to Sky involves, but the overwhelming majority of online casinos don't have their own Wikipedia page and never will.
The Wikipedia article notes that while Sky owns and operates several betting companies, including Sky Bet and Sky Bingo, Sky Vegas is the company's premier gambling brand. That's a notable fact because, having launched in March 2003, it's three years younger than Sky Bet and originally had only three casino games. Overtaking Sky Bet might not have been Sky's intention for the brand when they created it, but that's the way things have worked out.
Never Off Television
As one of the highest-profile casino companies in the UK, Sky Vegas has an almost-constant advertising presence. They air commercials on television and have occasionally been known to sponsor television shows. The highest-profile television sponsorship that Sky Vegas has ever been involved in came in 2016, which is when they sponsored Keith Lemon's hit television show "Celebrity Juice" on ITV2. Commercial breaks in the show both started and ended with promotions for Sky Vegas, which Lemon appeared in. The campaign was later extended to ITV's ITV Hub streaming player on mobile and desktop.
The promotion didn't last forever, and Keith Lemon eventually ended up appearing in adverts for rival betting company 32Red. That didn't bother Sky Vegas too much, as the casino created a new character called "The King of the Unexpected," who began appearing in TV commercials for the channel in 2018. the most recent commercial to feature the bearded character started airing in 2020 and shows the brand's mascot taking part in "unexpected" celebrations to celebrate his big wins at the casino's website. Those celebrations include donning Lederhosen and playing the bassoon in the Alps and charging down the street in an inflatable costume with giant arms. The commercial is very zany, but that seems to be the trend with casino commercials at the moment.
The 2020 version of the commercial closes with the claim that Sky Vegas is the UK's most popular online casino. There are several different ways of assessing popularity, and Sky Vegas doesn't finish first with every metric, but the site certainly belongs in the conversation.
Making The Most Of Big Money Backing
It's impossible to talk about Sky Vegas without also talking about Sky, which is arguably the biggest of all the subscription television services in the UK and one of the biggest entertainment companies in the world. Having the Sky name attached to your product doesn't guarantee success, but it gives you a much better chance of success than the majority of startups have. Any online casino would love to have Sky's backing, which makes Sky Vegas a lucky company.
Sky's connection to sports in the UK has been strong ever since it won the initial broadcast rights to the English Premier League in 1992. Other broadcasters have since taken slices of the Premier League pie, but the most important fixtures are still almost always shown on Sky. Not content with that, Sky Bet also sponsors the English Football League. That covers the Championship down to League Two. Those sponsorships give Sky Bet a lot of visibility, and some of that visibility is transferable to Sky Vegas.
Channel 864 of Sky's enormous broadcast package was once called "The Sky Vegas Channel" and hosted dedicated gaming content, and briefly became "Sky Vegas Live" before being re-branded to "Sky Bet" in April 2011. The channel has since stopped broadcasting. Sky's most recent innovation is "Sky Glass" – a smart television that comes with all the technology required to access Sky's subscription packages built into the unit. Because it's a smart television, you could also use it to access Sky Vegas if you wish. The brand has been perceived as being at the forefront of innovation in entertainment for almost three decades -a fact that's bound to help it attract customers to its gaming companies.
Equally Cursed and Blessed
The downside of having such a big name means that Sky Vegas has a big target on its back when it comes to the way gambling is reported in the press. Do a Google search for "Sky Vegas," and you'll see the company's name mentioned in an ongoing press debate about whether football should sever its links with gambling. Every error made by the company gets magnified, too. One such recent example saw a promotional offer emailed to be people who'd registered themselves as self-excluded from gambling. The error shouldn't have happened but probably wouldn't have garnered as much media attention had it been made by a different company.
In 2016, a television commercial for Sky Vegas was banned by the Advertising Standards Authority because it focused on a "roulette rock star" character. The theme of the commercial was that Michael, an everyday person, transforms into an ultra-cool gambling superstar every time he visits Sky Vegas. The ASA felt that the advert implied that gambling made Michael cooler. Sky Vegas countered that gambling only made Michael feel cooler because it was exciting. Their defence was rejected, and they were prohibited from airing the advert again. Given that adverts for many casinos feature the idea of an "ice-cool" character sitting at a card table or watching a roulette wheel, Sky Vegas might have had good reasons to believe that they'd been dealt with harshly.
The flipside of the above is that being called "Sky Vegas" opens doors that wouldn't normally be open to an average casino company. Playtech, one of the biggest online slots and casino game providers in the world, launched a dedicated live casino studio for Sky Vegas customers in April 2021. The casino broadcasts every day from Playtech's base in Riga, Latvia, and focuses on live dealer versions of roulette and blackjack. Sky Vegas is also promoted regularly on the website of the Daily Telegraph whenever the site publishes betting advice for Premier League fixtures. The newspaper's digital betting guide always contains links to exclusive offers hosted by Sky Bet, but Sky Vegas is namechecked in every article.