Grace Media Limited Casinos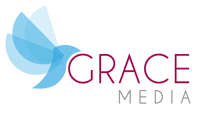 The top Grace Media sites include ackpot Mobile Casino, Red Spins, Mayfair Casino, Slotty Slots, Lucky Ladies Bingo, Casino Roo, Spins Royale, Rich Ride and Awesome Spins.
Grace Media (Gibraltar) Limited is based at Suite 7, Hadfield House, Gibraltar, GX11 1AA.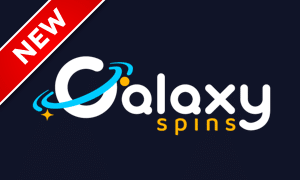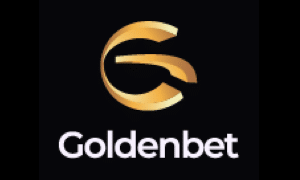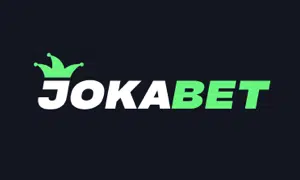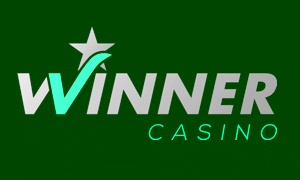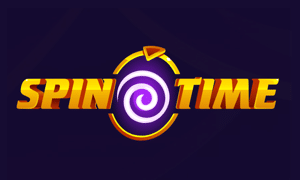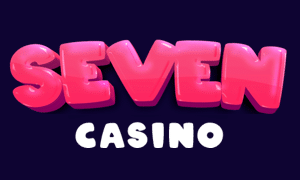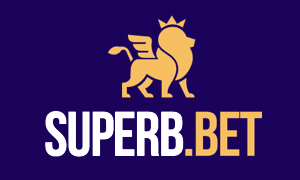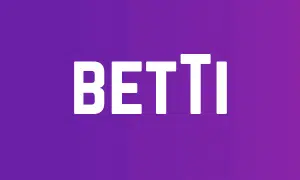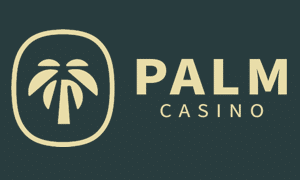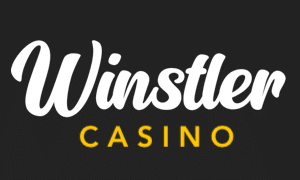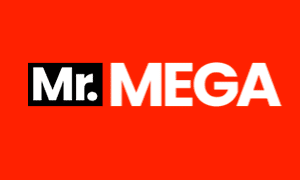 Top Grace Media (Gibraltar) Limited Casinos
Jackpot Mobile Casino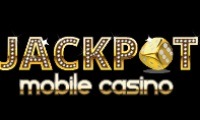 Once upon a time, not all that long ago, it was necessary to build separate casino websites for people who wanted to play casino games on their mobile phones. Not only that, but it was also necessary to code separate versions of online slots and casino games to cater to those people. Those days are long gone now because of advances in technology, but casino sites like Jackpot Mobile Casino still exist as reminders of that bygone age. The best of the mobile-focused casino sites have been able to change and adapt as casinos have become more uniform in design, so that must make Jackpot Mobile Casino both a survivor and a success story. In truth, it's not much to look at because of its basic theme, but it has over 700 casino games (mostly online slots) to offer and a range of easy-to-access bonus features. As always, double-check the terms and conditions of any bonus requirements before you decide whether to accept them. Pay particularly close attention to wagering requirements, which should never be over x35.
Red Spins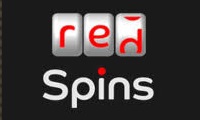 You can tell two things from the name of Grace Media Limited's Red Spins casino site. The first is that the colour scheme is red. The second is that it's dedicated to online slots. Both things are true, but don't make the mistake of thinking that this popular online casino is quite so simple as that. For a start, the "spins" it refers to in its title could just as easily be a reference to free spins, which are always at the heart of whichever welcome bonus Red Spins might be offering a the time of your visit. As a follow-on point, online slots might be the main thrust of Red Spins, but there's much more casino entertainment in store for players there. Red Spins boasts an extensive range of live casino games with real dealers, along with spinning roulette wheels and first-class blackjack tables. There's even a VIP section to reward loyal players who log in and make deposits regularly. Red Spins might not be the most popular casino site in the UK, but it has everything it could conceivably need to occupy that spot if enough people cotton onto it.
Mayfair Casino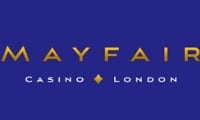 Mayfair Casino is unlike any of the other online casinos on the Grace Media Limited platform. This online casino is an official product of a real-life brick and mortar casino that exists in London. Mayfair Casino is considered to be one of the most glamorous casinos in the nation's capital, but sadly this digital version of the casino doesn't quite meet the mark when it comes to glamour. It remains popular because of its links to the real casino, but the design of the site manages to be dull and dated at the same time. The intention of Mayfair Casino is to allow players to do everything they can do inside the casino from the comfort of their own homes, but part of the lure of the real casino is the sense of prestige you get from standing inside it. The Mayfair Casino site doesn't convey any of that sense of prestige. We include it in our list of the tip Grace Media Limited casino sites because of its popularity, but we wouldn't recommend playing there. Pretty much any other Grace Media Limited site you can find makes for a better bet than this one. Perhaps with a redesign fit for the 2020s, things might be better.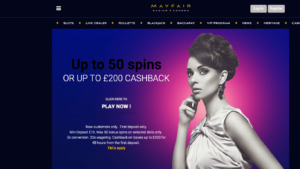 Slotty Slots
You don't need to be an online casino professor to work out what you might find at an online casino called "Slotty Slots." There are a few casino sites with cheeky names on the Grace Media Limited casino network, but none quite so "on the nose" as this one. Slotty Slots offers just over 600 online slots taken from more than twenty market-leading slots providers. That means all your favourite online slots are likely to be in the collection somewhere, and it means the site is well-positioned to receive the very best new releases. That's about all there is to say about Slotty Slots, which doesn't have a theme other than "online slots casino site." As with almost every other Grace Media Limited casino site, Slotty Slots comes with a side serving of live dealer and table games and also has a special collection of jackpot slots for those who aren't interested in casual play and seek only the thrill that comes with chasing the very largest of prizes. Payments and withdrawals can be made with e-wallets at this casino, which isn't something that can be said for every casino in the family.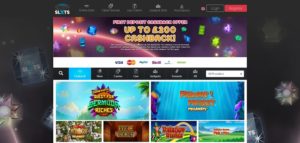 Play UK
The frivolity of Lucky Ladies Bingo juxtaposed with the formality of Play UK makes for the sharpest tonal difference between any two casinos Grace Media Limited currently operates. Lucky Ladies Bingo is presented as if it's an "all pleasure" site, but Play UK is unmistakably all business. Even the female croupier who welcomes you to the site isn't entirely smiling. We get the distinct impression that this is a casino site built for those who take the hobby extremely seriously. We know there are thousands of players out there who meet that description, and we can imagine that Play UK is one of their favourite sites to visit. "No frills" doesn't even begin to describe this casino's approach – the colour scheme is cold, the number of distractions on screen is minimal, and everything's about the games. If you're the kind of player who hates having to navigate their way around banners and pop-ups so they can actually get on with the business of playing the casino games they came to a website to play, Play UK is definitely one for you.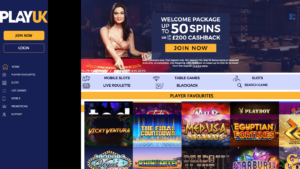 Casino Roo
Some players might find Casino Roo's graphics-heavy approach a little too much, but it's a very slick, very attractive website that has recently undergone a design overhaul. This is a casino that believes the allure of the unknown is the key to bringing players in. Most Grace Media Limited casinos splash their best promotions and top games all over their homepages, but Casino Roo doesn't play that way. The entire "above the fold" space of the homepage is given over to just a single promotional graphic, as per the below image. Scroll below that, and you'll find a few hints about further promotions and maybe four or five of the popular casino games you'll find inside the site. If you want to know any more than that, you have to register and become a Casino Roo member. This approach is a high-stakes game to play with players when there are so many other online casinos and slots sites they could go to instead, but it's a deliberate design choice that Casino Roo has made as part of its overhaul, and so we must assume they have good reason to go with it. It certainly piqued our curiosity.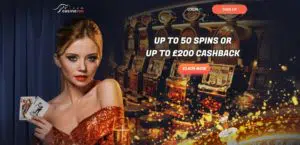 Rich Ride
It might look to your eyes that Rich Ride is a reskin of Spins Royale with a slightly different colour scheme, and we'd say you're not all that far wrong to make that observation. One of the consequences of Grade Media giving its white-label partners a template is that many of the sites that are built with that template end up looking broadly similar. Rich Ride is one of them, so of all the Grace Media casino sister sites, this one and Spins Royale are probably the most similar. The homepage layout is the same, and even the categories available on the homepage are the same, as are the menu options at the top of the screen. As this is another Markor Technology-powered casino site, it's safe to assume that the collection of online slots at both sites is identical, too. Rich Ride describes itself as "the most illustrious casino site in the UK" and says it's full of "glamour, glitter, and gold." The glamour and the gold come from the site's chosen colours, but we'd have to take issue with the "most illustrious" claim. It's a solid enough casino site, but it's some way off the standard of the best sites available to UK players. Nevertheless, there are some attractive promotions here for old players and new with welcome bonuses, free spins, and matched deposits a-plenty. Do enough digging, and you might even find that Rich Ride offers a few bingo games to go with all of the online slots on offer.
Hot Streak Casino
Hot Streak Casino, also known as Hot Streak Slots, is one of the newer casinos on the Grace Media platform, but has risen through the ranks very quickly to become one of the operator's most popular options. That might because it's done a very good job of keeping things simple. The layout and user interface of Hot Streak Casino is matter-of-fact and easy to navigate, with everything appearing precisely where you'd expect to find it. Helpful labels on the casino's homepage make it easy to spot what's new or popular in the Hot Streak game portfolio, and while the promotions available at the site won't set your work on fire, there are enough of them to make it feel like there's always a little something extra to play for. Hot Streak Casino doesn't do anything revolutionary, but it covers the basics with great aplomb and clearly knows how to keep players happy.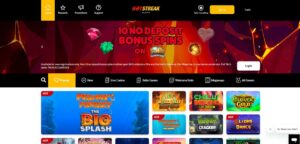 444 Casino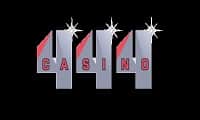 A lot of the things we just said about Hot Streak Casino can just as easily be applied to 444 Casino with one exception – this isn't one of the operator's newer iGaming sites. It is, however, a casino that's recently undergone a full redesign, the result of which is that it now looks almost exactly like Hot Streak Casino in every way save for its name and logo. There is both a 333 Casino and a 444 Casino among the Grace Media casinos, which makes us suspect that both sites are run in collaboration with the same white-label partner. There are very few differences between 444 Casino and all the other casinos on the operator's platform that use this same template, but if you're looking for a reason to favour 444 Casino above the others, perhaps the potential for £444 in bonus cash as part of the welcome promotion might be the factor that does it.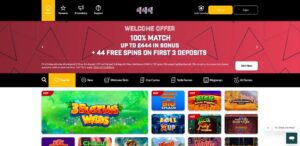 Grace Media News
: Grace Media seems to have encountered a bit of a hiccup with its latest promotional campaign for the festive season. In an attempt to spread holiday cheer, Grace Media added what was intended to be an exciting "Advent 2023" promotion to several of its casinos, including Hot Streak Casino. However, in a rather anticlimactic turn of events, the actual promotions seem to have been omitted, leaving players with an advent calendar that's disappointingly empty. This oversight has resulted in a page that, while promising in its intent, falls short of delivering the festive excitement and rewards that players eagerly anticipate at this time of year.
The situation at Hot Streak Casino highlights a missed opportunity for Grace Media to engage and delight its players. The advent calendar, a beloved holiday tradition, symbolises anticipation and surprise, qualities that are essential in creating a memorable and engaging casino promotion. As players visit the site, expecting daily treats and offers in the run-up to Christmas, the absence of actual promotions is a letdown. It's a reminder of the importance of attention to detail in the competitive world of online gaming. Fans of Hot Streak Casino and other Grace Media casinos are undoubtedly hoping that this oversight will be rectified soon. With the festive season in full swing, there's still time for Grace Media to turn this around and fill the advent calendar with the exciting promotions and surprises that players look forward to. Here's hoping that by next week, the advent calendar will be brimming with festive cheer and rewarding opportunities for all its players.
: HotStreak Casino, one of the more prominent iGaming sites under Grace Media Limited, has recently garnered attention from OddsChecker, a platform typically focused on sports betting. This unusual spotlight highlights HotStreak Casino's impressive feats in the online gaming world. The casino's inclusion on OddsChecker is particularly focused on its Black Friday promotion, offering a no-deposit bonus, an uncommon find in the competitive online casino landscape. This promotion allows players to engage in thrilling casino experiences without the initial financial commitment, a tempting proposition. HotStreak Casino's feature on a platform like OddsChecker, known for its stringent selection criteria, underscores the casino's growing prominence and appeal in the online gaming sector.
The Black Friday deal at HotStreak Casino is not just about the no-deposit bonus; it's a testament to the casino's commitment to providing diverse and engaging gaming experiences. This promotion is a strategic move to attract a broader audience, leveraging the high-traffic Black Friday period. It's a clever blend of timing and offer aimed at capturing the attention of players seeking value and excitement. The inclusion of HotStreak Casino on OddsChecker, a platform with a reputation for covering only the most noteworthy and reliable betting options, speaks volumes about the casino's quality and reliability. It's a significant nod to HotStreak Casino's standing in the online gaming world, marking it as a destination for top-tier gaming experiences.
: Grace Media, operating Planet Rock Casino, has rolled out an exciting promotion this month, offering players a tantalising choice between two types of spins on popular slot games. This promotion, available from the 1st to the 30th of November 2023, is a fantastic opportunity for slot enthusiasts to enhance their gaming experience. Players have the option to either deposit and wager £20 on slots to receive ten cash spins or deposit £20 for 100 bonus spins. These spins can be used on a selection of engaging slot games, including Big Bass Splash, Big Bass Bonanza, and Big Bass Amazon Extreme. Each spin carries an in-game value of £0.10, adding a significant boost to the player's chances of winning.
The terms of the promotion are straightforward and user-friendly. To qualify for either the cash spins or the bonus spins, players must deposit a minimum of £20. The bonus spins, once chosen, will be credited to the player's account after the qualifying deposit is made within the promotional period. These spins are subject to standard wagering requirements of x40 and conversion limits, ensuring fair play. On the other hand, the cash spins option requires players to deposit and wager a minimum of £20 on slots. The winnings from these spins are awarded in cash funds, up to a maximum of £40. This promotion not only offers a thrilling gaming experience but also adheres to responsible gambling practices, reminding players to gamble responsibly and providing support through Gamcare for those who need it. With its clear terms and exciting options, this promotion is set to be a hit among players at Planet Rock Casino and other Grace Media-operated casinos.
: Grace Media's Slotty Slots casino is stirring up excitement this week with a tantalising promotion that's sure to catch the eye of slot enthusiasts. In a week that's been relatively quiet for news from Grace Media, this offer stands out as a highlight. Players have the opportunity to snag up to 80 Bonus Spins, a deal that's both generous and enticing. The promotion is structured simply: a deposit of £10 earns players 40 Bonus Spins, which can be claimed twice during the promotion period. This offer is valid on several engaging slot games, including 3 Buzzing Wilds, The Dog House Multihold, and 5 Lions Megaways, each promising a unique and thrilling gaming experience. With spins valued at £0.20 each, this promotion offers a substantial opportunity for players to dive into some of the most popular games at Slotty Slots.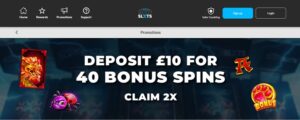 However, as with all promotions, there are terms to consider. The promotion is available on select dates throughout November, and players must meet a wagering requirement of 40x the total bonus amount earned. This requirement is a standard practice in the online casino world, ensuring fair play and commitment from participants. The bonus spins and funds have specific validity periods, encouraging players to engage with the games promptly. It's also worth noting that the bonus funds are subject to certain restrictions, such as being exempt from use on specific slots and contributing differently to the wagering requirement. This promotion, while offering an exciting opportunity for players, also serves as a reminder of the importance of responsible gambling.
: In an intriguing turn of events, Grace Media has breathed new life into the Mango Spins brand, a name that had previously vanished from the online casino landscape. This revival sparks a wave of excitement and curiosity among gaming aficionados and industry observers alike. The reasons behind this resurgence could be manifold; perhaps it's a strategic move to rekindle a once-loved brand or a response to market demand for the unique gaming experience that Mango Spins was known for. It's a bold step that signals confidence and a commitment to diversifying their portfolio, catering to a broad audience with a penchant for nostalgic gaming platforms.
The relaunch of Mango Spins by Grace Media is not just a trip down memory lane; it's a statement of innovation meeting tradition. With the online casino market more competitive than ever, the reintroduction of Mango Spins could be seen as a savvy play to leverage the brand's established recognition and infuse it with modern gaming trends. This could include the latest in mobile gaming technology, a fresh library of games, and enticing player incentives. While the casino itself doesn't materially offer much more than the majority of its sister sites (or truly offer anything different from the usual Grace Media casino experience), the buzz created by this unexpected comeback is undeniable. It's a move that's sure to shake up the online casino scene and keep players eagerly watching for the next chapter in the Mango Spins saga. Grace Media is the custodian of a lot of other dead iGaming brands – will we see a comeback for any of them, too?
: While we don't have any fresh news to bring you about Grace Media this week, we've got something sizzling about Hot Streak Casino, one of the operator's top sites. The Sun has featured Hot Streak Casino for the second time in two weeks, and if that doesn't scream "hot streak," I don't know what does. This time, it's all about the spooktacular Halloween slots that are making waves in the gaming world. Being mentioned by The Sun is like getting a double shot of espresso in your morning coffee; it wakes you up and keeps you going. This is the second time in a fortnight that Hot Streak Casino has caught the eye of The Sun, and that's no small feat. It's a testament to the casino's growing popularity and its ability to keep players engaged with a diverse range of games. This time, it's the Halloween Vacation slot that's stealing the limelight, adding a dash of colour and vibrancy to the Halloween genre.
Now, why is this double mention in The Sun such a big deal? Well, it's simple. The Sun is one of the UK's most widely read newspapers, and a mention there is like a golden ticket to a broader audience. It's not just about the existing players; it's about catching the eye of potential new ones. And let's face it, in the competitive world of online casinos, every bit of positive press counts. Hot Streak Casino is on a roll, and it's not showing any signs of slowing down. With its diverse range of games and now a double mention in a leading publication, it's clear that this casino is one to watch. If you haven't checked it out yet, now might be the perfect time to jump on this hot streak!
: We sometimes struggle to find news about Grace Media (Gibraltar) Limited and the casinos that it operates, so imagine our surprise this week when we found Hot Streak Casino making headlines in The Sun! Operated by Grace Media, Hot Streak Casino has been featured in a review of the Piggy Riches Megaways slot game. The slot, developed by Red Tiger Gaming, is a remake of NetEnt's classic and comes with a whopping 117,694 paylines. With a maximum win of 10,000 times your bet, it's a game that caters to both newbies and high rollers. The Sun's review covers everything from the game's RTP of 95.71% to its high volatility and mobile accessibility.
Now, let's talk about what this means for Grace Media and Hot Streak Casino. Being mentioned in a publication as widely read as The Sun is nothing short of a PR win. It not only boosts the casino's profile but also lends credibility to its gaming offerings. The review also highlights various promotions, including a cashback offer of up to £200 on net losses from your opening deposit. This is a fantastic way to attract new players and keep the existing ones engaged. To put that another way, if you're in the mood for some oink-tastic fun, Hot Streak Casino is the place to be. With its growing reputation and media mentions, it's clear that Grace Media is on a, well, hot streak! The company itself might keep a very low profile, but it's clear that its casinos are garnering more and more attention as the weeks go by.
: There's still nothing specific to report about Grace Media this week, but we do have news about one of its casinos, which has been reviewed by The Sun. The paper's review of Jackpot Mobile Casino is a comprehensive look into what the platform has to offer, and it's overwhelmingly positive. The casino's user-friendly interface and striking navy blue theme were particularly praised, making it a top destination for many UK-based casino game enthusiasts. The review also highlighted the casino's extensive game library, which features more than 700 games from renowned providers. This diverse range ensures that there's something for everyone, from slots to table games and live dealer options. New players are welcomed with a generous bonus package that includes deposit matches on their first three deposits and free spins on selected games. The review also noted the casino's tiered bonus spins, which are available to regular players and are based on the amount deposited.
Another noteworthy aspect is the casino's mobile compatibility. Jackpot Mobile Casino offers excellent Android and iOS apps, allowing players to enjoy their favourite games on the go. However, the review did point out some areas for improvement, such as the need for faster withdrawal speeds and a more extensive range of live dealer games. Being featured in a widely-read publication like The Sun is a significant feather in the cap for Grace Media Limited. It not only validates the quality of the platform but also exposes it to a broader audience, which could be beneficial in attracting more players and increasing engagement. This kind of media coverage is invaluable for any online casino, and for Grace Media Limited, it's a testament to the quality and reliability of their platform.
: As we said last time we looked at Grace Media, this is a difficult casino network company to bring you news of. Its website is never updated, and even the "careers" section of the site is devoid of listings. If it weren't for the fact that we know that Grace Media is doing fairly well for itself at the moment, we'd be worried about how quiet it is. While there's still nothing to report about the operator directly, there's always plenty to tell you about the casinos that Grace Media (Gibraltar) Limited operates. Take Belgravia Casino, for example, which has added a short-term bonus spins offer to its promotional portfolio recently.
At the moment, it's possible to claim up to one hundred bonus spins on any of the Big Bass Bonanza slots. That's the whole series rather than just the original game. The promotion is a simple one to use – simply deposit between £10 and £19.999 to pick up twenty spins to be used on any of those slots. The offer can be claimed a maximum of five times between now and the end of October, thus bringing up the headline offer of one hundred free spins. It's not all plain sailing, though – anyone who takes advantage of the promotion will have to deal with wagering requirements of x40 against their winnings and a maximum bonus conversion of x4 of the amount deposited. A second free spins promotion that's been introduced at Belgravia Casino recently offers up to one hundred bonus spins on Egyptian-themed slots, with similar terms and conditions in effect.
: The profile of Grace Media (Gibraltar) Limited is growing, and as it grows, so does the number of visitors who come to this page regularly. We appreciate that you're probably trying to find the latest news about Grace Media and the casinos that it operates, so we're going to start providing you with regular news updates. This is the very first one, so hello! Grace Media hasn't historically been a company that issues press releases. It keeps a comparatively low profile in the iGaming world. There isn't even a news or blog section on its corporate website, and it doesn't have any social media accounts. In short, news that comes directly from Grace Media is difficult to come by. News about its casinos, however, is not.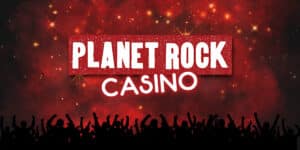 One of the top casinos on the Grace Media (Gibraltar) Limited platform is Planet Rock Casino, which owes much of its popularity to the hard rock niche that it serves and its connections to Planet Rock Radio, which results in a lot of free advertising for the casino. The content of the casino is typical of the Grace Media style, though, so if you're someone who enjoys other Grace Media casinos, there's no reason you wouldn't enjoy this one – and no better time than right now to give it a try. Until September 30th, Planet Rock Casino is giving away £600 in prizes across a pair of prize draws. To gain entry to the prize draws, players need to deposit and wager £10 or more on the two qualifying slots, which are Big Bass Splash and Chicken Chase. It's as simple as that – and who's to say that you won't win something from the slots with your qualifying stakes?
Grace Media Limited History
When it comes to Grace Media Limited and history, there really isn't all that much to write about – and we don't mean that as an insult. Grace Media Limited has accomplished an enormous amount within the online casino industry in next to no time at all. The company was formed in Manchester, England, in 2019 and didn't become active within the sector until the following year. We're writing this in 2022, and they already have over 100 online casinos to their name. They've disrupted the entire industry and made a huge name for themselves in the process, and they've done it by buying up casinos from other people. Most of Grace Media Limited's current portfolio of online slots and casino sites came from Nektan, who they bought from in bulk, but they've also taken brands from other places. Fast acquisition is clearly a key element of the company's strategy.
The company might only be a few years old, but that doesn't mean that it lacks experience. Warren Jacobs, the company's CEO, has been working in the e-commerce industry for several years and is such a trusted voice in the casino sector that he's regularly called upon to serve as a judge at the Global Gaming Awards. His business partner Daniel Brookes, who serves as Grace Media's COO and is primarily responsible for the day-to-day running of the company, is considered an expert in compliance and has a track record of being called upon to speak on industry panels. Other senior members of staff have been headhunted and handpicked from top positions in other companies across the iGaming industry. The Grace Media boardroom is made up of individuals who have decades of relevant experience in the industry, and that goes a long way to explaining how and why the company has been able to do so much in so little time.
If you were to ask Grace Media what the secret of the company's success is, they would tell you that it's their wealth of industry knowledge and their instinctive feel for what players look for and want in a casino site. That's reflected in the brands that they've bought, which have been cherry-picked for this specific purpose. As of 2021 and 2022, we've even seen them shutting some of their acquisitions down to focus on the more successful ones, so it's fair to say that Grace Media won't hesitate to correct course if the company feels that something isn't working. A company that's both ambitious and ruthlessly decisive is likely to go a very long way in the online casino industry, and we get the feeling that for everything Grace Media Limited has achieved so far, they're only just getting started.
The biggest move the company has made to date came in April 2022 and saw Grace Media Limited surrender its original UK Gambling Commission licence in favour of a new one after rebranding itself as Grace Media (Gibraltar) Limited. The company's Manchester offices are still open, but the headquarters of the company are now in Gibraltar as far as the regulator is concerned. The company shed a few more of its older or less well-known casinos as part of the move, so the current product range is leaner, meaner, and more streamlined as the re-focused company looks to the years ahead.
Grace Media and ActiveWin
If you check out the Grace Media Limited website you'll find out plenty of information about the company and its services, but you'll also find out that it's part of the ActiveWin Media family. Doing a little digging reveals that ActiveWin is a digital marketing agency, and is also based in Manchester. In fact, ActiveWin Media and Grace Media Limited are based at the same address, so it's fair to assume that they work hand in hand. That would make a degree of sense, because despite their influence on the UK online casino scene our understanding is that Grace Media Limited has fewer than fifty employees in total. On top of that, Warren Jacobs and Daniel Brookes also hold senior positions at ActiveWin. It's not for us to say that Grace Media Limited and ActiveWin are one and the same, but it's reasonable to assume that there's a lot of overlap between the businesses.
ActiveWin has existed as a digital marketing agency since 2013, and currently employs a little under 150 people. They believe they've perfected the art of digital acquisition. Considering that digital acquisition is precisely how Grace Media Limited got its hands on its range of casino sites, it's hard to argue with that statement. ActiveWin's interests stretch far beyond the online casino sector, though – they're open to working with firms involved in finance, medicine, travel, and just about every other type of e-commerce you can imagine. The company's greatest moment to date came in 2020, when it won "Digital Marketing Company of the Year" for the second consecutive year and found itself on the shortlist for "Best Digital Marketing Campaign." Both of those accolades came from the Northern Marketing Awards. On the casino side of things, Grace Media's affiliate programme is routinely nominated for "Best Affiliate Programme" at the Global Gaming Awards. It hasn't won the award yet, but a future victory is probably on the cards.
Grace Media Limited Services and Careers
Grace Media Limited keeps things simple when it comes to explaining what the company does and how it works. In a nutshell, it works with casino operators to ensure that they have the right tools to make the maximum possible returns from their websites. Clients of Grace Media have access to a team that has a combined total of more than forty years of relevant experience in the casino and iGaming sectors. Between them, that team believes it's worked out the most efficient way to build casino websites and generate ROI. They view all of their customers as partnerships – effectively extensions of the Grace Media brand – and take care of almost all the behind-the-scenes operations of casinos so their partners can focus fully on running their businesses. Their white label casino proposition includes access to hundreds of online slots and casino games from dozens of partners, options for bingo, market-leading customer tracking platforms, and full in-house customer support. To back up what they say about the quality of their customer care, Grace Media Limited can point to the fact that it has a full, clean record with the UK Gambling Commission. The UK is no longer the sole focus of their operations, though – Grace Media also has a licence in Gibraltar and, as of 2022, has begun involving itself in casino sites that aren't available in the UK. This is now truly a global operation.
As an ever-expanding company, Grace Media Limited is currently hiring. We noted that the company is thought to have fewer than fifty employees, but that isn't likely to be the case for much longer. They're currently looking for new customer service advisors, anti-money laundering analysts and "know your customer" analysts. If they're expanding their customer support base, it's a fair indication that they're also planning on expanding the number of customers they have and the number of casino websites they support. It took Grace Media Limited less than two years to acquire over 100 casino websites, so who knows how many they might have by 2025. 200? 300? Those are huge numbers, but they wouldn't surprise us. If you follow the UK casino industry, Grace Media Limited is a company you ought to be keeping a very close eye on.
All Grace Media Sites
White-Label Grace Media Casinos
The following casinos are hosted and licensed by Grace Media (Gibraltar) Limited but are run by the operator's white-label business partners.
Directly-Operated Grace Media Casinos
These casinos are owned and operated by Grace Media (Gibraltar) Limited directly.
Inactive Grace Media Casinos
These are casinos that used to be on the Grace Media platform but are no longer active on it. Some have been picked up by other casino network companies, but most are permanently closed.