Jackpot Master
Jackpot Master sister sites include Lotsa Slots, Jackpot World, Jackpot Crush, Match Masters and Bubble Cash. 
Jackpot Master is operated by Zeroo Gravity Games LLC of Building A, South Hall, Ying Chuang Dong Li Industrial Park, Hai Dian District, Beijing, China.
Real Money Casino Sites Like Jackpot Master







Apps Like Jackpot Master 2022
Cash Tornado Slots
If you're looking for a casino app like Jackpot Master, Cash Tornado Slots is the logical place to start. If you're a purist about these things, it's also the only place to look. That's because – at the time of writing – at least, Cash Tornado Slots is the only other casino app made by Zeroo Gravity Games LLC. In fact, it's the only other app of any kind made by Zeroo Gravity Games LLC. We're sure that the success of both Jackpot Master and Cash Tornado Slots will lead to the launch of more apps and games by this provider in years to come, but as things stand, this is all we have for now. Like Jackpot Master, Cash Tornado Slots is a "fantasy casino" played with free coins but featuring real online casino bonuses like free spins. Cash Tornado Slots comes with themed slots like "Panda Riches" and "King of Atlantis," so rather than leaving you stuck with a single set of reels and a single background, Cash Tornado Slots invites you to come and try several. Make progress through the game's various scenarios and levels by spending the coins you win – and get five million free coins to start with when you download the app. Cash Tornado Slots is available in both Android and Apple stores.
Lotsa Slots
We've already mentioned that Cash Tornado Slots is the only other casino app from Zeroo Gravity Games LLC, but that doesn't mean that there aren't other apps like Jackpot Master out there. We're going to look at a few of them now, and we're starting with Lotsa Slots by SpinX Gaming Limited. Lotsa Slots sounds a lot like a conventional online slots app. Potential players are promised progressive jackpots, big bonus features, free spins and more bonus rounds than they can shake a stick at – but they don't have to spend a penny to play here if they don't want to! Lotsa Slots is another slots and casino app that's played with bonus coins and offers more than eighty original slots games to choose from. Some of the most popular include Bonus and the Beast, Lava Loot, and the underwater kingdom of Poseidon Cash. Lotsa Slots promises two million coins as a welcome bonus plus a further allocation of bonus coins every two hours, but players are free to purchase more as and when they wish to.
Jackpot World
Like Lotsa Slots, Jackpot World is a product of SpinX Gaming Limited. Unlike Lotsa Slots, Jackpot World offers an incredible twelve million coins as a welcome bonus. Between that and the ongoing promise to add new Vegas-style slot games to the app every week, it's not hard to see why this is one of the most popular apps like Jackpot Master at both the Android and Apple stores. There's almost no limit to what you can spend your winnings from the games at Jackpot World on. You can buy anything from exclusive stamps and avatars to adorable virtual pets! More bonus coins are added to a player's account every fifteen minutes as they play, but as with most apps of this kind, it's possible to purchase additional coins in the interim. Aside from presenting traditional-style casino slots, Jackpot World features "daily missions" for players to complete and earn special, exclusive rewards. Top slots inside the Jackpot World app include Mighty Tiger and Penguin Quest, but so many new slots get added that what's hot right now will likely have been replaced by something else within a month!
Jackpot Crush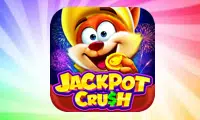 Jackpot Crush feels a little understated compared to the other SpinX Gaming Limited games we've included in this list of Jackpot Master comparisons, but if you're looking for apps like Jackpot Master, you'll likely find that these two apps have more in common than just half of their names. The 777 Jackpot game inside Jackpot Crush is about as close to the look and feel of a "real" casino game as you'll find on the SpinX Gaming Limited platform and closely resembles the retro, authentic style of presentation you'll see inside the Jackpot Master app. However, don't mistake any of this for us accusing Jackpot Crush of being plain or boring. This is an app that offers bonuses hourly, daily and weekly, with bankable bonus coins and tournaments that players can play against their friends free of charge. In fact, there's so much going on with Jackpot Crush that every single one of the app's games and slots has a bonus round, whether it looks like it ought to or not! You still can't win any real money in Jackpot Crush, but the fifteen million free coins the app starts you off with should keep you entertained free of charge for a while.
Slots Casino Jackpot Mania
Slots Casino Jackpot Mania isn't exactly the sort of name that trips off the tongue easily, but we've included it in this list for a very good reason. It's another casino app by SpinX Games Limited, which is generally a good thing in terms of quality, but Slots Casino Jackpot Mania goes further than any of the other apps like Jackpot Master. The welcome offer in this casino app is one hundred million pounds. It will take you a while to get through all that free cash, even if you're a player who tends to bet big, so Slots Casino Jackpot Mania might be the best of the apps like Jackpot Master to get started with if you're new to this unique form of entertainment. Once downloaded, the app can be played even if you have no WiFi or internet access, which means it's perfect for when you're on the move and you're headed to somewhere with a weak signal. SpinX Games Limited claims that all of the games contained within Slots Casino Jackpot Mania – a number that's well over 200 at the time of writing – were designed by people who've had experience in making real-money casino games. We have no way of verifying that, but looking at the quality of the games available at Slots Casino Jackpot Mania, we also have no reason to doubt the statement.
Jackpot Master Review
With Jackpot Master, Zeroo Gravity Games invites casino players to start a winning streak and keep it going without having to pay for the privilege. This is a free-to-play casino app that features dozens of games and several unique bonus features but won't make you pay for the spins you take or the bets you make unless you run out of bonus coins and choose to spend your own cash to buy some more. There's no obligation on players to do so, and those who choose to do so are reminded that it's impossible to win real money or real rewards from any of the games at Jackpot Master. It's an adult-orientated app, but the entertainment it provides is precisely that – entertainment.
The games at Jackpot Master are presented as "social games." So long as you have friends who've downloaded the same app, you can share coins with them and also compete against each other in slots and casino tournaments. The objective of the game is to reach the rank of "master," but the rank can only be unlocked after a huge number of spins and wins.
Jackpot Master Welcome Offer and Bonuses
All newcomers to Jackpot Master are offered six million free "welcome coins" to begin their journey with, with the promise of new daily coins to keep them playing without having to dip their hands into their own pockets. This is a significantly lower offer than we've seen elsewhere in terms of both the number of coins offered to start with and the delay between allocations of new coins.
Players should always remember that the objective of apps like Jackpot Master is to persuade you to spend real money on virtual coin packages. The fewer coins you have and the longer the wait is for the next batch of coins to arrive, the more likely you are to do that. There are casino apps out there that offer more than ten million coins as a welcome package and offer several "bonus coin" top-ups per day – some as regularly as every fifteen minutes – so limiting players to once an hour feels like an unfriendly move on the part of Zeroo Gravity Games LLC.
Who Are Zeroo Gravity Games LLC?
This China-based app development company is very new to the industry. Jackpot Master and Cash Tornado Slot are, as of mid-2022, the only apps this company has come up with as of yet. Both apps have proven to be very popular with players on both Android and Apple phones, so we're sure there will be more to come from the company in the future.
Zeroo Gravity Games LLC has a customer-facing website, but it has the best part of no information whatsoever on it. The only thing they're willing to tell visitors – aside from their address – is that they "create the best user experience." That's an aspiration that they share with almost every other app and game development company on the face of the planet. We'd love to be able to tell you more about Zeroo Gravity Games, but the simple fact is that we can't. Unlike "real" casino network companies that handle real money bets, Zeroo Gravity Games doesn't have to publish any information that it doesn't want to. We're keeping a close eye on the company in case they release more apps and games, so if they expand on their one-page website and let slip a little more information, you'll hear about it here.
According to App Brain, Zeroo Gravity Games has existed since May 2019. The two casino apps that the company has developed thus far have been downloaded more than ten million times, and have a combined average rating of 4.57 out of 5. The download figure comfortably puts Zeroo Gravity Games LLC within the top 1% of all app developers in the world, which is no small achievement considering the paucity of the company's output and its lack of media profile.
Jackpot Master Technical and Price Information
Android Users:
Jackpot Master requires Android version 4.4 or above.
Apple Users:
Jackpot Master requires iOS 10.0 or later for iPhone and iPod Touch, iPadOS 10.0 or later for iPad. Mac users will need macOS 11.0 or later and an Apple M1 chip.
General Information:
The download size of Jackpot Master is 268.5MB. Apple's App Store considers the app to be suitable for users aged 17 or over due to "frequent or intense simulated gambling." Google Play rates it "teen" for simulated gambling. The app is free to download, but in-game purchases of coins can be made for between £0.99 and £300 if a player desires.
Jackpot Master Download Links
For Apple: Download from the App Store. 
For Android: Download from Google Play. 
What Are Other Players Saying About Jackpot Master?
The following reviews have been written by real players who've downloaded the Jackpot Master app and wanted to share their experiences with others. We've edited some of their comments for clarity and brevity.
20-May-2022 by Frank:
Yet another ripoff slots app. This app is truly horrible. Their in-game "quests" start off easy but then they take features and bonuses off you one at a time. Once you've lost your free spins there's no way to make progress without buying coins. Once you've started buying they'll find ways to make sure you don't stop. – source: App Store
07-May-2022 by Raxxis:
They boast that the payouts in their games are really big but you always end up broke within an hour of starting playing. If you ask customer support about this they won't respond to you. I wish I'd never paid for any coins in Jackpot Master. – source: App Store
15-Apr-2022 by RamsgirlLVI:
I hardly ever write reviews but Jackpot Master has awesome slot games. It's the best app of its kind I've played on the App Store. The graphics are great and so are the sound effects. Ads are minimal and there's no need to make purchases to progress in the games. – source: App Store
18-Mar-2022 by OEmFGee:
There are too many adverts on this app now. There never used to be. I get forced to watch several adverts before I even start playing and I don't get my daily bonus unless I sit through them all. I'm not going to pay to have them removed so I guess I'll delete the app. – source: App Store
11-Feb-2022 by Coleision:
I don't mind paying for fake coins in a game so long as I'm having fun. I find that Jackpot Master is mostly fun but after you've started making purchases, the cost of your next purchase increases. Also, there are frequent bugs and customer support never responds to anything. – source: App Store
28-May-2022 by Angela:
I don't even know where to start. Yes, you can win coins, but playing a single slot can cost you 10 billion coins and then you either wait for a bonus or have to buy coins. Now there are extra adverts on top of that. The game is almost dead to me. – source: Google Play
16-Mar-2022 by Kenneth:
Jackpot Master is a lot of fun to play when it works. The issue is that it doesn't work very often. I find it crashes several times per day, usually within five minutes of opening the app. Until this is fixed I can't rate it as more than one star. – source: Google Play
24-Jan-2022 by Arrill:
I really enjoy Jackpot Master despite its flaws, and I understand why they need so many adverts from a financial perspective. My frustration is that game features sometimes don't work. The wheel bonus isn't working at all for me at the moment and customer services won't respond to me about it. – source: Google Play
25-Feb-2022 by Kay:
I love playing at Jackpot Master but recently I keep getting thrown out of the Quest challenges because of errors in the app. I've rebooted, cleared my cache and done everything else I can think of but it's still happening. I've notified customer support twice but heard nothing back. – source: Google Play
02-Mar-2022 by Bridgit:
I loved Jackpot Master once but not any more. Adverts now pop up during normal gameplay. I get why they run ads but it can be done without bombarding players and ruining the game. It's so disappointing because the game was so much fun before this happened. – source: Google Play