SpinLand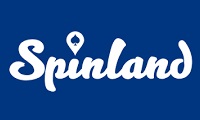 SpinLand sister sites include Miami Dice, SpinYoo Casino, Playgrand Casino, Temple Nile, Barz Casino, Dream Vegas, Playzee, 21 Casino, Casimba, Klasino and more.
SpinLand (spinland.com) is operated by White Hat Gaming Limited of Cornerstone Business Centre, Mosta, MST1180, Malta.
Sites like SpinLand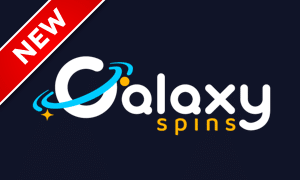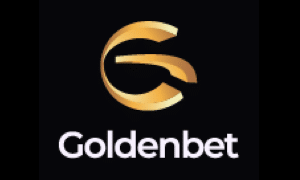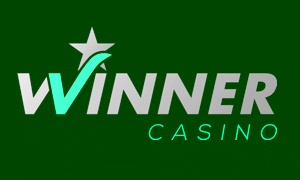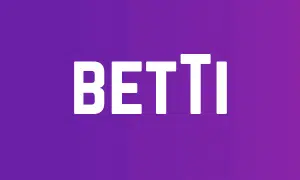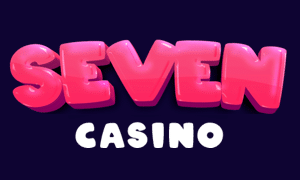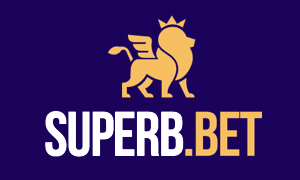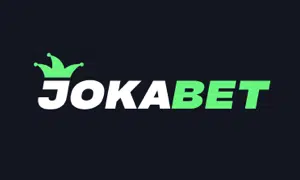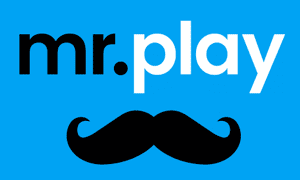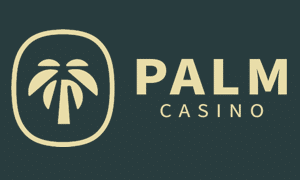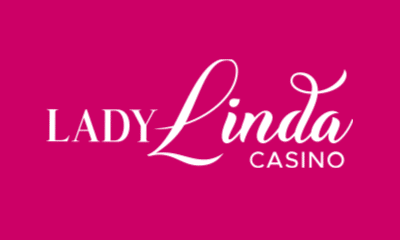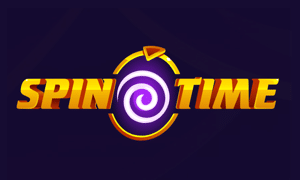 SpinLand Sister Sites 2023
SpinLand is one of more than thirty casinos on the White Hat Gaming Limited network. If you want to see all of the SpinLand sister sites in one place with reviews and bonus information, click the White Hat Gaming link at the top of this page. Stay on this page for a guide to the best casinos on the network, plus a full review of Spinland Casino.
Temple Nile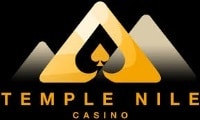 If you've been visiting online slots and casino sites for a while, you'll probably have encountered an Egyptian-themed casino site before. Just as the Egyptian theme is popular among developers that make slots, it's also popular among casino network companies who put together iGaming sites. However, you've probably never come across an Egyptian-themed site that looks like Temple Nile before. White Hat Gaming pushed the boat out with this one, going to the trouble of dressing an actress up as Cleopatra and having her stand in front of a green screen so they can make it look like she's actually in front of the Pyramids for a short, constantly-repeating clip on the casino's homepage. This is easily one of the best-looking SpinLand sister sites and backs it up with a 100% matched deposit welcome offer that's capped at £300. The promotion comes with sixty bonus spins to be used on selected slots, but it is also tied to a slightly above-average wagering requirement of x40. Slots – especially slots with an Egyptian theme – are the bread and butter of what Temple Nile does, but the casino also offers a good selection of live dealer games and other table games for those interested.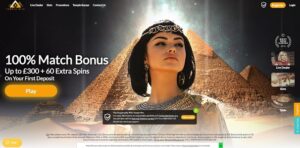 Miami Dice
You don't have to be a fan of the classic TV series "Miami Vice" to enjoy playing at Miami Dice, but it probably helps if you are! Whoever put the Miami Dice website together is clearly a die-hard fan of the old American cop drama, as they borrowed not only the show's name but also its setting and even its colour scheme. If it weren't for the fact that the characters who appear all over the Miami Dice casino site were cartoons, it's possible that copyright infringement might have taken place. It's undeniably a cool theme, though, and it makes Miami Dice stand out from the other, more generic SpinLand sister sites. Like all of the better casinos on the White Hat Gaming network, Miami Dice has access to an enormous jackpot pool that never seems to dip below £20m, no matter how many people win big prizes from it. The news about the Miami Dice welcome offer is a mixed bag; with a cap of £100, it's lower than the one we just discussed at Temple Nile, but the associated wagering requirement of x35 is a little friendlier. Classic slots get better positioning than new slots at Miami Dice, but there's a dedicated area for new releases if you select the "star" option from the menu on the homepage. Live dealer games, table games, poker and "scratch and fun" categories are all there for your perusal, too.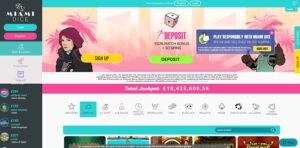 Slots Cafe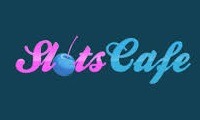 Both of the SpinLand sister sites we've looked at thus far in this list of highlights have big, eye-grabbing themes to help them sell themselves. Slots Cafe does not. In fact, despite its name, it doesn't even have a cafe theme. Instead, it has a fairly minimalistic blue, pink and turquoise layout that looks a little bland but at least makes it easy for visitors to find their way around the casino site. What Slots Cafe might lack in visual flair, it makes up for with content, both in terms of the iGaming portfolio at the casino and the promotions that it offers. New players at Slots Cafe can claim up to £300 as a 100% matched first deposit, with a wagering requirement of x35 attached to the offer. At the same time, they can also claim twenty-five free spins on the Slots Cafe game of the month. At the time of our visit to the site, the game of the month was Starburst by NetEnt. Starburst is almost ten years old now, so for it to be featured this way at Slots Cafe tells us that this is another White Hat Gaming casino that puts classics ahead of new releases. You're never going to be bowled over by the stunning good looks of Slots Cafe, but don't let the lack of pretties distract you from the fact that this is a well-built casino with a great UI and plenty of fantastic games.
Captain Spins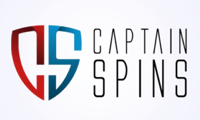 Captain Spins is a return to the standard template of SpinLand sister sites, which is to come up with a grand theme and then hang a casino site around it. In the case of Captain Spins, the theme is "superheroes." Captain Spins himself is a superhero – one who bears a particularly strong resemblance to the most recent movie incarnation of Captain America – and welcomes you with a splash banner on the homepage of the site that bears his name. The same splash banner informs you of the Captain Spins welcome promotion, which is 520 free spins for all new players willing to part with £10 or more as a first deposit. The key terms and conditions of the promotion aren't listed on the casino's homepage, which is a little rude. However, they're only a couple of clicks away, and, in any event, the wagering requirement on winnings gleaned from the free spins is a fairly standard x35. Captain Spins is a great place to come if you're the type of player who's motivated by enormous jackpots, as there are several seven-figure jackpot slots hooked up to the casino's homepage. You'll find them by scrolling around halfway down the page.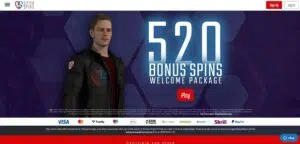 Klasino
When a casino network operates as many sites as White Hat Gaming Limited does, it will inevitably touch on every genre and theme at least once. That includes the "upmarket" theme, of which Klasino is probably the best example on the network. Like Temple Nile, Klasino has an eye-catching video on its homepage playing in a loop to welcome all visitors. Unlike Temple Nile, the video doesn't feature anybody dressed as a former Egyptian Queen. Instead, it takes us "behind the scenes" of a five-star casino in action, with croupiers, card tables and spinning roulette wheels. Despite the video's focus on live dealers and live games, the most popular attractions at Klasino are all online slots. However, there's still a difference between Klasino and most of the other SpinLand sister sites because the slots that get most of the real estate on the casino's homepage are recent releases rather than old favourites. The Klasino welcome offer is a little weaker than we've seen elsewhere, capped at £100 as a 100% matched deposit and tied to an x35 wagering requirement, but it's still a classy, elegant site with plenty of entertainment on offer.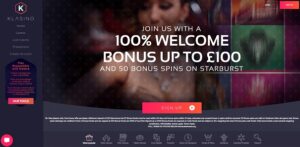 Spin Rider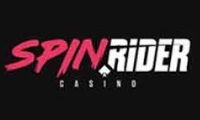 You'll have to go a long way to find an online casino like Spin Rider. We've said that Miami Dice looks cool, as do a few more SpinLand sister sites, but Spin Rider has the "cool" category wrapped up. If the movie franchise "The Fast and the Furious" had an official online casino, it would look like this. Smack bang in the middle of the homepage is a stylish black Porsche, still smoking after slamming on its brakes to park in the middle of Times Square, and next to it are a couple clad head to toe in black leather. Everything about Spin Rider screams "VIP" – it just screams it in a very different way to Klasino. All of this is window dressing – the collection of slots and games at Spin Rider is very similar to the collection of slots and games you'll find at almost every other White Hat Gaming Limited casino site – but themes are important when it comes to attracting interest from potential players, and Spin Rider has a great one. With a welcome offer that stretches to £300 as a 100% matched deposit with an x35 wagering requirement, it's also one of the most generous SpinLand sister sites to newcomers.
Fruity Casa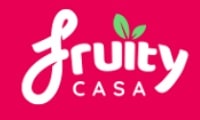 Fruity Casa is a SpinLand sister site that likes to keep things simple. Nowhere else in the White Hat Gaming sister sites family will you find a site with a simpler interface or less decoration on its homepage. Minimalism is the order of the day at Fruity Casa, and it leaves the casino looking a little plain. A few more buttons to help players find their way around the casino wouldn't have gone amiss, and the plain white background leaves the site looking almost unfinished. You can tell where Fruity Casa sits in the eyes of its parent company from its welcome offer. The upper-tier SpinLand sister sites tend to offer £300 in matched deposit bonus funds as a welcome promotion, whereas the second-tier sites are capped at £100. Fruity Casa falls into the latter category. To make matters worse, the welcome promotion is the only one that the casino offers at the time of writing, so the casino has no way of rewarding players for long-term loyalty after the welcome bonus has been used. We suspect the simplicity of Fruity Casa is part of what attracts people to the site, but we suggest that there are better casinos on the White Hat Gaming network than this one.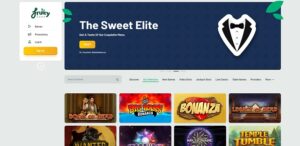 SpinYoo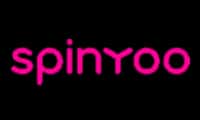 SpinYoo is not yet the most popular casino site on the White Hat Gaming network, but it's getting there. It's one of the more recent additions to the family, but it's gaining attention and players faster than any of the other SpinLand sister sites, and there's no sign of its momentum slowing down any time soon. It's hard to say what it is about SpinLand that's resonated so well with players, but perhaps its unusual layout has something to do with it. The colour choice of grey with neon highlights could make a casino look dull if executed poorly, but the tiled effect of SpinYoo makes the casino look futuristic. Everything you need to know about SpinYoo, from the terms and conditions of its promotions to its slots and games, slides across the homepage like a carousel, making all the content the site has to offer accessible in no more than a single click. Newcomers to the casino have a choice between £250 in bonus funds plus 100 free spins or a £100 live casino bonus as a welcome promotion, so the choice is yours. In addition to all of the above, SpinYoo uses an algorithm to learn the way you like to play and the games you're interested in. When it's got a handle on that, it'll start to make recommendations for games it thinks you might like.
Barz Casino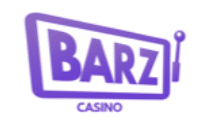 Barz, which also goes by the longer name "Barz Casino," is a site that was designed according to a similar philosophy as Fruity Casa. By that, we mean there's not a lot to look at when the casino's homepage loads. We're not sure about the meaning of "Barz" in the context of the site, as it could be a reference to the "bar" symbol that appears on traditional slots, or it could be a reference to the "barz" (verses) that rappers write in songs. Based on the aesthetic of the casino, we think it's more likely to be the former than the latter. Still, though, Barz marks itself out as being more generous than most SpinLand sister sites with a £300 matched deposit welcome bonus plus a further fifty bonus spins – although the wagering requirement attached to the promotion creeps up to x40. Incredibly, Barz casino offers slots and games from more than one hundred different providers, with every major provider represented and several dozen smaller studios whose work you may never have encountered before. You might not be attracted to Barz by its promotions or its style, but the games portfolio is worth your time to take a look around.
Can SpinLand Be Trusted?

★★★★★
SpinLand is a 3 Star trusted casino.
1. UKGC License

SpinLand is covered by UK Gambling Commission licence 52894, held by White Hat Gaming Limited

2. UKGC Fines

White Hat Gaming made a payment of £1.3m to the UKGC in lieu of a formal financial penalty in January 2021 after issues with its anti-money laundering and safer gambling policies were identified.

3. Customer Service

Customer support at SpinLand via live chat and email, but not via telephone.

4. Trustpilot Score

SpinLand has an average rating of 2.3 out of 5.0, but has been reviewed fewer than twenty times.

5. Company Location

White Hat Gaming Limited is based in Malta.

6. Visible T&C's

Key terms and conditions appear alongside promotions where relevant.

7. Social Media Presence

SpinLand hasn't posted on Twitter since 2019, and doesn't have a Facebook account.

8. Number of Sister Sites

There are 31 SpinLand sister sites on the White Hat Gaming platform.

9. Games portfolio

SpinLand works with over 100 providers to deliver an extensive portfolio of hundreds of slots, live dealer games, table games and more.

10. Gamstop links

The GamStop logo and link appears in the footer of the SpinLand website, but it's small and greyed out in a way that makes it difficult to see.

Overall SCORE >

★★★

★★ – 3/5 Stars
SpinLand Review 2023
SpinLand has been doing good numbers for White Hat Gaming since it launched in 2017. The simple idea behind the casino is that it's literally a land of slots, with skyscrapers made of casino chips and dice and all the residents drawn from the reels of online slots. It's not an especially original idea, but it's well-realised and makes for an interesting backdrop to the casino. Is SpinLand a destination you should consider? Find out by reading this review.
SpinLand Welcome Offer
Almost all of the White Hat Gaming Limited casinos offer a matched deposit welcome promotion to new players, and Spinland doesn't deviate from that trend. If you're new to SpinLand, you can claim a 100% matched deposit on your first deposit with the site up to a maximum of £300. The promotion comes with fifty bonus spins attached plus a further five hundred loyalty points that count towards long-term rewards. All bonus funds plus any winnings garnered from bonus spins are subject to a wagering requirement of x35. The spins expire in 72 hours if they're not used, and bonus funds expire in thirty days if the wagering requirement hasn't been met.
Ongoing Promotions
The biggest ongoing promotion at SpinLand is its points-based loyalty scheme, but full details of the scheme are difficult to find on the casino's website. We know that new players get five hundred loyalty points if they choose to take the welcome offer when they join the casino, and we also know that further points are accrued by making deposits and playing games. If the loyalty scheme at SpinLand works in similar ways to the loyalty scheme at various SpinLand sister sites – which it almost certainly does – players will have to accrue one thousand loyalty points before they can start converting points into cash or trading them in for rewards like free spins or further matched deposits. It's impossible to say what the exchange rate is at SpinLand because the information isn't published, but if it's anything like it is at the casino's sister sites, it won't be fantastic. You'll have to spend a lot of money before you start making anything back from the promotion.
There are other ongoing promotions at SpinLand, but they mostly take the form of prize draws. When we visited the casino to write this review, we found it was offering a £30,000 prize draw, a £10,000 prize draw, and another draw offering players the chance to win cash prizes up to £500 every week. Prize draws are always great for the people who are lucky enough to win them, but it would be nice if SpinLand offered a guaranteed way to receive better perks in return for loyalty and high spending.
SpinLand Pros and Cons
Pros: 
SpinLand works with more than one hundred providers. That's a massive number and means that this is a casino worth visiting if you're interested in playing games you've never seen before from providers you've never previously encountered. 
Customer support is available on a 24/7 basis. 
Cons:
The terms and conditions of SpinLand's ongoing loyalty program aren't published anywhere, so customers go into it blind. 
SpinLand doesn't offer any guidance regarding its processing of withdrawals or deposits, so it's impossible to know how long players might be left waiting for their winnings. 
Featured Games and Slots
It's easy to find out what's popular at SpinLand. The collection of games on the casino's homepage defaults to the "most popular" category, from which we can see that while SpinLand offers roulette, poker, live dealer games, scratch cards and more, slots are the most popular attractions at the casino. Of the slots available, these are the biggest hitters at the moment. 
Fishin' Bigger Pots of Gold: This August 2022 release is a sequel to a sequel, bringing together elements of Fishin' Frenzy and 9 Pots of Gold in the same slot. That means you'll get big jackpots for landing multiple scatter symbols, but you'll also get a nice win each time "cash fish" land on the same spin as a fisherman symbol. The slot is piled high with bonuses – so much so that it can be hard to follow at times – but it's also a slot that allows a great deal of customisation. You can even pay for larger multipliers to be included in the game if you feel like you're not getting a fair shake. The RTP of this slot from Gameburger Studios is 96.05%, with high volatility. 
Outlaw Saloon: There isn't exactly a shortage of Western-themed slots on the market, but there's always room for one more so long as it's good enough. Based on the popularity of Outlaw Saloon by Gold Coin Studios, it must be good enough. It's a September 2022 release, offering an unfriendly-looking combination of high volatility and 94% RTP, but the wild respin prizes of up to x5000 against your stake and the selectable bonus rounds make up for that a little. The slot's graphics aren't great, but you can't have everything. 
Money Train 3: Relax Gaming has seen a lot of success off the back of the first two Money Train slots, so it will be hoping for more of the same from this third game in the series, which was released in September 2022 with high volatility and 96.1% RTP. "More of the same" is also what the slot offers to players, with the return of the tried-and-tested gold mine theme and the use of sticky symbols and multipliers to spice up bonus features. The maximum prize available in Money Train 3 is an impressive x 100,000 against your stake, but the slot's RTP is down almost two per cent from Money Train 2. 
Deposits and Withdrawals
We wish we could give you the full picture of how SpinLand handles deposits and withdrawals, but the casino doesn't provide it. The information contained in the casino's full terms and conditions is nowhere near thorough enough, and there isn't a banking page on the site to assist us. There isn't even an FAQ, so we can't get any information that way, either. The logos that run across the bottom of the SpinLand homepage include Apple Pay, PayPal, Trustly, Sofort, Skrill and more, along with the usual Maestro, Mastercard and Visa symbols, so it's to be expected that most modern payment options are covered, but we can't say how long it might take for a withdrawal to be processed. Given that e-wallets and instant bank transfer services are supported, you'd like to think same-day withdrawals are possible, but there's no way of knowing.
Customer Support and Licensing
SpinLand doesn't offer telephone support. However, there ought to be someone available to speak to you 24/7 on the casino's live chat system, and email support is there as a backup option if you'd prefer. White Hat Gaming Limited, which operates SpinLand, holds UK Gambling Commission licence 52894. The license covers all casino operations at SpinLand. A further licence held with the Malta Gaming Authority enables SpinLand to operate further afield.
SpinLand – The Verdict
The best thing about SpinLand is the massive number of game providers it works with. The range and variety of games available at the casino are fantastic. Beyond that, everything's a little disappointing. The welcome promotion is OK, but the terms and conditions of the long-term loyalty reward system are unclear, and not publishing information about deposit and withdrawal processing is fairly unforgivable.
What are players saying about SpinLand?
Here are our condensed/reader's digest summaries of recent player reviews of SpinLand.
23-Apr-2022 by Rick:
The choice of games at Spinland is great, but that's where the positives end. I've tried to make five withdrawals in the past two weeks, and I haven't received any of them. I've been unable to get a response from them, so I've had to raise a complaint with Resolver. – source: TrustPilot
26-Dec-2021 by Kevin:
I recently joined SpinLand after voluntarily excluding myself from gambling for a year. I didn't get any restrictions on my account when I joined, but they later found out I'd used GamStop before, so I wasn't eligible for any bonuses. That feels like victimisation. – source: TrustPilot
13-Aug-2021 by Lola
I think it's a good website. It's easy to use, and I've had fun here, so it gets four stars from me. – source: TrustPilot
25-Jul-2021 by Paul:
I've played slots for years, so I know how they work and what their payout rate should be. Spinland is the worst iGaming site I've been on. It flips back and forth between bonus money and real money wityhout telling you, and always in a way that means you don't win real money. It's a con. – source: TrustPilot
11-May-2021 by Mark:
My first withdrawal from the casino went smoothly, but after that, they asked me for further proof of income even though they'd had all the usual from me. I explained to them that I don't get payslips as I'm self-employed, but they're welcome to credit check me or do anything similar. Instead, they just locked my account, and now I can't play. – source: TrustPilot

06-Dec-2020 by Betty:
This online casino is just scamming people, don't deposit your money or waste your time. I have reported them for fabrication and dishonesty. – source: TrustPilot
07-Jun-2020 by Leanne:
I advise you all to stay far away from this online casino. They will let you deposit money, but when you request a withdrawal, they will deny it with an excuse. – source: TrustPilot
15-Feb-2020 by Chris:
Spinland is nothing but a group of frauds, I played and won fair but they are refusing to pay me. Their customer support always says please wait you will get your funds but here I am with nothing. – source: TrustPilot
14-Feb-2020 by Lamar:
The only good thing about this online casino is the variety of games and is playable on mobile. They say they got 24/7 chat but they don't provide any help in their customer support. – source: AskGamblers
28-Sept-2019 by Peter :
This casino has a variety of games but some new games are missing. Their customer support is fast and friendly, but when you request a withdrawal they refuse to pay you for no reason at all. – source: AskGamblers