Spicy Jackpots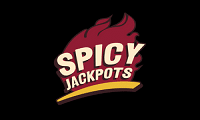 Spicy Jackpots sister sites include Big Wins, Superb Bet, Golden Lion, Winner Casino and Ocean Breeze Casino.
Spicy Jackpots (spicyjackpots.com) is operated by Mad Entritanment DS DV, which is based in Curacao.
Sites like Spicy Jackpots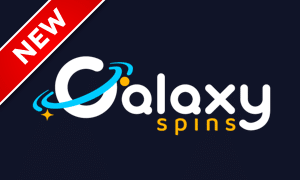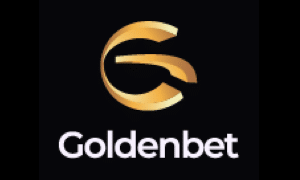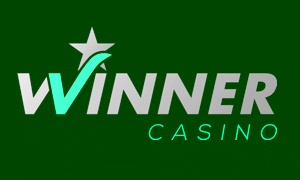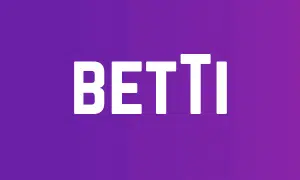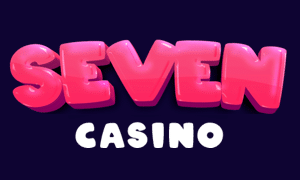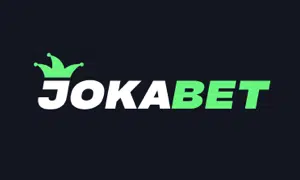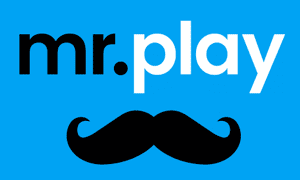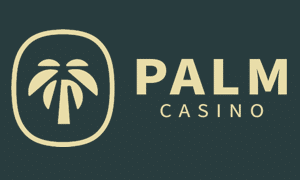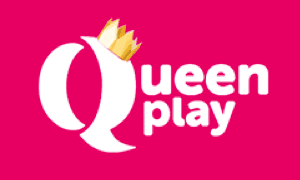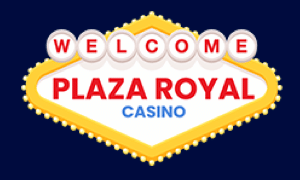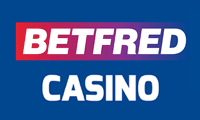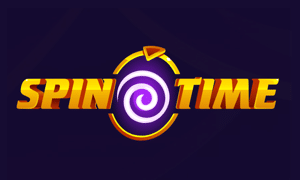 Spicy Jackpots Sister Sites
SPICY JACKPOTS IS NOT COVERED BY A UK GAMBLING COMMISSION LICENCE.
The Spicy Jackpot sister sites are part of a uniquely named casino network company known as Mad Entritanment DS DV, which operates out of Curacao and is linked to another firm based in Greece. Information about casino operators based in Curacao is notoriously elusive, so while we've made every effort to ensure that the list of Spicy Jackpots sister sites we've provided here is comprehensive and accurate, we can't guarantee it with absolute certainty. There may be a few more sister sites out there.
As is typically the case with casino network companies and casinos operating from Curacao, none of the Spicy Jackpots sister sites holds a UK Gambling Commission licence. This doesn't necessarily imply that playing at Spicy Jackpots is unsafe, but it's important to remember that if you choose to play, you do so at your own risk. If any issues arise, you'll have significantly fewer protections and assurances than you would at a site registered with the UKGC.
Winner Casino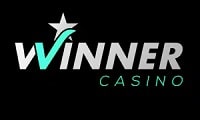 Winner Casino stands out as a bit of an anomaly among the Spicy Jackpots sister sites. A glance at its URL reveals a "1" (winnercasino1.bet), which wasn't always there. This is actually the second version of the same casino, the first of which was located at the more straightforward address winnerscasino.bet. While the exact reason for the closure and subsequent reopening remains unclear, there have been rumours that the original casino encountered problems and ceased paying out to players. If these rumours hold any truth, it could raise some red flags about playing at the revamped casino.
To be frank, you wouldn't be missing much if you decided to bypass this particular member of the Spicy Jackpots sister sites group. It does offer a substantial welcome promotion, but it's the same promotion that most of the casinos on the Mad Entritanment platform provide. It also features a sportsbook, but so do many other casinos on the network. If Winner Casino does indeed have customer service issues – which, again, we can't confirm – then it might be a better idea to play at one of the platform's other casinos.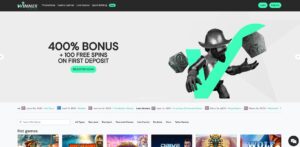 Superb Bet
You could be forgiven for thinking that Superb Bet is a sports betting website. That is, after all, what we've come to expect from iGaming sites that prominently use the word "bet" in their names. That isn't the case with Superb Bet, though. It has access to the same sportsbook facilities as (almost) all the other Spicy Jackpots sister sites, but it doesn't make any bigger a deal out of them than any of the rest. Instead, the focus is once again on slots. The fact that the basic design of all the casinos on this operator's platform is so similar means there's little chance for any of them to deviate.
Superb Bet goes a little further with its welcome promotion than some of the Spicy Jackpots, attaching boosts and free spins to the first six deposits a new player makes. Bigger individual boosts can be found at some of the other casinos, though, and the number of free spins dwindles a little on deposits five and six. It wouldn't be unfair to suggest that Superb Bet is the most understated of the Spicy Jackpots sister sites, but when it comes to the actual iGaming content that it offers, it's no better or worse than any of the rest.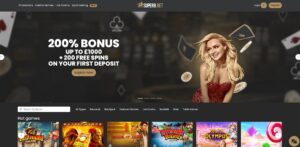 Ocean Breeze Casino
The hallmark style of the Spicy Jackpots sister sites, with Ocean Breeze Casino serving as an ideal example, is consistently reflected in their design. All the casinos on this platform share numerous common features, a consistency that can be attributed to the blueprint employed by the Curacao-based casino network company in designing and establishing their casinos. However, casinos built on templates aren't necessarily a negative thing. In fact, many UKGC-registered casinos that use templates are arguably less appealing and impressive than those crafted by Mad Entritanment. The downside, though, is a sense of monotony when navigating between the Spicy Jackpots sister sites.
Despite the standardised appearance across the network, there's more to these casinos than just looks. The sites significantly differ when it comes to promotions and benefits. For newcomers, Ocean Breeze Casino's generous welcome promotion, potentially amounting to as much as six thousand pounds in bonus funds for those capable of maximising their initial deposits, is immediately eye-catching. Such an offer is bound to attract high rollers. While Ocean Breeze Casino may not be groundbreaking, its promotional offerings certainly make you look twice.
Big Wins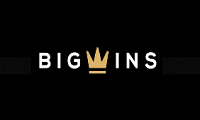 Identifying which was the first of the Spicy Jackpots sister sites to launch is a tricky task, given their propensity to appear and disappear seemingly at a moment's notice. However, the consensus seems to be that Big Wins has been around longer than its counterparts, effectively making it the flagship casino of the network. While we can't say for certain whether the owners regard it as their main casino, the extremely generous welcome promotion suggests that Big Wins holds a significant place in the operator's portfolio. At Big Wins, new players have the potential to receive thousands of pounds in bonus funds, primarily due to the substantial boosts on deposits. To secure these hefty bonuses, players need to be willing to deposit large amounts, but the opportunity is certainly there.
While we typically don't query the value of bonuses as long as the terms and conditions are reasonable, Big Wins could improve its offerings by extending its promotions beyond the initial welcome bonus. The casino goes to great lengths to attract new players, but the lack of ongoing promotions to reward loyal customers is conspicuous. This criticism could be levelled at several other Spicy Jackpots sister sites as well, but it doesn't make the absence of regular promotions any less puzzling.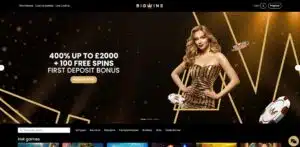 Golden Lion
Is it an immutable fact that casinos and betting platforms with endearing animal mascots always outperform those without such charming features? Not necessarily, but it does seem to be the case more often than not. Golden Lion doesn't hold a monopoly on using a lion as its mascot, nor is it the only casino based in Curacao bearing the "Golden Lion" name. However, its appealing aesthetics and exceptional player benefits allow it to overcome these potential obstacles. The 400% matched deposit welcome offer at Golden Lion exceeds what you might typically anticipate at most of the Spicy Jackpots sister sites.
The generous welcome bonus isn't the only feature that sets Golden Lion apart in the Spicy Jackpots sister sites family. The sportsbook is another significant element to take into account. While it's standard for all iGaming platforms on this network to offer around 1200 slots (as a bare minimum) and a plethora of live casino games, the inclusion of a sportsbook often distinguishes the run-of-the-mill Spicy Jackpots sister sites from the exceptional ones. In this regard, Golden Lion sets itself apart as one of the network's standout iGaming options.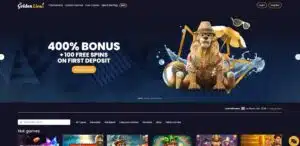 Spicy Jackpots Review 2023
Spicy Jackpots has a strong case for being the best-known and most popular of the Mad Entritanment DS DV casinos. The oddly-named casino operator isn't really supposed to serve players in the UK on account of the fact that it doesn't hold a UK Gambling Commission licence, but that doesn't seem to have stopped it. As a result, plenty of UK-based players play at these sites, albeit at their own risk and without the basic protections that come with playing at UKGC-licensed casinos. None of the Spicy Jackpots sister sites have .com web addresses, but Spicy Jackpots does, which suggests it might be the flagship of the platform. Does that make it the best of them, though? Let's have a closer look.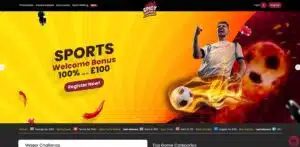 Spicy Jackpots Welcome Promotions
The welcome promotion at Spicy Jackpots is broadly similar to the welcome promotion at plenty of the Spicy Jackpots sister sites. Make a first deposit of at least £20, and the casino will boost that deposit by 400% up to a maximum of £2000. The bonus comes with one hundred free spins, which are tied to one of the top slots games at Spicy Jackpots. The biggest catch of this promotion is its associated wagering requirement, which is x50. That's quite some distance over the average wagering requirement for UK-facing casinos
There's also a sports betting welcome promotion, advertised as a 100% match up to a maximum of £100 on first deposits. The full terms and conditions of this promotion aren't disclosed, so while we suspect there's a wagering requirement, we're unable to specifically confirm it.
Ongoing Promotions
It might be more accurate to call the additional promotions at Spicy Jackpots extensions of the welcome promotion rather than standalone or ongoing promotions – they're certainly not ongoing in their nature. However, Spicy Jackpot goes the extra mile in terms of making new players feel welcome. There are bonuses attached to the first six deposits that new players make at the casino, all of which are similar to the welcome bonus.
Second deposits at Spicy Jackpots are met with a 200% boost up to a maximum of £1000. The following four deposits all attract the same bonus – a 100% boost up to a maximum of £500. Another one hundred free spins are handed out with each deposit, and the wagering requirement never moves from x50. In total, £5000 in bonus cash is available across the six deposits if you're prepared to part with enough of your own money to secure it.
Spicy Jackpots Pros and Cons
Pros:
While the wagering requirements attached to the welcome promotion aren't as pleasant as they could or should be, nobody can deny that £5000 in bonus cash is an enormous amount for players who are new to the casino.
Customer assistance at Spicy Jackpots is provided on a 24/7 basis via live chat.
Cons:
We know we sound like a broken record, but the Spicy Jackpots sister sites (and Spicy Jackpots itself) aren't covered by a UK Gambling Commission licence, or indeed any credible iGaming licences. There are inherent risks associated with playing at them that don't exist at UKGC-approved casinos.
The terms and conditions at Spicy Jackpots aren't always clear. We don't know what the wagering requirements for the sports betting welcome offer are, for example, and the information provided about withdrawal processing isn't specific enough.
Top Games at Spicy Jackpots
Spicy Jackpots leans more heavily into the idea of being a sports betting website than any of the other iGaming sites on this platform, which is why the (presumably unlicensed) image of England midfielder Declan Rice appears on its homepage. Even with that being said, though, the "top games" at Spicy Jackpots are all slots. These were the top three slots at the casino when we visited it to write this review .
Big Bass Splash: This popular title from Reel Kingdom is a sequel to the original Big Bass Bonanza and takes you on a fishing adventure with a twist. This 5×3 reel game with ten paylines offers a unique reel 'em bonus round where you can collect cash fish with the fisherman wild. The fisherman wild also upgrades the multiplier and awards extra spins. The game also includes a pre-feature upgrade game that awards up to 5 extras. The maximum potential win is a whopping 5,000x your stake, the highest in the series so far. The game's exciting features and high potential make it a must-try for slot game enthusiasts..
Starburst: "Starburst" is a world-renowned slot game by NetEnt that has remained popular since its launch in 2012. Very few slots can stick it out for more than a decade, but this one has. This 5-reel, 10-payline game is known for its simplicity and vibrant arcade-style graphics. The game's main feature is the Starburst Wilds function, which can lead to big wins despite the game's low variance. The Return to Player (RTP) is 96.09%, which is average for online slots. However, note that the game has RTP ranges, meaning that casinos can adjust the RTP according to their needs. The game's low volatility means that players can expect frequent smaller payouts, making it a great choice for those looking for fun without risking too much.
Gates of Olympus: This is one of the most popular slots ever released by Pragmatic Play and is inspired by Greek mythology. The game operates on a Pay Anywhere engine, meaning that 8+ matching symbols anywhere on the reels result in a win. The game features a Tumble feature, a Multiplier feature, and a bonus round. The Multiplier feature, triggered by Zeus, can apply multipliers from 2x to 500x to your wins. The game has an RTP of 96.5% and high volatility. The maximum win is 5,000x your stake. An Ante Bet feature is available, which doubles your chances of landing the bonus round for an additional 25% of your stake.
Withdrawal Processing and Support
The banking page at Spicy Jackpots confirms that there are countless ways to make a deposit at the casino but far fewer ways to make withdrawals. As is common with non-UKGC casinos, Spicy Jackpot accepts Bitcoin, and Bitcoin wallets are approved as a withdrawal method. Failing that, you can make a standard bank transfer or use a bank transfer via PIX, Expay or Coinspaid, with Coinspaid making it possible to use any form of cryptocurrency. In all cases, you're looking at a wait of between one and two business days before you receive your money. Expay transactions are capped at £2000 per withdrawal. The cap on all other methods is £5000.
Customer Support and Licensing
Spicy Jackpots has a live chat facility and claims that it's available 24/7, although some customer feedback suggests that this may not always be the case. If you either can't or don't want to use live chat, you can send the casino an email on [email protected]. Spicy Jackpots is covered by master licence 34389464EU, issued by authorities in Curacao. The same licence covers all of the Spicy Jackpots sister sites, but the problems associated with regulators in Curacao are numerous and severe. A more robust and respected licence would do a lot of good for the casino's standing.
Spicy Jackpots – The Verdict
The good news is that Spicy Jackpots is no worse than any of the other casinos that it shares a network with. The bad news is that it's also no better than most of them. The Spicy Jackpots sister sites are all roughly of the same quality, so it's hard for any of them to stand out. The promotions are always strong, but there are concerns about limited withdrawal options and seemingly poor customer support. These risks exist at pretty much every non-UKGC casino, though, so if you're happy to take the risk, this one's as good as any.
What are players saying about Spicy Jackpots?
Here are our condensed/readers digest summaries of recent player reviews of Spicy Jackpots.
14-Jun-2023 by Kaz:
This is a joke of a casino. I won £700 playing here and asked for a withdrawal. I waited for ages, sent them emails, and tried to speak to them on live chat. They kept telling me to be patient. I've been waiting now since April 2nd, and when I threatened to report them, my account was suspended. Definitely suspect. – source: TrustPilot
09-Jun-2023 by Kevan:
I think this company is laundering money. I made two £10 deposits today, and both show on my bank statement as going to different companies. – source: TrustPilot
09-Jun-2023 by Pamela:
I tried to withdraw £450 more than two months ago, and I still don't have it. I've been told to be patient because of security checks over and over again. Beware before making any deposits on this casino. I don't think I'm ever going to get my money. – source: TrustPilot
05-Jun-2023 by Saif:
Spicy Jackpots is a con. I won £300 from a £100 deposit. I asked to withdraw it, and was told it would take up to 21 days. That was on April 20th. I still don't have an update. The casino's licence is fake, and so is the casino. – source: TrustPilot
24-May-2023 by Kelsey:
The only thing Superb Bet is superb at is stealing money. The slots aren't set at the manufacturer's RTP, and all the scatter rounds have been removed. It's no wonder they offer so many deposit bonuses – you can't win anything from the games. Don't fall for this scam. – source: TrustPilot
17-May-2023 by Arron:
I've been waiting for a withdrawal for 34 days now. A scam and a joke of a casino.– source: TrustPilot
16-May-2023 by Rachel:
I've been waiting for a withdrawal from this rubbish casino for a month. I'm going to have to take things further.  source: TrustPilot
12-May-2023 by Alexander:
I put more than £200 into this casino and I'm still waiting for a £580 withdrawal more than two months later. – source: TrustPilot
09-May-2023 by Haroon:
I've also been scammed by Spicy Jackpots. I wagered more than £3000 playing here, then asked for £800 on April 5th. I don't have it. Live chat is always rude to me and cuts me off. The way this casino treats customers is disgraceful. What can be done to make them pay? – source: TrustPilot
06-May-2023 by Graeme:
None of the documents I send to them are deemed to be good enough to pass verification. I've offered my birth certificate, my P60, a copy of my paper driving licence and anything else I can think of. They want a photo drivers licence or a passport, neither of which I have. – source: TrustPilot