Monopoly Casino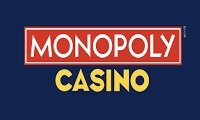 Monopoly Casino sister sites include Virgin Games, Heart Bingo, Jackpotjoy, Rainbow Riches Casino, Double Bubble Bingo and Bally Casino.
Monopoly Casino (monopolycasino.com) is operated by Gamesys Operations Limited, Suite 2, Floor 4, Waterport Place, Gibraltar, GX11 1AA.
Sites like Monopoly Casino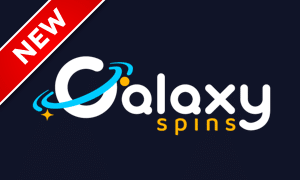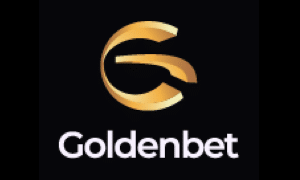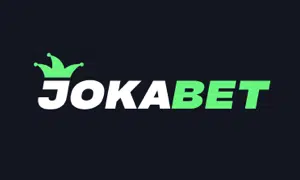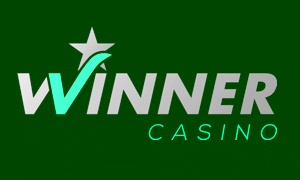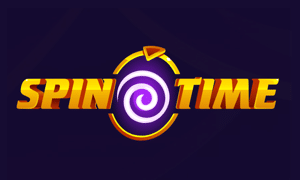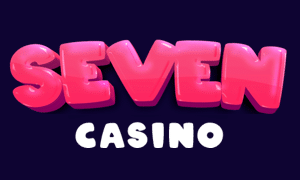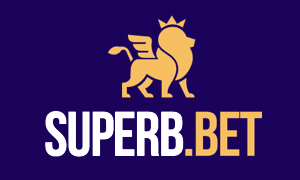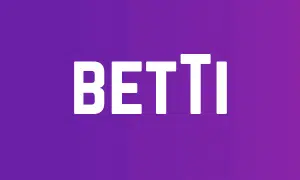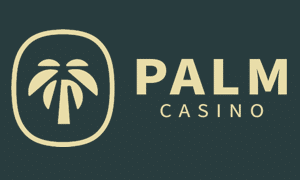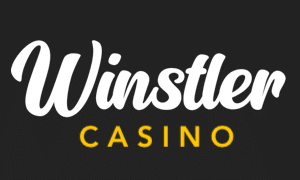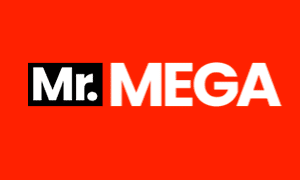 Monopoly Casino Sister Sites
Jackpotjoy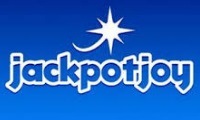 Monopoly Casino sister site Jackpotjoy enters you into the world of gaming with £50 of free bingo with only a £10 deposit, or the option of 30 free spins on Double Bubble. The stimulating range of online bingo, live casino and slot games are in the palm of your hands from any corner of the Earth thanks to the site's superb mobile optimisation. Slots are arranged conveniently so you can select the one that tickles your fancy, whether you find it in the top slots section, daily double jackpot or the newly released category. You can experience gaming on the edge of your seat with slots including Lucky Little Devil, Elvis Lives, Forensic Fortune and Heading for Glory. The huge array of jackpots available will keep you engrossed as the several bingo rooms vary thematically from Diamond Bingo, Cloud Bingo, Round the Clock and Game Show Bingo.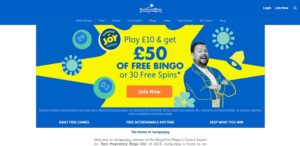 Heart Bingo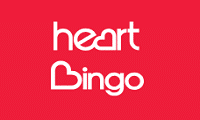 Heart Bingo helps you get settled as a new player with a generous welcome bonus. Pay £10 to get £50 of free bingo or 30 free spins on selected slots. A broad spectrum of games and gaming categories is available for players every day of the week from live casino features and slot games to jackpot-driven slots, and (of course) bingo with live chat. Almost any internet-enabled device should be compatible with Heart Bingo, meaning that you can play from your comfort zone without any hassle. Some of the exciting slots Heart Bingo has to offer are Action Bank, Persian Fortune, Mystery Reels and Top O the Money. Heart Bingo aims to take care of its players by providing free online bingo games along with regular giveaways and promotions, so keep your eyes peeled. Heart Bingo is listed on the UK Gambling Commission records of both Gamesys Operations Limited and BV Gaming Limited at present, which leads to some confusion about who actually runs it, but so long as it's listed on the Gamesys licence we'll continue to include it among the Monopoly Casino sister sites.
Virgin Games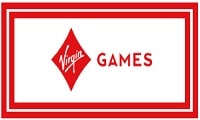 Virgin Games (virgingames.com) will have you on the edge of your seat with the broad range of online casinos, slot games, poker and online bingo that you can partake in. Players are warmly greeted with a bountiful bonus promotion of 30 free spins with £10. Virgin Games promises that there will never be any caps on winnings, no fees on withdrawals, and no unreasonable barriers to getting your money when you ask for it. There are more than 200 online slots up for grabs including classic favourites such as Rainbow Riches and Da Vinci Diamonds. You can also get £50 of free bingo tickets when you pay £10, with a wide variety of online bingo rooms, including Suite 90 Ball, Superlinks, The Crystal Maze Bingo and Blox Bingo.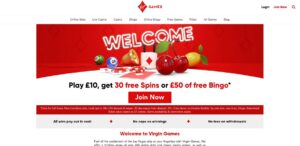 Double Bubble Bingo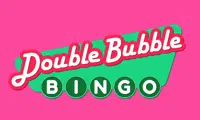 Double Bubble Bingo is pink and proud of it. The decor at this eye-catching bingo site is part retro diner and part chewing gum packet. A bingo or casino website only has one chance to make a first impression, and whatever you might think about Double Bubble Bingo's choice of colour scheme, it certainly gets your attention. This is easily the most eye-catching of all the Monopoly Casino sister sites, but it's not just a pretty site to look at. You can play things your own way, with your first £10 deposit netting you either fifty free spins on one of the casino's top slots games or £50 worth of free play in the bingo rooms. Many of the slots you'll find here were specifically designed for Double Bubble Bingo, which is a sure sign of a casino with a big name and a track record of success.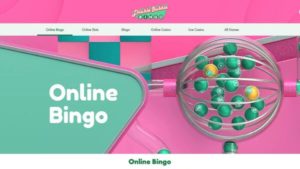 Rainbow Riches Casino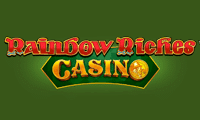 Rainbow Riches is one of the most popular online slots games that's ever been created. We have Barcrest to thank for its creation – which means the original Rainbow Riches game now belongs to SG – but you'll see the logo at almost every online slots website you visit. The Irish theme is the most popular of all the online slots and casino genres, and the Rainbow Riches family of slots and games is the standard against which all others are measured. That's why it was such a coup for Gamesys Operations Limited when they launched a Rainbow Riches Casino and took advantage of all the traffic that's generated by people searching for the slots. This casino walked away with the "Best New Slots Site" award from the 2020 Which Bingo awards, which tells you almost everything you need to know about its quality. If you love Rainbow Riches and you'd enjoy receiving promotions purely for playing the various games in the franchise, you may have just found your new favourite casino site.
Bally Casino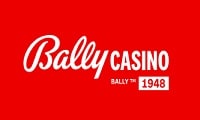 For the time being, flagship of the Monopoly Casino sister sites is JackpotJoy. That might change in time, though, and if it does, the new flagship site is likely to be Bally Casino. This is the newest of the Monopoly Casino sister sites, having launched in August 2023 with surprisingly little fanfare for a brand with so much history behind it. Bally Casino is the signature casino of Bally's Corporation, an enormous American casino and iGaming brand with roots that go back to the 1940s. While Bally's isn't (yet) as big a name in the UK as it is in the USA, that's only because it's  been operating in the shadows until recently. Bally's Corporation is the power behind the throne at Gamesys Operations Limited – it owns the company outright. Bally Casino had surprisingly few slots, games and standout promotions when it launched, but we suspect that it will grow given time.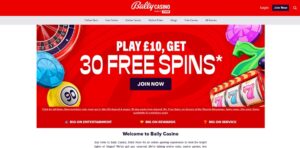 Monopoly Casino News
: The Monopoly Casino sister sites have made the Blueprint Gaming slot, Diamond Megaways 2 the Game of the Week, by spinning it, you can trigger other promotions on the platform. You could be given a handful of free spins or receive an entry to the box bonanza promo. If you haven't been previously acquainted with the slot, now is the perfect time to give it a whirl, and see if that high win potential can work in your favour. As you can probably gather by the title, it is a sequel to the original Diamond Mine Megaways, offering a refreshed take on the resource extraction-themed game. The slot maintains its predecessor's visual charm, featuring a 6-reel grid set against a backdrop of rocks, cacti, and a blue sky, accompanied by a lively banjo soundtrack.
Players can stake from 10p to £10 and have the option to activate an extra bet or the Gold Bet for triggering the bonus round. The gameplay includes a reaction feature where winning symbols are replaced, and new symbols cascade down, potentially leading to multiple wins.
Key features include mystery symbols, scatter symbols, free spins, Gold Spins, and a free spins gamble option. The free spins round includes a win multiplier that increases with each cascade, while Gold Spins continue until the win multiplier reaches the Golden Guarantee. Each scatter symbol landed increases this guarantee. It is safe to say that the slot stands out in a crowded Megaways market. Its Gold Spins feature is a notable addition, offering a guaranteed multiplier and potentially significant wins. However, you may want to bear in mind that the game doesn't drastically deviate from its predecessors.
: The increasing trend of mobile casino gaming has correspondingly seen a rise in the preference for convenient and secure payment methods like Apple Pay, which was introduced by Apple in October 2014. The Telegraph has noted that while not every online casino has embraced Apple Pay, it has become quite prevalent, with many of the leading online casinos in the UK, including the Monopoly Casino sister sites, adopting it. The appeal of Apple Pay in the casino domain is underpinned by its robust security features. It requires a passcode, and either Face ID or Touch ID for transaction authorisation on Apple devices, ensuring that only the device owner can approve payments. Furthermore, Apple Pay maintains users' privacy, as Apple does not store card numbers and the Device Account Number created by banks for Apple Pay use is encrypted, beyond Apple's ability to decrypt.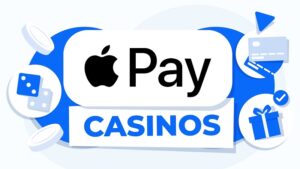 These security measures make Apple Pay an attractive option for online casino users, providing peace of mind in transactions. Monopoly Casino, ranking 15th in the Telegraph's list, not only offers the ease of Apple Pay but also provides additional incentives for new customers, positioning it as a competitive choice for online casino players in the UK. If you were wondering which casino found the most favour with the betting experts at the Telegraph, that honour went to none other than All British Casino, which mostly boils down to the perpetual promise of 10% cashback for loyal members, and the welcome offer, which consists of a 100% deposit bonus match, worth up to £100.
: As the autumn breeze heralds a change in season, players are in for a treat. The Monopoly Casino sister sites have unveiled the Cash Waves promotion, an enticing opportunity that promises a splash of rewards throughout the season. Designed to keep players on the edge of their seats, the Cash Waves promotion boasts a total of £11k in prizes. The beauty of this offer lies in its inclusivity. With a minimal spend of just 1p, anyone can dive into this wave of opportunities, making it an irresistible proposition. Running until November 2nd, participants can engage in daily and weekly tournaments. Each day, players vie for their share of the rewards, culminating in the high-stakes weekly tournaments where the stakes are even more tantalising.
In terms of prizes, the daily tournaments offer an array of prizes for the taking. However, the real allure rests with the weekly tournaments. Here, the prizes are substantially more generous, with the biggest ones bound to make a few lucky participants' autumns infinitely more memorable. In essence, the Cash Waves promotion is not just another offer on the block. It embodies a perfect blend of thrill and reward, providing players with a reason to indulge in their favourite games, while also standing a chance to pocket some substantial winnings. For those who relish the idea of making their autumn gaming sessions more lucrative, this promotion is indeed a golden ticket. So, gear up and ride the cash wave; the tide is high, and the rewards are even higher!
: From the 23rd of October to the 29th, the game of the week at the Monopoly Casino sister sites is Area Link Phoenix; if you spin it within the promotional window, you will receive bonuses for participating in the promo, that is without considering the epic action which awaits you within the game itself. Both theme and gameplay-wise, it is one of the hottest online video slot games to enter the online casino scene from Microgaming. If fireballs full of cash, barrages of wild symbols, and re-spins which play out on double grids with multipliers sound right up your alley, you'll feel right at home with this medium volatility game, which carries a 5,000x max win capacity. Even by the usual Microgaming standards, it is a stunning slot with equally attractive features to boot. If you loved their earlier titles, Bison Battle and Spin Spin Sugar, this new 2023 game has all the potential to become your new favourite.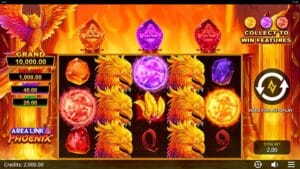 During the re-spin bonus feature, you can benefit from three upgrades; it all depends on which symbol triggered the feature. The red phoenix can ensure you receive the total cash value on each free re-spin, whereas the orange phoenix will boost your payouts by 2x – 5x. The magenta phoenix can make the action even more exciting and leave you seeing double… reel sets, which give you double the chance of winning! Unlike with previous similar games, you will only have the chance to win the four fixed jackpots when you hit the Area Link bonus feature.
: Many of the Monopoly Casino sister sites allow trends to pass them by, but they have cottoned onto the fact that their promotions need to consist of more than allowing members to play the same four freely daily games. For a limited time only, Monopoly Casino is inviting players to get involved with a free-to-play slot-spinning tournament. The Slots Masters tournament mixes it up from your average slot tournament, mainly through diversifying the rewards for players who ascend the leaderboard; it isn't just cash that is on the table, but some bonus spins too! Every week, the tournament will make 1,000 winners, although, be warned, with a top prize of £25 in cash, the prizes won't leave you texting your friends and family if you win the top prize! Although, considering it is free to enter, the casino should be cut a little bit of slack.
Currently, the slot on which all free spins must be played– if you are lucky enough to win some – is Fishin Frenzy Megaways Jackpot King. It is a nice touch that the casino chose to choose a reward game which can pay progressive jackpot prizes, and there are plenty of opportunities to win big in the gameplay itself; in fact, it makes infinitely more sense to enjoy the game with bonus spins given the low return to player rate of 93.32%. The only real complaint with this promotion is the slightly perplexing terms and conditions attached to it – good luck fathoming where you stand in the tournaments every week!
: If you were to create the ultimate list of OG online slot games, it wouldn't be complete without the inclusion of the original and iconic game Eye of Horus, which was originally released in 2016 by Reel Time Gaming. The modest Egyptian-themed video slot game has stood the test of time over the decades, and it has made the launch date of every sequel title since a major event in the online slot calendar. On the 15th of September, Blueprint Gaming unveiled a brand-new chapter in the slot franchise by unleashing Eye of Horus: Rise of Egypt. Why it took nine sequels for Egypt to Rise, we have no idea, but now the uprising is here, it is most definitely something that fans of the franchise will want to get involved with.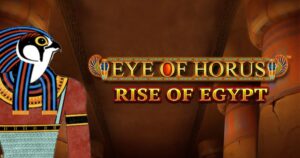 Bet levels can be modified between the 10p and £100 range, so most players will feel welcomed by the betting range, although the £250,000 win cap may mean it isn't worth setting your stakes all too high, considering that the max fixed jackpot is 50,000x. Bonus-wise, expect expanding wild symbols to frequently hit reels 2, 3, and 4 in the main game and the free spin feature. To activate the main bonus game, where the premium symbols will undergo upgrades and the wilds start to act as win multipliers, you will need three or more scatter symbols on the reels; regardless of how many you find, you will receive 12 free games, plus a scatter pay win of 2x, 20x, or 50x.
: The Monopoly Casino sister sites have finally decided to step up their promotional game, which has resulted in the launch of a brand-new Game of the Week promo. Each week, registered members can log in to play for a different promotion; this week, members are being called upon to play Action Boost Gladiator to unlock a variety of perks, including access to Share Pot jackpots, free punts on Box Bonanza games and cashback deals. To give the promo a progressive feel, Monopoly Casino is inviting players to advance to different games and prizes every week between the 4th of September and the 1st of October.
Participants can accrue one entry to the Box Bonanza Game Prize Draw each day, if you win this prize, it will be granted within 72 hours for eligible participants. The rules of the game are simple; once the game is in play, simply select one of the three boxes you are presented with to reveal a cash prize. If you win the Cashback on your losses prize, the rules get a little hazier as you will need to clear some quite stringent wagering requirements to transform the cashback into withdrawable funds. However, in theory, it is possible to claim back up to 20% of your losses in cashback. The Share Pot prize is undoubtedly the most promising of them all. If the prize wheel you spin after playing the eligible game lands on the Share Pot segment, you are guaranteed to win a share of £3,000.
: It is always amusing to see so-called casino experts reveal what they see as ultimate buyer's guides to the Monopoly Live games failing to mention that Monopoly Casino is one of the best platforms to get stuck into the content. Case in point, when talkSPORT published a guide on the best way to play the game this week, they dubbed their own platform, talkSPORT BET, Winomania and Mr Q as the three top platforms – none of the Monopoly Casino sister sites even entered the list of top 10 platforms. Maybe the casino operator, Gamesys, needs to get better at sucking up to casino influencers (or putting cash in their pockets) or maybe the talkSPORT writer, Liam Hoofe, is onto something and the sites simply aren't up to the same iGaming scratch as their preferred sites.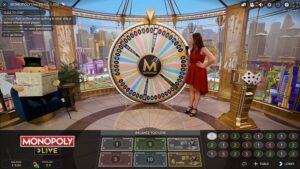 TalkSPORT dubbed Monopoly Live as a great title to get stuck into if you want to enjoy a game of Monopoly sans the familial arguments and collect real cash instead of Monopoly money. As the game was created by Evolution Gaming, who are impossible to beat in the sphere of live game shows, players can rest assured that Monopoly Live is nothing if not exhilaratingly enticing. Instead of moving around a board game with your favoured Monopoly pieces, you will be spinning a Wheel of Fortune-style prize wheel after you have set your stake amount. The title promises fast-paced action – ensure that your bankroll can keep up with the spins of the wheel! Your stake can be set from 10p – £1k a spin; you will see the biggest returns if you trigger one of the bonus rounds.
: Atlantis has risen again – if the new online slot game from Blueprint Gaming at the Monopoly Casino sister sites is anything to go by. Rise of Atlantis II is a sequel that was worth waiting for; if the bonus features don't tempt you into spinning, the math model certainly should be. Like many new video slots, it is out with the pay lines and in with the anyway pays mechanics; it doesn't matter where your winning combinations fall; if you catch enough matching symbols in sequence with one another, you'll see your bankroll boosted. With a 10,000x max win, medium–high volatility and a 96% RTP, there is plenty of incentive to stake high. However, high rollers may be put off the game, considering the max bet is low at £10. At least players with smaller budgets can have plenty of fun getting the 6 x 5-reel grid into motion as the minimum stake is 20p.
If you loved the original game, you will be pleased to see that plenty of new features have made a splash in Atlantis. With every win, there is the opportunity to cash in on more, thanks to the cascading reels feature, and with the rising multipliers, there are plenty of opportunities to win big. When the multipliers drop onto the reels, they will rise to meet your winning combos. In addition to the FS game, there is also the Poseidon's Call feature, which can stretch the reel set into a 6 x 8 format.
: The Monopoly Casino sister sites seem to be hard-pressed when it comes to garnering outside attention this week, while the eyes of reviewers and online casino tastemakers have been away from them, they've integrated a series of new games, although, only a few of them are new to the iGaming industry as a whole. Games such as Avalanche Rainblox are a few years long in the tooth now, but if you have never given the rainbow-themed slot a whirl and you are a member of any of the Monopoly Casino sister sites, now is your chance to taste the reel rainbow.
Avalanche Rainblox is a colourful concoction of Rogue Gaming's making, it comes with a 95.5% RTP, medium volatility, and 20 different ways to form winning combinations on the overtly vibrant 5 x 3-reel grid. You can roll as low as 20p or as high as £500, should your budget allow it, although, given the math model attached to this game, it probably isn't advisable to throw all your hard-earned cash at it in one session! As alluded to by the slot title, cascading reels mechanics have been integrated, which means that every time you create a winning combination, the winning symbols will remain fixed to the reel grid and the other symbols will be replaced, allowing you to create another winning combo, and this will happen for as long as the wins keep on rolling in. When you are in the free spin feature, the cascading reel mechanics will also reward you with a progressive win multiplier.
: This week, NNN published the ultimate guide to playing and winning at Monopoly Casino. While it is hardly rocket science figuring out the best ways to make the most out of the content and the promotions at the Monopoly Casino sister sites, and as NNN pointed out, a playing strategy will only go so far as it is all a matter of luck, there are a few helpful pointers included in the article. NNN ran their readers through how to maximise the returns on the welcome package, which either bestows new players with free spins or free bingo tickets. As the £1 bingo tickets are far more valuable than the 1p free spins that can be cashed in on Monopoly Paradise Mansion, it appears to be an easy choice. However, theoretically, there is far more win potential with the free spins – it just depends on how lucky you get with your 30 free spins.
Once you have explored the casino with your bingo or slot bonus, you can start to take advantage of the loyalty scheme and the daily free games, which can always be found on the Free Games tab. There are four free games to choose from every day, but given the theme of the casino, it is no surprise that plenty of the registered members turn to Monopoly Daily Free Parking. The daily free games are available to all players who have made a minimum £10 deposit during their time at the casino; at the end of the month, there are monthly free games to cash in on too!
: Even though the Monopoly Casino sister sites haven't switched up their sign-up offer for a while, The Telegraph still decided to inform their readers of it this week before giving their impartial view on how generous it is. The casino reviewers concluded that while it isn't the best offer that any online casino has put on the table, it is still worth taking up nonetheless. The reviewers appreciated the option of free spins or free bingo funds; it was the deposit-to-bonus ratio with the free spin option that left the reviewers a little disappointed in how Gamesys is running its welcome offer operations. On the flip side, for new players who choose the £50 in free bingo tickets after making an initial £10 deposit, the welcome bundle is considerably benevolent, even if there are other sites out there that will offer up to £100 in free bingo funds. Additionally, the bingo bonus has a maximum value of £50; you must spend the bonus on £1 tickets to make the most out of the offer. It is also worth considering that Gamesys don't like attaching wagering requirements to their bonus conditions.
To qualify for the 30 free spins or free bingo funds, register with Monopoly Casino, opt-in for the bonus you want to bank, deposit £10 via an accepted banking method, and wager the £10 on a game or games of your choosing. After the staking requirements have been met, your freebies will be waiting in your account – be sure to use them within 30 days as they will expire 30 days from issue.
: If you have ever wondered what it is like to play at Monopoly Casino, the three recent 1-star reviews posted on Trustpilot will let you know exactly what you should be considering before risking your cash via the platform. On the 18th of June, someone posting under the mononym Charlie stated that they have now closed their account after having a disappointing experience on the site. They attempted to explain why the site was shocking by mentioning that they had made two deposits and failed to trigger a single bonus. They didn't attempt to allude to which games they played or the size of their deposits and stakes; sometimes, with high-volatility slot games, it can take hundreds of spins before you encounter a bonus feature.
A day before Charlie's review, a woman named Debbie Clark also shared similar complaints. She warned players who want to win not to play at the site; at least she seemed to give the Monopoly Casino sister sites a fair chance before she declared they were scam sites, which isn't accurate in the slightest, given that they are all licenced by the UK Gambling Commission, and if they got a hint of foul play, they wouldn't hang around in reprimanding the casino brand owner, Gamesys. She got a few wins and didn't win again for months, which seems very unlikely, given the RTP ratings on each of the high-quality games that feature in the game library. A woman named Trudy also stated that more wins should go to the most loyal payers – unfortunately, random number generators don't work like that!
: In the ultimate insult to Gamesys, when The Scotsman shared a list of the best casinos to enjoy the Monopoly live dealer games, they didn't mention any of the Monopoly Casino sister sites. However, The Scotsman can't take all of the blame; the article was articulated by Amici IT, who seem to be publishing their sponsored content on other high-profile and popular platforms lately. Before 10 recommended casinos were listed, the article started by celebrating the legacy of the Monopoly brand, which has been sustained over decades and generations. Even to this day, after the board game has celebrated its era-spanning heyday, there is a virtual guarantee that you will find a version of the Monopoly board game in each household. The Monopoly band has done its best to remain relevant in mainstream popular culture by releasing board games in-line with contemporary trends. When Game of Thrones and the Walking Dead were respectively all the rage, Hasbro wasted no time jumping on those bandwagons!
In 2023, thanks to sites such as Monopoly Casino, even though none of the credit went to them, Monopoly is just as integral to entertainment culture with the swathes of Monopoly-branded instant win games and live dealer titles. Even though you won't be able to go through the tactile tradition of choosing your favourite lucky piece to travel around the board with, you will be able to enjoy the iconic brand, even when you don't have someone else to play with. The live dealer Monopoly rooms are always bustling with other players!
: The Monopoly Casino sister sites don't get their hands on brand-new releases very often. So when they incorporated Blazing Bison: Gold Blitz into their online slot arsenal in a timely manner, it was somewhat of an achievement for the Gamesys network, which is often a little slow off the mark. The Fortune Factory Studios game is a little hit or miss with the metrics as you can only win up to 5,000x your stake while spinning the high volatility 6 x 4 reel set. Furthermore, while playing with the 4096 pay lines, you will need to be wary of the variable RTP, which can be as low as 86.70% – ouch.
Visually, the title from the Games Global partner has a look of Pragmatic Play's Wolf Gold about it; as all Northern American slot games all seem to, at least the features and bonuses seem to have had a bit of an innovation injection. The collect symbols, which can only appear on reels one and six, can allow you to collect the cash and jackpot values. If you are lucky enough to bank the Mega jackpot, you will walk away from the reels 2,500x your stake richer, while the Minor and Major jackpots are nice consolation prizes with their respective 25x and 250x values. When three scatter symbols hit the reels, you will be awarded eight free games and 2 gold blitz spins, which are key to triggering the jackpot amounts. However, during the standard free spins, you will also be playing with multipliers as high as 5x.
: The Monopoly Casino sister sites are slower on the uptake of new slot games than usual recently. One of the only new slots to appear in the game library is the classic and stripped-back video slot game Mermaid Pays by the Atomic Slot Lab. The five reels give players 50 different ways to win, a pretty poor return to player rate of 95%, and a max win of 2733 coins, which isn't overly bad considering the volatility is relatively smooth. The mermaids are the highest paying symbols on the pay table, five of these on one of the pay lines will result in a 10x your stake win, and the dolphin wilds, which aesthetically have a very retro and 90s vibe about them, match this value in addition to their other substitution duties.
For players in the UK who are unable to use the Bonus Buy feature, aside from the dolphin wilds, there are two features to look forward to triggering, starting with the Mystery Replacement Bonus Feature, which is pretty tricky to trigger, but once it is in play, chances of a win will be drastically increased when the symbols on the reels are switched up. In the free spin feature, you will receive ten free spins; during these free spins, every time a mermaid symbol appears alongside your winning combo, the value of that winning line will receive a multiplier boost. The more mermaids you see, the higher the win multiplier; at a maximum, your winnings can be multiplied up to 20x.
: Typically, fishing-themed slot games are fairly light-hearted in their nature and design; it was more than refreshing to see Pear Fiction Studios dip their toes into darker water with Blazing Piranhas Lock N Win. Much like the most recent Piranha horror film, there is a horror comedy element to the high volatility game which has recently launched across the Monopoly Casino sister sites. Even more refreshingly, the iGaming developer didn't go with the flow with the bonus perks either. If you are hard to impress when it comes to FS bonus games, the one in this innovative title won't fail to win you over. There are four different ways to play your free spins; if you want to choose the most volatile option, you will get 15 free games with 6 random wild symbols on the reels. If you are a firm believer that slow and steady wins the race, you can opt for 36 free spins with 3 random wilds on every spin instead.
In the base and bonus game, every time a piranha wild symbol lands next to a character symbol, it will move to the left by one position and leave a standard wild symbol in the same position. The Lock N Win feature is also anything but archetypal. You will trigger it with six or more cash symbols, and receive three re-spins, during which, you can encounter several reel modifiers, including ones that can unlock rows and multiply the coin values. If you get really lucky with this feature, you will win 5,000x your stake.
: The Monopoly Casino sister sites always like to play it relatively safe with their brand-new slot additions, meaning that you are likely to have enjoyed the themes of their new games before if you have been on the online slot scene for a while. Nevertheless, Howling Treasures from Roxor Gaming, which officially debuted on April 11 is still a great addition to the game library. While you're drinking in the wild and almost spiritual scenery of the North American landscape, you will also have the chance to win up to 2000x your stake by spinning the 5 x 3 reel grid. Crank up the soundtrack to enjoy an ambient and atmospheric soundtrack, but brace yourselves for the exhilarating sound effects when the main bonus features kick in, although they are pretty much surplus to requirement when it comes to collecting the big wins. To hit the jackpot with Howling Treasures, all you need to do is catch five wild symbols on one of the pay lines to receive the big win!
If you are looking for a game with bigger win potential, Mystery Mine by Atomic Slot Lab may be the slot for you with its medium volatility and colossal max win of 10,400x! You will just need to be slightly wary about the variable RTP ranges, but there are enough features to make the sometimes below-average RTP worth it. The bonus features include everything from a re-spin feature that plays with expanding wild symbols, mystery symbols and a free spin feature.
: If you head over to Monopoly Casino today, you will be greeted by the massive promotional banner advertising the new Win Spins promotion, which is available across all its sister sites. Win Spins are pretty much what they say on the tin, they are bonus spins, which don't just let you spin without taking a chunk out of your bankroll, but they also guarantee a win with every bonus spin! Although sadly, only invited members can get in on the promotion, and it isn't overly clear what members of the Monopoly Casino sister sites need to do to get an invitation. Nevertheless, one entry will be gained for every £10 spent on selected games. Every week, a new prize draw will be held, and there are 10,300 Win Spins up for grabs across the Gamesys network of casinos, including Double Bubble Casino and Megaways Casino.
The Win Spins will play with a real money value of 10p each, and the bonus spins will expire seven days after they have been issued. The promotional period started on April 4 and will conclude on May 8, after the 5th weekly prize draw. There is a long and extensive list of participating games; all stemming from Blueprint Gaming's vast portfolio. All the most popular slot franchises from Blueprint are present and correct, including the Deal or No Deal series of games, the Fishin' Frenzy games, and the Luck O The Irish Games. While you are free to choose your favourite, you may as well spin one of the games connected to the developer's jackpot king network.
: It has been another week of the Monopoly Casino sister sites being overlooked by reviewers when drafting their nepotistic top casino lists. But in some pretty big news, the Gamesys platforms got exclusive access to the brand-new Pragmatic Play video slot game, African Elephant, which will roll out across all UK slot casinos from April 10. Thankfully, the iGaming developer has broken its trend of pairing a high volatility math model with a weak max win; this time, you can head to the planes of Savannah and come back 15,000x your stake richer. The game has a very similar vibe to Wolf Gold and Great Rhino; one of the only major differences is the animal protagonist, which will frequently appear on the 5 x 4 reel set, which comes with 20 pay lines, a 20p – £100 betting range, and an RTP which is bang on average at 96%.
As the reels take up most of the screen, you won't be able to drink in much of the sun-soaked scenery, but there's plenty happening on the reels themselves. On every spin, there is a chance that one or more of the reel positions will be framed, once the reels stop spinning, all framed reel positions will contain a wild symbol. The only other feature in the slot game is the free spin feature, which can award 10, 15, or 25 free games for three, four, or five scatter symbols, respectively. Additional free spins can be picked up during the feature, and players outside the UK can also use the bonus buy option, which costs 100x the set stake value.
Can Monopoly Casino Be Trusted?

★★★★★
Monopoly Casino is a 3 Star trusted casino.
1. UKGC License

Monopoly Casino is covered by UK Gambling Commission licence 38905, held by Gamesys Operations Limited.

2. UKGC Fines

Gamesys Operations Limited has no fines on record with the UK Gambling Commission.

3. Customer Service

Monopoly Casino can be contacted by live chat, email or telephone, but you have to look hard to find the casino's telephone number (0800 048 1047).

4. Trustpilot Score

After more than 380 reviews, Monopoly Casino has a rating of 1.8 out of 5, which is considered poor.

5. Company Location

Gamesys Operations Limited is based in Gibraltar, which is a trusted location.

6. Visible T&C's

Key terms and conditions are presented with promotions at Monopoly Casino.

7. Social Media Presence

Monopoly Casino's Twitter/X account is abandoned, but it's still active semi-regularly on Facebook where it has around 13,000 followers.

8. Number of Sister Sites

Gamesys Operations Limited operates six Monopoly Casino sister sites.

9. Games portfolio
There are around 300 slots at Monopoly Casino, plus bingo and Slingo games. The number of games is around average.
10. Gamstop links

There is a GamStop logo on the Monopoly Casino homepage but it's so tiny that you'd miss it if you weren't specifically looking for it.

Overall SCORE >

★★★

★★ – 3/5 Stars
Monopoly Casino Review 2023
Monopoly Casino comes with a big name. Monopoly is well known both in the UK and around the world and has been since our grandparents were children. The game, based around buying, selling and upgrading houses and streets, gives you the chance to earn money in a fictional scenario. Monopoly Casino, on the other hand, is not fictional. It's real. How well does the name and the concept behind the game translate to a casino? Read on and find out.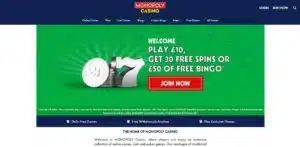 Monopoly Casino Welcome Offers
The welcome promotion at Monopoly Casino is par for the course as far as sign-up bonuses at casinos on this network go when it comes to value, but it's above-average when it comes to choice. In accepting the Monopoly Casino welcome bonus, players have a choice to make. After depositing and wagering £10 however they wish, they can then choose either £50 in free bingo tickets or thirty free spins to use on the casino's slots. As is always the case with Gamesys casinos, the welcome promotion is delivered without any wagering requirements attached. There is one small catch, though – the bonus expires after thirty days if it isn't used.
Ongoing Promotions
There aren't many more promotions to tell you about at Monopoly Casino, but the site still likes to reward its regular players where it can. Every Monopoly Casino member has the opportunity to win free spins every day thanks to the small selection of daily free games at the casino. As well as delivering free spins to use on the site's real-money slots, the free games sometimes even deliver cash prizes. Tiki's Catch of the Day, for example, comes with a maximum payout value of £750 but costs nothing to play. New promotions or offers are sometimes forwarded to players via email or SMS notification, so remember to keep those turned on if you want to stay informed.
Top Games at Monopoly Casino
As you'll have seen us make reference to a couple of times now, Monopoly Casino isn't blessed with the biggest selection of games we've ever seen. It has all the official Monopoly iGaming titles – it would be a waste of the licence if it didn't – but the overall collection of games at the casino is low when you compare it to the other top casinos and iGaming sites in the UK. There's plenty of fun to be had all the same, though, and it shouldn't surprise anybody that those official Monopoly games are the casino's top attractions. Here's a quick overview of three of them to give you a taster of what you're in for.
Roll the dice and make your way around the board with Monopoly Big Baller, a live casino game that's a fusion of Mega Ball and Monopoly Live by Evolution Gaming. Set on a 1920s-style riverboat, the game is hosted by a live presenter who guides you through an Augmented Reality experience. The game offers an RTP of 96.1% and a staggering maximum win of 100,000x your stake. Gameplay involves completing lines on betting cards, boosted by multipliers and bonus cards. The Monopoly board bonus round is the star attraction, offering up to 5 dice rolls to move Mr Monopoly around the board, collecting prizes and multipliers. With its interactive features and massive win potential, Monopoly Big Baller is a high-stakes adventure that brings the classic board game to life.
Take a seat at the Monopoly Live table, an award-winning live casino game by Evolution Gaming that combines elements of the iconic board game with the thrill of live gaming. The game features an RTP that varies between 91.3% and 96.23%, depending on your betting strategy. Hosted by a live presenter, the game revolves around a Dream Catcher-inspired Monopoly Wheel of Fortune with 54 segments. You can bet on numbers 1, 2, 5, and 10, as well as two different bonus games that offer 2 or 4 rolls. The Augmented Reality (AR) version of Mr Monopoly adds an extra layer of excitement, especially during the Roll Bonus Game, where he walks around a 3D-animated Monopoly board assigning multipliers to properties. With a maximum win capped at £500,000, Monopoly Live is a high-stakes, interactive gaming experience that brings the beloved board game to a whole new level.
Join Mr Monopoly in Monopoly Megaways, a high-volatility slot by Big Time Gaming that brings the iconic board game to the reels. With an RTP of 96.5% and a staggering 117,649 betways, this slot offers a maximum win of 14,700x your stake. The game features the Megaways engine and a unique Reel Adventure board game mechanic. Mr Monopoly moves around the board with each win, collecting properties and triggering features. The game also boasts Cascading Reels, where winning symbols are replaced by new ones, offering multiple wins per spin. Free spins are triggered by landing 5 houses on a property, and the feature includes a progressive multiplier. With its nostalgic symbols and innovative gameplay, Monopoly Megaways is a high-stakes affair that's not to be missed.
Deposit and Withdrawal Methods
Monopoly Casino offers a reasonable range of deposit and withdrawal options. Visa and Mastercard debit cards are every bit as acceptable to the casino as you'd hope and expect them to be. The casino also supports regular bank transfers, Apple Pay, and PayPal. You're out of luck if you'd rather use a different e-wallet – Monopoly Casino doesn't support them. The downside is that the process doesn't always move quickly. It takes between four and twenty-four hours for the casino to process a withdrawal request, after which you're looking at a wait of up to three working days for a Visa debit withdrawal. There's an exception if your card is a Visa Direct, in which case you should get your money within four hours. Mastercard holders can expect to get their money in one working day.
If you have a PayPal account, you'll get your money faster than anyone else – funding is instant as soon as processing is complete. Apple Pay and standard bank transfers both take one working day beyond the end of the standard processing period.
Customer Support and License
Monopoly Casino is a dual-licensed casino. Those licenses also apply to the Monopoly Casino sister sites. The casino's main licence comes from the UK Gambling Commission under account number 38905. The second is from the Gibraltar Gambling Commissioner under RGL number 46. Both email and live chat support are available at the casino, along with an extensive FAQ area. Alternatively, you could call the casino on 0800 048 1047.
Monopoly Casino – The Verdict
As a casino, Monopoly Casino does just fine. A touch of modernisation wouldn't go amiss, and the range of games isn't what you'd call "extensive," but the casino seels itself on its connection to the Monopoly name. It gets enough traffic from people interested in playing Monopoly-themed casino games to stay alive and be successful, and there's no reason why that should change any time soon.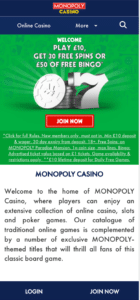 What are players saying about Monopoly Casino?
Here are our condensed/reader's digest summaries of recent player reviews of Monopoly Casino. The reviews are all genuine, but we've edited the comments for the sake of brevity.
06-Oct-2023 by Bill:
I put £700 into Monopoly Casino today and didn't win a single thing on Rainbow Riches. This site feels like a rip-off. Stick to more reputable sites! – source: Trustpilot
03-Oct-2023 by Shaun:
I helped bring this site's rating down to 1.8 because they didn't pay out. They've even shared my details with other sites. Who's laughing now? – source: Trustpilot
29-Sep-2023 by Harry:
I put £400 into this site and barely won £2 on a bonus. They even locked me out of my account when I won £100 previously. The app is a disgrace. – source: Trustpilot
23-Sep-2023 by Nessie:
I self-excluded due to my spending habits. When the exclusion ended, they welcomed me back without any checks, and I lost £600 within 3 hours. – source: Trustpilot
15-Sep-2023 by Jarvis:
I got a measly £14.40 for my birthday after wagering a lot. This casino is just like any other, which isn't saying much. – source: Trustpilot
31-Aug-2023 by Andrew:
They're holding my funds and making it difficult to withdraw. I doubt I'll get my money. Their customer service is terrible. – source: Trustpilot
05-Sep-2023 by Swan:
They sold my details to other sites after I left. I've been getting messages from other casinos every day. – source: Trustpilot
05-Sep-2023 by John:
I won a jackpot of £8000 and haven't received it in four weeks. I've closed my account and am talking to my bank's dispute team. – source: Trustpilot
04-Sep-2023 by Louise:
Their complaint handling is terrible. Mr Purdy from customer service is rude and lacks empathy. – source: Trustpilot
31-Aug-2023 by Ro:
They closed my account after I tried to withdraw my first win. They called it a "standard review" but didn't let me withdraw or tell me anything else about it. – source: Trustpilot
Monopoly Casino's Online Presence
Monopoly Casino has a fairly popular Facebook page, where it has about 13,000 fans or followers and posts sporadically every couple of months. It also has a Twitter account, but the Twitter account has been abandoned for several years. On top of that, Monopoly Casino has no celebrity or brand sponsorships, and no television adverts to be found. With a name like that, this is such a missed opportunity! Monopoly as a brand itself is huge, not only in the UK but worldwide, and with a brand name like Monopoly Casino, this website could be one of the best in the world. With its lack of advertising presence, Monopoly Casino banks on the name value of the popular board game to bring in excited players, which arguably is not as bad of an idea as you may think.
The long-running board game franchise almost 90 years (as of writing) sees players buy, trade, and upgrade properties as a means of crushing fellow players into bankruptcy; this formula for success has allowed for Hasbro to produce the game in 103 different counties and in more than 37 different languages. Over the years, Monopoly has been able to keep itself fresh, new, and unique with over 300 different versions of the board game being released; these variations usually take another popular franchise and merge it with the beloved Monopoly formula. Some examples of the most popular ones include Pokémon, SpongeBob SquarePants, Harry Potter, and Lord of the Rings – just to name a few. It is this expansion of the brand and name value of Monopoly that has allowed it to grow into something bigger than just a simple board game. Monopoly is a household name that has ventured into other types of media such as video games and now even gambling, as we can see with Monopoly Casino. Having a household name such as Monopoly associated with your casino is massively helpful, as it gives the impression to the player that this is a trustworthy site on which to gamble and spend money on.
Monopoly Money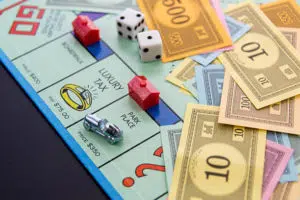 Similar to many other online casinos, the games on Monopoly Casino are unavailable to play without an account being created, but from the looks of it, this casino is not actually centered around the board game Monopoly as much as you might expect it to be. Most of the featured games seem to be generic casino games, with little reference to the property-buying, money-gathering game we all know and love. With all of the monopoly money and "Community Chance" cards that have been available in the Monopoly board games since its first release, you would imagine that the Monopoly Casino would have taken advantage of this and incorporated it into their website more – however, the casino falls short of actual Monopoly game references, which is another missed opportunity. There are some games on the website that are closely related to the board game, but most of the featured games are very common and have no relation to Monopoly at all.
Monopoly Jackpot
There is also a version of the board game called Monopoly Jackpot, which the casino could have taken inspiration from when designing the site and content on it. Having this casino centre entirely around the board game would definitely appeal to a large audience; with over 250 million Monopoly games having been sold worldwide, and the game being played by more than 1 billion people across the world, there are definitely some players out there who would appreciate a full Monopoly-themed casino to spend their time (and money) on. Other than the Monopoly Online Casino, Monopoly-themed slot machines have also been produced by WMS Gaming, together with International Game Technology for in-person casinos. The Gamesys Group have also developed Monopoly-themed gambling games and the British quiz machine brand Itbox also supports a Monopoly trivia and chance game.
The Partnership with Hasbro
The online casino is fully trademarked by Hasbro, the entertainment media company that owns hundreds of children's toy brands and games all around the world. Hasbro is actually now the largest producer of board games in the world, as a result of its component brands, and also produces many variations of most of their games – not just Monopoly. Hasbro was founded by three brothers in the early 1920's but didn't become a toy company until the 1940's, and then gained massive popularity from their first hit Mr. Potato Head in 1952. By the mid-1980's Hasbro was eventually recognised as the largest and most successful toy company in the world, only a short 60 years after it was created.
The first Monopoly game was actually published in 1935, by the Parker Brothers, until in 1991, when the Parker Brothers was absorbed by Hasbro, and therefore Monopoly was acquired by Hasbro. Hasbro has now expanded into more than just a simple toy company, with the creation of promotional television shows such as Family Game Night, as well as being the parent company of the multinational entertainment company Entertainment One Ltd. With such large amounts of product ownership, Hasbro could have pushed Monopoly Casino to blow up as well and become one of the best online casinos in the world – especially with the recent popularity of online products as opposed to real-life ones.
Monopoly as a Noun
Naming a casino after Monopoly is ironic, when you look past the fact it is better known simply as a board game. To have a monopoly is to possess or control a commodity or service, and this casino essentially possesses both the players' money and controls their spending through each individual game that is available to play. Just the same as in the board game, where players spend their in-game money to purchase properties and build up their housing market, the casino players gamble their real money in order to have a chance at winning big and taking home more than what they started with. The key similarity Monopoly Casino has with the board game monopoly is intense gambling of money – whether it be real or fake. Since the casino has a rather surprising lack of Monopoly references, aside from the logo and colour scheme, this factor, as well as the company Hasbro, are perhaps the only things tying the two Monopoly worlds together.
Former Monopoly Casino Sister Sites
Star Spins

This was once the most popular of all the Monopoly Casino sister sites. Star Spins was known for its enormous range of slots, chunky promotional offers, and high-class traditional casino atmosphere. It was a place that people came to for its roulette and card games as much as it was for the slots that were such a staple of its offering. Players were even automatically entered into cash prize draws simply for playing and depositing regularly.
Another great feature of Star Spins was its "community jackpots," which saw one player pitted against another in pursuit of enormous cash prizes. All of these features made Star Spins a popular place to come and play, so it was a real loss to both Gamesys Operations Limited and the wider gaming community when it closed down.