Skill On Net Casinos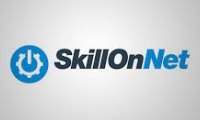 Skill On Net operates over fifty casino brands. The top Skill On Net sites include PlayOJO, Spin Genie, Genting Casino, Slingo, Mega Casino, Masked Singer Games, Zebra Wins, Slots Magic, Playmillion and Prime Slots.
Skill on Net Limited is based at Anapafseos1, Limassol, 3096, Cyprus.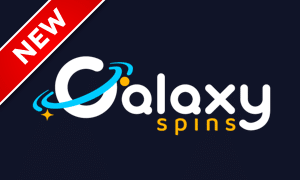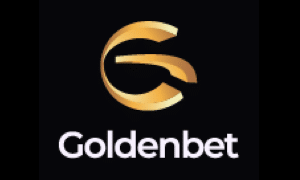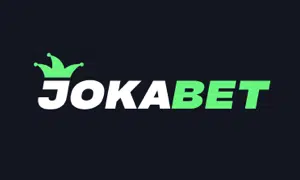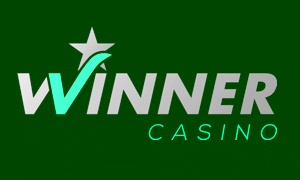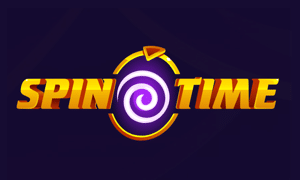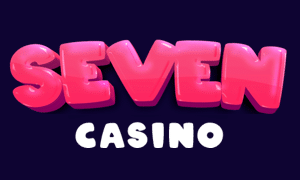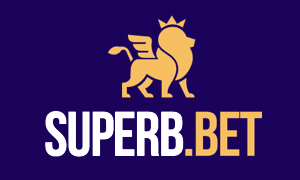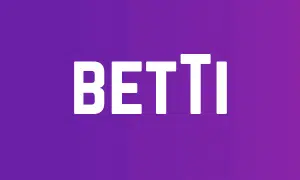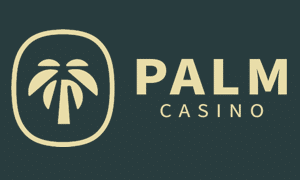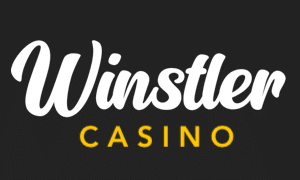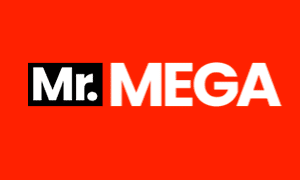 Top Skill On Net Casinos
Genting Casino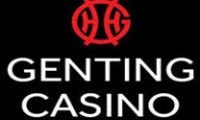 Genting Casino is one of the most popular "real world" casino brands in the UK, but Genting Casino is just as big a deal in the world of online casinos as it is offline. This is such a big brand name that any casino network company in the UK would have been delighted to work with it, so it's a credit to the reputation of Skill on Net that they've been entrusted with the job. It's also one of very few UK casino sites to offer real-world promotions. Some of the prizes and bonuses you can win on the Genting Casino website can be played in bricks-and-mortar Genting Casino outlets. You probably won't find quite as many casino games here as you would if you were physically inside a Genting Casino, but it's still a top-quality online casino that does its best to replicate the feeling of being inside the real thing playing games in person. The live casino section of the Genting Casino website is especially worth a visit if live dealers are your favourite thing about playing at online casinos because many of the games you'll find waiting for you there are exclusive to the site.
PlayOJO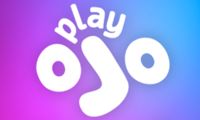 Skill On Net Limited operates more than fifty online casino sites, and it might open fifty more in the years to come, but it might never open a more successful one than PlayOJO. This is an online casino site that virtually every player in the UK is familiar with, and most of those players have given PlayOJO a go at least once. There are over one thousand online casinos available in the UK, but only a tiny percentage of those casinos have the budget to advertise on television. PlayOJO is part of that handful, and its signature commercials are so successful that you might even be singing the jingle in your head while you read these words. Our full review of PlayOJO is available by clicking the above link, but it won't surprise you to hear that we consider it to be at the top of the UK game and in the running for the biggest and best online casino in the country. Online slots are the bread and butter of the casino site, but it has fingers in plenty of other pies, including live game shows and bingo. Cards are always a speciality. Sports betting is the only thing that's missing from the PlayOJO proposition, but we don't rule out the idea of a sportsbook being added to the site in the future.
Slingo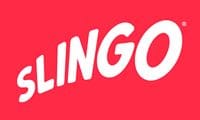 Slingo is suddenly everywhere in the online casino world, and its success seems to have been so sudden that you might be tempted to believe that the Slingo brand has been an overnight success. Nothing could be further from the truth. The game of Slingo (which, for the uninitiated, is a cross between online slots and bingo games) was invented in New Jersey, USA, by a real estate developer. The idea has existed for a long time – it just needed the format of online casinos to become popular before it could gain a foothold in the market. You'll find Slingo games available at countless successful online casino sites, but there's only one official Slingo casino site, and this is it. Much like Genting Casino, it's a badge of honour for Skill On Net Limited to be entrusted with handling the digital presence of this enormous brand. Every Slingo game you might have played and loved elsewhere is available at this website, and it stands first in line to receive the latest Slingo releases before anybody else does. If you can't get enough Slingo, this is the site you should be coming to before any other.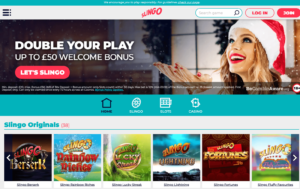 Spin Genie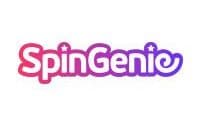 A lot of modern online slots and casino sites try to get ahead of their competition by offering players as many different varieties of casino games as possible. It's a fine tactic, and it's brought success to a lot of the top casinos in the country. Spin Genie tries to be different. There's enough room on the Skill on Net Limited casino platform for a variety of approaches, and in the case of Spin Genie, the approach is solidly and specifically based on online slots. There are more than 3300 slot games at Spin Genie, and that number grows all the time. The slots at this site come from every major provider that's permitted to operate in the UK and quite a few that you might never have heard of before. Not only is this a great place to play your favourite online slots, but it's also an excellent choice if you're in search of something you've never played before. There will be slots in the Spin Genie archive that don't exist anywhere else, and that makes this online casino a genuine online slots lover's paradise. It doesn't provide too much in the way of other casino games, but if you want it to do that, then you're missing the point of what Spin Genie is all about.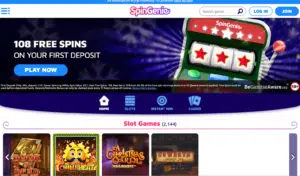 Mega Casino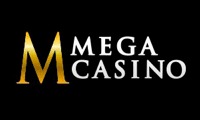 Mega Casino might best be described as the yin to Spin Genie's yang. We said there's room for everything on the Skill on Net Limited casino platform, and the contrast between Spin Genie and Mega Casino is the factor that proves it. Spin Genie is piled high with over three thousand online slots games. Mega Casino also happens to have access to the same enormous pool of online slots, but it barely even makes a feature of them. Instead, Mega Casino focuses on the live casino experience. It has more than two hundred live dealer games to choose from, and they include everything from classic blackjack to pioneering live versions of much-loved online slots like Buffalo Blitz. The design of Mega Casino leaves a little bit to be desired, with blocky graphics and dated decor, but the games portfolio is so eclectic that it's worth overlooking that fact and giving the casino your full consideration. It's probably a casino for those who love cards, table games, and live dealers more than anything else, but you can always lose yourself in that enormous pool of online slots if you're tired of what's happening at the site's many busy tables.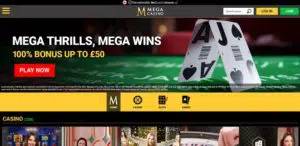 Masked Singer Games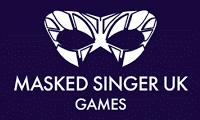 The success of Masked Singer Games may turn out to be fleeting in the long run, but at the moment, there are few online casino sites in the UK hotter than this one. That's because there are few television shows in the UK hotter than The Masked Singer, and the two things go hand in hand. This casino site is born from the same school of thought that gave us the X-Factor Games and Britain's Got Talent games in the past – the sites are enormously popular for as long as the TV shows remain on the air and then disappear quickly when their time has passed. Yet again, it says everything about Skill On Net Limited's reputation within the casino industry that they got the nod for developing and hosting the official casino of the television show. The holders of the Masked Singer copyright could have chosen anybody, but they went with Skill on Net. The site's success might rely on gimmicks rather than content because there are far fewer games available here than there are at Mega Casino, but it's a fun gimmick and features some exclusive games based on your favourite characters from the hit show. This is a must-see casino site if you're a Masked Singer fan, but there's enough here to entertain you even if you've never watched it in your life.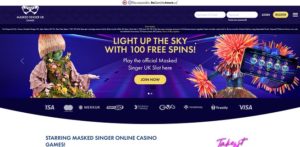 Zebra Wins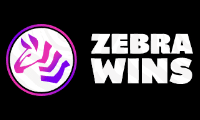 Zebra Wins is about as basic as Skill On Net Limited casinos get, but that's fine. If every casino on the network were as loaded as Mega Casino or Spin Genie, there would be nothing to choose between them. Some people don't want to be overwhelmed with thousands of games – they prefer a smaller selection based on quality rather than quantity. That's what Zebra Games is for. It's a compact, perfectly functional site that offers most of the big-name slots and games that are popular on other casino sites. If we're going to pick fault with it anywhere, it's with the theme. The least we're entitled to expect from a site called Zebra Wins is a zebra theme and perhaps a zebra mascot, but Zebra Wins barely features any theming at all other than a hint of stripes on the purple-and-pink background. The site doesn't give much away about its games collection until you've registered as a player, but the welcome offer is generally enough to tempt most players into at least peeking behind the door.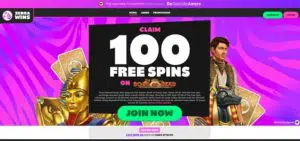 Slots Magic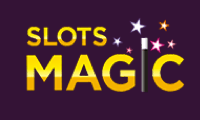 Slots Magic is a lot like Zebra Wins in that it's a smaller, quieter casino site with a smaller selection of games and less focus on overarching themes or big-name connections. Even with us saying "smaller selection," though, the total number of games at the site still exceeds three thousand when you factor in the bingo rooms, scratch cards, live casino games, roulette wheels and all the other entertainment on offer. Another thing that Slots Magic and Zebra Wins have in common is the lack of a clear identity. The name implies that the site should have a magic theme, and there's a magic wand in the logo, but the casino's slogan is "a galaxy of slots" and we're left wondering whether there were mixed messages when the site was put together. Still, any casino with over three thousand games to offer is sure to be worth at least a casual glance from most dedicated gamers, and it's incredible that Skill on Net Limited can consistently provide such a colossal catalogue across its extensive range. The design is a little old-school, but there are plenty of better-looking Skill on Net Limited casinos out there if appearances are important to you.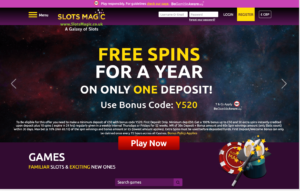 Play Million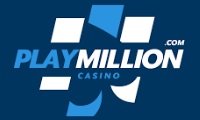 Play Million, which is sometimes styled without the space as Playmillion, might be the most retro-looking casino on the entire Skill On Net Limited platform. Not every casino can be a ten out of ten for looks, though, and perhaps it's a testament to the quality of the games on offer at Play Million that it's as popular as it is despite looking like it last received the attention of a web designer more than a decade ago. If we had to sum up the atmosphere of Play Million Casino in a single word, the word would be "reserved." The blue-and-grey colour scheme is cool and detached, and the promotions are presented more as pieces of information than as incentives designed to blow players away. The impression that we're left with after checking out Play Million is that this is a casino designed for people who don't especially care about promotions or pretty themes and just want to get on with playing. If you recognise yourself in that description, you might find yourself preferring Play Million to any of the other Skill On Net Limited casinos we've namechecked in this list.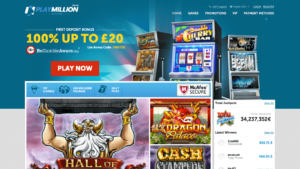 Prime Slots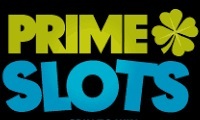 Prime Slots is one of very few Skill on Net Limited casinos that has a past life. It hasn't always been a Skill on Net Limited casino, but it's benefitted from a second lease of life since it moved to Skill on Net. In the process of that move, though, it's lost its Irish theme. The only hint of it left is the four-leafed clover that appears in its logo, looking somewhat out of place when you consider that the rest of the site is blue rather than green. It doesn't take a genius to work out that this is an online casino site that focuses on slots – the clue is right there in the name – but there are also scratchcards and live casino games available at Prime Slots. It doesn't have quite the range of the majority of its sister sites, but it arguably does a better job of dividing its games up into easy-to-understand categories that allow the best games in each genre to stand out on the homepage. If anything, there are too many categories – slots and games are grouped by theme, by feature, by provider, and by "series." It might not stand out as an online casino based on its design, but as a library of online slots and casino games old and new, we've rarely seen anything better organised. If you can't find a game here, it probably doesn't exist.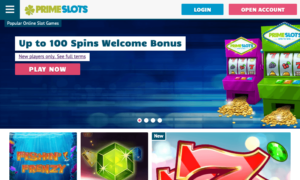 About Skill On Net Limited
Skill On Net Limited History
The Skill On Net story began with the company's formation back in 2005. The world of online casinos was still relatively new back then, and although Skill On Net wasn't among the first group of casino network companies to take to the internet, they're still significantly more experienced than the vast majority of their peers and rivals. There aren't many companies of their kind out there that can boast of more than fifteen years of experience, and their longevity goes some way to explaining how they've managed to build up a collection of more than fifty online casinos. Some of those casinos are among the most popular in the OK, with PlayOJO, in particular, being an outstanding brand. Although the UK Gambling Commission lists Skill On Net's head office as being in Cyprus, the company itself lists an address in Malta instead. There's also a smaller Skill On Net office in the UK.
Skill On Net Limited is a company that's demonstrated an ability to make safe, high-quality casinos over a long period of time. The company's record with the UK Gambling Commission is clean, with no fines or reprimands on file, and so it's no surprise that so many big-name brands have trusted Skill on Net to make branded products for them. Genting Casino is a prime example of that. Genting is such a big name in the UK that any online casino network company would bend over backwards to host their official online presence, but Skill on Net Limited is the company that got the nod from the Genting Casino decision-makers. We could say the same about Slingo and The Masked Singer, both of which have partnered with Skill on Net to have officially licensed online casino sites created. Those sites are now enormously successful and while it's quite likely that they could have been successful with another company at the helm, Skill on Net's successful track record was the key to getting the job on both occasions. However, online casinos of the kind that the company makes today weren't on the agenda during its early days.
The first iGaming product that Skill On Net brought to the internet was a version of backgammon, which ran on a dedicated site called Bgroom.com. The website closed down several years ago, but a holding page still exists and invites people to download a backgammon app called "Lord of the Board" instead. To the best of our knowledge, Lord of the Board isn't owned or operated by Skill On Net. The company appears to have attempted to erase its connection with backgammon from its history, as there's no mention of the game or the firm's backgammon past on the official Skill On Net Limited website. They prefer to focus on their present-day operations, which have seen them spread out across much of Europe. As of the time of writing, Skill On Net Limited holds licences to operate in the UK through the UK Gambling Commission, Malta via the Malta Gaming Authority, and also holds additional licences in Germany, Sweden and Denmark. More are likely to follow as the company continues to pick up steam. The company does a good job of masking its size, so we're unable to say how many people work for Skill on Net or how much money the business makes, but all signs point to the idea that the next 17 years of Skill On Net's existence will be even more successful than the first 17.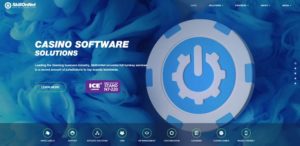 The Skill On Net Proposition
Like many of the larger casino network companies, Skill On Net Limited operates a white-label platform, offering its casino services to anybody who wants to set up an online casino site of their own. Comparing different white-label propositions is difficult because it's often akin to comparing apples and oranges, but it wouldn't be a stretch to say that Skill on Net's is one of the largest in terms of both the number of partners the company has and the number of casino games it's able to offer to those partners. Any white-label Skill On Net Limited partner has access to more than three thousand online slots and table games, with live casino games also available to those who ask for them. Potential clients and customers can take up these options on either a white-label or a "full turnkey" basis.
What Skill on Net Limited supplies to its partners goes further than mere games. It also supplies casino management back-office software, a fleet of risk management tools, assistance with compliance, finance and payment services and even coverage through licencing where necessary. The service is available in multiple languages, supports multiple currencies, and allows client casinos to accept payments in modern methods like PayPal and Bitcoin where laws allow it.
While other casino network companies and white-label casino firms might be able to offer you access to a pool of slots and games made by other developers, Skill On Net goes further than that. Skill On Net operates a sister company called Green Valley Games, and through that company, it offers bespoke casino games that aren't available on other platforms. These games are, in essence, made by Skill on Net itself. They're yet to have a smash hit on the scale of Starburst or Rainbow Riches, but slots like Ninja Master, Limo Party, and Spinning Wilds allow white-label partners to feature slots that most of their peers won't be able to host, thereby allowing them to create something close to a unique proposition.
Skill On Net News
The past couple of years has been as busy as any that came before them for Skill on Net Limited. Not content with being able to offer three thousand casino games and also developing games in-house, Skill On Net signed a deal with Hacksaw Gaming in January 2022 and will now feature Hacksaw Gaming products across its most popular casinos like Lucky Vegas and PlayOJO for the first time. A few weeks later, they added Apple Pay support for their casinos in all territories where the use of Apple Pay for casinos is legal or possible. These are two of only a few changes that are likely to be made to the company's European operations in the months ahead, as the current focus of Skill On Net's attention is on Latin America, where there's an emerging market for casino gaming.
March 2022 saw Skill On Net embark on a new televised advertising campaign in Mexico for the Mexican version of PlayOJO, which is called PlayUZU. The commercial is marketed around the idea of the website getting a "thumbs up" and is very similar to an advert that Skill on Net has aired before in Spain. They've also partnered with Ortiz Gaming to provide bingo games on their Latin American-focused casino sites.
In a wider-ranging change, every version of the PlayOJO website now has a "hot or cold" feature that tells players whether the game they're thinking of playing is paying out regularly or not at all at the moment. That provides players with valuable information but leaves them with a choice. Do they jump on the game while it's hot and hope they share in the luck of their fellow players, or do they jump on it while it's cold and hope that they'll be the first to benefit when the game starts paying out again? This sort of transparency is what lifts PlayOJO so high above the standards of average casino sites and ought to become a new industry standard. If Skill On Net can provide this information to players, so can everybody else. We'd like to see the company roll the feature out across all of its other online casino sites, and from there, we'd love to see it spread out to other casino networks.
Full List of Skill On Net Sites
Active Skill On Net Casinos
These Skill On Net sites are owned and operated by Skill On Net only, and so can be thought of as in-house casinos.
White-Label Skill On Net Limited Casinos
These Skill on Net sites are operated on the Skill On Net platform but are owned by the company's partners.