Foxy Bingo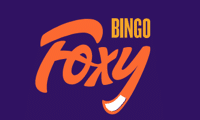 Foxy Bingo sister sites include Foxy Games, Cheeky Bingo, Ladbrokes Bingo, Coral Bingo, Gala Bingo, Bwin, Party Casino and many more. 
Foxy Bingo (foxybingo.com) is operated by LC International Limited, Suite 6, Atlantic Suites, Gibraltar, GX11 1AA.
Sites like Foxy Bingo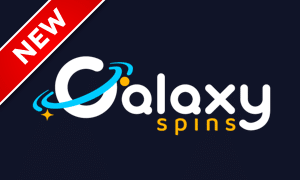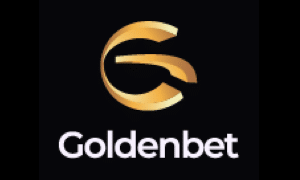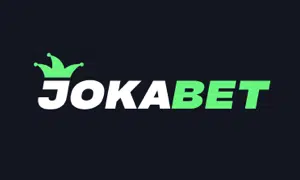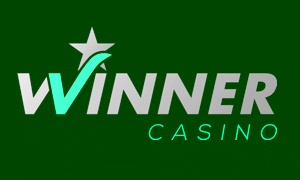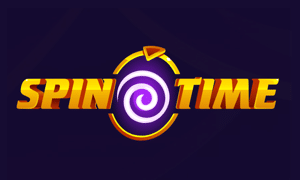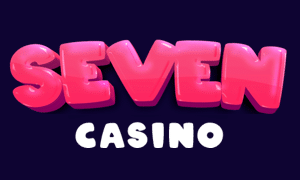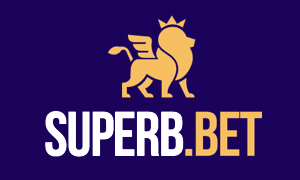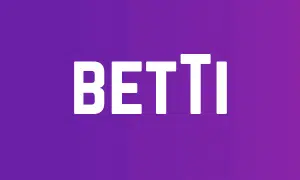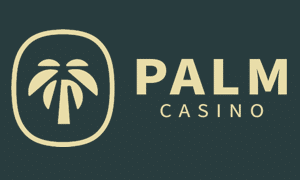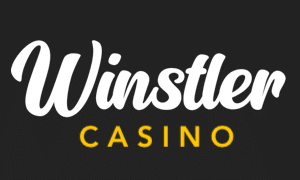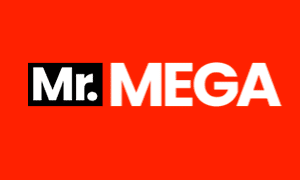 Foxy Bingo Sister Sites
It wouldn't be an exaggeration to say that the UK sports betting industry wouldn't be the same without the Foxy Bingo sister sites. As an iGaming site, Foxy Bingo belongs to LC International Limited, which is part of a global iGaming giant called Entain Plc. The initials of LC International are a clue to the two biggest brands involved in the company – Ladbrokes and Coral. With close to two hundred years of experience between them, they're some of the oldest and most trusted betting brands in the world. Not all of the Foxy Bingo sister sites are focused on sports betting, though, and we'll look at a variety of them below to emphasise that point.
Cheeky Bingo
The fact that Cheeky Bingo has never been promoted by early 00s pop sensations the Cheeky Girls is the biggest missed opportunity in the history of online casino and gambling marketing. That's our first – and probably our only – concern about this Foxy Bingo sister site. Cheeky Bingo doesn't have the household name of Foxy Bingo, but it has every bit as much to offer bingo fans as its more popular sibling. With its tongue planted so firmly within its cheek that it might burst out the other side, Cheeky Bingo presents its repertoire of bingo rooms, online slots, and game shows with an infectious sense of fun and a solid determination never to be caught taking itself too seriously. The brand hasn't been advertised on television since it became an LC International Limited site, but it still has an active community of several thousand players and provides a welcoming environment to newcomers.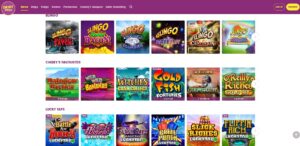 Coral Bingo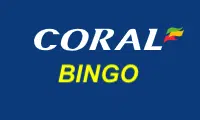 Coral is a name that players in the UK already know and trust, but they know and trust it for sports betting. It doesn't necessarily follow that they'll also trust it for bingo – but the success of this Foxy Bingo sister site suggests that they do. Coral Bingo is an unusual site because it doesn't exist independently of the main Coral website. Instead, it's a dedicated area within that website designed specifically to appeal to bingo players. Coral expanded into bingo at around the same time they expanded into general casino games, which has had the consequence of every LC International Limited casino brand and Foxy Bingo sister site effectively competing for the same customers inside the same market. It's an odd approach, but it seems to work for them. Coral Bingo's range isn't quite as extensive as the Foxy Bingo range, but if you're done with Foxy Bingo, you ought to find plenty to enjoy here.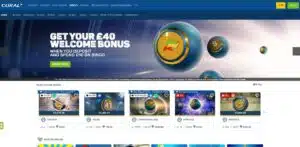 Ladbrokes Bingo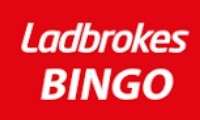 It's something of a meme in the online gambling world that Ladbrokes and Coral constantly mirror each other. These two sports betting firms were once great rivals. They competed not only in the online world but in the offline world, too, with Ladbrokes and Coral shops on the same streets of British towns, each trying to undercut the other. The merger between the two businesses created LC International Limited, and since then, the companies have become almost identical. As proof of that, here's Ladbrokes Bingo. It operates almost the same portfolio of games as Coral Bingo and shares many of the same software features and terms and conditions. There are still subtle differences between the two, though, so it's worth visiting both Ladbrokes Bingo and Coral Bingo before you decide which of these Foxy Bingo sister sites you'd prefer to spend your money with. In the end, you might decide to become a new customer of them both.
Gala Bingo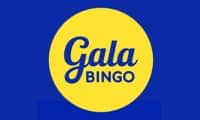 Gala Bingo has spent most of the past decade withdrawing from the physical world and delving deeper into the digital realm. What was once a staple of the British in-person bingo scene, with bingo halls in every major city in the country, is now almost entirely an internet-only brand. If you haven't checked in a while, it might surprise you to find out that your local Gala Bingo is now a Buzz Bingo. The internet is the only place you'll find the Gala Bingo brand now, but it's still thriving online as a Foxy Bingo sister site. In fact, it's doing so well that we'd be hard-pressed to say whether Gala Bingo or Foxy Bingo is the bigger of the bingo-focused sites managed by this casino network company. The fact that both of them are more successful in their chosen field than either Ladbrokes Bingo or Coral Bingo says a lot about both their quality and their popularity.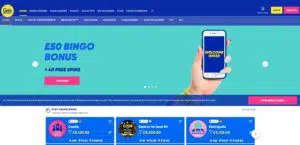 Foxy Games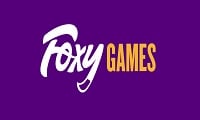 Foxy Bingo has been such a massively successful online casino site that it was inevitable it would one day spawn a franchise. The only real surprise is that it took two attempts to get the franchise up and running. Foxy Casino was the first of the Foxy Bingo sister sites to share the Foxy name, but for a variety of reasons, Foxy Casino never worked out. Foxy Games was attempt number two to get the same idea up and running, and this time it's worked out. That might be down to the fact that Foxy Games focuses on the newer, more exciting aspects of online iGaming, where game shows grow in popularity every day, and online slots have bonus side games that wouldn't feel out of place on a PlayStation. On the other hand, maybe it's down to the fact that the brand hired Hollywood's Heather Graham to promote the launch of Foxy Games. Either way, this site is one of the hottest up-and-comers of the UK online slots scene.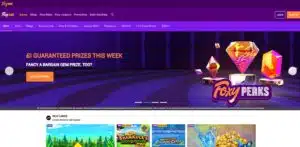 Bwin Casino
If you didn't know that Bwin Casino existed, you're not alone. It's taken quite a while for the name "Bwin" to establish itself in the memory banks of UK players, but it's in there now. The only catch in is that it's in there as a sports betting brand. Bwin launched in Austria way back in 1997 and took a slow, torturous route to enter the UK. Ownership of the brand's UK operations has changed a few times over the years, but now Bwin is a Foxy Bingo sister site, and it's in the hands of LC International Limited, it has a new bag of tricks. One of those tricks is the spawning of Bwin Casino, which comes with a well-curated selection of online slots and exclusive games created specifically for Bwin. LC International hopes that boosting the profile of Bwin Casino won't take quite as long as boosting the profile of Bwin itself did. With the range of casino games available at Bwin, we're sure they won't have to worry about that.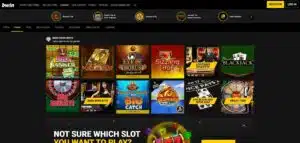 Party Poker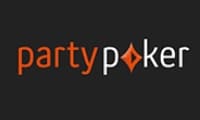 Party Poker is the Foxy Bingo sister site with the strongest individual identity. That's not a statement we make lightly. All of the other Foxy Bingo sites have ambitions to become something else. We've just spoken about Bwin, which has expanded into Bwin Casino and attempted to reach out beyond the confines of its sports betting pigeonhole. You won't catch anybody at Party Poker trying to do that – it's far too committed to becoming the number-one poker brand in the UK. That's a hotly contested title, and it would take a gargantuan effort to dislodge PokerStars from that role, but Party Poker is up for the fight. The Party Poker site goes big on the social element of poker, providing space for people to meet and create poker teams before entering the tournament rooms. If you become one of the top-ranking players at Party Poker, you might even find yourself being invited to in-person tournaments and appearing on the site's hosted live-streaming channel.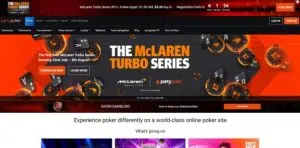 Coral Casino
We've already mentioned Coral on this list of Foxy Bingo sister sites, but we spoke about the Coral Bingo aspect of the business. Now, we're talking about Coral Casino. There are a few online slots and other attractions at Foxy Bingo aside from all the bingo rooms, so the casino-focused sites in the LC International family make for fair comparisons to it. Coral Casino was created for the same reason that Bwin Casino was created. It's an attempt by the parent company to take a name that's already well-known and use it as a launching pad for something new. The idea is that if people are happy to bet on sports with Coral, they might also be happy to bet on the spin of a roulette wheel, the outcome of a card game, or the reels of online slots. Based on the site's steadily growing popularity, the idea seems to be a fundamentally good one.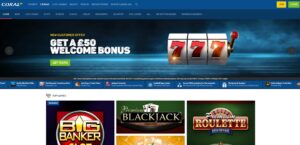 Gala Spins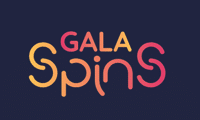 Gala Spins is unusual in this group of Foxy Bingo sister sites because it's a standalone site rather than an extension of the original Gala Bingo site. The only other site that's been given the same treatment is Foxy Games, so it could be said that the Foxy sites and the Gala sites have more in common than any of their siblings. As you'll no doubt already have gathered from the "spins" part of this casino's name, it focuses almost exclusively on online slots. That's not to say there aren't other types of casino games available at Gala Spins because there most certainly are, but Gala Spins is a veritable online slots lover's paradise. You won't have any difficulties finding your favourite slots here, but you might also find hidden gems, rarities and obscurities drawn from the very best providers in the casino business.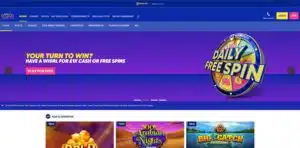 Ladbrokes Casino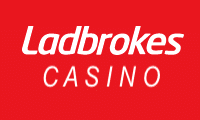 It wouldn't be right to include Coral Casino as a featured Foxy Bingo sister site without also including Ladbrokes Casino – the two sites are peas in a pod. The philosophy behind the two is identical – they piggyback on the popularity of the brand name in the hope that people who bet on sports might be persuaded to bet on other things because of either familiarity with or loyalty to the overarching brand. It's a sound theory, and the success of the entire LC International Limited casino family is a testament to that. Ladbrokes Casino doesn't have as many online slots at Gala Spins and nor does it have the arcade-style focus of Foxy Games, but it's a high-quality all-rounder that should have something for every type of player. Being attached to a big brand isn't everything in the casino world, but brand recognition goes a long way, and it ensures that Ladbrokes Casino constantly attracts a steady stream of players.
Foxy Bingo News
: In its latest monthly update, The Telegraph has once again provided a comprehensive guide to the best online bingo sites in the UK, a task it undertakes with meticulous care to assist players in finding top-notch bingo experiences. This month, Mecca Bingo has secured the top spot, celebrated for its exceptional range of games, user-friendly interface, and generous bonuses, making it a favourite among UK bingo players. Not far behind, Foxy Bingo clinched second place, a position well-deserved due to its vibrant community, engaging gameplay, and the variety of games it offers. Foxy Bingo's rise to the second spot is attributed to its commitment to creating an immersive and enjoyable gaming environment. Its platform is not only visually appealing but also easy to navigate, ensuring a seamless experience for both new and seasoned players. The site's dedication to providing a diverse range of games caters to different preferences, ensuring that there's something for everyone. Moreover, Foxy Bingo's promotional offers and bonuses are particularly noteworthy, as they add extra value to the player's experience, making it more rewarding and enjoyable.
The Telegraph's monthly rankings are a reliable source for bingo enthusiasts, offering insights into the best sites based on various criteria such as game variety, user experience, bonuses, and overall player satisfaction. These rankings are not just about listing sites; they are about guiding players towards platforms where they can enjoy a safe, fair, and enjoyable gaming experience. This guide is an invaluable resource for anyone looking to indulge in the exciting world of online bingo but struggling to find the best place to start.
: When it comes to online bingo, it's not every day that one hears of an event quite as grand as the one the Foxy Bingo sister sites have just unfurled. Dubbed the '£150K Big Bingo Game', it's a monthly spectacle that bingo lovers across the UK eagerly anticipate, with the next game queued to play on the 2nd of the month. This isn't just any bingo game; it's a monumental affair where the stakes are sky-high and the excitement palpable. With a staggering £150,000 cash pool, it's an offer that's hard to pass up. More intriguing is the guarantee that the Full House winner will walk away with an eye-watering £100,000 – a fixed sum that adds a layer of serious thrill to the proceedings. For those keen to join in the fun, tickets are a mere 10p, and players can secure up to 100 tickets to maximize their chances. The game unfolds at 21:00 (UK time), with tickets on sale from 21:15 on the second day of the previous month until 20:30 on the day of the game.
The prize breakdown is just as enticing, with £15,000 for 1 Line, £20,000 for 2 Lines, and additional winnings for Roll-on and 1TG features, ensuring many more winners than your standard bingo round. This game isn't confined to a single site either; it's part of a network promotion, meaning the prizes are pooled across multiple Entain Bingo Network sites. This is more than just a game; it's a community event that brings together bingo aficionados from all over, each sharing the same dream of that £100,000 Full House. So, mark your calendars, set your reminders, and be prepared to be part of Foxy Bingo's grandest game yet.
: In an era where live streaming reigns supreme, LBB Online recently highlighted a quirky twist on the trend. Foxy Bingo, ever the innovator, has embraced the age of digital engagement in the most unusual way: by launching the world's inaugural live stream of another live stream – an actual stream, as in a natural flow of water. You heard it right; it's as meta as it gets! In this eye-catching stunt, the essence is to magnify the growing popularity and significance of live streams in today's digital landscape. The event witnessed the brand's ambassador sitting comfortably, donning his iconic purple suit, watching a live stream. This, in turn, was live-streamed for audiences, turning an ordinary act into an extraordinary digital event. This inventive endeavour isn't just for kicks. Behind this fascinating facade lies a deeper narrative. The brand seeks to emphasise how essential live streams have become in contemporary times. From celebrities to influencers and brands, everyone seems to be hopping onto the live-streaming bandwagon, leveraging it for engagement, entertainment, and education.
But why the live stream of another live stream? The answer is simple: to showcase the ubiquity and influence of this medium in a humorous, cheeky, and unforgettable manner. The initiative underscores the importance of adapting to emerging trends while simultaneously offering audiences a fresh, fun perspective. In conclusion, the Foxy Bingo sister sites have indeed pulled off a noteworthy feat, reminding us of the power and reach of live streams. The absurdity of the idea juxtaposed with its genuine appeal encapsulates the essence of modern digital trends.
: This week, it would seem that Foxy Bingo has run out of PR ideas, or it could be a sign that the bingo brand is gearing up for the launch of yet another newsworthy PR stunt. Knowing Foxy, it is presumably the latter! While we wait for time to tell on that one, members of the platform have been getting stuck into one of the hottest Halloween games of the year, Cops n Robbers Big Money Trick or Treat by Inspired Gaming. If you loved the bonus mayhem involved in the original which gives you a taste of how it feels to be on the run, you will undoubtedly want to get your fill with this game, which has received rave reviews from across the board; even Which Bingo decided to give the slot a few plaudits on their website.
Even with the addition of the spooky aesthetic, the graphics are still fairly basic, albeit in a fairly charming way which is very much in line with the rest of the franchise. The array of bonuses doesn't disappoint either. Along with the usual bonus symbols, there is a trick-or-treat bonus game, the ability to spin in fortune mode, and the ID parade bonus, which is just one of the ways the wins can really rack up in this slot. A 5OAK combination will allow you to bank 40x your 20p – £80 stake, whereas if you get lucky while enjoying the sequence of bonus features, your coin balance could grow by up to 3,125x.
: The Interactive Investor website has had a lot to cover in regards to the iGaming industry as of late; this week, one of their reporters covered how, Entain, the owner of the Foxy Bingo sister sites, including Ladbrokes, has been putting on a brave face as share prices plummeted. The Entain share prices dipped by 0.67%, which was an infinitely more modest percentage compared to the company's competitors; 888's shares are down by 2.61%, and Flutter Entertainment's shares almost mirrored the downfall of 888 with a 2.30%. The only iGaming giant which seems to be faring well is MGM, with their new UK venture, they have added 1.92% to their share prices, but as the novelty of the new Bet MGM platform wears off, it wouldn't be all too surprising to see their share prices dipping or becoming stagnant.
Even though many investors are starting to wonder if Entain is still a good investment, the chief exec maintained in a press statement that the company can see positive levels of underlying growth in its online business models. Quite admirably, the head honchos at Entain are still eager to implement more stringent safer gambling measures, ahead of them becoming non-optional – even if that could potentially leave their members defecting to other online sportsbooks and casinos. If you are keen to learn more about the happenings at Entain, you only have to wait until mid-November, when a fresh press statement will surface and reveal what kind of changes will be implemented.
: The Foxy Bingo sister sites have had a fairly dull week, despite their best efforts to engage their followers on Twitter by posting quizzes, making attempts to resonate with their fanbase via 'relatable' meme-style content and images and clips prised from their brand-new laundrette branding. The only people keen to voice their opinions of the Foxy platforms this week haven't been bingo tastemakers; they were angry people taking to Trustpilot to vent their frustrations and grievances. On the 23rd of September, someone posting under the enigmatic username, L L, stated that only winning once in a while is frustrating, but that is nothing compared to never pulling in wins. After that statement, L L appeared to delve into an iGaming conspiracy theory by iterating his belief that gambling is controlled by bookies and casinos, and they all inhibit wins for players who increase their stakes from 10p to 40p – especially in Fishin Frenzy, apparently.
If they spent a few minutes researching how the math models in online slot games work, they would realise that the stake amount has absolutely no bearing on the RTP rate. Just to embarrass themselves a little more, they then started to proclaim that platforms should be reviewed for fair play and practice; completely oblivious to the fact that Foxy Bingo is routinely reviewed by the UKGC, as part of their licencing agreement! To finish their cognitively dissonant review, they started to complain about how the government has started to clamp down on online gambling and wrongly tar people with the gambling addict brush. Either they want gambling regulation, or they don't!
: It is always frustrating when a new iGaming market research report surfaces and none of the juicy details are revealed in publicly available form. Refreshingly, on the 9th of September, Benzinga circulated a new report from the Express Wire which highlights future growth trends and the upcoming opportunities and challenges that iGaming companies will experience as we move closer to 2030. While you won't be able to read the full report for free, you can clue yourself up on some of the most interesting new trends and discover who has been highlighted as some of the key contenders in the industry.
The report named eight of the biggest powerhouses in the iGaming and gambling market, including NetEnt, the Kindred Group, and Entain PLC (GVG), before revealing that by 2028, the market value is expected to grow by 14.71% from the 2022 value of £24984.34 million to the even more staggering sum of £56921.42 million. The popularity of smartphones was highlighted as one of the main culprits of market growth alongside the evolution of blockchain technologies, which are making online gambling platforms safer. Benzinga also reported that Entain, which operates the Foxy Bingo sister sites, had a total market share of 5.27% in 2020, which was even higher than its competitors The Stars Group (5.13%), and the Kindred Group (4.32%). When Foxy Bingo's owner isn't dominating the retail betting industry with its series of betting shops (Ladbrokes and Coral), it is proving to be tough competition in the online domain with its popular platforms, Party Casino, Party Poker and Gala Spins.
: On the 1st of September, the Baltimore Chronicle shared some key insights into the 2023 online casino and bingo market. As usual, the iGaming market report seemed to only anticipate good things in the years to come; the various other economies, sectors, and industries across the globe may want to start taking notes on the resilience of the iGaming market, or investors may want to start taking what they read in such reports with a pinch of salt. The key players identified in the report should also come as no surprise to anyone, they included all the usual industry giants, including the owner of the Foxy Bingo sister sites, Entain, 888 Holdings, Bet365 and the Kindred Group. The research report was drafted by the company Orbis Research, which holds a fair amount of credibility among industry investors, but even though they may be able to accurately analyse trends, they can't predict the future or foresee the forthcoming detrimental factors that may inhibit the growth of the financial economy.
Orbis argues that their study provides a thorough and focused approach to understanding the online gambling industry; the primary goals of the research included providing forecasts and growth projections based on large volumes of data. They certainly aren't the first to draft a research report into the future of the online gambling sphere, but they strived to exhibit original data and results and provide solid conclusions. If you are interested in who has the most dominant shares of market segments, or which political factors are impeding or exacerbating growth, invest in a copy by heading over to the Orbis site.
: On the 16th of August, the owner of the Foxy Bingo sister sites, Entain, confirmed via its News & Insights blog that a record number of women have backed the Women's World Cup with bets. Women from across the world have come out in droves to place wagers in support of their home, favourite and favourite football teams – the phenomenon is hardly limited to the UK. Typically, the vast majority of sports bettors identify as male; however, during the opening three matches in the Women's World Cup that featured the England team, one-fifth of bets were placed by bettors advising as female, at least that was the case at the bookmakers flying under the Entain banner, including Coral and Ladbrokes.
On the other side of the globe, New Zealand, which is just one of the host countries of this year's tournament, has reported a 365% increase in bets placed compared to 2019 figures. If you were wondering how the number of bets on Women's football stacks up against men's football, the Entain blog post has the figure for that too! When the US team opened the tournament by playing against Vietnam, BETMGM reported that they received 3x more bets compared to when Lionel Messi appeared in his debut match for Inter Miami CF. With the tournament coming to a close this weekend, it is likely that more stats that prove the popularity of the tournament will start to surface, which may be more interesting, at least to those curious about the betting industry, than seeing who gets to bring it home.
: On the 1st of August, The Telegraph teamed up with the iGaming tastemakers, Betting Expert, to introduce the latest new player welcome offer at Foxy Bingo, which will be running all through August, but they didn't stop at running through the welcome bundle on the table for all new players. Betting Expert and The Telegraph also weighed in on the other aspects of the dynamic gaming platform by covering the diversity in the game library and other benefits of joining the Foxy Bingo sister sites. Currently, all new players can deposit £10 and bank a £40 bingo bonus, which comes with 4x wagering requirements, and 40 free spins, which are valued at 10p each. The new player freebies must be claimed and used within seven days before they expire.
The bingo bonus can be spent buying bingo tickets for five bingo rooms on the site, giving players the option of trying out the 90, 80, 75, 36 and 30-ball bingo variants. Once you have spent your bingo bonus and used the free spins, the site, which contains over 850 online slot games is your oyster. Currently, the only other bingo site that can compete with the welcome offer at Foxy is Gala Bingo, which also runs under the Entain banner, as it is offering a £50 bingo bonus and 40 free games. You won't get the same Foxy-branded bingo rooms, but Gala Bingo hardly pales in comparison, especially with all the exclusive content and franchised bingo rooms you can use to celebrate your love of TV shows such as Friends and Coronation Street.
: Unless you have been living under a rock, you will have noticed that the Foxy Bingo sister sites have been pulling out all the marketing stops in 2023 in a bid to appeal to a new generation of bingo fans. For its latest PR stunt, the foxiest bingo brand known to man brought its new marketing campaign to a laundrette, which may not sound like the coolest location to promote a bingo brand, but therein lies the magic of the PR company in charge of several of the Entain bingo and casino brands, Neverland. Neverland teamed up with Agile Films and the video director Noah Harris to create a new multi-channel campaign, which will be seen online and on TV and heard on the radio. The TV ad runs in the same vein as the Get Your Foxy on ads with the iconic BoomFox boombox.
Once the 70s disco funk music starts to play, the laundrette punters start to pull orange velour tracksuits with 'Foxy' emblazoned on the back out of the industrial-size washing machines. It has to be said, they're infinitely more fashionable than the Juicy Couture tracksuits that somehow still seem to be in trend. Towards the end of the endlessly aesthetic ad, Foxy Bingo starts to advertise all of the freebies that are available at the bingo & slot-focused site, including the new free-to-play pinball game, which can churn out a variety of prizes, including free spins and cash prizes. According to the Neverland creative director, the ad was as fun to film as it is fun to watch.
: As the list of Foxy Bingo sister sites is continually expanding, the gambling operator behind them all, Entain, decided to introduce all 33 of them on a dedicated page on their official website. While the casinos, sportsbooks, and bingo platforms at the top of the page need absolutely no introduction to members of the UK who haven't been living under a rock, at the end of the list, there are a few sites that are a little less well-known in the public consensus – at least in the UK. For example, Finnplay is only prominent in the Nordics, whereas Visa Bet targets the Greek market, and betboo has been serving South African customers since 2005.
Foxy Bingo was the 7th Entain brand to be introduced via a snapshot which informs readers that the bingo platform is one of the most successful online bingo brands and subsequently one of the biggest names in the bingo market in the UK. Other bingo brands included in Entain's portfolio include Gala Bingo, which is currently the second-largest bingo company in the UK. In addition to the unique and branded bingo rooms, Gala Bingo also leaves very little to be desired on the instant win gaming front; there is a stellar collection of slot games which continues to grow by the week, along with plenty of options for those who prefer to play at live or automated casino tables. If you are hunting for a visceral in-person bingo experience, as advised by Entain, Borgata Bingo, built for BetMGM, is hard to beat.
: This week, Which Bingo used some of its insider knowledge of the online bingo industry to inform its readers which the best bingo sites to play at in 2023 are. The top entry, which was also one of the only sites to receive a 5-star rating, was the unlikely suspect, Betfair Bingo; notably, Betfair has ceased only making waves in the sports betting industry and is proving to be tough competition to some of the bingo brands which make online bingo rooms their bread and butter. Although, the top placement has a lot to do with the exclusive welcome offer, which currently consists of a £50 Bingo Bonus Bundle to all new members who part with £10 of their hard-earned cash. The bonus bundle comprises a £30 bingo bonus, a £10 slots bonus, and 100 free spins, which can only be used on a selected online slot game.
Foxy Bingo entered the list at number 6, under several other wildcard options, including Quality Bingo and Lucky Pence Bingo. The welcome offer may not be as sizeable as what is on the table at Betfair Bingo, but the Foxy Bingo sister sites don't have as much to prove; they are already staple platforms in the iGaming industry, and at least the 40 free spins which tack onto the £40 bonus are absolutely wagering requirement free. Foxy isn't in the habit of dropping the ball when it comes to regular offers; Foxy is always hatching up plans to keep his customers returning.
: This week, Foxy Bingo announced that the platform will be allowing its players to 'fox it for less' by launching the brand-new Fab Grab Penny Bingo Room, which was designed to help Foxy members to help turn their pennies into pounds. At least no one can say that Foxy isn't doing his bit in the economic recession; the fun continues to flow at a fraction of the ordinary cost of purchasing bingo tickets. On the promo page, the penny bingo game available in the Fab Grab room was marketed as only for June, so members may want to grab some cheap tickets while they are still available until the end of the month. For apparently a limited time only, the tickets cost 1p – 2p, and from the £240 prize pool, which is reserved for every bingo session, the max win is £10. Although, we wouldn't put it past Foxy to launch a new promotion to run through July when bingo lovers will be looking to fill their spare time through the summer months.
For players looking for even more savings, the owner of the Foxy Bingo sister sites was even kind enough to offer cheaper bundle deals! Session packages, which will allow you to play all 25 games with 30 tickets, start from just £8. The maximum number of tickets that can be purchased is set to a very reasonable number of 120. The penny bingo games will play every few minutes from 8:30 pm to 22:54 pm every day until the 29th of June.
: The owner of the Foxy Bingo sister sites, Entain, is making some major moves in 2023; this week was no exception. On May 25, Market Screener informed the iGaming world that Entain will be launching an innovative bingo game in partnership with the cutting-edge company Gaming Realms. After the success of the Slingo games, which merge the format of online bingo with the mechanics of video slot games, you don't have to be a betting man (or woman) to envisage the hype that is going to surround Slingo Bingo, which is now 100% exclusive to Entain's customers in the UK.
After this launch, lovers of the Slingo format will get to enjoy it as a unique multiplayer bingo experience. Naturally, Slingo Bingo is the first game in this vein to hit the market; it was brought to the iGaming domain by the in-house developers at Entain HQ. Part of the reason for the introduction of Slingo Bingo is the recent rise in online bingo's popularity; Entain recorded a 20% increase in their UK customer base at Gala Bingo; the new launch proves how committed Entain are to evolve around their customer's tastes and trends and provide them with more exciting content. It also made a lot of sense for Entain to innovate around the Slingo brand. On the Gala Bingo site, Slingo titles currently make up half of the top 10 most popular instant win games. The Entain Chief Product Officer, Satty Bhens, believes the new bingo variant will affirm the brand is committed to fun, excitement and innovation.
: This week, the owners of the Foxy Bingo sister sites, Entain Plc, informed the public of a directorate change, which may not mean changes to the members of the respective sister sites, but investors in the firm may want to take note of the new changes that are set to happen when the Chief Governance Officer, Robert Hoskin, leaves the board on the 30th of June and leaves Entain PLC for good on the 31st of August. After eighteen years with the group, Hoskin has more than paid his dues to the company. When he first joined the group in 2005, he was appointed to multiple roles, including Company Secretary and Group Director of Legal, Regulatory and Secretarial. In October 2020, he was promoted to his CGO before being brought onto the board in 2021.
In his absence, Entain PLC will be restructuring his previous responsibilities, with a particular mind to how the regulatory affairs will be handled going forward, as these are of the utmost strategic importance to the company which strives towards thriving exclusively in highly regulated markets. One of the men stepping in to fill Hoskin's seemingly many shoes is Simon Zinger, who is already an integral part of the company as a member of the Entain Plc General Counsel. The Entain CEO had a few kind words to say about Hoskin, describing him as an exceptionally welcome, helpful and supportive colleague when he joined the board in 2019. The CEO also owes many of Entain's recent successes to Hoskin.
: The Foxy Bingo sister sites are known for their outlandish and zany adverts and idents. However, in the run-up to Eurovision 2023, the Foxy promo team outdid themselves by channelling the often absurd nature of the song competition which the UK seems keen to stay a part of after we tore up our EU membership. The website, The Drum, which often covers TV advertising campaigns got the full scoop on Foxy's new TV and digital ads, which proved just how serious the Foxy sister site family are about appealing to a brand-new generation of gamblers with their promotional material. The advert includes everything from the kind of Scandinavian metal band that would steal the Eurovision show to grannies singing folk tunes to European aliens, who seem partial to a spot of disco.
The Foxy boombox appears mid-way through the ad to distort the soundtrack and bring the 70s style funk, which Foxy fans will have gotten all too familiar with in recent months. Especially after the bingo brand blasted the 70s tunes from their mullet-only salon in Newcastle earlier this year. The head of branding at Foxy Bingo and Gala Bingo, Sara Jolly, stayed true to her name in a recent press release by quipping that she thinks the singing grannies may just be the makers of the hit summer single of 2023. While we appreciate the enthusiasm, we can't say we agree with her whimsical prediction. It would have been nice to see a Eurovision-themed promotion on the bingo platform, unfortunately, it would appear that Foxy missed out on that opportunity.
: The owner of the Foxy Bingo sister sites, Entain, has recently reported that they have returned to their usual trend of growth following a recent surge in strength in their US performance. The story broke on the Proactive Investors website on April 18, and it indicated a bright future for the international gambling firm, which includes the flagship brands Party Poker and Ladbrokes. Entain also reported a rebound in overall online net gaming revenue, which is referred to as NGR to insiders in the iGaming industry. In the first quarter of 2023, the gambling firm rose by 15%; for perspective, the growth of the FTSE 100-listed company in the entirety of 2022 was only 12% after a tough year blighted by the pandemic. Overall, the online NGR rose 16%, aided by currency swings.
Entain could have easily come to regret going into the BETMGM venture, but the investment is finally paying off after BETMGM's NGR rose by a whopping 76%! Entain is now anticipating hitting the yearly guidance figure of £1.8 – £2 billion. The Entain chief exec, Jette Nygaard Anderson commented on the recent success of the firm, elaborating that the underlying momentum beneath all of its operations is continuing to pick up steam across the world. Furthermore, recent reports have highlighted that the company has noted a record number of active customers who are utilising all of the company's products. Going forward, the company will remain focused on its customer-first tactics, organic growth and diversification of its portfolio, which is set to see the share prices in the company climb even higher.
: It seems like the Peaky Blinders trend will never die out, which was recently affirmed with the launch of the Peaky Pigs online slot game that has recently landed at the Foxy Bingo sister sites. To ensure the Snowborn Games title received plenty of attention, the resident Foxy bloggers introduced the game to its members via a blog post that won't fail to get you excited about the attractive format and even more alluring graphics. If you have always wanted to see gangster pigs dominating the streets of Birmingham, this slot will undoubtedly deliver. Keeping in with the Foxy schtick, the blogger started the review by stating that pigs aren't their favourite animal, but animal allegiances aside, the mechanics bowled them over. With sticky wild symbols, multiplying wild symbols that increase in value as the gameplay progresses and the FS feature, there is plenty to be impressed by, that is before the cartoon animations are brought into the conversation.
Jackpots and bonuses aside, there is some great win potential in Peaky Pigs. The highest paying symbol, which just so happens to be the wild symbol pays 15x, 33x, and 111x for three, four or five in a combination, respectively. Sometimes, when the high-paying symbols land, they will come with a coin attached, these coins will be collected in a piggy bank and pay when you trigger the piggy pots bonus feature. There are four fixed jackpots available, the smallest is worth 15x the total stake, while the largest is worth 5,000x the total bet.
: Since 2019, the owner of the Foxy Bingo sister sites, Entain, has been effortlessly working to digitally transform its brick-and-mortar betting shops. This week, Entain hit a major landmark which was announced by Market Screener when it launched the 100th Digi-Hub in its flagship Coral and Ladbrokes betting shops. The 100th is located in Muirhouse, Scotland. Entain knows that reinventing traditional bookies into modern digital-first locations will secure their future on the high street. The Digi-Hub bookies work in a similar way to traditional bookies, however, there are more gaming terminals, interactive displays, and digital touchpoints that have been set up to provide more dynamic experiences and content for its punters.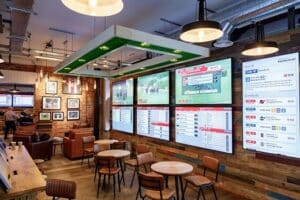 The first Digi-Hub store opened in 2019, and since then, Entain has registered over one million gaming sessions in addition to ten million sports bets placed in Digi-Hubs. Naturally, Entain is looking to expand the rollout, and it has pledged that 200 Digi-Hubs will be in operation by the end of next year. Entain also sees the hubs as a great way to prove that they are the market leaders in the fast-paced and continuously evolving landscape of betting, which isn't too farfetched considering how the hubs have modernised and relaxed the atmosphere of bookshops along with attracting a new generation of sports bettors. After noting that online-first customers at Coral and Ladbrokes tend to have more diverse tastes than the average betting shop punter, they have started to welcome plenty of sports bettors who have never ventured into a betting shop before since introducing the Digi-Hubs.
: Foxy Bingo is celebrating its four nominations at the upcoming Which Bingo awards by getting suited and booted and running free daily bingo sessions; enabling its loyal members to get in on the excitement. The free bingo sessions are available all day until the 14th of April, however, to get your hands on some free bingo cards, you will need to vote for your favourite Foxy Bingo rooms before heading over to the Top of the Fox bingo room. Up to six tickets can be claimed per game, although you probably don't want to get too excited for the prizes, as the total weekly prize pool only stands at £1,008. Each bingo game comes with a £24 prize pot, with £14 reserved for the full house winners, £7 for the 2-line winners, and £3 for the 1-line winners. If there are multiple winners for each of the prizes, the prize value will be split evenly. So you may not be able to get filthy rich with the winnings, but at least it is money for nothing!
If slot games are more your thing, there are some great new titles available at the Foxy Bingo sister sites, such as Fire and Roses Joker from Triple Edge Studios and Microgaming, which plays out on a unique 3–4–5–4–3 reel grid that boasts both-way pay lines. Even though it may have the look of a traditional slot game, there are a fair number of features, including a bonus wheel, a free spin multiplier, a symbol collection feature to give the game a progressive feel and stacked symbols.
: It only took a week, but the media has finally caught wind of the major publicity stunt pulled by Foxy Bingo. Newcastle World covered how the Geordie Shore star, Vicky Pattinson, travelled back to her hometown to launch the mullet-only salon which popped up on the high street to offer free mullet haircuts to the lucky customers who could be squeezed in by the mullet-choppers. The writer, Holly Allton, dubbed Pattinson as one of the top reality stars from Newcastle in a bid to make her trip back home even more newsworthy; who knew that there was a reality star hierarchy in Newcastle!? Pattinson's arrival probably wasn't a sight for sore eyes, given that she rocked up in a garish orange faux fur coat with orange nails to match in a bicycle-pulled carriage.
The article also revealed that it wasn't just free mullets on offer; customers could also opt for a free manicure if they didn't want to try and test the theory that people with mullets live happier lives! The Newcastle World article shared a press statement from Pattinson, apparently revealing that she was "absolutely buzzing to be back in the Toon". She also expressed her delight at how mullets are back in fashion and she got to be the one that cut the ribbon at the salon that made history. If you're interested, you can even follow Pattinson's trip back to Newcastle, which is fully documented on her Instagram page. Following the salon launch, people with Mullets gained elsewhere can take part in the Foxy Bingo mullet challenge, which has a £2023 gift card for the winner.
: If you have turned on your TV lately or tuned into the radio, you will have undoubtedly seen and heard the new Foxy Bingo 70s-style adverts, which started circulating in November 2022. Last week, the bingo site pulled one of its biggest publicity stunts yet when the bingo brand opened its own Mullet Only Salon. Even though the mullet haircuts were big in the 70s, it is the first salon of its kind, not just in the UK, but globally! The salon temporarily popped up in Newcastle, and for one weekend only, on March 4th and 5th, hairdressers were giving free mullet haircuts away to anyone brave enough to walk through the door and get the chop, which has become ironically trendy with hipsters lately.
The pop-up salon fully embraced the wacky charm of Foxy Bingo's new branding, which is slick with Northern charm and anything goes attitude. Customers looking for a new aesthetic were free to choose from the mullet menu; the options included everything from the classic mullet to the slightly more trendy shullet. Throughout each day of the limited opening, the foxy Boom Box was blasting the 70s party hits; although, the beverages on offer were hardly of the party variety – presumably because the salon couldn't obtain a licence to giveaway alcohol, but who could say no to a free cup of tea?! During their visits, customers were also invited to play a game of Foxy Bingo. Strangely, the PR stunt didn't seem to pick up much publicity. Instead, it was just LBB Online and Campaign which shared the story.
: This week, the brand owner behind Foxy Bingo sister sites, including Party Casino and Party Poker, Entain, launched an interesting article on its website exploring how the ways in which fans engage with entertainment and sports is changing. The article was published in light of the hype around the fight between Tommy Fury and Jake Paul earlier this month. The main premise of the article was to highlight the rise in 'exhibition fights' as they are becoming an ever more prevalent form of entertainment. Although, rather misleadingly, Entain claimed that two of every three Brits were backing Tommy Fury when there is undoubtedly a large proportion of the British population that doesn't know who either of the fighters is, or they simply wouldn't care to comment! However, Entain was on the ball when they covered how YouTube sensations are dominating the sports world. You only have to look at how a substantial proportion of the public fell over themselves and paid well over the odds to get their hands on the Prime energy drinks!
Entain maintains that KSI, Logan Paul and Jake Paul are bringing a new younger audience to the world of exhibition fights. However, not all fans of exhibition fights are as won over by the dominance of the viral stars, believing that many champions of the ring are being pushed out of the limelight they deserve by the fame-hogging viral stars. The article revealed that during the last five years, the most popular fights all featured a YouTube star.
Can Foxy Bingo Be Trusted?

★★★★★
Foxy Bingo is a 3 Star trusted casino.
1. UKGC License

Foxy Bingo's UK Gambling Commission licence is shared with all the other LC International Ltd casinos under account number 54743.

2. UKGC Fines

LC International Limited, as part of Entain Plc, was fined £17m by the UKGC in August 2022 because of failures related to its handling of customer interactions.

3. Customer Service

You won't find any telephone assistance at Foxy Bingo. It's text only, and your options are live chat, social media chat, or email.

4. Trustpilot Score

After over 2000 reviews, Foxy Bingo's rating with Trustpilot is low at 1.3 out of 5.

5. Company Location

Foxy Bingo belongs to LC International Ltd, which is based on the island of Gibraltar.

6. Visible T&C's

Promotions at Foxy Bingo come with their terms and conditions listed alongside them.

7. Social Media Presence

Foxy Bingo is very active on social media, and maintains Instagram, Facebook, YouTube, and X/Twitter accounts.

8. Number of Sister Sites

There are thirteen Foxy Bingo sister sites under the LC International Ltd umbrella.

9. Games portfolio

Foxy Bingo has dozens of bingo rooms, hundreds of online slots, and live game shows.

10. Gamstop links

Both a Gamstop logo and a Gamstop link appear at the bottom of the Foxy Bingo homepage.

Overall SCORE >

★★★

★★ – 3/5 Stars
Foxy Bingo Review 2023
Bingo brands in the UK don't come much bigger than Foxy Bingo. From its early days as an ElectraWorks iGaming site that was advertised on the Jeremy Kyle Show to its current status as a signature bingo brand on the massive Entain Plc platform, Foxy Bingo has always been a big deal. You won't find many gamblers in the UK who aren't familiar with Foxy, the site's familiar mascot character. In fact, there are people who know Foxy who've never even been near an iGaming site. Is Foxy Bingo's fame matched by its quality? This review will answer that question.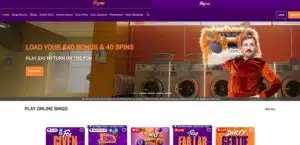 Foxy Bingo Welcome Offers
Foxy Bingo is as much an online slots site as it is a bingo site. There are so many online slots and other games here that it's a wonder that LC International Ltd feels that Foxy Games needs to exist at all, but we digress. The site offers a combined bingo and casino bonus as a welcome promotion to entice new players to join Foxy Bingo. In return for depositing and spending £10 on bingo games, newbies at Foxy Bingo get a £40 bingo bonus and 40 free spins to play with on selected Foxy Bingo online slots. Here comes the small print. The initial deposit has to be made using a debit card in order to be considered valid. Players must use the bingo bonus within seven days once it's been granted, and it comes with an x4 wagering requirement. The forty free spins are played at 10p each, and any winnings generated by them are subject to an x10 wagering requirement.
Monthly Promotions
It's fair to assume that with a site as big as Foxy Bingo, there's going to be an attractive VIP reward proposal for players who make Foxy Bingo their new home and stick around for a while. It is, therefore, quite jarring to find out that no such scheme exists. There are ongoing promotions at Foxy Bingo, but for the main part, they're nothing to write home about. The most prominently featured of the ongoing promotions is "Foxy Pinball," which is a free-to-play attraction open to all players who have an active Foxy Bingo account and have made at least one deposit during their time with the site. There are only two types of prizes that might be dished out by the virtual pinball machine; instant cash and free spins for online slots. Prizes are valid for just 24 hours and aren't substantial. The maximum cash win is just £1, and the maximum number of free spins is ten. It's better to think of the pinball game as "a bit of fun" rather than anything substantial.
Loyal players at Foxy Bingo might occasionally receive personalised offers from the site, but there's no way of knowing what these offers might be until you log in and start playing. We suspect that players who spend the most time and money here will receive better promotional offers than those who only play occasionally or conservatively, but there's no way of knowing. Other than that, Foxy Bingo also hosts tournaments (labelled as "Foxy's Showdown"), live quizzes every Tuesday and Thursday, and a "cash-out" feature on bingo that allows you to escape early with a reduced profit if you look likely to win but don't want to take the risk of hanging around to find out.
Foxy Bingo Pros And Cons
The biggest feather in Foxy Bingo's cap is that it's a bingo site that does everything. You don't have to love bingo to play at Foxy Bingo – you can completely ignore the bingo rooms and play slots and game shows instead if you wish. It has just as much to offer in this respect as any of the Foxy Bingo sister sites and somewhat negates the need for Foxy Games to exist at all. It's a pretty site to look at, loads quickly, and offers fast withdrawals so long as you use a compatible payment method.
The other side of the coin with Foxy Bingo is that there's not much in the way of a reward scheme for loyalty, and you might have problems if you need to get an issue resolved through customer services. From poor comprehension of English to dogmatic adherence to scripts, we've heard several customer service nightmare stories about Foxy Bingo. The addition of telephone-based customer support might do a lot to improve this if it's something that LC International Ltd ever wishes to consider.
Top Games at Foxy Bingo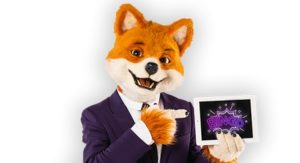 The exclusive bingo rooms are the core of Foxy Bingo's appeal. They were all created and themed specifically for the site, so you won't find them anywhere else. "Forever Foxy," with its large jackpots, is the most popular of the rooms and is a classic 90-ball bingo game, but the "Dirty Gertie" 30-ball game of speed bingo is almost as popular. "Foxy Fab Lab" and "Bingo Beats" also draw big numbers at the site, and with ticket prices that range between 2p and 10p, all of the rooms offer good value. For many players, though, the featured online slots at Foxy Bingo are every bit as important as the bingo rooms. Here's a quick overview of the top slots at Foxy Bingo as of the time of writing. 
Fluffy Favourites: If you need us to explain what Fluffy Favourites is, we guess you must be new around here. The Fluffy Favourites franchise is nothing short of legendary and is the calling card of Eyecon. While few people would have predicted that an online slots game themed around animated cuddly toys would go on to be a roaring success, Fluffy Favourites is one of the five most popular slots games in the entire world. Players don't just enjoy playing this 95% RTP cartoon classic and its "grab a Fluffy" bonus feature – they fall deeply in love with it. 
Shaman's Dream: This is another Eyecon online slots game, which suggests that players at Foxy Bingo have a taste for the Australian developer's style. We're not sure whether the Native American theme of this 95.44% RTP slot is "politically correct," but you can't argue with its popularity. Shaman's Dream has the potential to be very generous straight from the off, with all wins involving a wild symbol doubled in value. Free spins winnings are tripled, so any win that involves a wild symbol during free spins comes in at x6 value. 
White Wizard: The popularity of White Wizard at Foxy Bingo makes it a hat trick for Eyecon. Under normal circumstances, we'd say any slot that offers a combination of 94.94% RTP and high volatility might not be a good bet for anybody looking to walk away with a profit, but it doesn't put thousands of people off the idea of playing the slot every day. Wild symbols in White Wizard are even more powerful than they are in Shaman's Dream, offering triple value on all wins they help to create. Those same wild symbols expand during the free spins feature to make wins a little easier to come by than they often are in the base game. 
In addition to everything we've mentioned above, Foxy Bingo offers Slingo games and special jackpot slots connected to massive progressive prize pots. 
Deposit and Withdrawal Methods
We'd stop short of calling the range of accepted payment methods at Foxy Bingo "extensive," but there are enough of them to accommodate everybody. You're out of luck if you use Maestro, but so long as you have a valid Mastercard or Visa debit card, you'll be able to make deposits and withdraw funds within 3-5 business days. That's a little slow by modern standards, so you might be better off using a Paysafe voucher card, PayPal, or a Skrill e-wallet. If you do, you should find that withdrawn funds arrive in your account within 24 hours of a request being raised. The only other option for getting money out of Foxy Bingo is bank transfer, which takes between two and four business days.
Customer Support And License
We don't want to keep repeating ourselves about the standards of customer service at Foxy Bingo, but it's something that a casino site of this size really ought to be doing a lot better with. This problem isn't specific to Foxy Bingo, though – the same weakness exists across all of the Foxy Bingo sister sites. The addition of telephone support would make a massive difference to a lot of players. It's great that Foxy Bingo uses Facebook and Twitter to share the responsibility of providing customer support along with live chat and email, but there's only so much progress you can make if you're constantly being offered cut-and-paste responses.
Foxy Bingo holds a full, valid UK Gambling Commission licence via its parent company LC International Ltd, account number 54743.
Foxy Bingo – The Verdict
Foxy Bingo looks and feels like precisely what it is – a premier destination for bingo and online slots players in the UK. We have no qualms about the range of casino games that it offers or the fairness of its many high-quality bingo rooms. Our concerns are limited specifically to the poor quality of customer support that it provides and the lack of any meaningful promotions aimed at loyal players. It's that – plus the massive fine that its operator got from the UKGC – which holds us back from giving the site a full five stars.
What are players saying about Foxy Bingo?
Here are our condensed/reader's digest summaries of recent player reviews of Foxy Bingo. The reviews are real, but we've edited some of the comments to keep them brief.
30-Aug-2023 by Jessica:
I won some cash here, but they've now barred me from any free games or bonuses. It feels like a scam, even though I took away some winnings. – source: TrustPilot
28-Aug-2023 by Nat:
After winning £50 over six months, they've suddenly pulled all my bonus offers. No explanation given. Seems like they just can't stand to lose. – source: TrustPilot
27-Aug-2023 by Stoyka:
I'm still waiting for my £100 payout. No news yet. – source: TrustPilot
25-Aug-2023 by Vincent:
Deposited £50 and it was gone in 7 minutes. Not a great experience. – source: TrustPilot
20-Aug-2023 by Dee:
The site is slow, and I've never seen any return on my investment. I'd recommend playing on American casinos instead. – source: TrustPilot
20-Aug-2023 by Teresa:
I've been playing for a few months and it's clear that the only winners are the company. You're better off not playing here. – source: TrustPilot
20-Aug-2023 by Andrea:
Spent around £80 in the last three months and got very little in return. The same names keep winning, so don't bother. – source: TrustPilot
18-Aug-2023 by Jakey:
I bought £2 of bingo tickets, and they took my money without giving me the tickets. It's basically theft. – source: TrustPilot
17-Aug-2023 by Customer:
The site is terrible. Rare payouts, glitchy games, and useless customer service. It's a complete waste of time and money. – source: TrustPilot
14-Aug-2023 by Karen:
I was going to play here, but they don't accept debit cards for withdrawals. Seems very fishy to me, so I didn't bother. – source: TrustPilot
Foxy Bingo Sponsorships
Foxy's Den is where you will find all the news, articles and game reviews written by the Foxy Bingo Casino. This page acts as a live blog of the latest news and events that might transpire in the coming days at this casino website. There is all sorts of information available here from general knowledge about casinos and their history to vital statistics and more. This type of information isn't commonly found on other blog pages of online casinos. All these articles are small, and each page requires at most 5 minutes of reading time which is great for players who are in a hurry.
One of the biggest sponsorships this bingo site landed back in the day was when they sponsored "The Jeremy Kyle Show" on British television. At the time, it was reported as a £1m deal. However, their sponsorship deals didn't stop there. More recently, Foxy Bingo also landed a sponsorship deal for a hit romance TV show called "First Dates" that airs on Channel 4.
Foxy Bingo's recent rise in popularity in the gaming community is thanks in no small part to the marketing strategy applied by the casino. You will find all sorts of ads and commercials about the casino that have distinct themes reminiscent of the casino's website design. Most of the ads feature Mr Foxy himself as a part of the commercial. These ads were televised when they came out, and can now be found on the official YouTube channel of Foxy Bingo.
When it comes to social interactions on the casino's side, the casino is active on various social media platforms where it posts regular news about events and promos that might be happening at the casino. These social media accounts are on Twitter, Facebook, Instagram, and of course YouTube. There doesn't seem to be a lot of exclusive content on the casino's YouTube channel – there are only some adverts. There are also some videos on the Big Bingo Quiz from the casino as well as a live stream of events that happen at the casino website.
Foxy Bingo TV Adverts
The following are some of the commercials or ads from Foxy Bingo that have appeared on television in the UK in the past, and are now available on its YouTube Channel:
2019 – Cash Out Bingo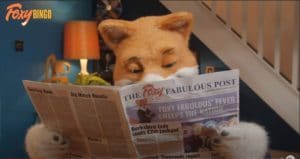 Back in 2019, Foxy Bingo was the first bingo site to introduce a Cash-Out Bingo feature, which many players have grown to love and enjoy. The commercial features Foxy reading the news only to be surprised by the sight of his own face staring back at him from the headlines. The idea is that the creation of the cash-out feature was such a revolutionary idea that it made headlines all over the world. That might not be true, but it certainly shook up the online bingo scene.
2019 – Foxy Fabulous
Foxy Bingo's mascot Mr Foxy has become such a well-known character that he's now a celebrity in his own right. Based on this commercial, it seems that the fame might be going to his head. He's getting the VIP treatment in this short feature, sat in his costume and make-up chair waiting for a stylist to come and make him beautiful for a television appearance. The whole concept gets turned on its head, though, as the message of this commercial is that everybody gets treated as a "fabulous" VIP when they register and play games with Foxy Bingo.
2020 – Summer Just Got Hotter
2020 was indeed a hot summer in the UK, and it was made all the hotter by the announcement of Foxy Bingo's big weekly prize draws. Each week, a lucky player would win £1000 just by playing at Foxy Bingo. They don't even need to have won any games during the week – they only need to have made a deposit and been active during that seven day period. The summer theme is reflected in the commercial, which is fairly basic. There's a party going on, everyone's wearing their most obnoxiously loud summer shirts, and a good time appears to have been had by all. The official "Friends" online slots game got a moment in the spotlight during this commercial, so it must have been an exciting new addition to the casino at the time.
2021 – Everyone's A Winner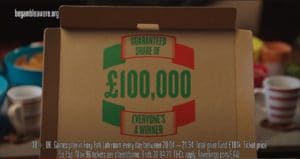 We know that not everyone can be a winner with bingo, online slots, or casino games in general. If everyone won, all of our favourite online casinos would be out of business. With that in mind, what's the meaning behind Foxy Bingo's 2021 "Everyone's A Winner" commercial campaign? The short answer is that Foxy Bingo has introduced a shared prize pot of £100,000, and every player at the casino is guaranteed to win at least a tiny share of it. Some will win more than others, but that's the nature of playing casino games in a nutshell. For reasons best known to themselves, Foxy Bingo decided that the best way to communicate this message would be to print it on the inside of a pizza box. We guess that makes it memorable if nothing else.