Gala Bingo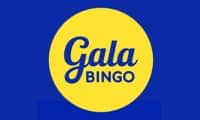 Gala Bingo sister sites include Gala Casino, Gala Spins, Party Casino, Foxy Bingo, Cheeky Bingo, Foxy Games, and many more. 
Gala Bingo (galabingo.com) is operated by LC International Limited, Suite 6, Atlantic Suites, Gibraltar, GX11 1AA.
Sites like Gala Bingo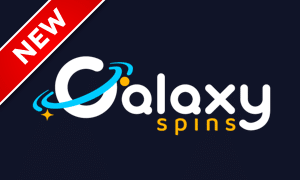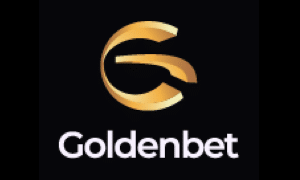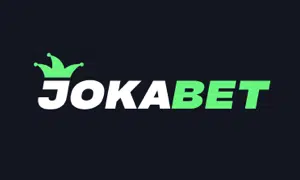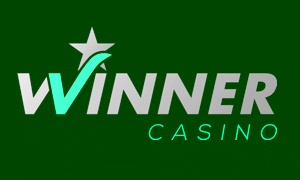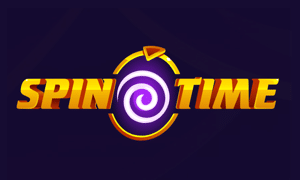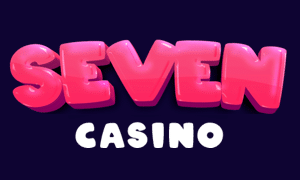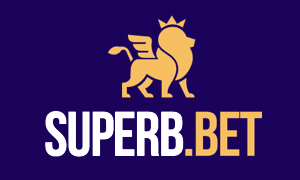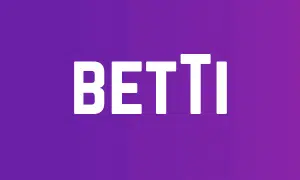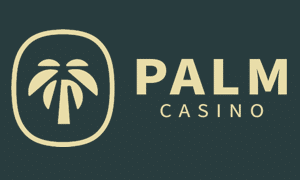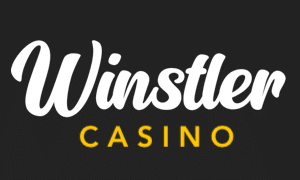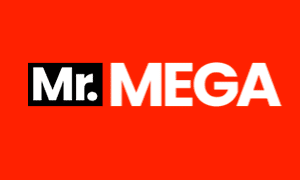 Gala Bingo Sister Sites
The network that the Gala Bingo sister sites belong to is enormous. It's called LC International Limited, and it's so-named because it's the home of both Ladbrokes and Coral. That means that it operates not only one of the UK's biggest bingo sites but also two of its biggest sports betting brands. The brand only gets bigger than there -several of the biggest-name iGaming brands currently active in the UK are Gala Bingo sister sites. LC International Limited is, in turn, owned by Entain Plc, which is making inroads into the US sports betting market. You can find out more about LC International Limited on our page for the operator, or you can stay here and find out more about the Gala Bingo sister sites.
Gala Spins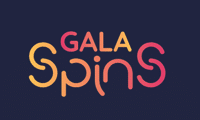 Any list of Gala Bingo sister sites that doesn't start with Gala Spins cannot be considered an accurate list of Gala Bingo sister sites. The relationship between these two casinos is almost symbiotic. The success of the physical Gala Bingo premises allowed the casino's parent company to launch Gala Spins, and now the success of Gala Spins helps to keep the Gala Bingo brand alive even though most of its physical premises have since been rebranded. Love it or hate it, Gala Spins is one of the most popular online casino sites in the UK, enjoying a high profile thanks to its many televised marketing campaigns and mentions in newspapers. Bigger doesn't always mean better, but in the case of Gala Spins, it's also thought of as a great place to come for online slots.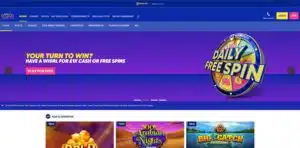 Gala Casino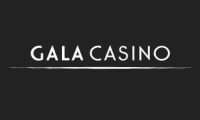 Gala Casino is the grown-up version of Gala Spins. If the family of Gala Bingo sister sites was to sit around a table, Gala Casino would want to sit somewhere fairly close to the head of it. It's true to say that there aren't massive differences between the content of Gala Spins and the content of Gala Casino, but the difference in the atmosphere couldn't be more marked. Gala Casino is a luxury casino and displays its luxury credentials with a five-tiered VIP loyalty program which offers rewards both large and small to loyal players. It's also fairly close to being a full-service casino, catering for every aspect of modern online casino gaming and gambling other than bingo and sports betting. Don't worry if you're in the market for either of those things, though – LC International Limited has plenty more options for you that cover both.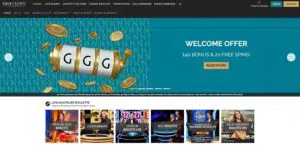 Coral Bingo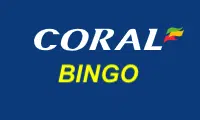 There are two forms of gambling you'll come across more than any other as you cast your eyes across the Gala Bingo sister sites. One of them is sports betting, for which LC International Limited has a wide variety of options. The other – perhaps unsurprisingly – is bingo. Gala Bingo is arguably the biggest of the bingo sites on this network, but competition for that title is stiff and comes from some big-name places. Names don't come much bigger than Coral, which covers off both the sports betting box and the bingo box admirably. However, bingo wasn't on the agenda when Joe Coral opened his first betting shop in 1926. It's only in recent years that this famous old brand has begun to cast its net a little wider to see what it can catch, and snagging more of the bingo market is one of its chief objectives. That makes it both a good comparison and a rival for Gala Bingo.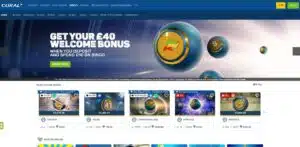 Ladbrokes Bingo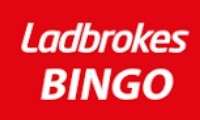 Anything Coral can do, Ladbrokes can do better. That's the philosophy that drove the fierce competition between these two big-name betting brands for several decades, but it's not their philosophy any longer. The two brands are united under the LC International Limited banner, so no matter which one you spend your money with, it all technically goes into the same pot. Still, though, that spirit of competition exists between them. We don't have a record of whether it was Coral or Ladbrokes that first decided to give bingo a shot, but as soon as one of them put a foot into the market, the other followed on very quickly. Now both of these titanic-sized old betting firms are big players in the online bingo scene – and both of them make for viable Gala Bingo sister sites if you're after something similar to what Gala Bingo has to offer.
Cheeky Bingo
It won't take you very long to work out why we've included Cheeky Bingo on our list of featured Gala Bingo sister sites – and it's not just because they both have the word "bingo" in their names and they're run by the same casino network company. It's because both of these sites have their feet firmly planted in the "fun" camp. They exist for people who know that bingo isn't a hobby that should ever be taken seriously, and so it ought to be played with a smile on your face at all times. If anything, Cheeky Bingo is even more likely to put that smile on your face than Gala Bingo is. The site's hostess has her tongue planted so firmly in her cheek that it almost pops out of the screen at you, and there are knowing nudges and winks everywhere you look on the site. While you're looking around, you should check out the section of the site labelled "Cheeky Rewards." When you do, you might just find that there's some steak here to go with all the cheeky sizzle.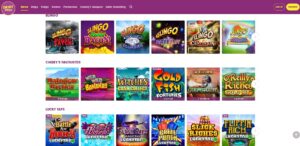 Foxy Bingo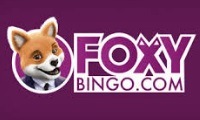 We've already stated on this page that we believe Gala Bingo is the biggest bingo site on the LC International Limited platform. The manager of Foxy Bingo would probably be furious about that description. Everyone involved with Foxy Bingo believes that this is not only the best bingo site on the network but the best in the country. It just does to show that even though the Gala Bingo sister sites are precisely that – casino and bingo sites with a sibling relationship – there's still a fierce rivalry between them when it comes to achieving brand supremacy. Foxy Bingo has been a massive name among players in the UK for well over a decade. Even Foxy, the brand's sharp-dressing mascot, has become something of a minor celebrity. There's rarely a day that goes by without the Foxy Bingo website being advertised on television at least once, and so the reputation and player base of this site continues to grow.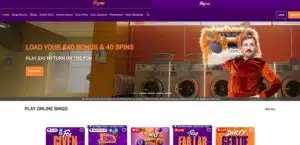 Party Poker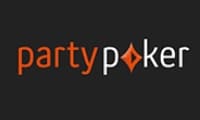 Party Poker has a name that's mostly self-explanatory – with an emphasis on "mostly." You'd have thought from the name of this Gala Bingo sister site that it was a fairly relaxed poker site, but it's anything but. This is a poker site that wants to become known in the UK as the very best. Party Poker is more than just a place to sign up and join tournaments. It's a place to sign up and join poker teams, meet friends, or perhaps just watch live-streamed matches between real opponents held and sponsored by Party Poker itself. There's a tenuous relationship between Party Poker and Party Casino, but only insofar as they share a name and Party Poker was originally a spin-off of the larger casino site. It's since forged its own unique identity and is considered to be one of the foremost poker sites in the UK.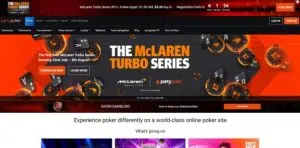 Foxy Games
We've just spoken about the way that Party Poker was spun from Party Casino. It's a common way for Gala Spins sister sites to be born and also explains how Foxy Games came into being. As you can tell from its name and its very familiar logo, Foxy Games is connected to Foxy Bingo. It took a while for the Foxy brand to arrive at this stage of evolution. Online slots and a few other games were added to the Foxy Bingo website quite a long time ago, but the brand's owners decided that wasn't enough. They wanted a whole new brand supported by the success of Foxy Bingo, and so they tried to achieve it through Foxy Casino. Despite being launched to an enormous amount of fanfare, Foxy Casino failed. Foxy Games is its replacement and is already doing an awful lot better. It focuses on new releases and super-modern style slots and games with video game-esque features, so it's especially popular with the younger half of the gambling public.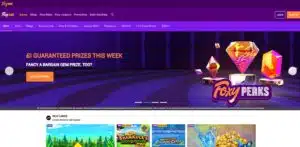 Bwin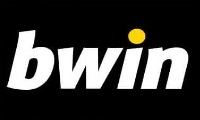 Bwin is the odd one out on our list of Gala Spins sister sites. It has almost nothing in common with any of the other brands that we've mentioned. We include it here as a reminder that LC International Limited has a range of dedicated sports betting websites – a range that includes Coral and Ladbrokes, no less – and that the buying power of LC International expands beyond the borders of the United Kingdom. Bwin is an Austrian sports betting site that spent years developing slowly on the European continent and then suddenly found itself thrust into the spotlight in the UK after being acquired by LC International. Since the acquisition, Bwin has grown beyond all recognition. There's now a Bwin Casino and a Bwin Bingo minisite. With those new additions, perhaps Bwin and Gala Spins aren't so unalike after all.
Party Casino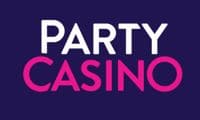 Party Casino is the member of the Gala Spins sister sites family that likes to let its hair down and have a good time. Don't worry if you don't have any hair to let down – you're still invited to come on in and enjoy the fun. Party Casio is almost like the stealth brand on the LC International Limited casino network. It doesn't have the same degree of fame as Ladbrokes, Coral, or even Gala Bingo, but it's been featured in some glamorous locations. It doesn't get more glamorous than being on the side of a McLaren Formula 1 car, and that's where the Party Casino name found itself a few years ago! That high-profile sponsorship deal ought to have made Party Casino more famous than it actually did, and the disappointment of that might explain why the brand hasn't been promoted so prominently since. Despite that, it's still a strong performer for its owners and still a popular casino site overall.
Gala Bingo News
: Gambling.com recently reported on a remarkable win at Gala Bingo, where a fortunate player struck gold with a significant jackpot. The player, a 37-year-old mother of three from Berkshire, won an impressive £627,179 from a modest £1.40 bet on the online slot game Chests of Plenty. This game, known for its engaging pirate theme, offers players a variety of features including scatter, wild, stacked, and extra wild symbols, along with bonus features like a treasure map and a treasure chest to rummage through. The game's flexible betting range, from as little as 1p to a maximum of £10 per payline, caters to a wide spectrum of players, from cautious beginners to seasoned gamblers. The winner's success story is particularly striking as she decided to play a quick, low-stake game before going to bed, a decision that turned out to be life-changing. The substantial win will be used for a luxury family holiday and a new house, significantly impacting the winner's life.
This isn't the first time Chests of Plenty has paid out large sums. The game has a history of rewarding players handsomely, with recent wins of £310,726 and £587,697.86 also awarded to lucky players. These significant payouts highlight the potential of online slot games at Gala Bingo sister sites to offer life-changing wins. The Gala Bingo Marketing Manager expressed delight at being able to award such large prizes, noting that the site gives away around £60 million a month on average. This recent win serves as an encouragement to players who enjoy online slots, demonstrating that even a quick game with a small bet can lead to a substantial jackpot.
: The Lancashire Evening Post recently shared intriguing findings from a survey conducted by Gala Bingo and its sister sites, offering a unique glimpse into the social dynamics of Brits. Spanning 1,000 participants aged 19 to 65 across the UK, the survey delved into how individuals navigate the often-tricky terrain of awkward social moments, revealing the nation's idiosyncratic approaches to these situations. Humour emerged as a key strategy, with a staggering 75.8% of respondents likely to use it to defuse tension. The survey highlighted the British penchant for employing humour as a social saviour and icebreaker, with the weather (22.80%) and compliments (20.30%) being the top conversation starters. Small talk is another tool frequently used, with 53.7% of Brits often resorting to it to avoid awkward silences. Additionally, 54.7% admitted to using digital distractions, like pretending to be engrossed in their phones, to escape undesirable interactions.
The survey also explored the settings and scenarios that are most likely to induce awkwardness. Pubs and local bars were favoured for socialising, while unfamiliar events and silent rooms were deemed most uncomfortable. Walking into a room full of strangers was cited as the most awkward situation, followed by trying to break the ice at an event where one knows anyone. Workplace and family settings were not exempt from awkward moments. Respondents shared their discomfort in situations like struggling to stay awake during presentations or becoming the subject of an office meme – that's a thing, apparently! Family gatherings, especially during the festive season, also presented their own set of challenges, such as receiving unexpected gifts or hiding disappointment over unsuitable presents.
: With an advertising feat that could well be described as the 'holy grail' for bingo and puzzle fans alike, Gala Bingo has unveiled an ad campaign of epic proportions. This inventive advertisement, aptly named 'All The Calls', ingeniously incorporates all 90 traditional bingo calls into a single film, presenting a challenge as entertaining as it is rewarding, with a prize pool of up to £50,000. This unique film is the result of a collaboration between Tom Dixon from the creative agency Neverland and director Noah Harris of Agile Films. Their combined vision brought to life a narrative that seamlessly weaves each bingo call into a coherent story. This accomplishment required painstaking scriptwriting, precise set design, and intricate choreography to ensure every bingo call was cryptically embedded within the action-packed scenes.

To capture the elaborate setup, the team mounted a super high-speed camera on an electric bike, racing through the scenes at a breakneck speed of 30mph, recording at an impressive 500 to 1000 frames per second. This high-octane filming approach resulted in footage that was transformed into a 30-second advertisement, which fluctuates between different speeds, and an extended three-minute slow-motion version for the most avid fans and keen-eyed viewers to scrutinize in their quest to locate all hidden calls. Gala Bingo and its media partner, the7stars, are promoting this interactive advert through a mix of out-of-home, digital, and social media, offering hints and showcasing iconic bingo calls to assist participants. The competition is set to conclude on the 8th of December, after which Gala Bingo sister sites will reveal the locations of all hidden calls in a newly highlighted version of the film.
: In the bustling world of online gaming, players are always seeking a convenient hub to streamline their choices. Acknowledging this need, the renowned Gala Bingo platform has introduced a thoughtful addition to its site: a comprehensive bingo schedule. This dynamic page aims to guide members in selecting the bingo variant that aligns best with their preferences. Navigating the world of bingo can sometimes feel like wandering in a maze. With so many variants available, how does one choose? This dedicated page has simplified the process. It meticulously lists out different bingo variants, ensuring members never miss out on their preferred gameplay. For instance, if you're in the mood for some speedy action, 'Quick Play Bingo' might be your cup of tea. Alternatively, if you wish for a longer gameplay experience, '50 Ball Bingo' offers a balanced pace. 'Bingo Beats' introduces a rhythmic twist, setting your gameplay to beats and melodies, while 'Cashpot Slot Drop' merges the thrill of slots and bingo, promising potential big wins.
With the Gala Bingo sister sites, each variant is accompanied by a 'Play Now' button. A simple click on this button will transport members to the room of their chosen variant, ensuring a seamless transition from selection to gameplay. By providing clarity, Gala elevated the gaming journey for their members. As the digital landscape becomes increasingly competitive, it's innovations like these that set platforms apart, combining user-friendliness with an expansive range of options. This new page is a game-changer, echoing the brand's dedication to optimal gaming experiences.
: Currently, 83% of the 1,066 reviews left on the Gala Bingo Trustpilot page are one-star reviews, which have been left for a variety of reasons. One of the most recent outpours of contempt for the site was left by a user named Ciara Duffy, who believes that the bingo games are fixed as full-house gets called in 41 numbers when there are 30 players in the bingo room. She was also discernibly disgruntled by the site permitting a £5 deposit, only for the website to be closed for updates shortly after. She is firmly of the belief that the platform shouldn't have been taking deposits from people, although, we're not overly sure how they would bring something like that into effect! She then felt the need to disclose that she is a client property manager for William Will and 'Merker Bingo'. If she was a property manager for Merkur, she would presumably be able to spell the name of the company correctly!
Another review by Taylor Bleachsmith was equally as damning, they stated that they have deposited 'so much cash;, but they are yet to see any returns on it; they didn't even get lucky while enjoying the welcome package. They threatened to never deposit again, unless the site changes its ways, then declared that you are better off using Coral or Betfred, which is pretty hilarious considering that Coral is one of the Gala Bingo sister sites! As much of a red flag as the overall 1.4-star review of Gala is, it is always worth reading negative reviews with a critical mind!
: On the 4th of October, a reporter for Rhyl Journal, Matthew Chandler let it be known to members of the public that a site which used to belong to Woolworths before it was taken over by Gala Bingo has seen a new lease of life – hopefully, the community hub will be infinitely more successful than its two ill-fated predecessors. It may have been transformed into a community hub which doesn't revolve around bingo games, but leaving the jazzy carpet, which could have only ever belonged to Gala Bingo, still remains as a vigil to the bingo hall's legacy. Instead of being static with what the hub has to offer, the community group in charge of it have confirmed they will constantly switch up its offerings and entertainment.
One of the most recent ideas brought to the hub was to create a craft fair and tabletop sale; other more permanent fixtures in the location will include homework stations for local school children, a gaming area, and a fairly innovative rent-a-shelf scheme. It certainly has come a long way since the building was being used as an illegal cannabis factory in 2021. The first craft fair will be held on the 15th of October; the organiser behind the event and the general manager of the hub stated that 32 traders have already booked tables for the inaugural event, and if this one goes down a storm, there is scope to host the event weekly or fortnightly, there is already plenty of demand as Autumn has put a stop to car boot sales.
: The older generations love to bemoan Gen Z and their tendency to spend too much time on social media platforms, such as TikTok. The TikTok 'star', Mae Stephens, proved they aren't all bad by backing a bid for a new music venue in her hometown of Kettering. The vocalist is one of the loudest voices adding to the rallying cry for the old Gala Bingo venue, which was closed in 2018 to be transformed into a new venue. A local community hub has forged solid plans to purchase and repurpose the building so that it will serve as much more than a place where bands can platform their talent. In the proposal, the community hub put forth its plans to add a mix of health services, a performing arts space, a venue for live music, and a cosy café that can be visited during the day.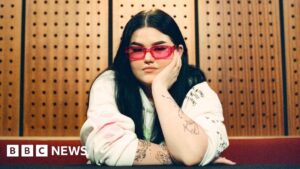 The singer, who is best known for her viral hit song, If We Ever Broke Up, is bringing a massive amount of momentum to the proposal after noting that music venues are few and far between in her hometown. At the helm of the proposal are Beccy Hurrell and Lindsey Atkins, who have both worked closely with Mae Stephens. The pair already provide various means of community support under the name BHVA Axis Hub CIC. If they get their hands on the bingo hall, they will be able to improve their community support services; as an added bonus, they will also give residents a reason to hit their local high street again!
: This week, Gala Bingo used its in-house blog to introduce its members to one of the hottest hybrid games to ever hit UK online casinos, Slingo Ante Up, by Slingo Originals. The Gala Bingo sister sites don't review games all too often; when they do, you know the games they cover are ones that are worth paying attention to. This Slingo game doesn't come with the most exciting and most imaginative theme, but if you want a taste of Las Vegas while you are exploring the middle ground between a video slot and an automated bingo game, there are very few titles that hit the metaphorical spot better. All the action plays out on a 5 x 5 bingo grid; the objective is to mark as many numbers off the bingo grid as possible; the numbers will be marked when matching numbers appear on the 1 x 5 reel, which switches up with every spin in the spin cycle.
There is a variety of bonus features which can help you to create Slingo lines from marked numbers, including the wild and super wild symbols, but the bonus extras don't end there. You can also add extra spins to your cycle by finding the +1 symbol, although, if you encounter the black X symbol, that will make it a little harder to create winning lines and make a full house impossible. The max jackpot is 500x your total bet, which will be paid if you manage to get a full house by marking all numbers on the bingo grid.
: No journalist or blogger has uttered the name Gala Bingo this week; the only voices adding to the conversation around the Bingo-centric platform are the ones making Trustpilot pages only more rancorously angry. When we headed to the slot library, we found plenty of things worth talking about, especially the arrival of Fishin Pots of Gold: Gold Blitz. It was only a matter of time before the Irish slot genre converged with the fishing genre, and it did in a massive way thanks to Microgaming and Gameburger Studios. The high-volatility title debuted on the 22nd of August, and it was instantly a hit with players across the Gala Bingo sister sites, despite the max jackpot being fixed to a measly 5,000x – if they doubled the max win, the 6 x 4 reel 4096 pay line slot game would be near perfect, as there is certainly nothing to complain about in the graphics or bonus departments.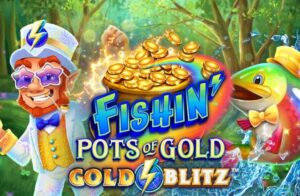 The cash collect feature is only one of the major attractions; when it is in play, you can collect cash symbols or jackpot symbols, the three available jackpots are worth 25x, 250x, and 2,500x your stake. Even bigger wins can hit your bankroll when you trigger the free spin feature or the Gold Blitz feature; in addition to the ability to snag massive wins, you can also be bestowed with up to 30 free games where all winning combos containing a wild symbol will be boosted in value by a random wild multiplier. If you are playing outside of the UK, you can utilise the Bonus Buy feature to instantly access the free spins feature.
: On the 16th of August, World Nation News couldn't help but join in on the conversation around the shifting betting trends spurred by the 2023 Women's World Cup. According to their article, the number of female bettors has reached an all-time high, but what isn't so clear is if they will revert back to their old gambling trends, which don't ordinarily involve sports betting, once the tournament ends. The article also includes snippets of a rare interview with the CEO of Entain Plc, Jette Nygaard-Anderson; during the interview which took place in 2021, she shared her dream of encouraging more women to get involved with sports betting, and it would appear that her wish is finally coming true; especially if you compare this year's Women's World Cup compared the one that came before it in 2019.
In addition to the new stats that started to surface once the action in the World Cup started to get underway, World Nation News also considered the bigger picture by looking into a wider study on gambling habits concerning women's sports. A study which was co-funded by Entain a few years ago proved, on average, that interest and wagers on women's sports have risen by 20% since 2020. Previously, Entain executives have inferred that, ordinarily, gamblers who identify as female tend to be biased towards non-sports betting, and they are far more likely to frequent the Gala Bingo sister sites, such as Gala Bingo and Foxy Bingo. The Gambling Commission also stated that there was almost a 50/50 split between male and female bettors in 2022. It would appear as the tables are turning, money for UK gambling operators is flowing.
: On the 1st of August, the website Your Local Guardian suggested 30 of the best 'good silly fun' things to do with your friends in London over the summer. If you have a 'good silly fun' itch to scratch, you will undoubtedly find an activity you can rally your friends and head to. The article started by trying to relate with readers that adulting can be such a chore, so it is understandable that adults want to be kids again. It turns out there is a lot of weight in the claim that adult millennials are being infantilised by the media because it is impossible for most millennials to feel as though they are fulfilling the 'adult' role in our late-stage capitalism hellscape that made getting your foot on the property ladder as easy as climbing Everest while doing a handstand.
The article suggested Indoor skydiving at the O2, hitting one of the gaming bars in Shoreditch or Canary Wharf, getting futuristic by venturing to Sandbox VR where you can test out your apocalyptic survival skills, and heading to the trampoline park in East Ham. The Flip Out trampoline parks are popping up across London; one has even landed in the old Gala Bingo Hall on 281 Barking Road. If you get bored of trampolining at Flip Out, there is a plethora of other activities to get involved with, including a super-slide, which boasts an almost-vertical 30-foot drop, and a potholing zone where you can descend 100 meters – if you dare.
: It has been a while since we reported on the antics of Wakey Wines and its owners, Azir and Abdul, who shot to viral fame for selling overpriced bottles and cans of the Prime Energy and Hydration drinks and making their punters who travelled miles to be ripped off sing his "bingo, bingo, Gala Bingo" jingle before they were robbed blind for the over-hyped energy drinks. This week, the Yorkshire Live newspaper revealed that the two off-licence owners have gone international with their viral fame – quite literally. The dynamically viral duo "took over" a Jet2 plane as they encouraged all the passengers onboard to get involved with a viral TikTok video. The absurdity of the story doesn't end there – not by a long shot. Abdul and Azir have also been spotted travelling the globe to make appearances in nightclubs; at least their yearning for viral fame has given the Gala Bingo sister sites some free international advertising! Although, suspiciously, the duo have not been able to reveal where they went on their business trips.
While some of the people in the now-viral video that was shot on a Jet2 flight on the 18th of July were visibly confused, the majority of the passengers seemed to get into the spirit of things. At the time of writing, the video has garnered over 14,000 comments, including comments from plenty of people who seem to think it is hilarious that the duo have enough kudos in the social media sphere that they can hijack a plane with their jingles.
: Foxy Bingo creating the world's first mullet-only hair salon in Newcastle was a pretty impressive PR stunt; this week, Gala Bingo attempted to top it by opening the Gala Bingo-branded Jolly Good Fish and Chips Hotel in the seaside town they can't close down, Blackpool. Chris Newbould wrote a feature on the grand opening on the 4th of July on the Prolific North website, letting punters know what they can expect if they waltz through the doors. Unfortunately, the pop-up shop will only be open for one weekend but during that short and sweet time, bingo lovers will be able to grab a portion of fish, chips and peas on the house and enjoy a free game of bingo. The pop-up is an extension of the Gala Bingo sister sites' Bunch of Fives adverts and the bingo provider's mission to create a little bit of community spirit in the UK after the swathes of closures that have hit UK bingo halls.
On Saturday the 8th of July and Sunday the 9th of July, the Gala-branded fish and chips shop on 131 Bond Street will be welcoming customers from midday – 8 pm. Customers can either grab their free lunch or dinner and enjoy it on the premises while playing a complimentary bingo game or they can take their food to go and enjoy it on the beach. The former option seems the safest, given the prolific nature of the seagulls on the beach, which aren't polite while they are making their requests for food known.
: If review websites could be fined by the UK Gambling Commission for providing false information, Outlook India would have been slapped with a colossal fine a long time ago. This week, the website did the opposite of striking gold yet again when it decided to reveal a list of the casinos and bingo sites that are not blocked by GamStop, and then had the audacity to list them as alternatives to sites like Gala Bingo and Grosvenor Casino. Although, the writers couldn't even get the article headline right; instead of taking a moment to double-check they had spelt GamStop right, they wrote it as 'GameStop', which is a chain retailer which sells new and used video games – it has very little to do with helping online gamblers to stay safe during their gambling sessions.
Instead of alluding to GamStop as a helpful tool which allows casino players to self-exclude for a certain period, Outlook India helped its readers to 'play with limits or boundaries' by exploring their list of sites that haven't partnered with GamStop. The writers attempted to imply services such as GamStop were an infringement of gamblers' rights in the UK, as they are still legally allowed to bet using online platforms. The article continued by Outlook India attempting to frame GamStop as not holding up their end of the bargain as they do not allow gamblers to end their self-exclusion periods. The writers also assured their readers that even though the Gala Bingo sister sites are some of the major league players in the iGaming industry, they're not the only 'game in town'.
: Disused bingo halls on the UK high street are always a sorry sight. Thankfully, the old Gala Bingo haunt in Wiltshire has a stylish new lease of life now that it has been taken over by the cinema chain Everyman. On June 6th, the Swindon Advisor covered how film fanatics flocked to the new cinema to enjoy the opening night. On the opening night of June 1, only VIP guests were invited to walk on the mini red carpet on Endless Street and through the faux art deco doors, and the turnout couldn't have been stronger. Although it was a long time coming, plans to reform the Gala Bingo hall, which had been gathering dust, were originally submitted on the 26th of May 2022.
As you would expect, the building has been through extensive refurbishment to get it up to the slick and nostalgically luxurious standard of the Everyman cinema chain. The old jazzy bingo hall carpets were torn up and replaced with plush new carpets, while the bingo tables and chairs were removed to make way for the cinema seats that give the comfiest armchairs a run for their cushy money! To inspire repeat trips to the cinema, each screening room has its own aesthetic, and while cinema trippers are waiting for the ads to finish before they head into their screenings, they have the option of two stylish bars. During launch night, the guests got their chance to develop a taste for the menu, as free samples were served.
: In an article published on the BBC News website, Kevin Shoesmith gave an exposition on how bingo has been reimagined to capture the interest of a new generation. The article starts by sharing the plight of bingo halls, along with every other traditional entertainment venue in the UK, which have been hit hard in the last few decades. From the 2007 smoking ban to the 2020 and 2021 lockdowns, entertainment venues have had to fight tooth and nail to stay afloat and relevant. By Shoesmith's account, bingo has fought harder than most. He gave a charming account of his experience at a Mecca Bingo Hall in Hull, where he met all kinds of characters who were all too happy to share their opinions on why bingo is integral to communities up and down the UK.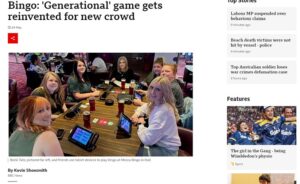 After pulling at the heartstrings with some evocative vignettes of happy memories in bingo halls, Shoesmith ran through some British bingo history, starting from the 1920s. The game didn't take off properly until the 50s when it became popular in ex-servicemen's and working men's clubs. By the mid-60s, there were six million members of bingo clubs; many of the clubs were small and independent until Gala Bingo started doing the rounds and buying them all. Gala reigned bingo supreme until the 80s when there was a downturn in popularity which carried through to the 90s. By the turn of the century, there is a fresh appetite for the format; students have even started enjoying bingo halls as venues for cheap nights out!
: Usually, when bingo players snag an epic jackpot they tend to conceal their identity and wish to remain anonymous; this wasn't the case for the lucky groom-to-be, who had no issue sharing the story of how he won £50k shortly before his wedding. With just months to go before his wedding, the Delivery Operator, Phil Bacon, banked the massive jackpot in the Mecca Bingo Hall in Stevenage, Hertfordshire. At least the 35-year-old knows his fiancé, Cara-Jane Pallett, didn't only say yes due to his money! The wedding celebrations will be even more lavish after the win, which was documented by The Mirror on the 17th of May. Although, it would appear that the Mirror is slightly behind on their reporting, given that the win happened when the lucky bingo hall frequenter was on a night out with one of his friends on the 1st of April!
When the regular player at the bingo hall got close to the full house, he thought he was only set to win a few hundred pounds; when he called full house after just 16 balls, he got the confirmation that he will receive a cheque for the far higher sum of £50,000. Originally, the groom-to-be was planning a budget affair when tying the knot with his fiancé this summer; now, they are busy planning their dream wedding. When he spoke to the mirror, he shared how he is still in shock upon receiving the life-saving sum; here's to hoping he doesn't blow it all on his wedding and saves some for the marriage!
: Usually, when bingo sites in the UK launch a new promotional campaign, they will release a handful of adverts at a push. This week, LBB Online announced that the masterminds behind PR at the Gala Bingo sister sites have gone above and beyond by creating over 40,000 unique adverts, which will air across radio channels. Apparently, this has been done to celebrate our love of finding five things in a row and so everyone can hear "their perfect five". Admittedly, I was a little confused by the premise until it became evident that the perfect five theory was only a phenomenon for bingo fans, and it wasn't some wider sociological celebration of synergy.
Gala Bingo teamed up with the creative agency, Neverland, who they often trust with their promo materials, at the end of each of all the audio ads, there was a short message compelling listeners to head over to Gala Bingo if they love finding five things in a row, where "a little joy goes along way". I'm going to go out on a limb in my assumption that Neverland won't win any advertising awards off the back of this campaign, but I suppose they proved their ability to think outside of the box while also making a case for the statements that less is more and quality should always come before quantity. The arrangements of the unique words such as sausage, sequin, crown, brolly and lobster, will depend on when the ad is airing, the local weather and the geographical location.
: On the 24th of April, the online blog, The Resident, provided a list of 29 fun Kidulting things to do in London. If you are unfamiliar with the term, it refers to the kind of fun that adults have that is reminiscent of childhood activities. For readers who want to forego the misery of adulting, The Resident had some pretty out of the box suggestions for Londoners, although, mostly they revolved around hitting up gaming-themed bars, where you can gorge yourself on pizza and play retro arcade games in an 18+ environment. Interestingly, at 1 Platform in Canary Wharf or Soho, you can be served popcorn by a robot! For Londoners who want to step further into the future, the 2 Sandbox VR experience in Holborn will happily oblige; you can test your apocalyptic survival skills while you brush up against zombies, so it is safe to say that this one is only for the brave.
Number 14 on the list will take Londoners to an old Gala Bingo Hall, which has been converted into a fun for all ages indoor activity centre where you can test your trampolining skills, glide down the super slide which comes with an exhilarating 30-foot drop; there is also a network of indoor caves to explore in addition to 12 climbing walls, a cyber tower and a ninja warrior course. There are tiny tot sessions, and sometimes Flip Out is exclusively reserved for over 18 parties who want to go wild in a child-free environment.
: Swathes of newspapers, including the BBC, the Nottinghamshire Telegraph, and Kent Online, rushed to tell the story of how the derelict Gala Bingo hall in Kettering was the target of an arson attack on April 9. On April 15, BBC journalists gave the latest scoop on how a third person has been arrested after the inferno tore through the bingo club at the junction of Meadow Street and High Street. The Nottingham Police recently gave a statement alluding to how an 18-year-old man had been arrested on the Wednesday following the attack; he has some serious jail time ahead of him, considering that the charge was arson with the intent of endangering life! His arrest follows two 13-year-old boys who were charged with the same offence on Monday.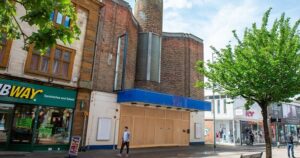 In addition to causing internal damage to the bingo hall, the adolescent arsonists also managed to affect a nearby electricity substation, which caused several nearby addresses to lose power for several hours. Thankfully, no one was seriously injured by their ASBO behaviour. The workers at a nearby McDonald's fast food chain called the emergency services at 6:10 PM on Friday after they smelt smoke. Shortly after, the pedestrianised area on the junction was cordoned off as the emergency responders suspected that a gas bottle was close to the fire. Four crews attended the fire with an aeriel ladder, which quickly put out the blaze. The police are still investigating the incident, and officers are still appealing to members of the public to come forward if they have any information.
: Billy Ritchie, a legendary bingo caller, has reached a major milestone in his bingo calling career; The Sunderland Echo reported how Billy spent half a century working with different bingo companies. The 68-year-old, who currently has no plans to retire, bagged his first bingo-related job in 1973 when he started to work for an Empire Bingo club. When Gala Bingo opened a bingo hall in Washington in the North East in 1994, Billy found his forever home with the club, which has now been rebranded as a Buzz Bingo Hall. On April 2, the bingo club held a special event to celebrate his 50 years of service. Members old and new were invited to the Billy Bingo Bash event.
The Sunderland Echo shared a few of Billy's comments on his milestone; he stated that he recalls wanting to be a bingo caller from a very young age and has swathes of fond memories from working in the industry. He stated that he felt on top of the world celebrating his Golden Bingo Anniversary, and still loves his job after all these years; he also expressed his deep gratitude for being able to do what he loves for a job. In his view, there is nothing better than a busy bingo hall with a lively atmosphere when someone wins a jackpot. A general manager for Buzz Bingo was keen to celebrate Billy's career, she described him as a much loved and highly respected member of the team, and she couldn't in good conscience let his anniversary slip by without pulling out all of the stops.
: The Banbury Guardian has reported on how a former Gala Bingo Hall is set to be redeveloped into retirement apartments this week. The 1.2-acre site, which is only a stone's throw away from Banbury town centre on Bolton Road, was sold in December 2022, shortly after the closure of the bingo hall due to the strains of the cost-of-living crisis. Churchill Retirement Living had the highest bid when the sizeable property hit the market, and the developers quickly got to work on redeveloping the site to create 78 retirement flats. It took an appeal to the Secretary of State for Churchill to successfully gain planning consent. However, the city planner's concerns about the redevelopment weren't shared by everyone, others believe that Churchill's interest in the location is a positive step in the right direction towards the redevelopment of the town centre. Currently, there is no indication as to when the flats will be ready for residents to move in.
Thankfully, there has been no other news of Gala Bingo closures this week, which left us trawling the online iteration of the bingo club for news; plenty of new games have arrived, including the immersive and action-packed game Big Bucks Buffalo GIGABLOX, which will undoubtedly become one of the biggest heavyweights of the North American animal-themed online slot world. If you like the wins to roll in thick and fast, this Yggdrasil game won't disappoint; it comes with a 21.05% hit rate, meaning that approximately one in five spins will result in a win!
: This week, The Sun ran the glib story of how a bingo chain will close nine branches. The bingo chain in question was none other than Buzz Bingo, which rebranded from Gala Bingo in 2018. Even though plenty of bingo prizes have been paid over the years, there are no prizes for guessing the main reason behind the swathe of closures that are set to happen across the country. The cost of living crisis is crippling many industries, and as a night in a bingo hall is more of a luxury than a necessity, regardless of the sense of community it brings to many, including the happy-go-lucky ladies cheerily daubing away on the cover image, it should come as no surprise that fewer punters are rocking up to the bingo clubs.
Not is the closure of the nine clubs a massive loss to bingo fans who still enjoy a traditional game of bingo, but the closures will also bring devastation to the 151 people who will lose their jobs when the club doors close for the final time. The bingo halls in Grantham, Carlisle, and Slough are just a few that will face closure. However, the closing dates have not been confirmed yet. The closures were made as part of a Company Voluntary Agreement by the managing directors, who hope that the closures of the unviable clubs will spell a financially secure long-term future for the remaining clubs. The Buzz Bingo chief exec promised that he would do everything in his power to limit the number of future redundancies.
: It has been a fair amount of time since Wakey Wines, made infamous for its TikTok videos of customers coming in to buy overpriced bottles of Prime Energy and singing the phrase "bingo bingo, Gala Bingo", has appeared in the news headlines. However, this week, the US arm of the Sun allowed its readers to watch a video of the shop being raided by police. The Wakey Wines boss, who is now somewhat of a viral internet celebrity is confident that he has nothing to hide; his only crime is selling Prime Energy for £100 a pop. Although, his extortion days may be coming to an end as the supply is starting to finally meet the demand. As Prime Energy is no longer the rare Pokemon card of energy drinks, it is likely that many stores will be stuck with surplus stock of the drink, which by most accounts tastes absolutely awful.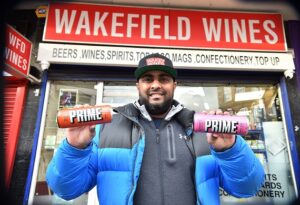 The police headed the shop after hearing that Wakey Wines was also selling Class A drugs. After closing his shop for 90 minutes and leading sniffer dogs through the store, they were unable to find evidence of drugs being on or having been sold on the premises. Following the raid, Azir Nazir took to TikTok to address his 754,000 followers and reassure them that everything is completely above-board at Wakey Wines. Nazir believes that it was his haters who tipped the police off on the false tip about him selling drugs, but he took it in good humour, and even thanked the police officers for their time!
: With bingo halls in the UK dropping like flies, the website SEENIT let its readers know exactly what bingo lovers will be missing out on once they close their doors. Although, not all is lost, as it seems that the online bingo destinations, such as the Gala Bingo sister sites aren't going anywhere anytime soon – not that the availability of them is much comfort to social bingo players who head down to a bingo hall for their fix of social fun! Similarly, it is the older generation of bingo lovers that will be missing out on all of the online action. Nevertheless, SEENIT published a list of all the benefits offered by online bingo sites.
The first benefit was that playing on sites, such as Gala Bingo, is a great way to stay up-to date-with technology. SEENIT also claimed that playing bingo combats loneliness. Their writer argued that pulling out your smartphone to play a game of bingo means that loneliness is in the past, which doesn't feel strictly true, given that many other voices are claiming that there is an epidemic of loneliness in the UK, especially with the older generations! Another slightly more realistic benefit of bingo is that you can turn a small sum of cash into a bigger one, given that many online bingo tickets are cheap to buy and there are often fair returns – especially with the jackpot bingo games that are increasingly more common on online bingo sites. Some bingo sites even go out of their way to provide free bingo games daily.
Can Gala Bingo Be Trusted?

★★★★★
Gala Bingo is a 3 Star trusted casino.
1. UKGC License

UK Gambling Commission licence 54743, held by LC International Limited, covers the activities of Gala Bingo.

2. UKGC Fines

The UKGC fined Entain Plc, the parent company of LC International, a record-breaking £17m in August 2022 after deeming it guilty of multiple failures to identify the source of customer funds and protect vulnerable customers.

3. Customer Service

The four ways Gala Bingo customer support can be contacted are email, live chat, Facebook Messenger, or Twitter DMs. Telephone support is not provided.

4. Trustpilot Score

After over 1000 Trustpilot reviews, Gala Bingo has a very low rating of 1.5 out of 5.

5. Company Location

LC International Limited is headquartered in Gibraltar.

6. Visible T&C's

Gala Bingo includes visible terms and conditions when offering promotions.

7. Social Media Presence

Gala Bingo maintains an active presence on Twitter/X and Facebook, and uses both platforms to provide customer service.

8. Number of Sister Sites

LC International Limited currently owns and operates 13 Gala Bingo sister sites.

9. Games portfolio

Aside from a large number of exclusive bingo rooms, Gala Bingo has a wide array of online slots, game shows, and other casino games for players to enjoy.

10. Gamstop links

The Gamstop logo and its related link are included in the Gala Bingo website footer.

Overall SCORE >

★★★

★★ – 3/5 Stars
Gala Bingo Review 2023
The story of Gala Bingo began in 1990. Acid house was the coolest thing in the charts, the internet didn't exist anywhere outside universities, and if people wanted to play bingo, they still had to go outside and do it in person. Even the people behind Gala Bingo couldn't have imagined how big their brand would become – and how much the world would change within the next decade. It took a little while for Gala Bingo to adapt to the coming of the digital age, but it launched as an online brand in 2006 and hasn't looked back since.
Gala Bingo was once run by Gala Interactive but has since been sold to LC International Limited. That puts it on the same platform as gaming giants like Ladbrokes and Coral. The Gala Bingo sister sites are impressive, but is Gala Bingo itself still impressive? You'll know by the end of this review.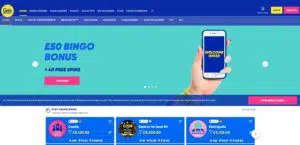 Gala Bingo Welcome Offers
There are a few promotions up for grabs at Gala Bingo, but only one of them is aimed at new players. It's called, catchily enough, the "New Player Deal," and it's aimed entirely at those who've come to Gala Bingo for its bingo games rather than online slots or anything else that the site offers. To qualify for the offer, newcomers to Gala Bingo must register an account, deposit £10, and spend the tenner on any bingo game. They will then be able to claim £50 in bingo bonus funds from the "PROMOS" hub of their Gala Bingo account. These bonus funds come with an x4 wagering requirement and are considered forfeit if they're not used, or the wagering requirement is not met within seven days.
Ongoing Promotions
The layout of promotions at Gala Bingo and the explanations that accompany them are, quite frankly, confusing. We've seen promotions handled much better at the vast majority of the Gala Bingo sister sites, and the way they're presented here could do with a drastic rethink. There isn't a promotions tab, and the combination of "Sass Pots," "My Rewards," and "Club" tabs makes it hard to know where to start looking for more substantial rewards. "Sass Pots" and "Club" don't seem to contain any promotions, so "My Rewards" is the best bet for promos. That's where you'll find details of the Gala Rewards package.
The Gala Rewards package is the closest thing this site has to a VIP loyalty scheme. It offers bingo cashback at a rater of 1p for every 10p spent on bingo tickets throughout the week, a (seemingly random) allocation of weekly free spins to anybody who's spent £10 or more on free spins within the previous seven days, and "surprise" cash rewards when making deposits. Gala Rewards also offers access to free and exclusive bingo rooms, although how this works is far from clear.
There are separate "bingo night" promotions every day of the week that go on in the Gala Bingo "Main Event Room," including "Double Up Wednesday" and "Big Money Friday." From top to bottom, Gala Bingo's range of promotions could do with fewer catchphrases and more coherent information.
Gala Bingo Pros and Cons
The biggest pro to Gala Bingo is the scale of its gaming portfolio. There's so much non-gaming content here that Gala Bingo feels like a misleading name. The site is like Gala Bingo, Gala Spins and Gala Casino all rolled into one. It can more or less do anything, and that's a great thing for an online casino player who doesn't like to stick to just one kind of game. Fast withdrawals are a positive for Gala Bingo, too – so long as you have PayPal or an e-wallet, you should be able to receive withdrawals within eight hours of asking for them.
Looking at the cons of Gala Bingo, the first thing that comes to mind is the site's messy promotions. The welcome offer is easy enough to understand, but after that, everything degenerates into chaos. It's almost impossible to know what's available, how to qualify for it, and where to claim it. We'd consider asking customer services about it, but that's another Gala Bingo weakness. Bad customer service is the cause of nine out of ten complaints about Gala Bingo. If they employed someone to handle phone calls, perhaps things would go a little more smoothly in that department.
Featured Slots and Casino Games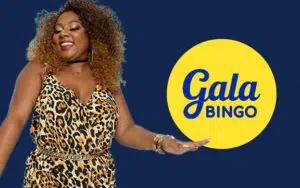 Gala Bingo might not be an online slots site, but it has a better collection of online slots than many casino sites that consider themselves to be at or near the top of the industry. The contents of the "Most Popular" section at Gala Bingo will change depending on when you visit the site, but there are a few slots you can be reasonably sure will stay in that top section come rain, wind, or shine. These are those slots. 
Fishin' Frenzy The Big Catch: It's unlikely that Reel Kingdom knew it was creating the next big online slots franchise when it launched the first Fishin' Frenzy game in 2014, but that's what happened. The slots are so popular that they've become a genre in their own right, and other developers have started making them. Fishin' Frenzy The Big Catch is Blueprint Gaming's work. Blueprint usually come armed with imaginative bonus features, and they've done so again here. The values of "multiplier fish" increase each time a player triggers the free spins feature, peaking at a maximum of 50x at the fourth level. RTP is 96.12%, with average volatility. 
Bonanza: This mining-themed Megaways slot is Big Time Gaming's Magnum Opus. Had this 96% RTP, high volatility slot not performed as well as it did, it's likely that the entire Megaways trend would never have caught on. Fortunately for Big Time Gaming – and the wider online slots-playing public – it did. For many people, this is still the definitive Megaways slot. It introduced the concept of 117,649 ways to win, made avalanche wins more popular than the feature had ever been before, and felt genuinely innovative at the time of its release. 
7s Deluxe Repeater: This slot manages to pull off Blueprint's oft-repeated neat trick of looking simple but actually being surprisingly complex. It's a highly volatile classic-looking 95.99% RTP slot with sky-high volatility, and its ten paylines pay out in both directions. The slot's throwback 2D 5*3 layout also masks a bonus wheel of fortune, an adjustable reel set, colossal 3×3 symbols, and a highly potent free spins feature. Put it this way – whatever you think this slot might be when you first look at it, it isn't. 
Even with all these fantastic online slots available, it's the bingo rooms that remain the stars of the show at Gala Bingo. Slingo takes third billing, and the game shows are more of a niche attraction. Still, it's nice to have access to so much variety. 
Deposit and Withdrawal Methods
LC International Limited has done a good job of standardising payout times across its range of online casinos and bingo sites. If you've played at one LC International site and used a specific method of payment, you'll find that you're able to use it anywhere else on the range. If you're new to this casino network company, though, here's the basic information. All debit cards are accepted, be they Mastercard, Visa, or Maestro. If you ask for a withdrawal back to your card, your waiting time will be between one and three business days. You'll also be faced with a long wait if you ask for a withdrawal via bank transfer, with a projected wait time of 2-4 banking days. Players who have faster withdrawals approved on their Visa cards may only be left waiting four hours.
If you have an e-wallet, you'll likely be able to get your money out of Gala Bingo faster than would be possible using a card. Skrill and PayPal users are quoted eight hours for a withdrawal. Paysafe card users are made the same pledge, which is unusually quick for that method of payment.
Customer Support and License
We've already said that Gala Bingo could improve the quality of its customer service. Offering live chat and email support is all well and good, and social media chat is nice to have, but there's no substitute for being able to speak to somebody over the phone. If Gala Bingo had phone support, the people who make complaints about the website so regularly on Trustpilot might not have quite so much to be unhappy about.
Gala Bingo holds a full licence with the UK Gambling Commission through LC International Limited. The account number of the licence is 54743.
Gala Bingo – The Verdict
Gala Bingo has been around for a very long time. Its age is beginning to show. The style of the Gala Bingo website is a little dated, and the layout of its promotions is so bad that it almost feels as if someone designed it to be confusing. If you can work out what's available, to whom it's available, and how it might be claimed from what's listed on the Gala Bingo site at the moment, you're doing a better job than us. The issues with promotions and customer services are a huge shame because if you took them away, Gala Bingo would still be an excellent bingo site despite its advancing age. LC International Limited has the power to take those issues away, so let's hope that it does.
What are players saying about Gala Bingo?
Here are our condensed/reader's digest summaries of recent player reviews of Gala Bingo. The reviews are real, but we've edited the comments to keep them brief.
24-Aug-2023 by Vicky:
The site's winning algorithm seems dodgy, but at least the withdrawals are quick. – source: TrustPilot
24-Aug-2023 by Cheryl:
I've had a good run at Gala Bingo with wins and quick withdrawals. I'm not sure why there are negative reviews. – source: TrustPilot
20-Aug-2023 by Nicola:
Got banned from chat just for saying hi. What's that about? – source: TrustPilot
20-Aug-2023 by Mike:
The self-exclusion process is a nightmare. Reactivating an account is too complicated. They've lost me as a customer because of it, and they'll lose others. – source: TrustPilot
06-Aug-2023 by Fiona:
They allow inappropriate usernames in the chat rooms and do nothing about it. – source: TrustPilot
16-Aug-2023 by Jammer:
Worst online casino I've ever played on. Don't go anywhere near it. – source: TrustPilot
14-Aug-2023 by Karen:
No debit card support for withdrawals? I'm out. – source: TrustPilot
13-Aug-2023 by Patrick:
You'd have to be very lucky to ever win more than you deposit here. So far, it's the worst casino I've played at. – source: TrustPilot
01-Aug-2023 by Jo:
Stay away from Gala Bingo, it's a scam. – source: TrustPilot
08-Aug-2023 by Sarah:
The site feels rigged, especially the slots. I find it's the same at all the Gala Bingo sister sites, too. The same players win all the tournaments when i can never score more than about 400 points – source: TrustPilot
About Gala Bingo
All of the information we've given you above helps to tell the story of the digital version of Gala Bingo, but Gala Bingo was a huge name long before the internet came along. It was 1990 when it opened its first-ever bingo hall. Mecca Bingo was a mostly-unknown name in the UK back then, and bingo halls of the size that Gala Bingo opened were a rarity. The opening of a Gala Bingo in a British town was a big occasion. It said the town was going places. Gala Bingo halls were new, modern, and exciting. It feels strange to say that about a humble bingo hall, but if you're old enough to remember 1990, you'll know exactly what we're talking about.
Times have changed since 1990, and so has Gala Bingo. The brand no longer belongs to the people who launched it. LC International Limited is the custodian of the digital legacy of Gala Bingo, whereas the old Gala Bingo halls have mostly been rebranded as Buzz Bingo outlets now. Still, though, the Gala Bingo name matters. It attracts thousands of people online, and it's still a viable name to attract commercial sponsorships. The 170 Gala Bingo halls that the company once commanded might be (mostly) long gone, but the digital arm of Gala is doing just fine.
Gala Bingo Video Advertising
If you know where you look on YouTube you'll find a treasure trove of Gala Bingo adverts dating back to a time long before Gala Bingo was an LC International Limited property. The original Gala Bingo YouTube channel is still there for everybody to see, although these days it's down to around 3,000 subscribers and it no longer posts regularly. The channel as a whole has had four million views, which isn't bad going for a niche interest bingo or casino channel.
The most popular video ever launched by Gala Bingo on YouTube is "Gala Bingo Fly Away for £50K," which made its debut in September 2018 and had a brief run on television. It stars a character called Gary, who returns home from work to find a sandy beach pouring in through his window and a mariachi band playing in his front room. It turns out that Gary's partner Jules is playing Gala Bingo in another room, and that she's somehow responsible for the madness that's going on around Gary. Rather than divorcing Jules immediately for destroying his property, Gary appears to be delighted. Maybe that has something to do with the fact that Jules has just won the £50K bringo prize pot that was on offer at Gala Bingo at the time.
As of 2020 – the year that saw LC International Limited launch an extensive rebranding operation for Gala Bingo – a new "Bingo Like A Boss" range of commercials was launched to both television and social media. Paisley Billings was introduced as the new public face of Gala Bingo, playing a character called Gloria. She's returned to the role several times since, most recently for a commercial that was launched in October 2021 in which she's accompanied by a drag queen called "Freida Balls." In most cases, the "Bingo Like A Boss" adverts show people performing standard day-to-day tasks while continuing to play bingo on their mobile phones effortlessly.
Gala Bingo Sponsorships
Since 2015, Gala Bingo has effectively been an online-only brand. That's necessitated a different approach from the company and a new range of television commercials and well-placed sponsorships to remind the general public that the Gala Bingo name isn't dead. The highest-profile of all those sponsorship deals came when Gala Bingo sponsored "The Chase" on ITV, which is the most popular TV game show in the United Kingdom. Aside from sponsoring "The Chase," Gala Bingo developed a special Chase-themed bingo game and launched it in 2017. The sponsorship deal lasted for three years until Gala Bingo voluntarily stepped aside so the promotional space could be given to a charity.
Gala Bingo's Awards and Social Media
Gala Bingo is also no stranger to receiving awards, with a healthy haul from the Which Bingo awards across the years. In 2015 they were awarded 'Best Mobile Bingo Experience', and also won 'Best Unique Bingo Game' for 'Coconut Island'. In 2016 they were awarded 'Best Online Bingo Site', 'Best Mobile Bingo Experience' again, and 'Best Playtech Bingo Site'. Then, in 2017 they maintained the award for 'Best Playtech Bingo Site'. After a year off in 2018, in 2019 they brought it back by again winning 'Best Playtech Bingo Site'. Then, in 2020 they won both the award for 'Most Socially Responsible Operator' and 'Best Social Media.'
With over 160k page likes on Facebook, as well as its fully loaded YouTube channel and over 18k followers on its Twitter account, it is no wonder Gala Bingo received the award for best social media. These pages regularly upload fun and engaging content, while also running competitions and giving away prizes for their fans and players. Gala Bingo also incorporates its 'Bingo Like a Boss' campaign onto its social media pages so people will recognise it more often and will help to continue the growth of the Gala Bingo online site.